Celebrating Dr. King, the great state of Georgia, Out of Town News, Fridge in the Square and so much more!
"Martin, Are You Still Marching?"Performed by: Squares in the SquareWritten by: Jon Maddox
Harvard Square Honors Dr. Martin Luther King, Jr.
The Harvard Square Business Association has partnered with its longtime member, Cambridge Forum, in celebration of Dr. Martin Luther King, Jr.
On Tuesday, January 19th from 3:00 until 4:00 the Forum will host a very special program, MARKERS AND REMINDERS: MLK TO BLM.
Moderated by Mary Stack, Director of Cambridge Forum, the program will feature Denise Jillson, Executive Director of the HSBA, Cambridge City Councillor Denise Simmons and Imari Paris Jeffries, the Executive Director of King Boston. Full information and registration available here.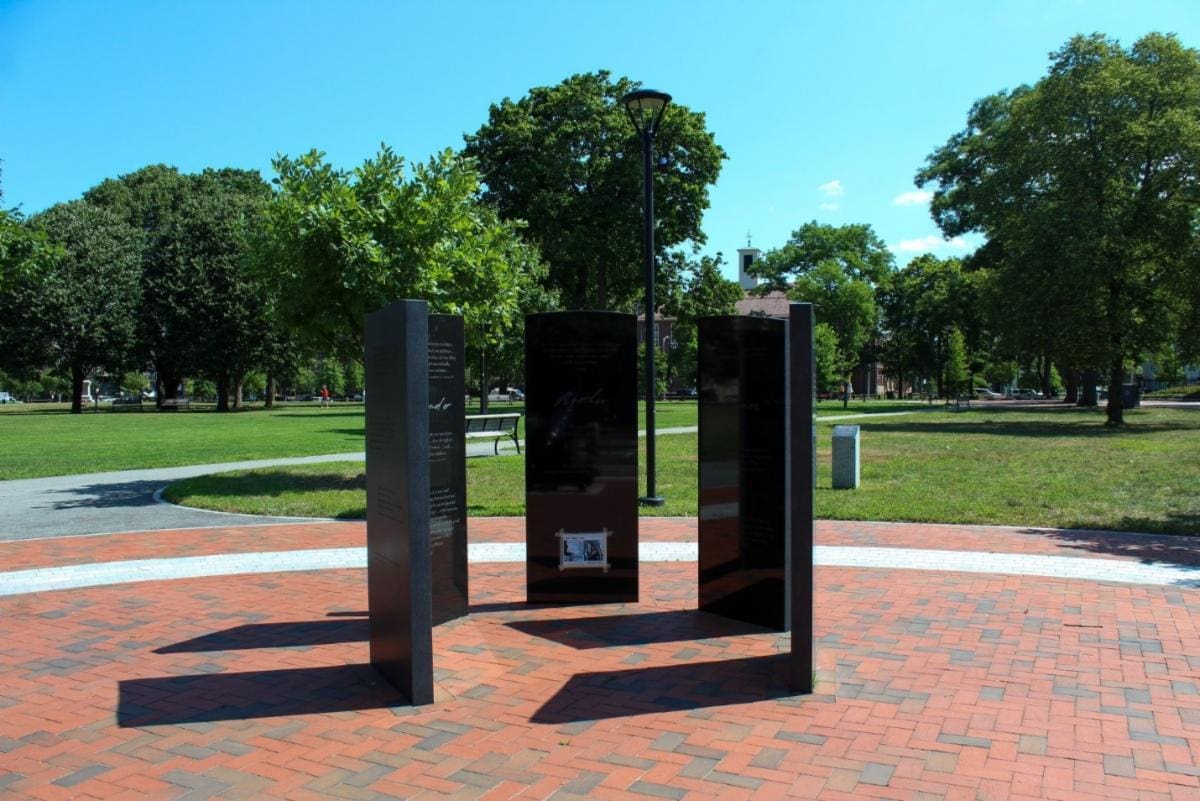 ---
Nina Simone "Visits" Harvard Square Kiosk in Celebration of MLK Day
A 3' x 6' portrait of Nina Simone has been installed in the Out of Town News Kiosk in celebration of Dr. Martin Luther King Day.
The HSBA has collaborated with renowned artist Lennie Peterson to display Nina Simone.
More information available here.
---
"Georgia On My Mind"
The "Squares in the Square" paying tribute to the great state of Georgia.
---
Harvard Square's "Fridge in the Square"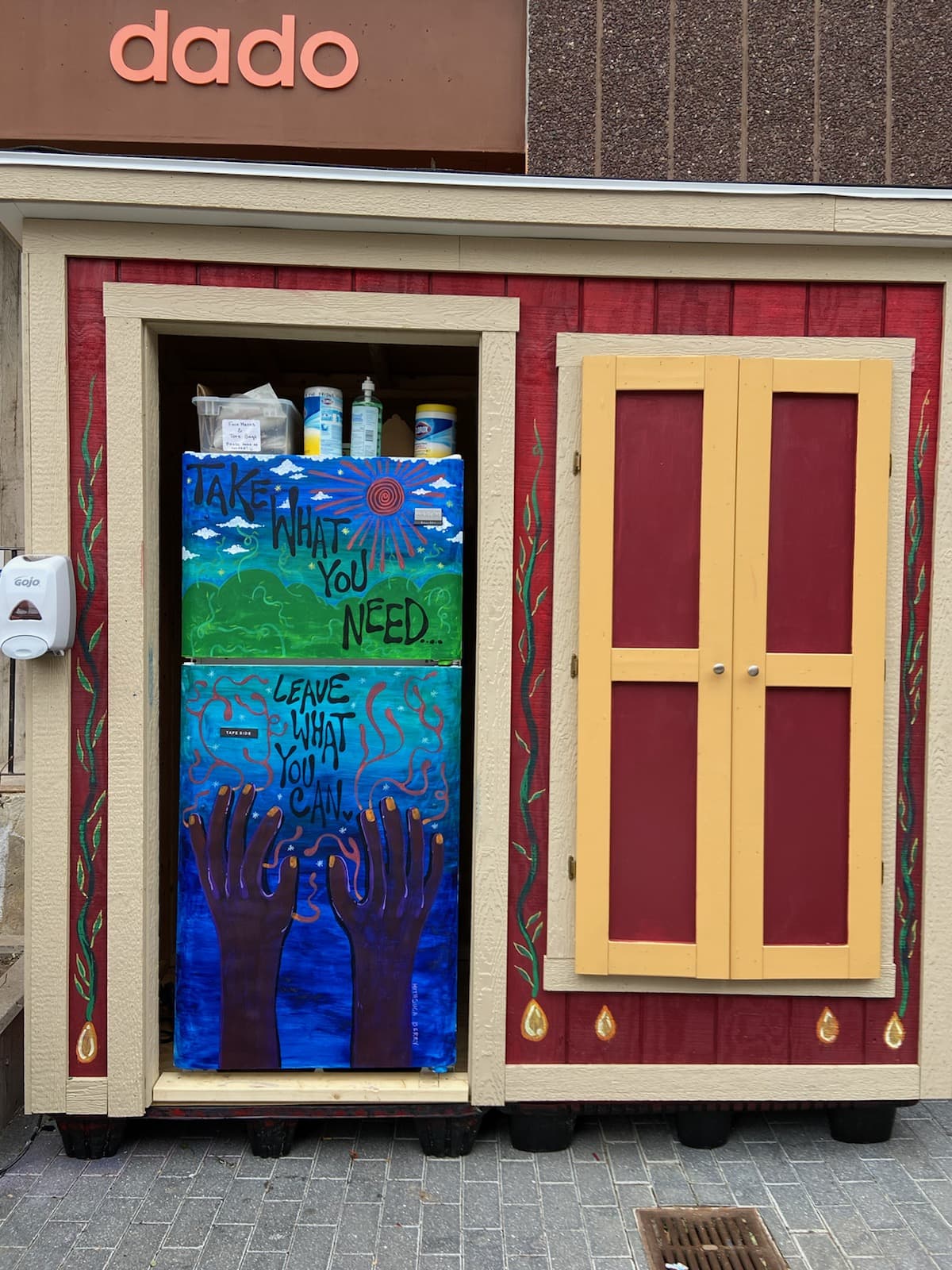 Harvard Square Business Association (HSBA) and its members, Y2Y, Trinity PropertyManagement and The Sinclair (a division of AEG Worldwide) in partnership with Cambridge Community Fridge, installed Harvard Square's first 'Fridge in the Square".
According to Denise Jillson, executive director of the HSBA, the fridge hut with a pantry cupboard was designed and built by Cambridge resident George Pereira with assistance from Al Salvia and Matthew Pereira. It was transported to its site at 52 Church Street by Trinity Property Management staff including John DiGiovanni, Danny Mehigan and Jose Piedra.
The hut was re-assembled in place by George, the Trinity crew, and Sinclair staff including Josh Bhatti, Erick Jenson, Ben Gram and Jared Dobson. Full information here.
---
Kenyan Giraffes Have Taken Over Out of Town News!
If you happen to be in Harvard Square, take a peek inside the Out of Town News Kiosk…it has been taken over by giraffes! We have photos to prove it.
Mary Kubai, longtime Harvard Square Business Association member, dear friend and owner of African Gift Items, Ltd., has donated two wooden giraffes to be auctioned with all proceeds going to Cambridge Family and Children's Services and the Hildebrand House.
The giraffes are hand-carved from Jacaranda wood by the Wakamba, a tribe from the lower Eastern part of Kenya, known for their renowned carving skills. More information available here.
---
"Out of Town News" Lights Restored
Since January of 2012, the Harvard Square Business Association relentlessly advocated for the restoration of the Kiosk and surrounding plaza.
During the nine years of public process regarding the project, many people expressed their concern over the status of the "Out of Town News" neon lights.  Again and again, people conveyed their hope that the lights remain within the structure after the completion. 
We are delighted to report that the "Out of Town News" lights are clean, vibrant and lighting up the heart of the Square! The HSBA sends sincerest thanks to a longtime, highly esteemed Harvard Square property owner who helped fund the restoration and wishes to remain anonymous.         
The Harvard Square Kiosk was registered on the National Historic Register on January 30th, 1978.  
Related article: https://www.harvardsquare.com/out-of-town-news-we-care-so-much-always-have-and-always-will/
---
Grand Opening of SPYCE!
Spyce is opening a kitchen (and eventually a wine bar) right in the heart of Harvard Square on January 27th. We'd love to serve you! 
Address: 1 Brattle Sq. Cambridge, MA 02138
Opening order modes: Pick-up, Take-out, Delivery, Catering
Our primary menu is composed of salads and warm dishes that leverage single-source spices to create unique flavors. We count Daniel Boulud as a culinary partner and we've developed some exciting culinary technology — highlighted by our Infinite Kitchen and Dynamic Menu. 
Our Infinite Kitchen is one of the most advanced culinary tools in the world. It is designed to balance three core culinary elements: cooking technique, measurement, and timing – bringing the most out of every ingredient.
With our Dynamic Menu, we can curate a meal for every single customer we serve. Just tell us your dietary preferences and we update the menu to you. We can do many diets from Vegan to Keto and even low-FODMAP.
This technology we've developed is all in service of a fresh, seamless experience for our guests — and we can't wait to serve you 🙂
Our Harvard Square restaurant is really a flagship for us. With a large dining room and a comfortable ambiance, it will be a great place to relax and have a glass of wine (once the pandemic has slowed a bit). For now, we will be focused on take-out, delivery and catering.
If you are interested in catering, please visit spyce.com/catering and we can bring the Spyce flavor and experience to you 🙂
We'd love to have you come by!
We are open 11-9pm most days. Visit www.spyce.com to learn more/order.
More on us:Spyce got its start while we were at MIT. We kept dreaming of new ways to create fresh, wildly delicious meals and so we set out to create a restaurant with a newly designed kitchen. We are so excited to be coming back to our Cambridge roots. As a Harvard Square resident myself, it's always been a dream for us to be in the square and serve this local community and we are so excited to be able to do that. 
Again, we open on January 27th. In the months to come, we will have new menus, offers and promos. We are so excited to serve you!
Kale RogersSpyce COO and Cambridge resident!
---
Immediate Restaurant ReliefGov. Baker Signed Economic Development BillThird-Party Delivery Fees Capped at 15%
Governor Baker signed the Economic Development bill that included the 15% Delivery Fee Cap on third party delivery companies. The Governor tweeted that the bill would go into effect immediately. Starting today, GrubHub, DoorDash and UberEats can no longer charge any restaurant in the Commonwealth more than 15% for any delivery order. 
The passage of the Cambridge City Council order capping delivery fees at 15% in May helped spur the Massachusetts legislature to take this issue on. We send a big thanks to Councilor Patty Nolan for getting this process started. The enforcement mechanism to ensure the delivery companies comply with this law is a powerful one (Chapter 93A of the General Laws) so everyone should make sure their charges starting today are not more than 15%. 
This is an important victory that will provide a major benefit to restaurants and restaurant workers throughout the Commonwealth of Massachusetts.
We send thanks to HSBA members Jody Adams of Saloniki and Kari Kuelzer of Grendel's Den for their support and advocacy and send a BIG, BIG THANK YOU to HSBA member, John Schall, owner of El Jefe's Taqueria, for his relentless efforts in bringing this about. John's unyielding determination was the guiding force. More details here.
Congratulations Jody, Kari, and John for a job well done!
---
Julia Child Series Filmed in Harvard Squareto Air on HBO Max
HBO Max is moving forward with a drama focused on the life of famed chef Julia Child.
The streamer on Thursday announced an eight-episode series order for Julia, starring Sarah Lancashire (Happy Valley) as the chef. Chris Keyser (Party of Five) serves as showrunner on the drama from Lionsgate Television and 3 Arts.~The Hollywood Reporter
More information available here.
---
One Harvard Square BusinessIs Pushing On Despite the Pandemic
This year has been hard for Christos Soillis, whose shoe shop in Harvard square has seen most of its business dry up amid the pandemic.
But for the 85-year-old Soillis, the shoe shop has also been a lifeline.
Soillis estimates that he has lost 95% of his business since the coronavirus pandemic began in March. Still, he shows up every day, checks his inventory and waits for customers. To pass the time, he sits behind the counter in the front of the store and reads to practice his English. He's kept company by family photos, the shop's antique sewing machine and the organized clutter of leather pieces needed for repairs. See the full WGBH article here.
---
Passim's Iguana Music Fund
For the past 12 years, the Iguana Fund has financed hundreds of projects to the benefit of our music community including Della Mae, Oompa, and Lake Street Dive. This year has been challenging. Being a musician in 2020 has led to more uncertainty than ever before. What remains clear is that art helps us understand ourselves, connects us, and makes life worth living. The way music enriches our community is vital, so rest assured, Iguana is back and applications are now open.
There is funding available for projects that you might be working on now: recording & streaming equipment, a new instrument that will take your playing to the next level, an online program that teaches important traditions, publicity for your debut EP. The world may have stopped in a lot of ways for the time being, but Iguana is here to help you where your project is at. For a list of 2020 recipients see here.