HEART TO HEART: THE EXQUISITE MACHINE
Join us for this ZOOM forum on Monday, September 19 at 5:00pm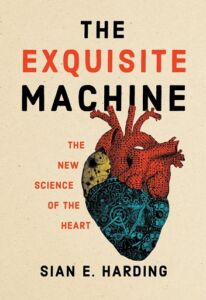 The human heart is a miraculous organ, a marvel of construction unsurpassed by any human made creation with its resilience and precision.  It beats 100,000 times a day so that if you live 100 years, that would be more than 3 billion beats in a lifetime.
In our forum, Sian Harding will explore the latest scientific developments and mysteries of the heart.  Professor Harding, a world leader in cardiac research at Imperial College in London, is author of The Exquisite Machine: the new science of the heart. The book explains the latest cardiac discoveries as well as the relationship between the emotions and heart function.  In addition to being a powerful pump, the heart is super-sensitive – not just in responding to emotions but in creating them.  And yes, you can die of "broken heart syndrome" – although there are profound differences between men and women.  There is also a much deeper connection between the heart and the brain than was previously understood.
___________________________________
For nearly five decades, Cambridge Forum has provided free public forums for the discussion of the issues and ideas that are shaping our world. From culture to technology, the environment to public policy, Cambridge Forum offers citizens vital information about the challenges facing contemporary society.
Forum programs, which are edited and produced for subsequent broadcast on public radio stations nation-wide, feature the nation's most noted thinkers, creators, social entrepreneurs, and leaders from the worlds of academia, business, government, media and the arts. Select forums can be viewed on the YouTube Channel hosted by the WGBH Forum Network. Programs are held at the First Parish (Unitarian Universalist) located at 3 Church Street in Harvard Square, 7:00 pm, on Wednesday evenings.
WATCH WGBH: Black History: On Rewind