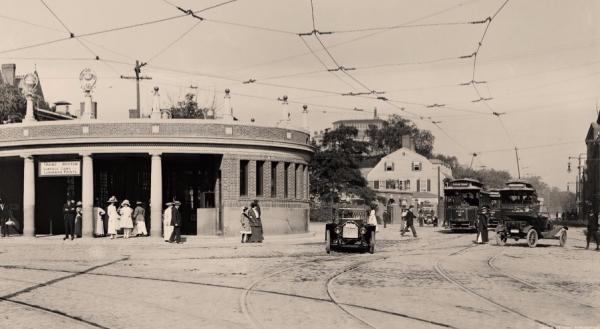 The Harvard Square Businessmen's Association (HSBA) was founded in 1910 by a group of local businessmen to address the challenges created by the subway construction project. Their stated mission was "to promote commerce in Harvard Square" and their first decade was one of organizing, implementing guidelines, setting goals, growing membership and spending untold hours dealing with subway access and public safety.
The Harvard Square Subway Station with its 2500 square foot Rotunda officially opened on March 23, 1912. Within a very short time, it became clear that the over-sized rotunda, with its brick façade, was creating a public safety challenge for pedestrians and automobiles; both of which were rapidly increasing with each passing year.
As early as 1919, association members began lobbying the state legislature to remove the rotunda and replace it with a smaller, safer, more transparent structure. In 1927, their efforts were realized when a 600 square foot glass and brick kiosk was erected and remained in use for subway access until 1981.
While subway access has been altered and changed over the years, the mission of the HSBA has not. However, it now includes a tagline, "to promote commerce in Harvard Square… while being good stewards of the public space."
Our stewardship includes purchasing and watering the hanging flower baskets that are installed throughout the Square, providing free public outside Wifi access, as we have done since 2008, purchasing and installing holiday decorations and lights, purchasing and maintaining seasonal banners, working with our businesses on clean-up days, taking care of Winthrop Park and all the tables, chairs and umbrellas in The Pit and on The Point, printing thousands of wayfinding maps for our many visitors and organizing dozens events throughout the year that are family-friendly, free and open to the public.
Since 2005 many areas of the Square have been improved, however, the HSBA was concerned that the kiosk itself was languishing. In January of 2012, we proposed a plan to restore the structure and enhance its use. Since then, the city has held a series of public meetings to discuss the restoration of the kiosk and the surrounding plaza and has appropriated 4.6 million dollars toward the project.
Once restored, the HSBA believes the kiosk should remain in the public realm. It is, undoubtedly, one of the most iconic and beloved public structures, located on public land in the most heavily-trafficked places in the city and the surrounding area. The kiosk is globally recognized as the heart of Harvard Square.
We believe the transparency of the original design should be celebrated. It should cast a warm glow from within on a dark winter night. It should beckon people in during every season…and it should be used as it has been for decades, as a place to meet. The kiosk should be a public amenity for information and public discourse. It should be used to promote local non-profit organizations, to support arts and culture and the local economy. It should be used for Harvard Square events and to promote city-wide events like the Cambridge Carnival and Danehy Park Day.
We are delighted that the kiosk project is underway….and while it wends its way through the public process, we will continue to be good stewards, not only of the kiosk and the plaza, but of all of Harvard Square.
We will continue to work closely with the City of Cambridge and Harvard University to support infrastructure projects. We will continue to work hard to champion all our businesses, of which, over 70% are locally-owned independent. We will continue to partner with social service agencies, non-profits and arts organizations to assist them in their efforts to fulfill their missions.
From the most vulnerable of entrepreneurs, (like those selling Spare Change News) to those helping the homeless (Y2Y), we will continue to advocate, to steward, to champion and to care so much, as we always have and always will.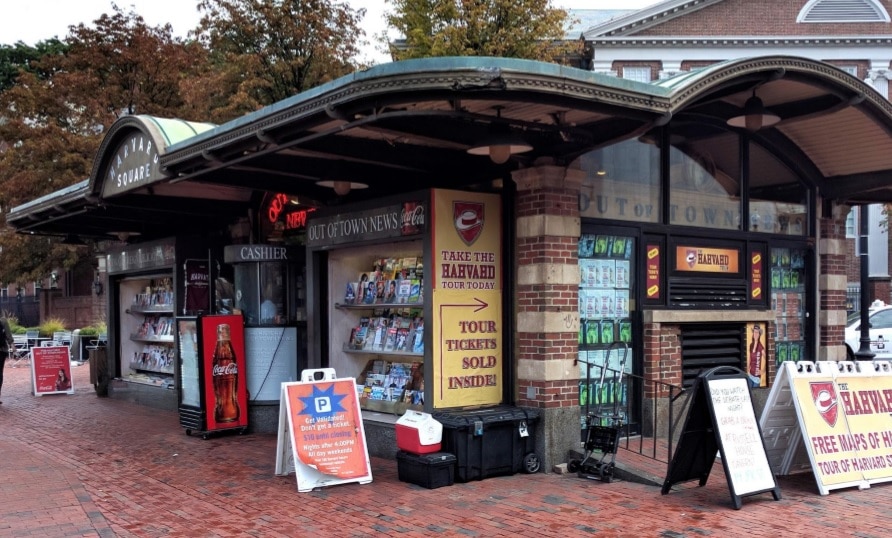 The HSBA invests in small business owners who seek to do more than simply turn a profit. In supporting the independent contractors who sell Spare Change News, the HSBA demonstrates that they believe that individuals who have fallen on hard times can make a better life for themselves through honest work. The HSBA helps to empower housing insecure individuals to find a path out of poverty as they share the stories of how the "other half" makes a living.
Katherine Bennett
Executive Director, Spare Change News
The Harvard Square Toilet Campaign, initiated by members of several Harvard Square parishes and homeless support groups, wouldn't have succeeded without the Harvard Square Business Association. When the one parish on the Square closed the bathrooms that had served the homeless for 25 years, HSBA executive director, Denise Jillson, reached the same conclusion we did: that, as a matter of human dignity and public health, it was time Cambridge built a publictoilet—not just for the homeless, but for the millions who pass through the Square each year. It then took nearly three years of community organizing, a media campaign, a petition drive that collected 6,000 signatures, and intense lobbying of the City Council and City Manager, but the Square's first public toilet opened in February, 2016—and the City now considers it just the first of several to be built in squares and parks all over Cambridge. Citizen action, concerted effort, and a guiding spirit of community engagement made this happen—and as all of us on the board of Advocates for a Commons Toilet, and HSBA were essential to that success.
Prof. Richard Parker
Harvard Kennedy School
Chair, Advocates for a Commons Toilet (ACT)
For many reasons…and the story of our admiration, appreciation and dependency on the HSBA began well before we opened our doors and continues through to today, and on a daily basis. As we initially considered "re-opening" the Curious George store, we had several hurdles to overcome, and much to learn about opening a retail store in Harvard Square. Quite simply, we would not have succeeded without the patience and attentive guidance and support received from the HSBA. To help facilitate the opening of our store, Denise and team introduced us to key representatives within the Square and City who helped us understand the processes and sequence of events that needed to transpire. This hand-holding lead to huge efficiencies, saving us thousands, and significantly shrank the planning and build-out time allowing us to open our doors in record time — less than 2 months. In parallel, we required debt financing to pay for our build out. Again, the HSBA was instrumental in making introductions to those in a position to make a financing commitment to our venture, and had a passion for Harvard Square to incur the risk of supporting a first-time retailer. With these newly found backers in place, we were able to move forward with our store. Once opened, the HSBA has been an ongoing partner in many areas. To note a few, sometimes we run our own store events, and the Association has been there to lend a hand. Other times, the Association orchestrates scores of events, and we have the opportunity to participate and generate additional sales (e.g., Oktoberfest, May Fair, Chili competition, etc.). Additionally, in recent years, the Association took the initiative to begin a bi-annual job fair to aid small local businesses in attracting talent. This has been hugely successful and helpful.
Without a doubt, the HSBA has been instrumental to the success of our store, and we're thrilled to be a member.
Adam Hirsch
Owner & Operator, Curious George
On face value, the relationship between the Friends of ​ Cambridge Rindge and Latin School ​and the HSBA is counter-intuitive: what ​could​ a public high school non-profit have in common with a business association whose mission is focused on the vitality of the fabled Harvard Square? The answer is simple: we are all connected; we support each other​ and we're a better community for doing so.​ Through our membership in the HSBA we've become more educated about our nearby commercial landscape, we've made new friends and we've​ ​found that businesses in and around "the Square" are eager to help our students succeed. Many hire CRLS students or make financial contributions to their success.​
​​We've built a fundraising event for the past 8 years around the HSBA's MayFair ​ that has resulted in over $47,000 in funds for scholarships, faculty innovation grants, travel fellowships for school trips, and more. We recently launched ​ a successful "100 by 100" Cambridge Business College Scholarship ​Initiative, with support that includes, in large measure, the HSBA and 20 of its members, making it possible to offer $2000 scholarships to 5 talented low-income students! The HSBA is simply one of our most community-minded, ​forward-thinking, ​and ​valuable resources.
​Elaine Schear, Ed. D.
Executive Director, Friends of CRLS
Building a profitable brick & mortar business in today's instant-gratification 'Amazon' world is a challenge; two years after opening Salt & Olive, what's clear to me is that it truly 'takes a village' to succeed. One of the first things we did even prior to opening our doors was join the Harvard Square Business Association; a group that is much more than its name. The HSBA is the glue that holds not only the small business community together – but it makes the Square a must-see destination and experience. The HSBA generates traffic-driving events that increase our customer base; offers us a chance to connect with other business owners enabling us to maximize creative opportunities for growth; with a finishing touch of making the Square a beautiful space to live and work within. To succeed within the new frontier that the Amazon's of the world have created, the HSBA helps us to remain unique, inclusive and independent.
Mary Taylor
Owner, Salt & Olive
The mission of the Cambridge Art Association (CAA) is "to build a vibrant community through visual art." Our membership in the Harvard Square Business Association (HSBA), and my involvement as a member of the Board of Directors, helps the CAA to reach new audiences in a number of ways. Over the past two years, we have deepened our relationship with the Harvard COOP, who is sponsoring our 2016 RED Biennial, currently on view at 124 Mt Auburn Street, and in our Kathryn Schultz Gallery at 25 Lowell Street. Our involvement in committee work at the HSBA has connected us to other members in the hospitality and tourism industries, increased awareness of the CAA, and attracted new visitors to our galleries. And, our HSBA membership has allowed us to return the favor, giving business owners a voice in the art community. We were delighted to welcome Denise Jillson and Bill Manley from the HSBA, along with Diana Janec from Cambridge Tourism, to select prizes in our 2016 summer exhibit, Flora Fauna. Finally, relationships built through the HSBA have given us the opportunity to continually present work by our artists at the Atrium at 50 Church Street – where you can currently view a series of paintings by Medford-based Hilary Tait Norod. This is just the beginning, and I look forward to many other possibilities for collaboration nurtured through the HSBA.
Erin Becker
Norma Jean Calderwood Director, Cambridge Art Association
The Cambridge Center for Adult Education (CCAE) has had a long and committed relationship with the Harvard Square Business Association. The CCAE has been a vibrant part of Harvard Square for over a century, providing a robust menu of high quality and affordable courses to the community. As one of the preeminent community organizations in Harvard Square, we rely on our partnership with the HSBA to help strengthen our ties to the local businesses, employees, residents, and visitors. HSBA helps to connect us to teacher and students alike. And, because of their support in helping us market our programs and events to the community, they are an important part of enabling us to keep our classes affordable and available to more people. HSBA has been a wonderful partnership and we are grateful for their continued support of our organization.
Linda Burton
Executive Director, Cambridge Center For Adult Education
The Harvard Square Homeless Shelter Corporation (HSHSC), founded in 1997 as a 501(c) non-profit organization, HSHSC is pleased to be a member of the HSBA. Over the years, the HSBA has provided support and encouragement to the students and guests. The HSBA and its partners regularly host fund raisers with and for the students running the Shelter. This money is not only used for operations, but also for purchasing food, blankets, hand warmers, hats and gloves. HSBA and HSHSC supported the Shelter student leaders when they took the initiative to raise more than $1 million to open Y2Y Harvard Square, a new shelter for youth aged 18-24, in late 2015 and various businesses have helped individual homeless men and women – including hosting a wedding for two of them!
To introduce their business partners to the Shelter, the HSBA held one of its monthly meetings in the shelter space a few years agoGail P. BucherPresident, Harvard Square Homeless Shelter Corporation
14 years ago, I moved my family from California back to Cambridge to take over the day-to-day management of a restaurant started by my parents in 1971. My mom had recently passed away and my father was semi-retired and the business needed a focused, energetic person at the helm. I knew I could not fill my mother's shoes by a long shot, but I could take on some of her important roles, and the first thing I did was to show up at the Harvard Square Business Association board meetings, at which my mom, Sue Kuelzer, had been a fixture for nearly 30 years. This was a good move. The community of business owners who are active in the association, opened their hearts to me, and made me feel instantly part of an amazing team. The work of the Association was also instrumental in providing me with opportunities to leverage the energy and focus I was bringing to my business in a way that could breathe new life into our marketing and reputation. The HSBA is an incredible resource for business owners and entrepreneurs, large and small, new and old, in that they are able to provide a skilled and efficient operation we can use to engage with the community, work with the City to make improvements or address issues, connect with other businesses to achieve common goals. I have been honored to serve on the board with so many committed professionals who dedicate their valuable time to a worthy project, and will continue to make working with the HSBA a priority for as long as I do business in the area.
Kari Kuelzer
General Manager, Grendel's Den Restaurant & Bar
Grafton Group joined the HSBA when we opened our first restaurant, Grafton Street Pub & Grill in 1996. 20 years and five additional restaurants later, the HSBA continues to be a strong ally. Their annual roster of festive, well trafficked events like Oktoberfest and Mayfair helps ensure that Harvard Square remains a vibrant cultural destination and their website – www.harvardsquare.com – serves as a valuable platform for businesses to publicize their own specials and happenings. Perhaps most importantly, the HSBA helps in indirect yet impactful ways. They work tirelessly to beautify the streets and lobby the City of Cambridge and other large entities to give small companies a strong and unified voice.
Competition has never been stronger. The HSBA gives restaurants in Harvard Square a significant edge over other areas of Cambridge and Greater Boston.
Patrick Lee
Partner, Grafton Group
Y2Y is a new student-run shelter for young adults experiencing homelessness that opened in December 2015 after many years of planning and organizing. The Harvard Square Business Association was critical to this process, and without it, Y2Y would not have opened, nor would it be sustained. When we set out to raise the money required to build the space that would house 22 young people, HSBA stepped up, bringing together over a dozen businesses who collectively raised close to $100,000. When we needed blankets, clothing, and food to stock the shelter, HSBA came together to make sure that we had all the necessary supplies. When we opened our doors on December 22, 2015, HSBA came forward with donations of pizza, produce, and pastries so that we could feed our guests dinner and breakfast every day.
Finally, the HSBA has provided a warm and nurturing home for our shelter and for all of the guests we serve. It is a truly unique group of businesses and individuals who recognize that Harvard Square is home not just to students and tourists, but is also home to people experiencing homelessness.
Sarah Rosenkrantz and Sam Greenberg
Co-Founders, Y2Y Harvard Square
The Harvard Square Business Association was a lifeline to my business, UpStairs at the Pudding, when it first opened in 1982, and continued to help the restaurant thrive and prosper for 32 years. The HSBA keeps all of the many stakeholders connected, helps to focus all of us on stewarding Harvard Square, and, with effective marketing, keeps the Square front and center as one of the great market places and corners of the world. I cannot imagine running a business or an organization in Harvard Square without the help that the great staff at the HSBA so efficiently and enthusiastically offers. Long may it last!
Mary-Catherine Deibel
Former Owner, UpStairs at the Pudding, UpStairs on the Square
At Follow The Honey we 'take the sting out of shopping!' when folks drop into the bottom level brownstone boutique transporting them by way of the uplifting aromatic gifts from the beehive. Now more than ever, with increasing technologies & online shopping such as Amazon, we human beings yearn to touch, to smell & to taste. Likewise, being in real relationships with our fellow small business members to learn, support & drive commerce to our Harvard Square corner of the sky, is what make the HSBA so very special. Not only does our family- owned brick n'mortar enjoy regular inclusion in rolling press releases, as well as invitations to actively participate in all manner of wildly creative community happens in Harvard Square; we benefit immensely from the always available stewardship of Executive Director Denise Jillson. We tell our customers that we deliver 'love' and suffice it to say, so does the HSBA!
Mary Canning
Founder & CEO, Follow The Honey, Inc.
The Harvard Square Business Association (HSBA) has been a wonderful organization for Passim to belong to and partner with. There is a strong overlap between our missions – Passim seeks to build community and provide exceptional musical experiences and the HSBA helps support us by promoting our concerts and events whenever possible. When Passim wanted to obtain a beer and wine license in 2009 the HSBA, with its contacts and knowledge of city government, was extremely helpful in guiding us through the process. The HSBA also provides a stage for Passim at its popular MayFair and Oktoberfest events, allowing us to feature musical acts we like and bring music fans to Passim and Harvard Square. They also feature a folk music month in the fall which highlights many of the folk music concerts we feature in our club.
As I have settled into my role I have realized how important relationships are for a community organization like ours. Many HSBA members/business owners have become financial sponsors of our annual Boston Celtic Music Festival in January and our free Summer Concert Series on Palmer Street. Helping other local businesses, and receiving their support when we need it, is what helps our organization thrive. The HSBA gives us a seat at the table to foster these relationships and helps us reach out to new customers.
Jim Wooster
Executive Director, Passim
I don't know when or why I started going to the Board meetings of the Harvard Square Business Association, but once I went to my first meeting, I was hooked. Now, attending the monthly Board meetings is a priority. The greatest benefit is the opportunity for me to develop professionally. I am a social worker by education and training and had no experience in leading a non-profit, which after all is a business. Each month, I am in a room full of business people who are looking at our common goals as a community and solving problems that affect us all with a perspective that is new to me.
I also have the opportunity to explain the work and mission of my agency–Paine Senior Services (PSS), reminding me to explain PSS's goals and accomplishments in terms that are accessible to all—not just those human services professionals who already are familiar with the work I do.
The HSBA gives me connections to professionals that I wouldn't normally think of as allies or resources and connections to other non-profits in the Square (I didn't know there were so many), offering guidance, resources, and support. These connections help me share my message with others who may otherwise never hear about Paine Senior Services' work.
I am thankful for the Harvard Square Business Association and all it has to offer.
Elizabeth Aguilo
Executive Director, Paine Senior Services
The HSBA provides invaluable marketing support for the local independent brick & mortar retailer in the current hyper-competitive shopping market. With customer communications channels crammed with large, online retailers, the HSBA as consortium of local businesses offers the scale necessary to have our voices heard.
The HSBA website captures the essence of our quirky and fiercely independent Square – and creates a powerful draw to customers seeking an out of normal experience. The website serves as a central portal for visitors, providing the big picture overview of all that is available, then provides direct links to store websites providing detailed information. The ability to communicate instantly with the HSBA's followers is almost impossible to replicate for the small retailer.
HSBA-sponsored marketing events, such as 'Salsa Squared', the 'Bookish Ball and Shakespeare Birthday Celebration' and 'Oktoberfest and the HONK parade' present the square's eclectic vibe at its finest, and enable local retailers to show off their wares to large, enthusiastic crowds. Membership is a must!
Laura Donohue
Owner, Bob Slate Stationer
The Harvard Square Business Association (HSBA) is a partner in all our work. From the first days we relocated Jose Mateo Ballet Theatre to the Square, the HSBA worked to insure that we made the connections we needed to make our business thrive – they even hosted a "welcome to the square" event which introduced the organization to hundreds of business leaders in the community.
Over the past 17 years we have been in the Square, the HSBA been there for both the small and large events in the organizations development. From notarizing documents, to lobbying City Hall for hard to get permitting for an annual festival, the HSBA can be counted on to get the job done.
As effective as they are at "greasing the wheels", perhaps HSBA's greatest contribution to life in the Square is the civility and graciousness that all staff members bring to their work, as well as a keen awareness that for the business community to prosper all segments of the community (from the homeless shelters to out of school programs for kids) must have a place at the table.
Denise Jilson has created a model of how a business association can impact every sector of the community
Jose MateoFounder, Jose Mateo Ballet Theatre