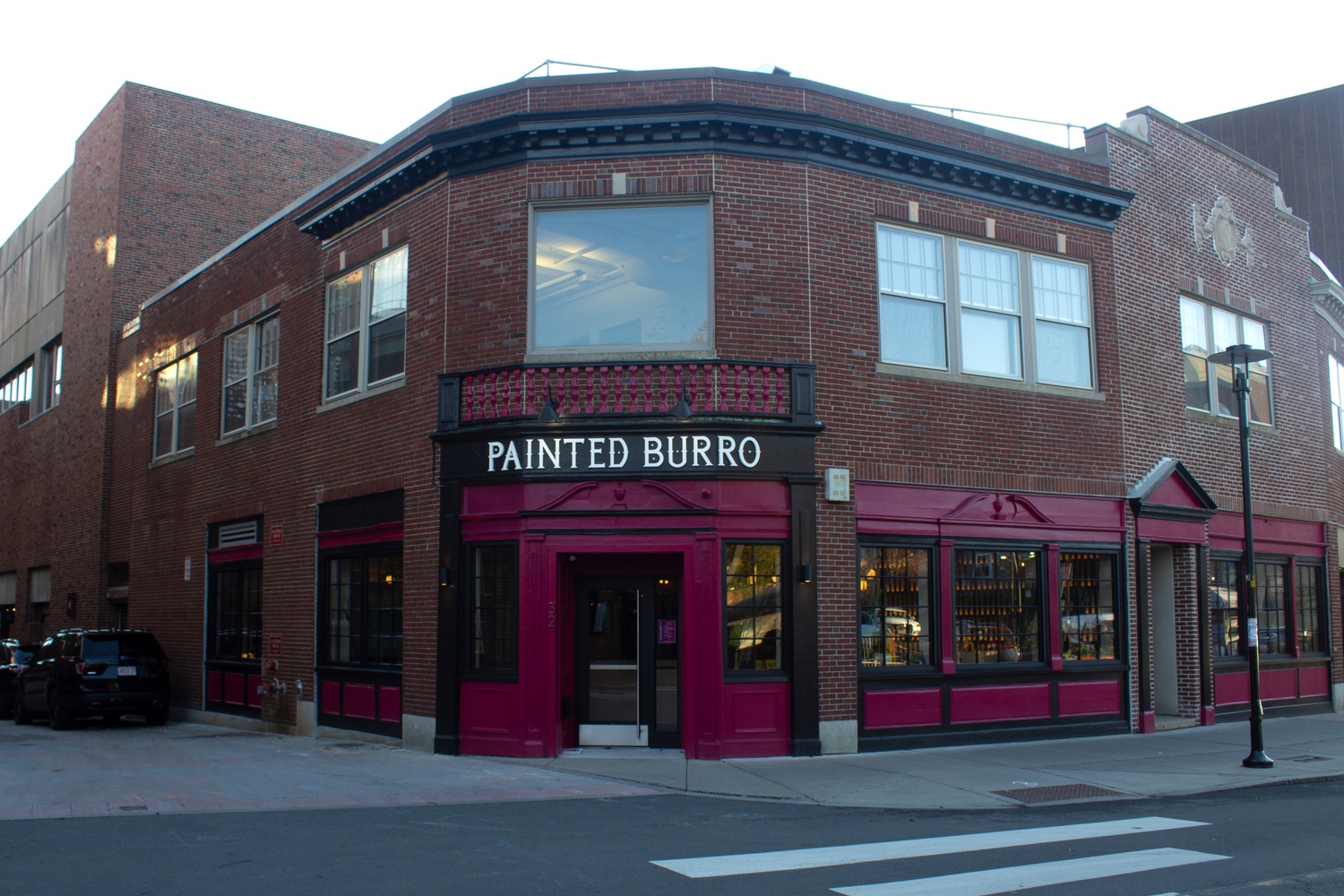 Painted Burro, a Latin American restaurant and tequila bar, opened its third location in Harvard Square last Monday.
Located on 32 Church St., the new establishment stands in the former location of the Border Cafe and features a fuschia building facade.
Since opening in 2012 in Davis Square, the Painted Burro chain has since expanded to Waltham and now Harvard Square. There are also two Burro Bars — "smaller versions of Painted Burro" as described by chain owner and chef Joe Cassinelli — in the Boston area.
With its selection of grilled meats, fish, and moles, Painted Burro aims to highlight the diverse cuisines of Latin America. The restaurant also boasts an extensive alcohol menu, with margaritas, local beers, and a collection of more than 100 craft tequilas.
Painted Burro's menu features classic Latin American appetizers, salads, and a wide variety of tacos ranging from cilantro grilled chicken to buffalo cauliflower. The restaurant also serves more sizable entrees, including swordfish, chimichangas, and more. On weekends, Painted Burro offers a bottomless brunch special — all-you-can-eat fare for $25.
To celebrate its grand opening, the restaurant is "throwing it back" to 2012 by featuring original dishes on the menu and 2012 prices, according to Cassinelli.
"You can expect some pretty attractive pricing," Cassinelli added.
The opportunity to establish a Painted Burro location in Harvard Square arose when the space became available following the announcement of Border Cafe's permanent closing in 2021.
"It was one of the easiest openings we've ever done," Cassinelli said.
Customers can expect "great, upscale Mexican food" and a "lively environment," according to Cassinelli. The 7,199-square-foot space is completely renovated and features two full bars, with a downstairs bar-lounge area open to private events.
The newly opened location has received positive feedback from diners.
"It's not that expensive," Jim Brown, a Cambridge resident, said. "The food is generous, and it's good quality."
Brown said his grits were "delicious" and spoke about how friendly the waitstaff were at the Painted Burro.
"I know three names, and I don't remember names," Brown said.
Painted Burro opens at 11 a.m. on weekdays and 10 a.m. on weekends and closes around midnight. Brown added that their hours are a "big positive" for those who like to stay up late.
Charlotte Wagner, a local resident, said she had a "great experience" and mentioned how well decorated the space was, but thought that Painted Burro has to find its "mojo."
"It has a really amazing bar, and I can imagine it with students and more people — and it'll have its own vibe," Wagner said.