Sunday, October 8, 2023
11am – 6pm
(Rain date: Sunday, October 15, 2023)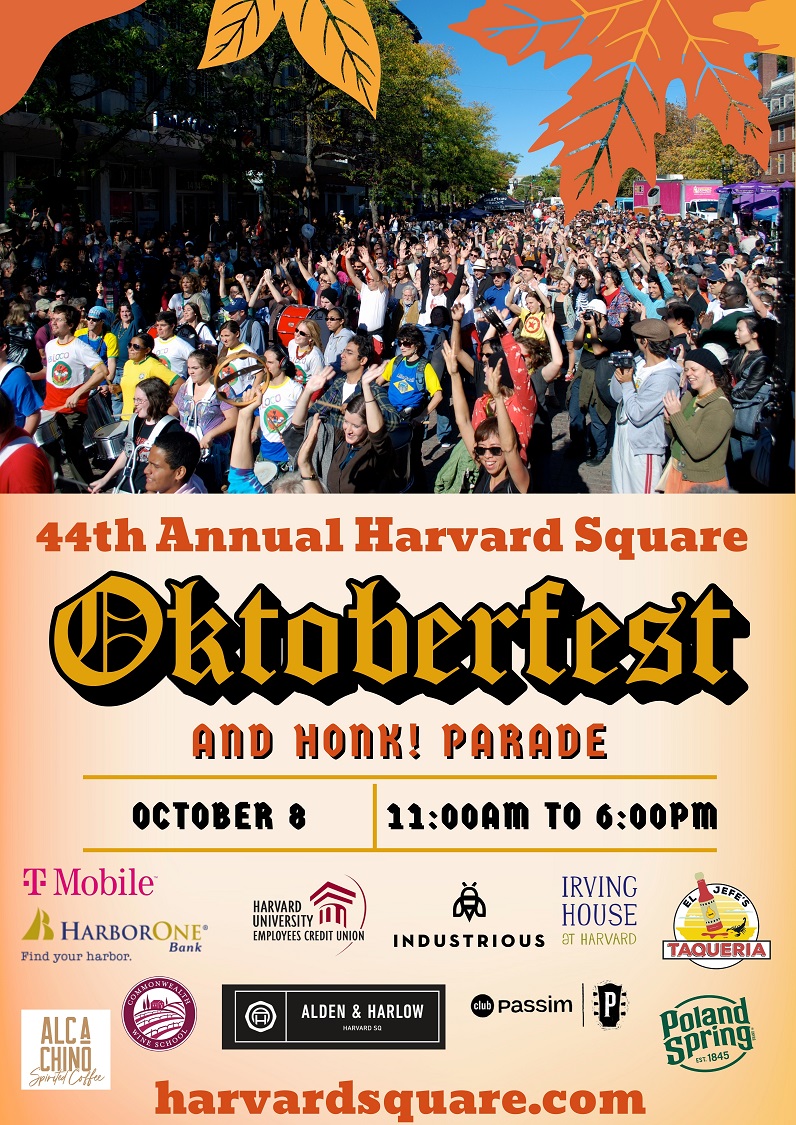 The Harvard Square Business Association is excited to announce the return of the 44th Annual Oktoberfest and the fabulously madcap 18th Annual HONK! Parade on Sunday, October 8th, 2023. Come be a part of this unique, irreverent, family-friendly annual tradition where musicians and spectators "reclaim the streets for horns, bikes and feet"!

Joining us again this year: The Filipino American Festival – a celebration of Filipino music, food and culture!

Harvard Square's Oktoberfest features food from all over the world, arts, crafts, vintage goods, free samples, and one-of-a-kind gifts. In addition, Oktoberfest boasts beer gardens hosted by Alden & Harlow and El Jefe's Taqueria and wine gardens presented by Commonwealth Wine School and Bonde Fine Wine.

This annual celebration of fall features live music, including a Passim stage and an all HONK! Review on the main stage. Dancing in the streets is encouraged!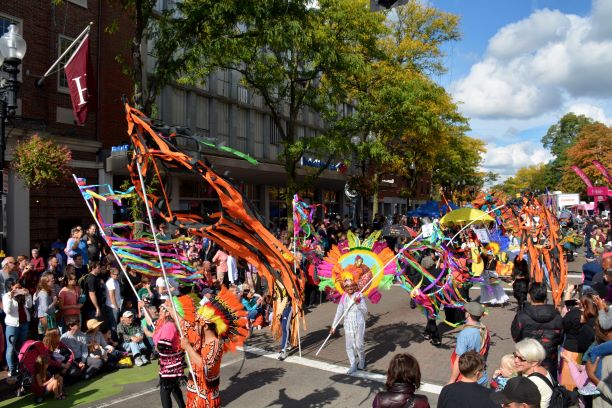 Don't let the parade pass you by! Street activists, horn aficionados and their comrades will strut straight down Massachusetts Avenue at approximately 1pm. In its 18th year, the HONK! movement has become a global phenomenon. This year, more than 30 HONK! bands from around the country will march from Davis Square to Harvard Square. Spectators will be treated to a horn-tooting, hand-clapping, foot-stomping, mind-blowing spectacle and everyone is welcome to join the back of the parade and make their way to Oktoberfest.
Traditionally held at our annual MayFair celebration, the Rotary Club of Cambridge's "Chalk on the Walk" art installation will transform Church Street into a colorful display or artistry and creativity.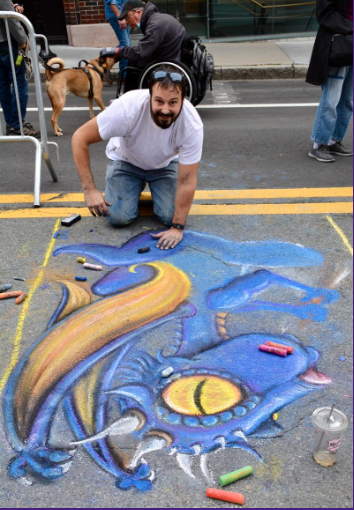 Oktoberfest in Harvard Square was started in 1978 by the late Frank Cardullo, a Square mover, shaker and owner of the renowned Wurtshaus, which served up traditional German food from 1917 to 1996. The early festivals were in keeping with old world customs. Over the years, the festival has taken on a more discerningly Cambridge vibe to become an Oktoberfest unlike any other.
Oktoberfest 2023 partners include:
Alden & Harlow, Commonwealth Wine School, El Jefe's Taqueria, HarborOne Bank, Harvard Square Philippine American Alliance, Harvard University Employees Credit Union, Howie's Spiked Alc-A-Chino, Industrious, Irving House, Minute Rice, Passim, T-Mobile, and TideSmart.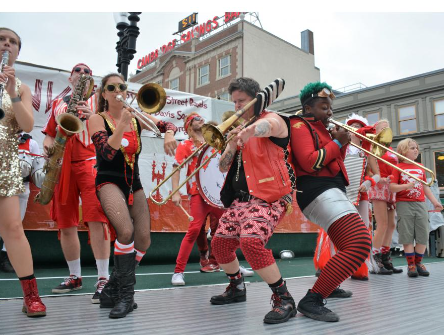 Entertainment Schedule
Main Stage
(located directly in front of the Harvard Square Kiosk)
10:45am Lumanyano Mzi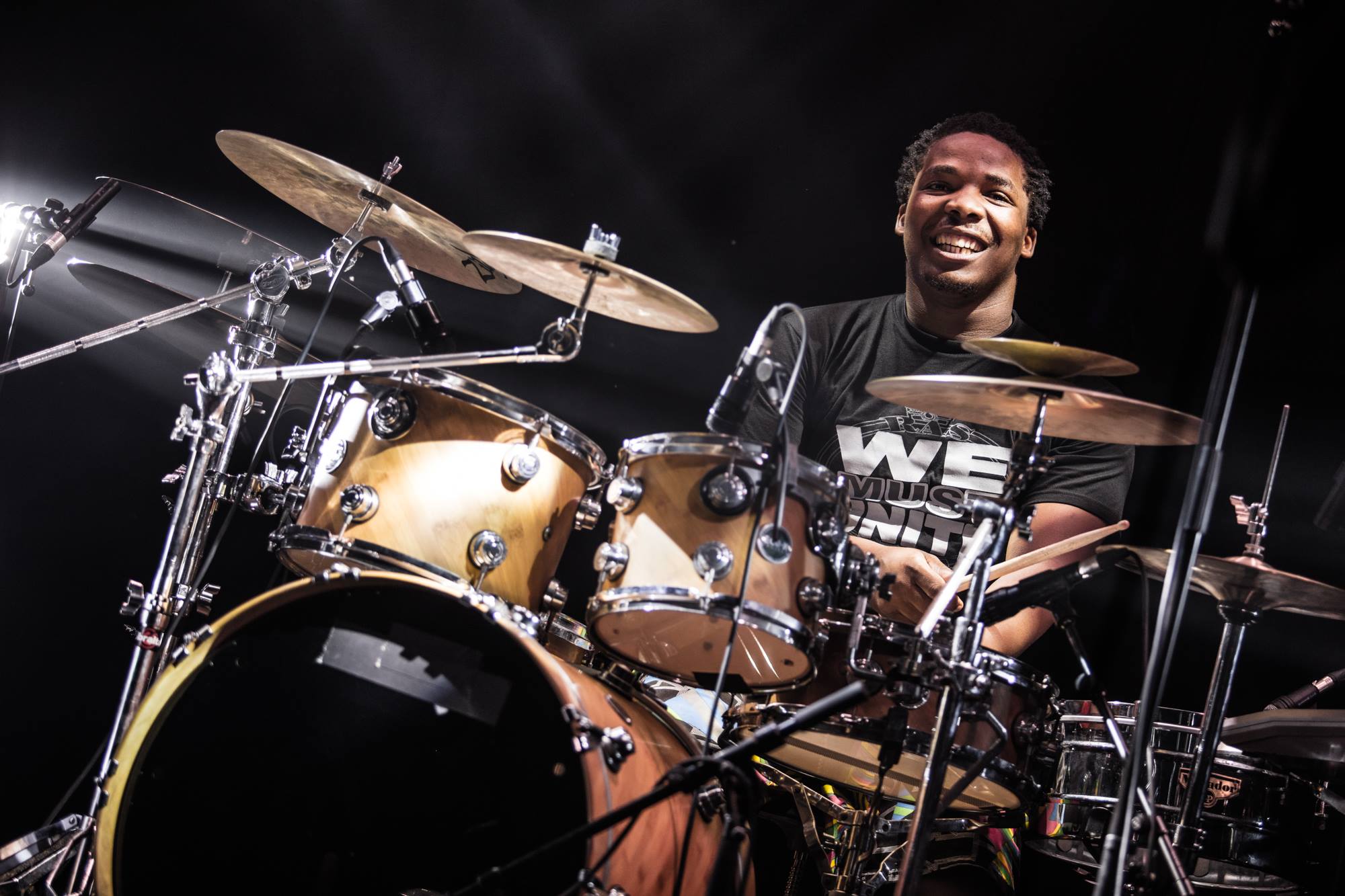 Come early! Performance starts at 10:45am!
By the age of 14, Lumanyano Mzi was already a sought-after session musician in his hometown of Cape Town, South Africa, eventually pursuing a formal education in jazz performance at the prestigious South African College of Music. It was here that Lumanyano formed his award-winning band, The Unity Band, whose debut album "Fabric" earned them the Best-Newcomers in Jazz Award at the 2019 Mzanzi Jazz Awards.
With a wide range of musical experiences under his belt, including performances with an impressive list of local and international artists, Lumanyano's journey continues to evolve. Currently furthering his studies at Berklee College of Music in Boston, he remains a passionate and collaborative force in the world of music, always eager to explore new sounds and connect with fellow artists.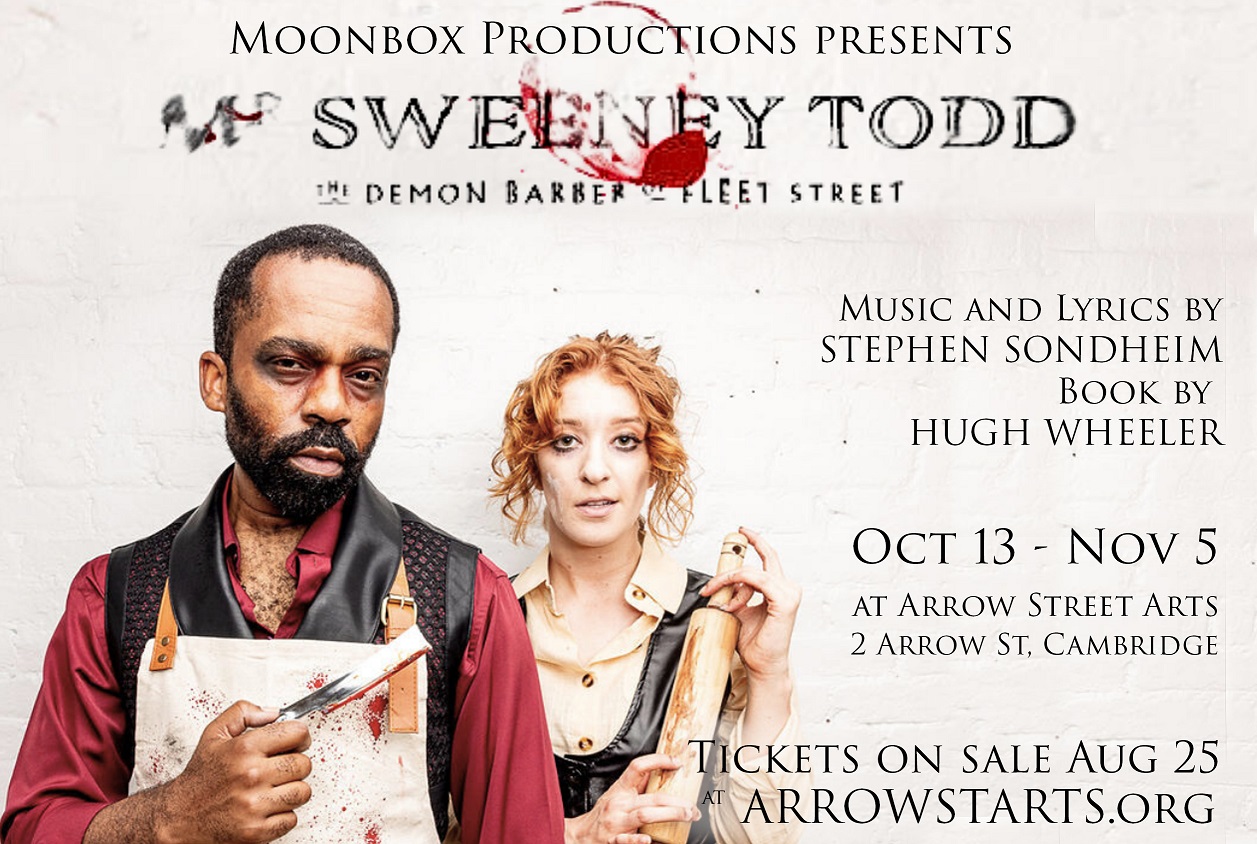 11:30am A Sneak Peak Performance from the Moonbox Production of Sweeney Todd
Our friends at Moonbox Productions (the talented force behind two seasons of The Rocky Horror Show in Harvard Square) have found a permanent home at Arrow Street Arts (former home of OBERON). Their first production, Sweeney Todd, hits the stage from October 13th – November 5th. Oktoberfest audiences will get a special sneak peak of a few of the best loved songs from this classic Sondheim musical. For tickets and information, click here.
12:00pm Vibe Check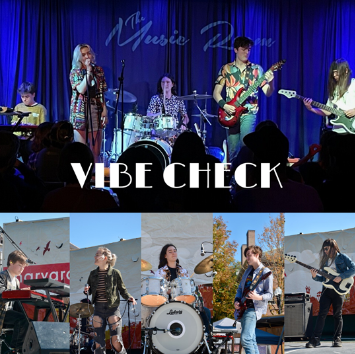 Returning this year is Vibe Check, a dynamic funk/rock/pop band of teenage multi-instrumentalists, songwriters and producers located in the Boston area. They play a wide range of originals and covers across many different genres. They got their start busking as 12 year-olds in Harvard Square, which earned them a feature in the Boston Globe. They have since played regionally and internationally, including the Rock in Rio festival in Lisbon, Portugal.
1:00pm HONK! Parade
All HONK! Review
2:00pm HS Band
2:08pm JP Honk
2:16pm LMB
2:24pm Party Band
2:32pm Expandable
2:40pm Undertow
2:48pm Seed & Feed
2:56pm Forward!
3:04pm MAG
3:12pm Nasty Woman
3:20pm Bread & Puppet
3:28pm School of Honk
3:36pm Good Trouble
3:44pm EE
3:52pm BABAM
4:00pm Rara Bel Poze
4:08pm Dirty Water
4:16pm Brass Solidarity
4:24pm DPMB
4:32pm Chaotic Noise
4:40pm ENSMB
4:48pm Yes Ma'am
4:56pm HONK Family Band
5:04pm RMO
5:12pm Clamor & Lace
5:20pm ERB
5:28pm Brass Balagan
5:36pm TMB
5:44pm Young Fellaz
Eliot Triangle Stage
2:00pm TMB
2:30pm Bread & Puppet
3:00pm RMO
3:30pm Expandable
4:00pm MAG
4:30pm Good Trouble
5:00pm Brass Solidarity
5:30pm DPMB
Charlie's Kitchen Stage
(10 Eliot Street)
2:00pm ERB
2:30pm School of Honk
3:00pm JP Honk
3:30pm Seed & Feed
4:00pm Clamor & Lace
4:30pm Brass Balagan
5:00pm Chaotic Noise
5:30pm Party Band
Church Street Stage
(at the intersection of Church Street and Massachusetts Avenue)
2:00pm Gora Gora
2:30pm Yes Ma'am
3:00pm Dirty Water
3:30pm ENSMB
4:00pm Forward!
4:30pm Young Fellaz
5:00pm Undertow
5:30pm EE
Passim Stage – Sponsored by Irving House
(at the intersection of Brattle & Church Streets)
11:00am Colin McGovern
12:00pm Spirit 47
1:00pm Almira Ara
2:00pm Chrysalis
3:00pm Goodnight Mooonshine
4:00pm Nicolas Emden
5:00pm Peryle
Mt Auburn Street Stage
(at the intersection of Mt Auburn and JFK Streets and adjacent to Winthrop Park)
11:00am – 1:00pm Rumboat Chili
Rumboat Chili is an original, classic style rock band based out of New Hampshire. The band takes pride in its classic roots, harkening back to original, raw, rock and roll. With hard-hitting riffage to soulful melodies, Rumboat Chili's music is unique unto itself. Combining layers of Organ, Piano, dual Lead Guitars, tight rhythmic Bass, and powerful Drums, the band's music is driven by two distinct, smooth, and harmonizing lead Vocalists. Rumboat Chili is a collection of five individuals, musically influenced, driven, and inclined to create music from the heart and soul. Journey with us once again with our upcoming sophomore album. Release TBA.
Charlie's Kitchen Stage
11am – 1:00pm Chica Fuego & The Gringos
An irresistible eclectic mashup of American rock, folk and standards with an infusion of Latin influence and originals. Lead by veteran performer Jenny Juggler (Chica Fuego) on ukulele/vocals and mentor Mario "Mambo" Santiago on guitar/rhythms/vocals, Chica Fuego &The Gringos is blessed to be assisted by many incredible musician friends.
The Filipino American Festival
(in the Church Street Parking Lot)
The Harvard Square Philippine American Alliance enthusiastically welcomes you to the Filipino American Festival held in the Church Street Parking Lot during Oktoberfest!
The Filipino American Festival, organized by the Harvard Square Philippine American Alliance (HSPAA ) in partnership with The Harvard Square Business Associations, boasts of artisan and craft vendors, live music, cultural performances and Filipino food vendors. This honors and celebrates Filipino American History month.
The Filipino American Festival headliner includes performance by Jocelyn Enriquez, a Filipino American dance-pop singer born and raised in the San Francisco Bay Area; with featured artist Rachel Anne Wolfe will be joined by Raynn and Mark "Bayani" Teodosio , DJ Luv, and cultural groups Iskwelahang Pilipino, NaFFAA MA Dance Troupe, Tribu Cebuano, Cebu Inc., Philippine Dance and Culture Organization, Harvard Philippine Forum, Hoy! Pinoy! UMass Boston, and BUFSA.
The HSPAA participation in the HONK! Parade will be led by 2023 HSPAA Hermana Mayor Dr. Dely Po Go, DNP, RN, LNHA of New Jersey. Confirmed participation includes the return of the NaFFAA MA Dance Troupe and Tribu Cebuano, Cebu Inc. First time participants include the Philippine Dance and Culture Organization, Harvard Philippine Forum, Hoy! Pinoy! UMass Boston, and BUFSA (Boston University Filipino Student association).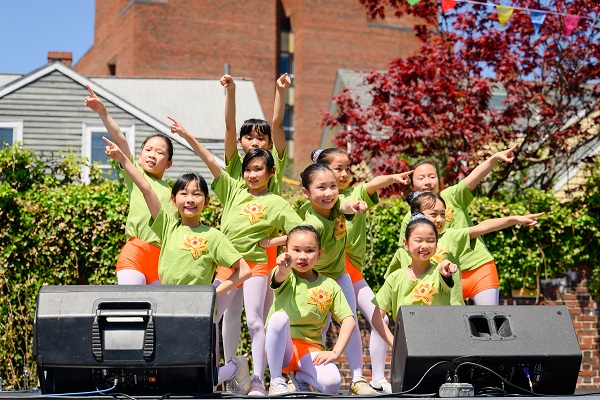 The Filipino American Festival at Harvard Square is sponsored by: Nursing Network – Healthcare Service,
The Philippine Living Heritage Initiative, Harvard Club of the Philippines Global, Philippines Department of Tourism, Landscape Visions & Pool Visions, and the AAPI Commission.
Media Sponsor: GMA Pinoy TV
Supported by: Philippine Consulate General in New York, Harvard GSAS Student Center, Boston Fil-Am Group Entertainment, Pan-Harvard Filipino Network, Harvard Philippine Forum, Subtle Asian Boston, Felipe's Taqueria, Project Barkada and Bright Light.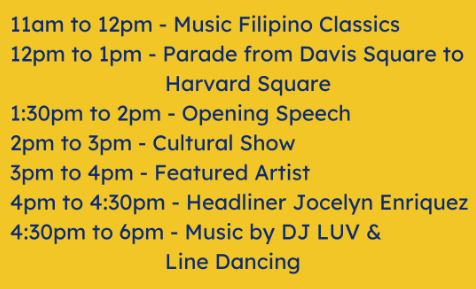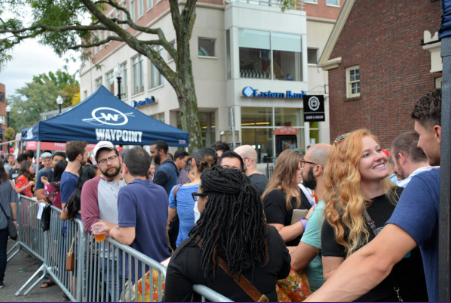 Beer Gardens/Patios Within The Festival
Eateries/Patios Within the Festival
Eliot Street Café/Dunkin Donuts
One Reason Garden Bar Oktoberfest
Celebration at the Charles Hotel
Join us on Saturday, October 7 at the Charles Hotel for beerfest-themed bites, Trillium Brewing's Wiesnbier on draught, along with games, live music and giveaways! Party starts at 2:00, we'll see you there.
Live Band from 2:30pm-4:30pm; Toussaint Liberator
Trillium Brewing will be joining the festivities with give-aways and merchandise.
What do German brats and sauerkraut, Bavarian pretzels and beer cheese, and Reggae have in common – just One Reason!
Garden Bar is celebrating Oktoberfest October 7, 2023 | 2:00pm-5:00pm
Eat, Drink, and Dance! Celebrate the closing weekend of Octoberfest at the Garden Bar.
Grendel's Den Oktoberfest After Party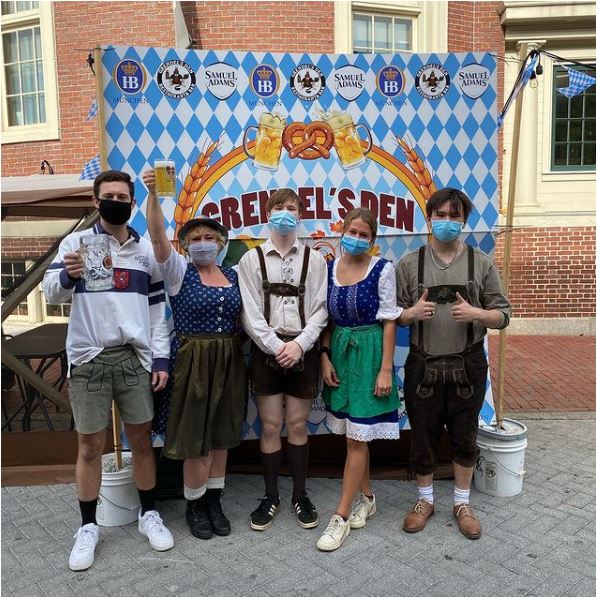 Started in 1979, the Harvard Square Oktoberfest was never a strictly German-themed event.
The Kuelzer family, having roots in Bavaria, decided to trot out their lederhosen and dirndls and tap a ceremonial keg each year at Grendel's Den, starting over 20 years ago with founder Herbert, and later daughter Kari took up the mallet. One year, they made it onto the Jay Leno show for a "Drunk Or Not Drunk" segment, being the only lederhosen-wearing subjects! Grendel's Den features some German style food for the event, and since the dishes are so popular, we feature them from early September through the Indigenous Peoples Day Weekend.
The 21st Annual Keg Tapping Ceremony starts at 7pm. First come first served, no reservations.