November 25, 2020
Harvard Square is glowing with holiday spirit. As the days grow shorter, the sights and sounds of winter fill the streets. The Square radiates warmth and welcoming lights and will continue to do so throughout the entire winter season. Our display this year, (Banners! Lights! Wreaths! Swags! Greenery and Bows!) brightens our days and adds a cheerful glow to our nights…and is made possible through the generosity of many Harvard Square Business Association members:
AURORAE
City of Cambridge
BEACONS
Cambridge Office for Tourism
Cambridge Trust
Janet Cahaly Inc.
University Common Real Estate
STARS
El Jefe's Taqueria
Harvard COOP
JVT Realty
Prellwitz / Chilinski Associates

RAYS
Orinoco
Passim
SEE Eyewear
SPARKLES
Amorino Gelato
Blue Heron Renaissance Choir
Cambridge-Ellis School
---
November 18, 2020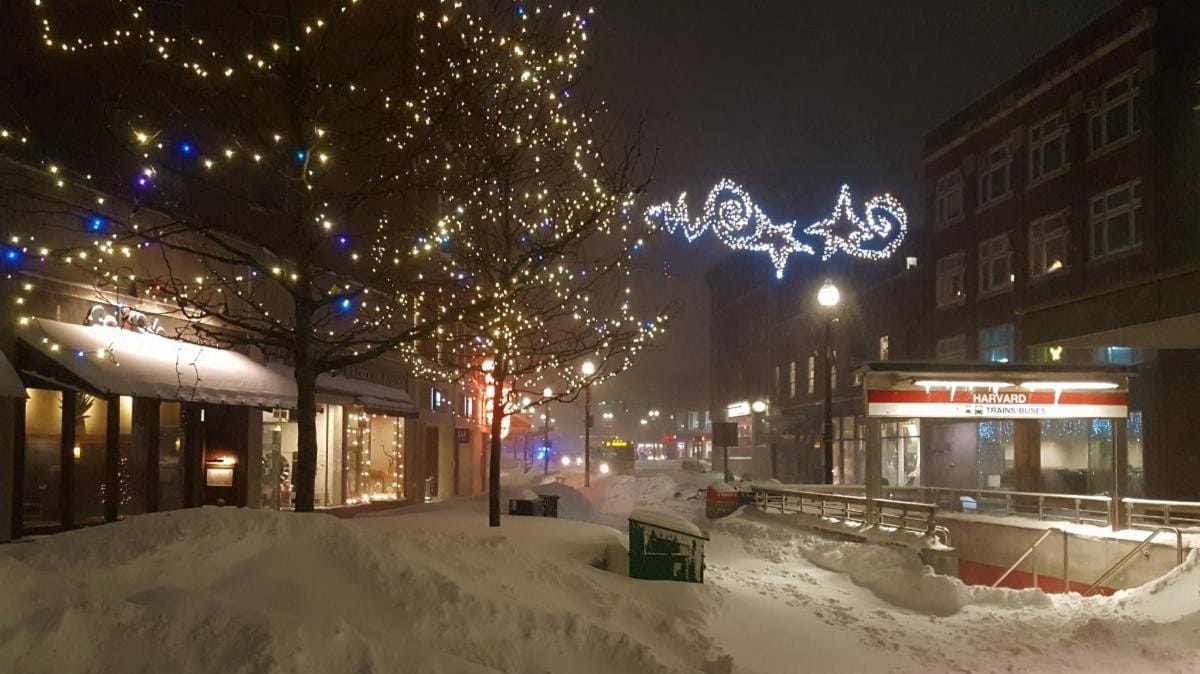 To our dear Harvard Square Business Owners & Friends:
While so many are struggling with COVID fatigue, we take hope in the promising news out of Kendall Square for a vaccine.
There is light at the end of the tunnel — and there will be lights in Harvard Square for the holiday season.
As 2020 comes to an end, the trees in Harvard Square are golden and our patio season is expanding into winter. The sights and savory smells of autumn fill the air and HSBA staff is busy cleaning, repairing, and replacing holiday lights and decorations.
Again, this year, Harvard Square will radiate warmth and welcoming light throughout the entire winter season. As in the past, we are asking for your financial support to help underwrite the cost of our starlight banners, wreaths, swags and baskets. We recognize how challenging it will be for so many of our businesses to make a contribution.
If you can, please help us make Harvard Square glow with holiday spirit. Our theme this year includes white lights, red bows, evergreen swags, and a colorful canopy of lights that dangle from the oak tree in Winthrop Park. Please join us in spreading this theme as you light the windows and doors of your own businesses.
A donation form is enclosed; please list your name or business as you would like it to appear in all the places where we give recognition to our holiday light contributors.
With thanks and appreciation for your kindness and our best wishes for a wonderful holiday season, please continue to take good care.
Denise Jillson
Executive Director
Caring for the Square Since 1910…