Celebrate Valentine's Day in Harvard Square!

It's the season of love and Harvard Square has thoughtful and sweet Valentine's Day choices for all of those who hold a special place in your heart!
Whether you're searching for a romantic dinner, indulgent desserts and cocktails, a concert, a trip to a museum, in-person or online, we have options to delight even the most discerning people on your love list!
Alden & Harlow | Longfellow | Waypoint
February 14th 5pm – 10pm
PRO-LOVE OR ANTI-LOVE, HARVARD SQUARE HAS SOMETHING FOR EVERYONE TO CELEBRATE THIS VALENTINE'S DAY
This Valentine's Day, whether you're looking for a romantic date night or Anti-Valentine's Day cocktails to imbibe with your friends, Alden & Harlow, The Longfellow Bar and Waypoint are offering an array of specials sure to satisfy both lovebirds and haters alike.
Alden & Harlow
Braised Beef A la Plancha 29
Smoked Scallop, Parsnip Kimchi, Apple Crema
Tagliatelle & Caviar 28
Cultured Butter, Chives, Black Truffle Breadcrumbs
A&H Sweet Box 17
Assorted Cookies & Confections
Amor Caliente 14
Manzanilla Sherry, Cimmaron Blanco, Lime, Jalapeno Agave, Suze
International Kiss 16
Avua Prata Cacaca, Ardbeg Wee Beastie 5yrs Scotch, Lexardo Aperitif,
Chamomile Honey, Lemon
RESERVATIONS
The Longfellow Bar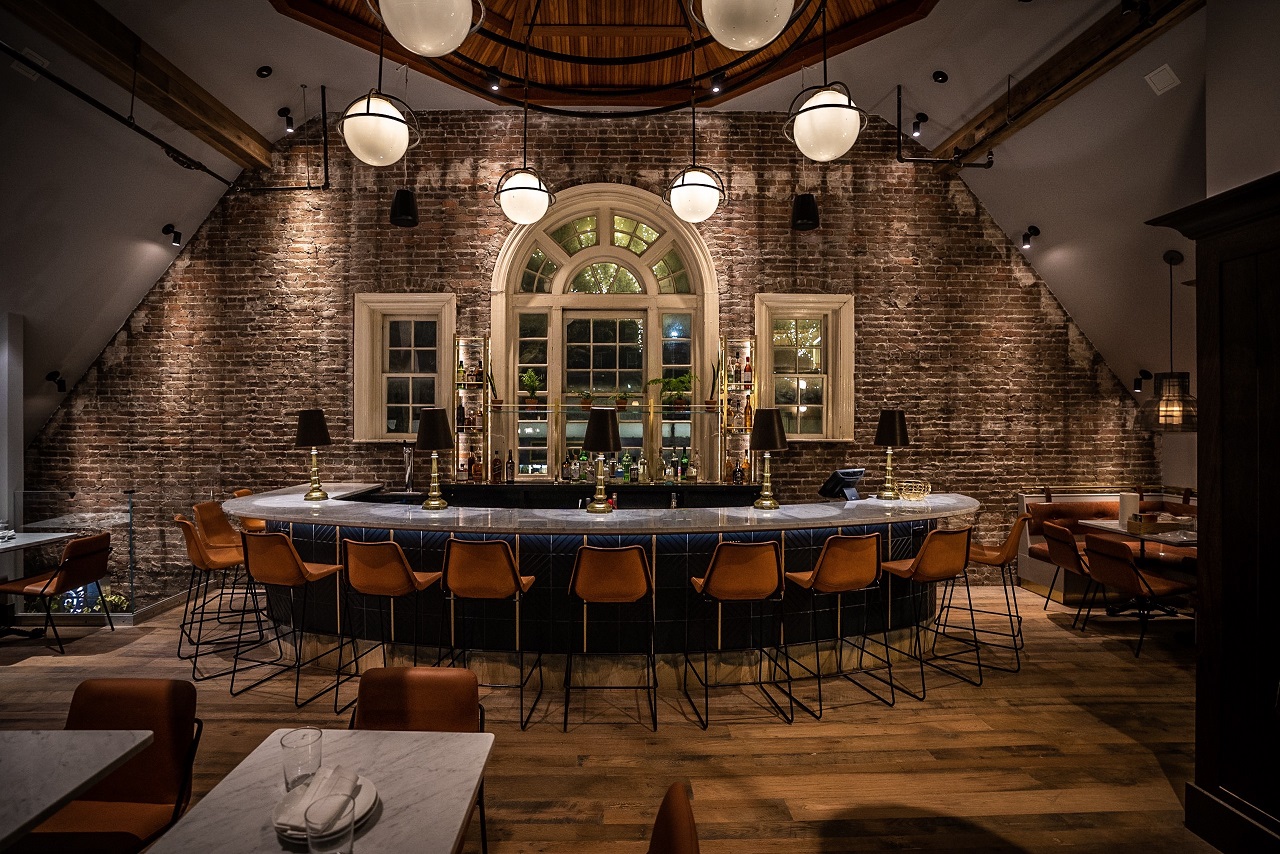 Cupid Floats 15
Singani, Pineapple, Lemon, Green Chartreuse, Montenegro Floater
It's Not You, It's Me 14
Privateer Country Roads, Lime, Simple, St. Elizabeth, Absinthe Rinse,
Angostura
RESERVATIONS
Waypoint
Fried Oysters Rockefeller 19
Creamed Spinach Aioli, Smoked Pecorino, Salmon Roe
Seared A5 Kobe Strip (3oz) 65
Charred Broccoli Hash, Cured Egg Yolk, "Chipped Kobe Beef" Gravy
Strawberries & Cream Macarons 14
Fresh Berries, Vanilla Crema
Me Before You 14
Bourbon, Absinthe, Peach, Lemon, Angostura
Roses & a Place to Lean 13
Gin, Bénédictine, Lillet, Orange Blossom
COS Frappato di Vittoria 17
Red | Sicily, Italy
Schramsberg "Blanc de Blancs" 40 (½ btl)
Chardonnay | North Coast, California
RESERVATIONS
Alden & Harlow, 40 Brattle Street (617) 864-2100
The Longfellow Bar, 40 Brattle Street #3, (617) 864-2100
Waypoint, 1030 Massachusetts Avenue, (617) 864-2300
Amorino Gelato
From February 1st to 14th, Amorino boutiques will gift you a delicious heart-shaped biscuit for every purchase of a signature hot chocolate and/or signature classic-sized cono or coppa.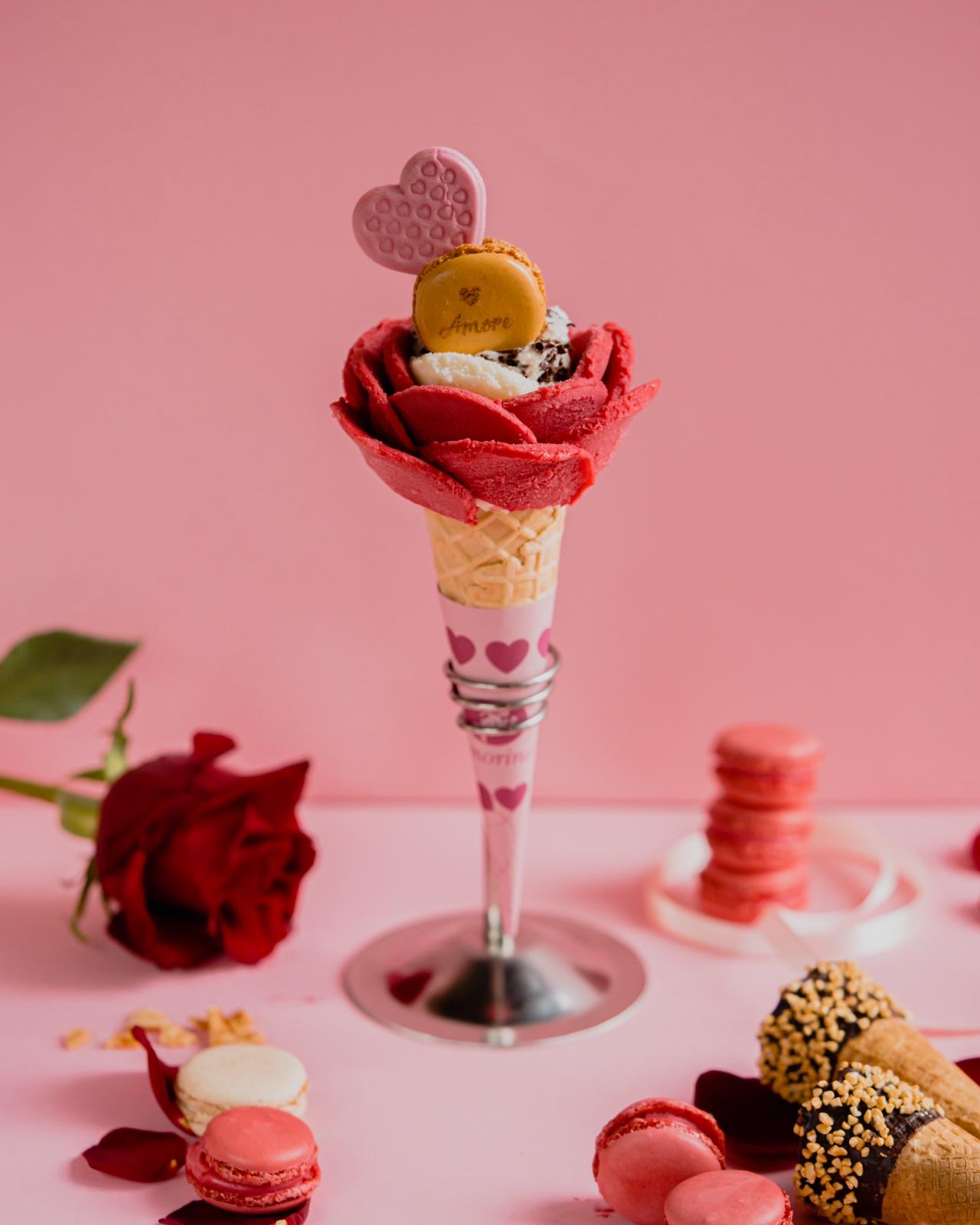 Amorino Gelato, 50 JFK Street, (617) 714-4975
Bar Enza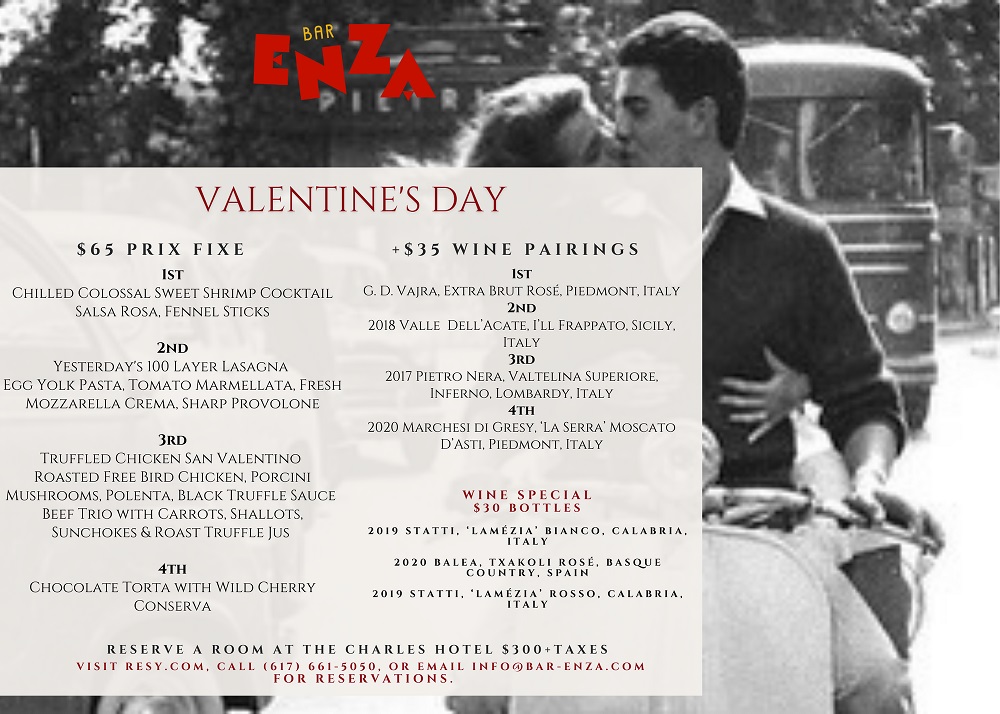 Bar Enza, 1 Bennett Street, (617) 661-5050
Blue Heron
Saturday, February 12th at 2:30pm and 8:00pm
Award-Winning Blue Heron Ensemble Presents Un petrarchino cantato – Petrarch's Canzoniere in song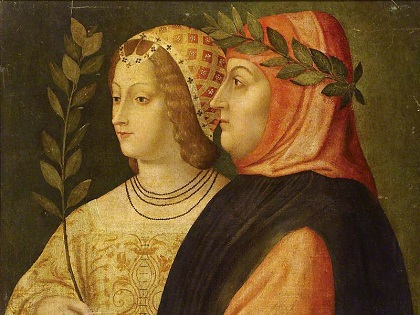 Thus begins our musical valentine of 16th-century madrigals setting poetry by Francesco Petrarca. In church on April 6, 1327, the 23-year-old Petrarch beheld a beautiful young woman, Laura, and was instantly pierced through by love at once carnal and spiritual. His love for Laura would obsess, torment, and inspire him until her death from the plague in 1348 and beyond, for the rest of Petrarch's life, shaping his work and the meaning of his existence.
Inspired by love, Petrarch's Canzoniere in turn inspired some of the most expressive, beautifully crafted, and emotionally powerful music of the sixteenth century. Blue Heron's "Petrarchino cantato" or pocket Canzoniere presents madrigals by Verdelot, Arcadelt, Willaert, de Rore, Wert, Marenzio and others sung by six musicians, with dramatic recitation of poems and other writings in Italian and in English translation performed by two actors, one Italian and one American.
Not your average valentine—but a perfect afternoon or evening out, filled with drama and emotion.
Free pre-concert talk by Prof. Christopher Martin (Boston University) begins 45 minutes before each concert.
Please note our COVID safety protocols for in-person attendance.
Tickets for live concerts are $50 for adults, $35 for Seniors, $10 for students or low-income, and include online access. Tickets for online-only concerts are $39 for adults, $30 for seniors, $10 for students or low-income.
Blue Heron, (617) 960-7956
Bob Slate Stationers
Share the love with friends & family far & wide with a warm Valentine's card from Bob Slate Stationer.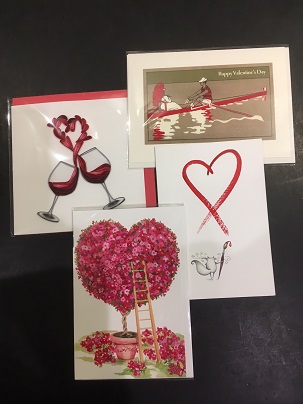 Bob Slate Stationers, 30 Brattle Street, (617) 547-1230
Bonde Fine Wine Shop
February 13th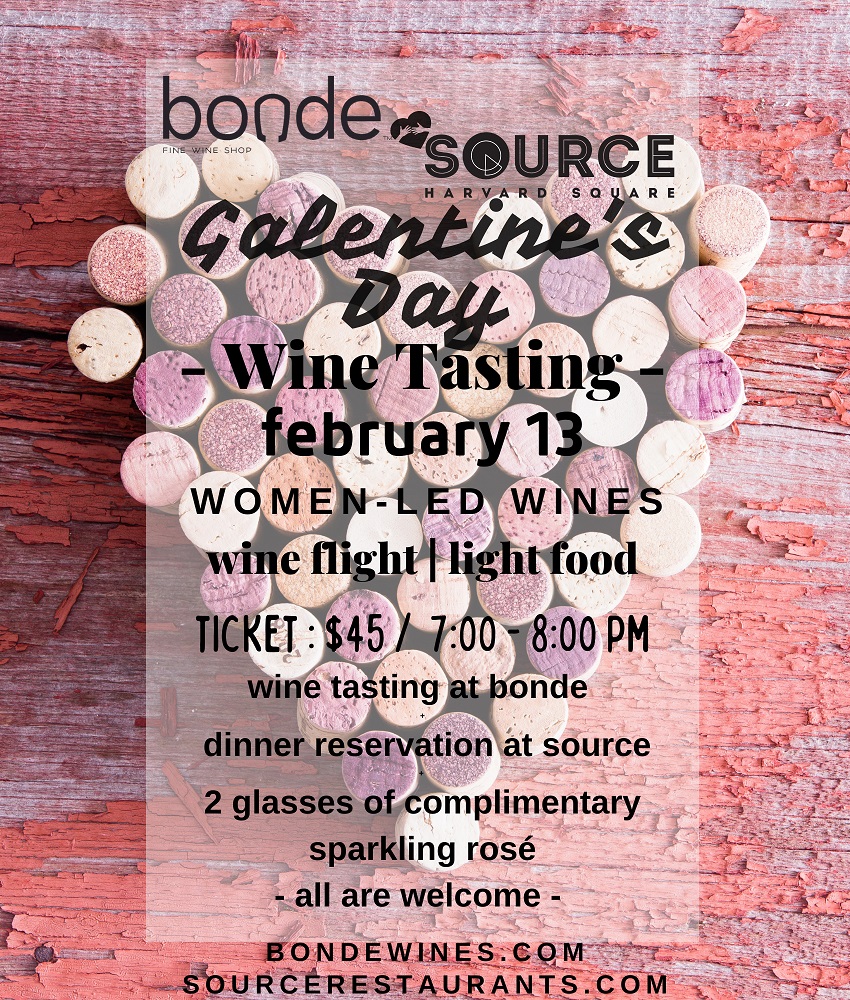 February 14th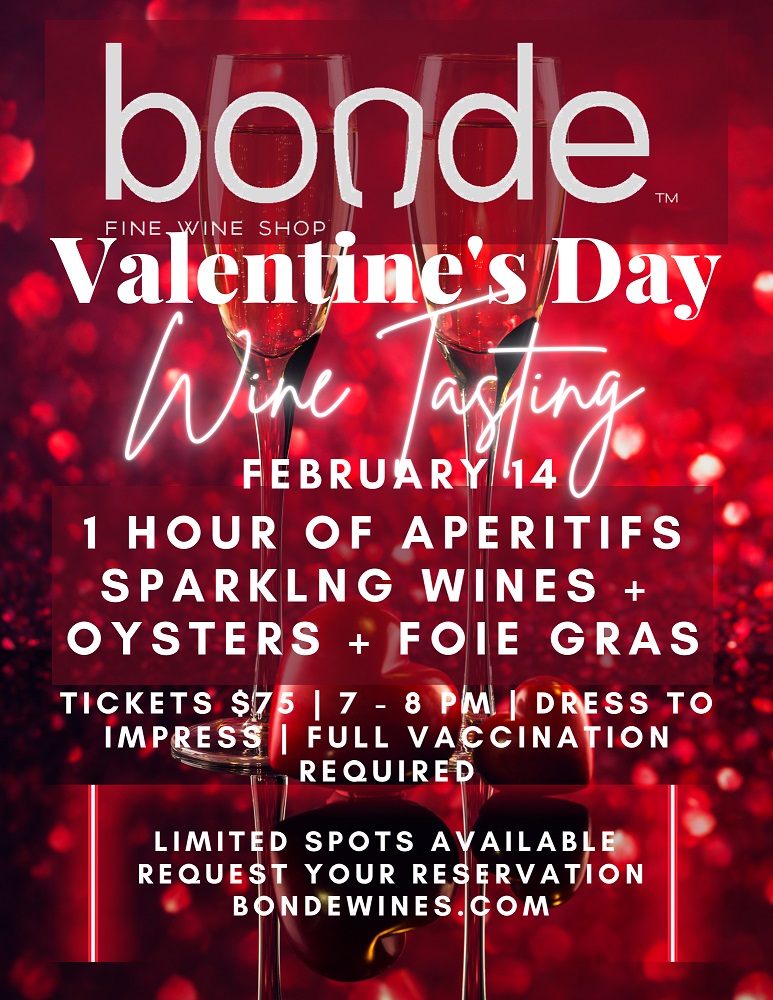 Bonde Wine, 54 Church Street, (617) 945-2360
Brattle Square Florist
For over 100 years, Brattle Square Florist has been a part of community celebrations with Valentine's Day being the busiest period of the year. For the upcoming special day, the florist will be offering fantastic blooms at valuable pricing, including:
· 1 dozen medium-stem roses ranging from $35 to $45
· 1 dozen long-stem red roses will be at $60
· 10 stem Dutch tulip bunches will be $15
· Mixed bouquets ranging from $15 to $40
· Hundreds of floral varieties can be picked by the stem or bunch (prices vary)
· Single rose stem will be $5 each
· Delivery will only be available throughout Cambridge
Opening hours: Monday to Saturday 8am-6pm; Sunday 9am-6pm
Brattle Square Florist, 31 Brattle Street, (617) 876-9839
Brattle Theatre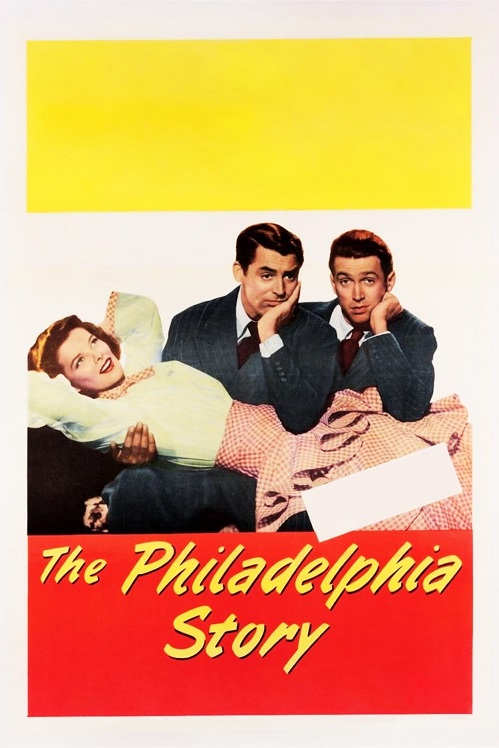 February 14th at 4:30pm & 6:30pm
THE PHILADELPHIA STORY is, hands down, one of the funniest and most beloved screwball romantic comedies of all time. The outrageous plot revolves around a tabloid reporter (Stewart) sent to a society wedding who falls for the free-spirited bride (Hepburn) as she contemplates a reunion with her ex (Grant)—all while her current groom (Howard) protests ineffectually. February 14th at 4:30pm & 6:30pm
February 14th at 4:00pm & 9:30pm
The Princess Bride
In this amazingly entertaining comedic fantasy, we follow the farm boy Westley (Elwes) and his beautiful beloved Buttercup (Wright) as they face the many obstacles to their union – including (but not limited to) pirates, evil princes, expert swordsmen, brutish giants, rodents (of unusual size), expert torturers, political intrigue, etc, etc.
Brattle Theatre, 40 Brattle Street, (617) 876-6837
Cambridge Center for Adult Education
Valentine's Italian Dinner *Online*
Monday | Feb. 14. | 4 – 6:30pm
Love is in the air and no one can pull off a romantic meal like the Italians. In this class, we will prepare dishes to celebrate a sweet Valentine's at home. We'll make fennel, radicchio, and parmesan salad, chicken saltimbocca, roasted tomato and porcini risotto, and braised artichokes and peas with fresh basil. We'll finish the class with amaretto chocolate truffles and a glass of Italian wine. We encourage you to cook along in this class. Don't forget to have a glass of wine and some snacks if you plan to just watch and learn. The list of ingredients needed will be sent prior to the class along with the Zoom link.
Instructor: Diane Manteca
Buche de Valentin *NEW* *In-Person*
Thursday, 6-9pm. Feb. 10.
You've heard of a Bûche de Noël—how about a Bûche de Valentin? In this class we will make a sponge cake roll with a cream and fresh fruit filling. To decorate the cake, we will make some Valentine's Day themed treats such as heart shaped meringues, sugared cranberries, marzipan decorations and special valentine cookies. A treat for the eyes and more importantly a treat to eat!
Instructor: Evelyn Schichner
Boston Chocolate History and Tasting *Online*
Saturday, 1-2:30pm, Feb. 12.
Boston has many historical connections to chocolate, starting with the Revolutionary War and continuing on to become the home of the very first chocolate factory in North America. However, expanding our understanding of chocolate includes looking at it from a global perspective. Learn more about chocolate's sweet local history as well as its complicated global future with this fascinating class brought to you by Victoria Kichuk of Cocoa Beantown. Be prepared to come away from this class with a deeper understanding of how to taste chocolate as well as its historical and cultural significance.
Instructor: Victoria Kichuk
Valentine's Day: Sparkling Wines and Appetizers *In-Person*
Sunday, 5-7:30pm, Feb. 13.
Let's spark your Valentine's Day date with this fizzy wine tasting. We'll talk about methods for making sparkling wines, regions where they are produced, and when and how to best enjoy them. We'll see why having a glass of sparkling wine makes us feel special and more alive and pair some appetizers with the wine along the way. The tuition is per pair.
Instructor: Dagmar Smith
Cambridge Center for Adult Education, 42 Brattle Street, (617) 547-6789
Denise Patnod Acupuncture
VALENTINES DAY SPECIAL
February 14th – 18th
Take time with your bestie for a: Couples Acupuncture Session.
$175 ($50 savings)
By appointment only: Monday-Friday, 9-5
Call today: 617-820-6864
Denise Patnod Acupuncture, 24 Hilliard Street
DoubleTree Suites by Hilton Boston – Cambridge
"Un-Valentine's Day" special at their rooftop igloo bar targeting singles this year.
Eat well, drink well and leave your exes behind at Chill Over the Charles Rooftop Igloo bar at their Anti-Valentine's Day event this February 14th.
Grab your single friends and leave the Hallmark folly behind with a one-night-only pre-fixe menu to treat yourself, including a New Zealand lamb rack and seared scallop surf and turf special paired with baked mac & cheese that's sure to fill the hole left in any broken heart. Enhance your night with a selection of fun Un-Valentine's Day cocktails – from Hit the Road Jack to I'm Not Bitter – or try some of our favorite local Jack's Abby Craft Lager brews, including their Framinghammer Baltic Porters series.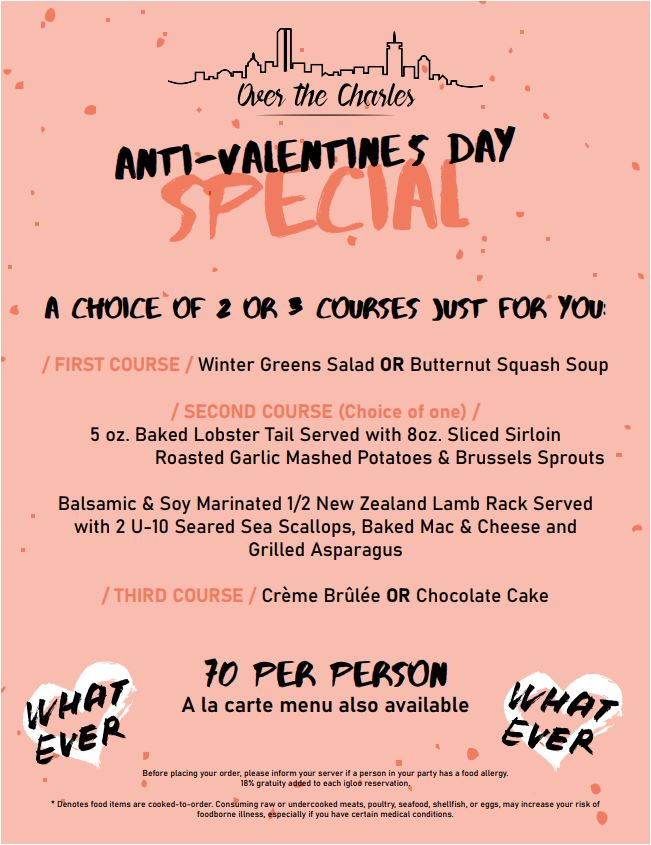 Available 5:30pm to 12:00am (weather permitting)
OpenTable to DoubleTree Suites by Hilton, 400 Soldiers Field Road, (617) 783-0090
El Jefe's Taqueria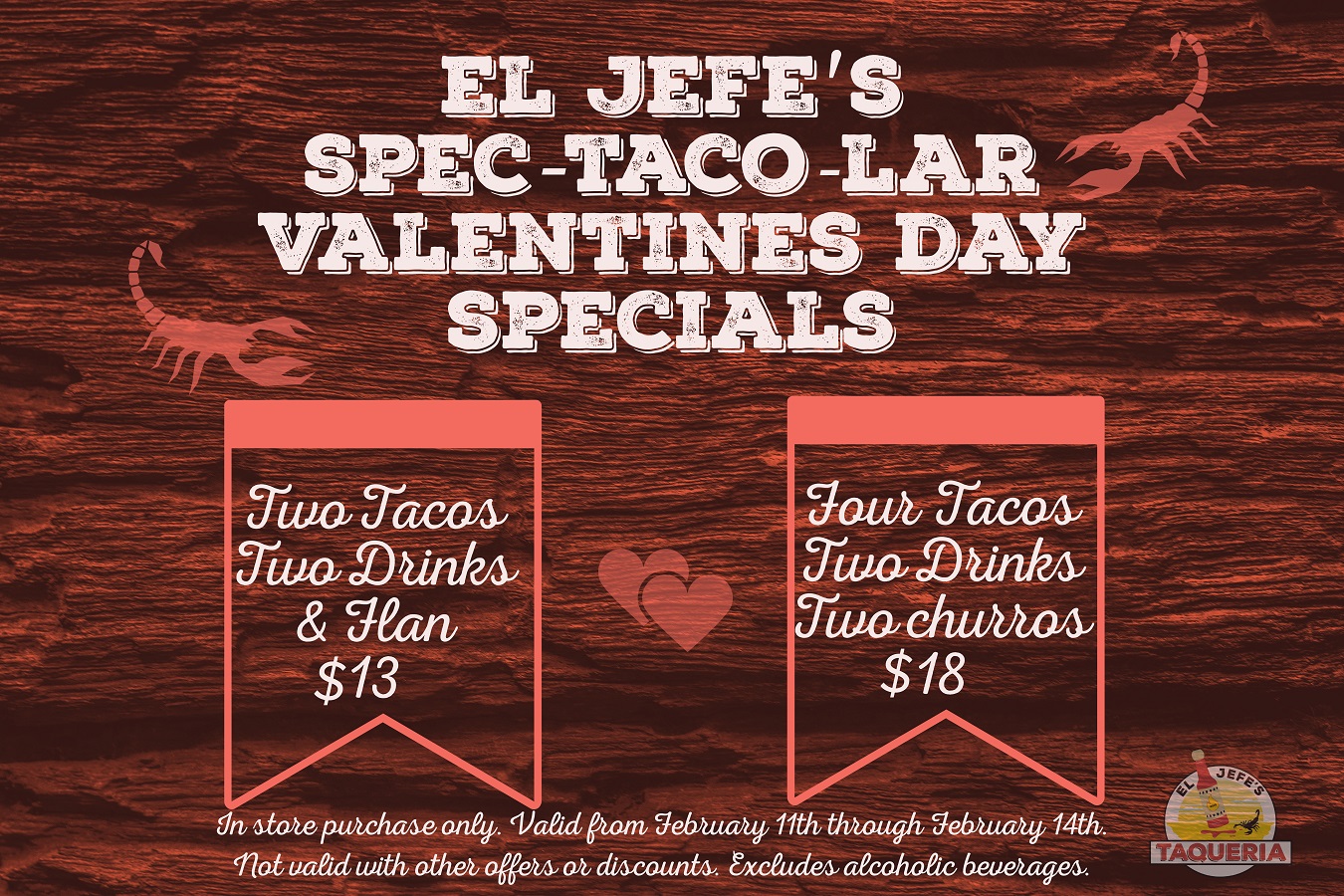 El Jefe's, 83 Mount Auburn Street, (617) 945-1986
Forty Winks
In-store and online discount of 15% off all Valentine's Day Lingerie on Wednesday, Feb 9th only. Online will be from 12am-11:59am and in-store will be during our regular hours of 11am-7pm.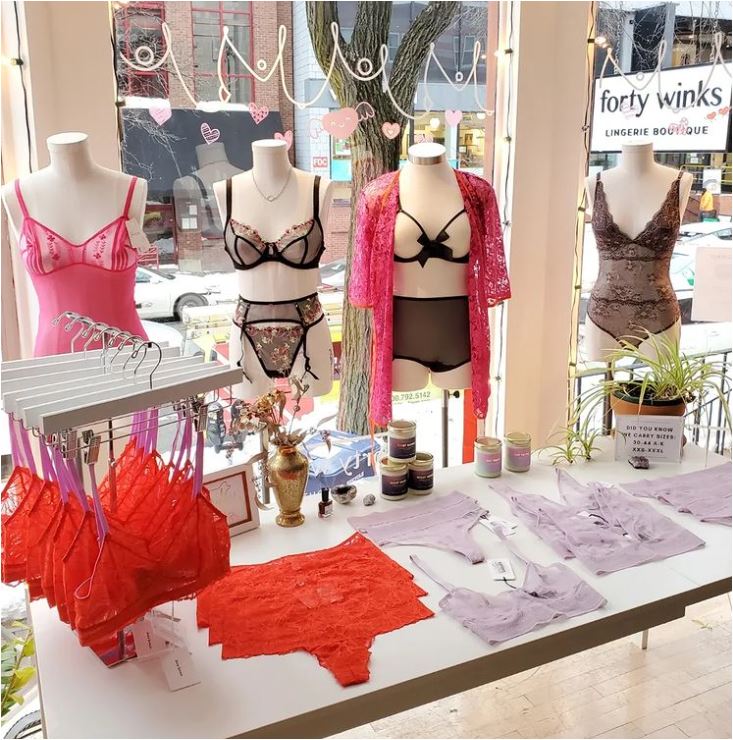 Forty Winks, 56 JFK Street, (617) 492-9100
Grendel's Den Restaurant & Bar
We'll be bringing our famous cheese fondue for Valentine's Day week from the 13th – 20th of February
We have a residency happening with the Goodrich Family Band on Mondays starting Feb 7.
We also have our first of 4 Odds Bodkin dates happening on February 27th. Tickets are a perfect Valentine's gift for the story lover in your life!

Grendel's Den, 89 Winthrop Street, (617) 491-1160
Harvard COOP
Book Lovers!
Couple Up for a fun-filled, no-cost, stress-free, bookish Valentine's Day at The Harvard Coop!
Monday, February 14th, 5:30 pm to 7:30 pm.
Surprise Pop-Up Raffle Prizes distributed though out the event!
Win Gift Cards for local hot spots like Source, or score some delicious take-home treats, and bubbly beverages.
Save 14% on any purchases! This is a FREE event, but registration is requested, please.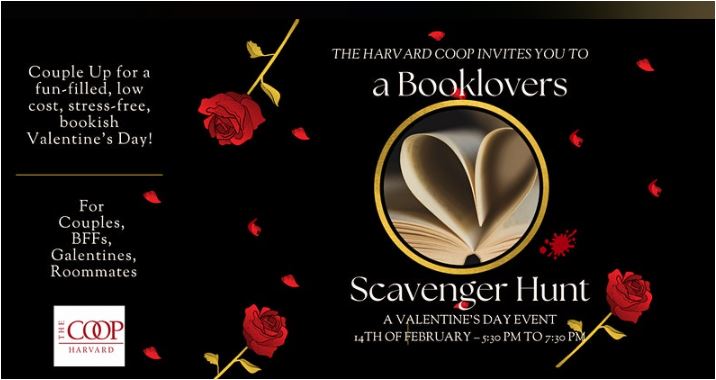 The Harvard COOP, 1400 Massachusetts Avenue, (617) 499-2000
Harvard Museums of Science & Culture
Free Virtual Film Screening/Conversation
Thursday, February 17, 6:00–7:00 pm ET Advance registration required.
We Dance: An Exploration of Movement, Foodways, and Environments
* Thaddeus Davis, Codirector, Wideman Davis Dance; Associate Professor, Departments of Theatre and Dance and of African American Studies, University of South Carolina
* Tanya Wideman-Davis, Codirector, Wideman Davis Dance; Associate Professor, Departments of Theatre and Dance and of African American Studies, University of South Carolina
* In conversation with Sarah Clunis, Director of Academic Partnerships and Curator of African Collections, Peabody Museum of Archaeology & Ethnology
From the world-renowned Wideman Davis Dance Company and award-winning filmmakers Ethan Payne and Brian Foster, We Dance is a love story, deconstructed and distilled into its most elemental ingredients. Dreams. Memories. Family. Environments. In this 12-minute film, Tanya Wideman-Davis and Thaddeus Davis take us from Chicago, Montgomery, and New York to the point where their lives meet and become one. Along the way, they honor and signify on Black American art, poetry, and literature. In this conversation with Sarah Clunis, they will discuss the film and delve into the importance of movement and migration to Black American identity, lived experience, and consciousness. And show how all of our stories are kept—in the places we've been, in the food we eat, and in the dreams that we so steadfastly chase.
Presented by the Peabody Museum of Archaeology & Ethnology and the Harvard Museums of Science & Culture in collaboration with the Theater, Dance & Media Program, Harvard University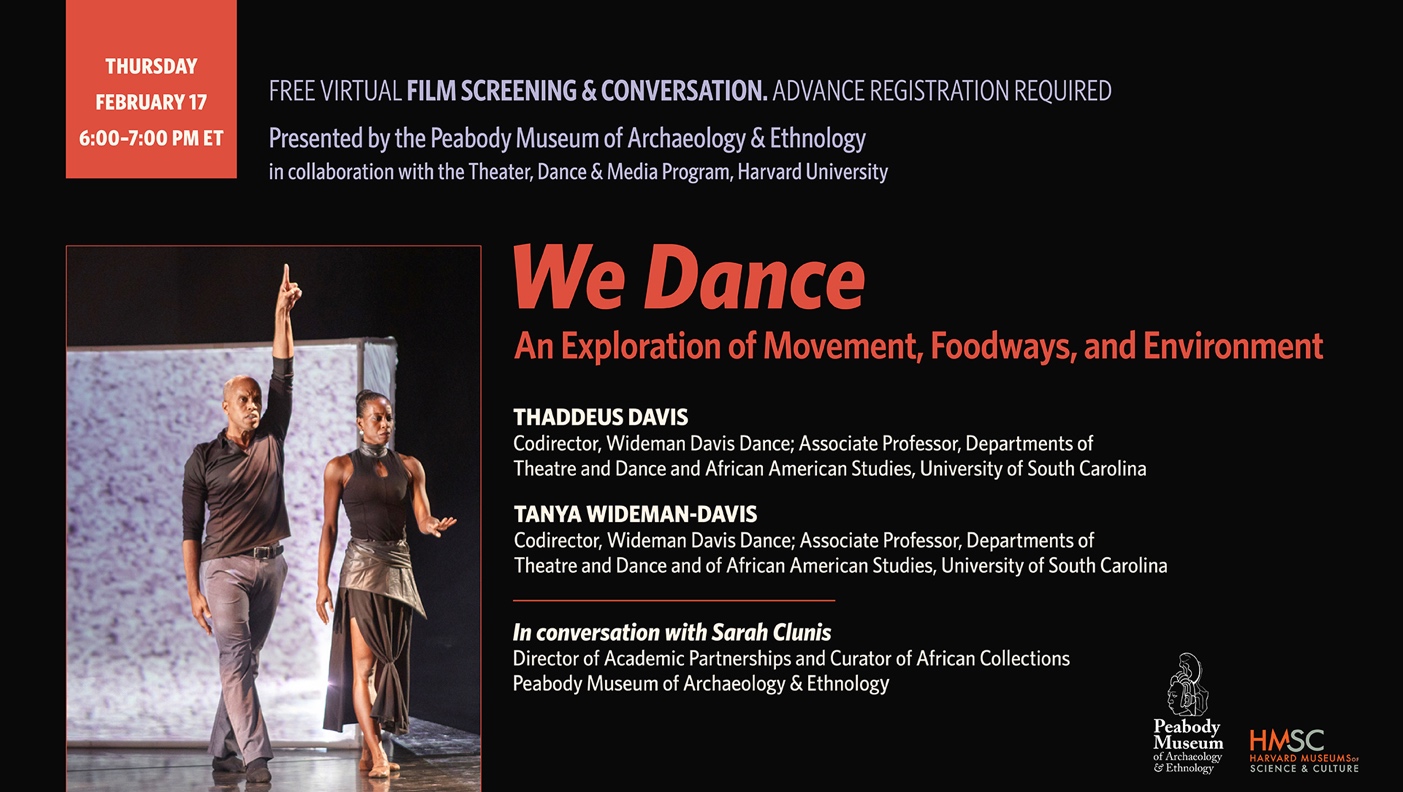 Peabody Museum of Archaeology & Ethnology and the Harvard Museums of Science, (617) 496-1027
Harvard University Employees Credit Union
Putting in a patio? Pool? Home gym? Great news! We're offering a Home Equity Special. You can make your dreams a reality with a home equity line of credit from HUECU. We've got you covered with 1.99% for 12 months when you apply before April 30, 2022.
1. After the first 12 billing cycles the Annual Percentage Rate (APR) is variable and will be equal to the Prime Lending Rate as published in the Wall Street Journal. Maximum APR that may apply on Home Equity Lines is 18.00%. Rates and terms are subject to change. If discharge is requested within 24 months from date of note, borrower will be obligated to pay lender the amount of waived fees. To guarantee the current fixed home equity rates, you must close on the loan by April 30, 2022. Maximum loan to value ratio of 80% or less. Adequate property insurance, and possibly flood insurance, is required. 1-4 family, owner-occupied primary residence and second homes only. Subject to credit approval. Current HUECU members with existing Home Equity loans are not eligible for this limited time special. Your savings are federally insured to at least $250,000 and are backed by the full faith and credit of the United States Government. National Credit Union Administration, a U.S. Government Agency. NMLS ID# 442121. By state law, all applications for loans must be in writing. Other stipulations may apply. All rates and terms are subject to credit approval and may change without notice.
Harvard University Employees Credit Union, 104 Mount Auburn Street, (617) 495-4460
Henrietta's Table
Henrietta's Table, 1 Bennett Street, (617) 661-5005
The Hourly Oyster House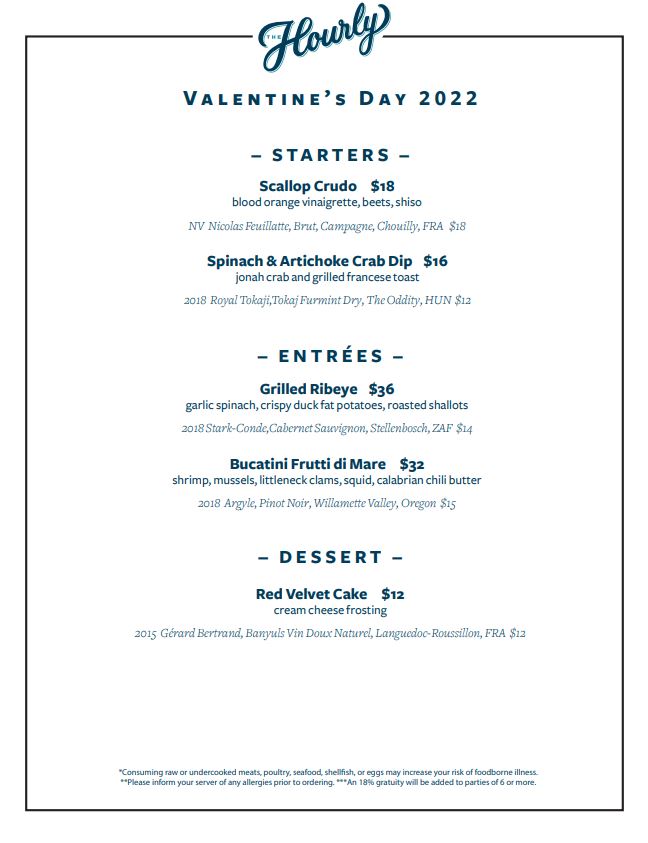 The Hourly Oyster House, 15 Dunster Street, (617) 765-2342
Hunt's Photo & Video
Happy Valentine's Day from Hunt's Photo Cambridge. We are offering 30% Off Valentine's Day Cards through February 14th. If you're looking for something more, we carry new and used camera gear, film processing, image printing, camera rentals, and photo education – we do it all at Hunt's Photo! For more information on savings and the latest gear, call or visit our Cambridge location or any of our eight stores located around New England.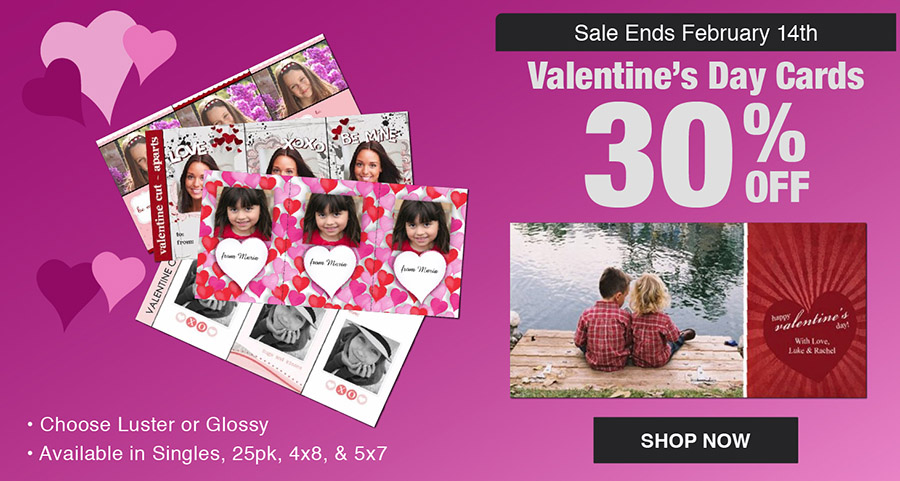 Hunt's Photo & Video, 99 Mount Auburn Street, (617) 576-0969
J.P. Licks
Valentine's Day cake available at J.P. Licks, order by February 12th.
J.P. Licks, 1312 Massachusetts Avenue, (617) 492-1001
Mix-it Asian Cuisine & Sushi Bar
Mix-it Restaurant, 1678 Massachusetts Avenue, (617) 547-0212
Mr. Bartley's Burger Cottage
Free appetizer with the purchase of two burgers, sandwiches or entrees. Mention this article for promotion.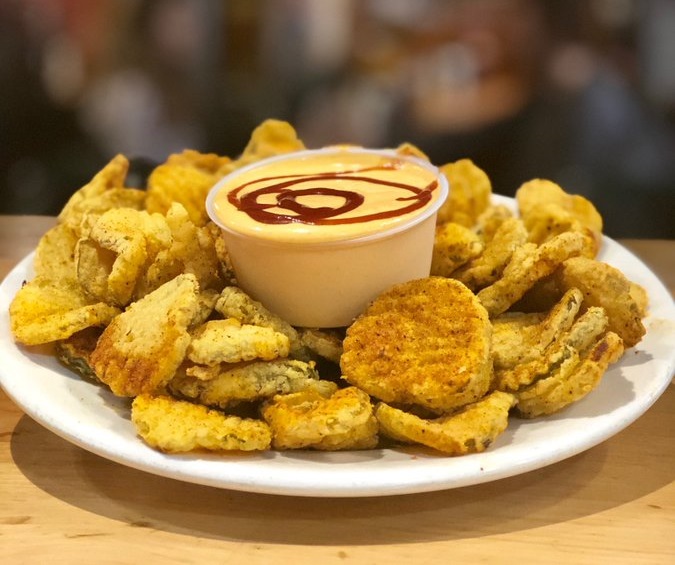 Mr. Bartley's, 1246 Massachusetts Avenue, (617) 354-6569
Nine Tastes
Will you be my Valen-Thai?
Valentine's Day Week: February 11th-14th. Order any TWO Entrees, Get a Free Spring Rolls or Scallion Pancake.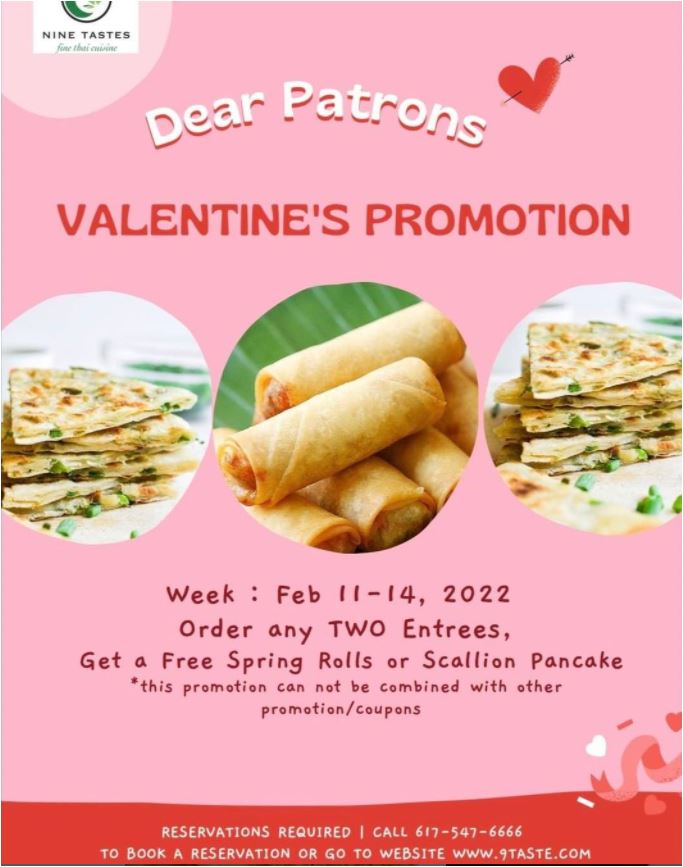 *This promotion can not be combined with other promotions/coupons.
Nine Tastes, 50 JFK Street, (617) 547-6666
Nubar
Special Valentine's Day three-course menu for $40, in addition to our regular dinner menu – from Friday 2/11 through Monday 2/14.
Appetizer – Select One
Lobster Bisque: Crispy Shallots, Basil Oil
Mushroom Crostini: Pat's Focaccia, House Ricotta, White Truffle Oil, Chives
Maple Glazed Pork Belly: Apple Brown Butter, Toast Walnuts
Entrees – Select One
Braised Boneless Short Rib: French Onion Risotto, Gruyere, Au Jus
Olive Crusted Hake: Lentils du Puy, Charred Carrot Puree, Rosemary Blood Orange Beurre Blanc
Sweet Potato Chickpea Gnocchi: Roasted Cauliflower, Spinach, Cherry Tomatoes, Curried Onion Soubise
Dessert – Select One
Chocolate Crème Brulee: Pistachio, Raspberries
Olive Oil Cake: Strawberry Basil Jam, Whipped Cream
Nubar, 16 Garden Street, (617) 234-1365
Off the Beaten Path Food Tours
Special Valentine's Day Chocolate Walking Tour on Monday, February 14th at 6:30-8pm. Join our friendly guide on a fun walking adventure through the Square, learn all about the history of chocolate, and enjoy some tasty treats. Guests must book tickets in advance at offthebeatenpathfoodtours.com. $40/guest, use code HARVARDSQUARE for 10% discount.
Off the Beaten Path Food Tours
Playa Bowls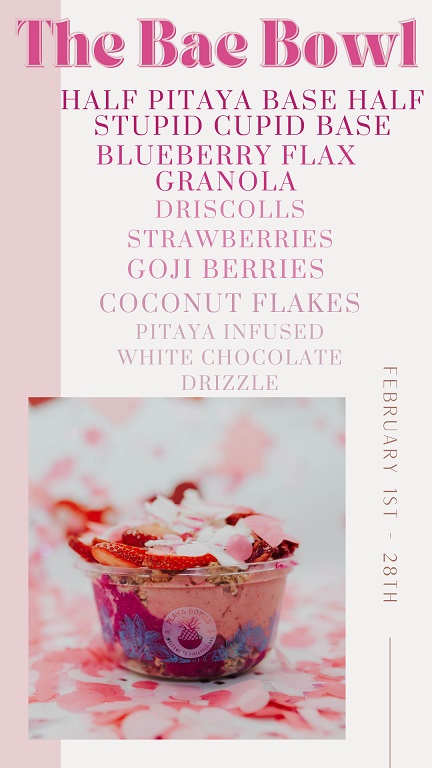 Playa Bowls, 71 Mount Auburn Street, (617) 714-5321
Rebekah Brooks
February 7th-February 14th
Get a free pair of earrings with every purchase of $250 or more, in-store and online. Open Sunday, February 13th, from 11am – 6pm.
Rebekah Brooks, 17 Brattle Street, (617) 864-1639
Russell House Tavern
Russell House Tavern, 14 JFK Street, (617) 500-3055
Smoke Shop BBQ
***Please note we have a few offerings. One is a valentines day cocktail box & the other is a valentine's day whiskey class & dinner.
Bourbon Lovers Cocktail Valentines Boxes
Link to order: https://thesmokeshopbbq.com/product/bourbon-lovers-cocktail-valentines-box/
Price: $29.50
How to Order (Before 2/12): Online
Pickup: Saturday 2/12 – Monday 2/14
How to Order (2/12 – 2/14)
In-house & take home
Celebrate your Valentine with our Bourbon Lovers Cocktail Valentines Box. You'll be set up for a special bourbon experience with four cocktails with Four Roses Bourbon, Red Velvet Butter Cake, glasses, and coasters. Our boxes are made with love to enjoy with a significant other, friend, or to by yourself (we don't judge!) The four cocktails come in two bottles (two cocktails in each bottle.

Box Includes:
Four cocktails in two bottles
Cocktail #1- Rose Gold: Made with 4 Roses Bourbon, Campari, honey syrup, and Lemon
Cocktail #2- Smoke Shop Old Fashioned: Made with smoked brisket fat washed Four Roses Bourbon, smoked simple syrup, and Angostura and Regan's Orange Bitters
Two orders of Red Velvet Butter Cake
Two Four Roses coasters
Two Four Roses rocks glasses
The best way to enjoy your drink is to fill your new Four Roses rocks glass with ice, pour in half a cocktail bottle, and put it on your coaster.
Box partnered with Four Roses Bourbon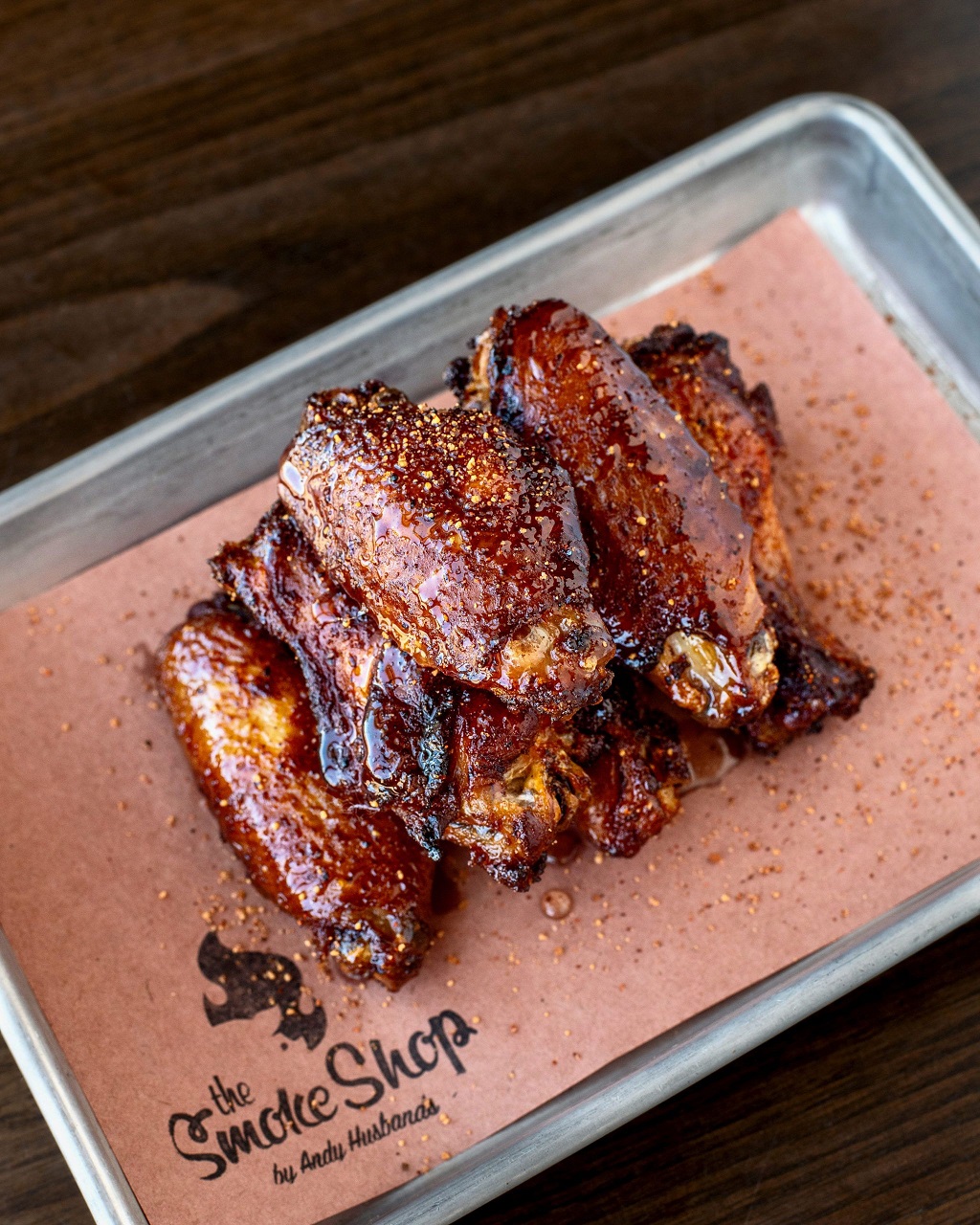 Valentine's Day Whiskey Class & BBQ Dinner with WhistlePig
Price: $125
Location: Harvard Square
Date & Time: Monday 2/14 at 6pm
How to Order: online
Availability: 4 couples
Join us at our Harvard Square location on Monday 2/14 at 6pm for a special Valentine's Whiskey Tasting & BBQ dinner. Four couples will enjoy a private whiskey class & BBQ dinner. The whiskey class will be led by WhistlePig's whiskey specialist, Chris Conroy. The Smoke Shop will serve a set menu with amazing appetizers, a main course, and a special dessert.
**1 ticket ($125) includes whiskey tastings and a BBQ dinner for two. Tax and gratuity added at checkout. Tickets are non-refundable but transferrable via a single e-gift card. Cancel within 72 hours of the class to be refunded 50% of the ticket cost via a single e-gift card**
Ticket Includes:
Welcome Cocktail & Appetizer
Enjoy A WhistlePig Maple Old Fashioned made with their PiggyBack 100% Rye
Learn how to make a perfectly balanced WhistlePig Maple Old Fashioned
Smoke Shop Famous Wings
Cornbread
Whiskey Tasting & Class
Main Course Dinner for Two
Big Beef Rib
Smoked Hot Link
Burnt Ends
Sweet & Spicy Coleslaw
Pimento Mac & Cheese
Zucchini Salad
Final Whiskey Tasting & Dessert
Event partnered with Horizon Beverage & Beam Suntory
Smoke Shop BBQ, 8 Holyoke Street, (617) 547-7427
SOURCE Restaurants
SOURCE Restaurants, 27 Church Street, (857) 856-6800
In addition, here is a list of Arts & Entertainment happening in the square over Valentine's Day weekend.
Harvard Book Store
February 11th
Virtual Event: John Abramson
12pm
presenting
Sickening: How Big Pharma Broke American Health Care and How We Can Repair Itin conversation with Dr. HELEN MACDONALD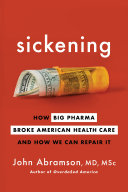 Harvard Book Store's virtual event series welcomes physician and health care policy expert JOHN ABRAMSON for a discussion of his latest book, Sickening: How Big Pharma Broke American Health Care and How We Can Repair It. He will be joined in conversation by Dr. HELEN MACDONALD, research integrity and publication ethics editor of The BMJ.

February 11th
Virtual Event: Randall Kennedy
7pm
presenting
Nigger: The Strange Career of a Troublesome Word
Harvard Book Store's virtual event series welcomes renowned legal scholar RANDALL KENNEDY for a discussion of the twentieth-anniversary edition of his acclaimed classic, Nigger: The Strange Career of a Troublesome Word.

Longy School of Music
February 13
7:30pm
Piano Department Faculty Recital
Longy's piano faculty is giving a concert for 4,8, and 12 hands, with music by Tania León, Bedrich Smetena, Claude Debussy, Sergei Rachmaninoff, Yevgeny Sharlat, Felix Mendelssohn, Fanny Mendelssohn Hensel, Shlomo Gronich, and Julia Wolfe.

Passim
February 11 & 12
Jim's Big Ego
8pm and 10pm
SINGER/SONGWRITER
Perform a Google search for "the Greatest Band in the History of Recorded Music" and you will get only one result: Jim's Big Ego.Hailing from the small New England town of Boston, Massachusetts, Jim's Big Ego has carved a unique place in the the music world by rocking harder, fresher, louder, sweeter and better than everyone else.Jim's Big Ego's secret to awesomeness is singer, songwriter, super genius, Jim Infantino. Armed with the innate ability to create songs that are more brilliant than all others in history, Infantino gives the band the gift of greatness.Jim's Big Ego compares itself to such major players as The Great Wall of China, The Grand Canyon, Antarctica, and other things you can see from space. However, when pressed to label their music, they name their genre of music "Unpop for the Unpopulous".

February 14
PASSIM MONDAY DISCOVERY SERIES
8pm
FOLKSINGER/SONGWRITER
The Discovery Series is a monthly event sponsored by Nine Athens Music to bring new artists into the Passim community. Through the Discovery Series, we provide a platform to connect new artists with a music-loving audience. These artists may be brand new to the club or may have performed at our campfire. festivals, but the Discovery Series features artists in a room filled with our dedicated members.
February 14th artists to be announced.

Scullers Jazz Club
February 14
A VALENTINE'S DAY EVENING SHOW with VOCALIST EMMALINE
8pm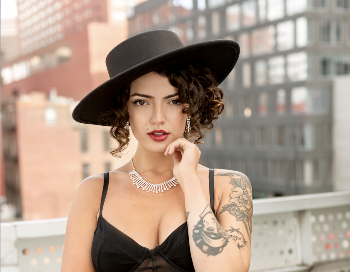 Emmaline is a singer and songwriter possessing a smoky, jazz-infused, genre-fluid voice admirable as much for the range of traditional sounds she draws upon, as for her startling freshness fresh, as in new and innovative as well as in attitude and sly humor. Her songs are bold in statement and soft in feel, her flow supple and precise. She prides herself in being one who has listened with deep intention to her heroes
Anita ODay and Billie Holiday, Erykah Badu and DAngeloand has already learned to rise above questions of category with a healthy sense of musical identity and forethought.

The Sinclair
February 11
8pm
CHAI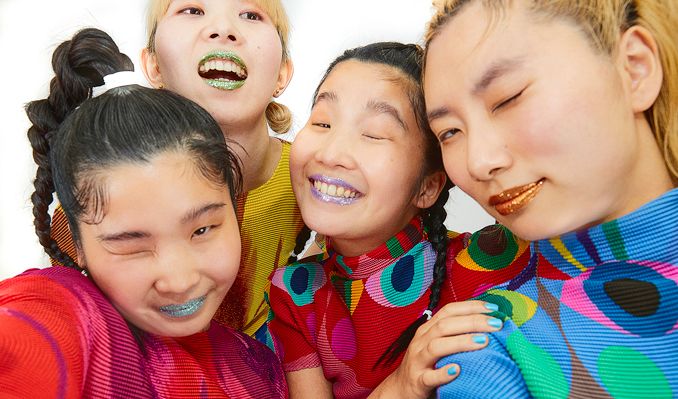 Since breaking out in 2018, CHAI have been associated with explosive joy. At their live shows, the Japanese four-piece of identical twins MANA (lead vocals and keys) and KANA (guitar), drummer YUNA, and bassist-lyricist YUUKI have become known for buoyant displays of eclectic and clever songwriting, impressive musicianship, matching outfits, delightful choreography, and sheer relief. At the core of their music, CHAI have upheld a stated mission to deconstruct the standards of beauty and cuteness that can be so oppressive in Japan. Following the release of 2019's second album PUNK, CHAI's adventures took them around the world, to music festivals like Primavera Sound and Pitchfork Music Festival, and touring with indie-rock mainstays like Whitney and Mac DeMarco.

February 12
Gracie Abrams
6:30pm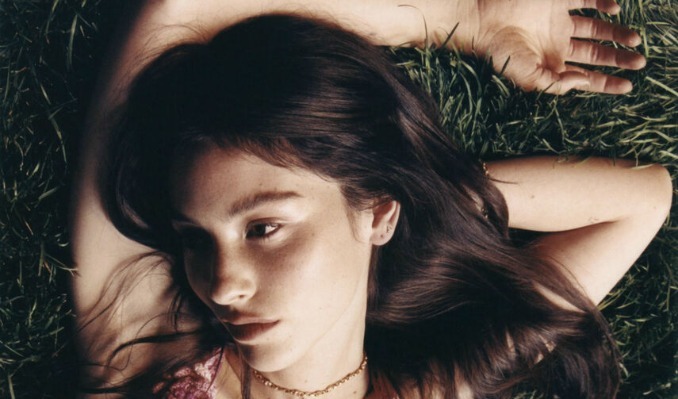 February 12
Gay Bash'd with Dorian Electra
10:30pm
The first GAY BASH'D of 2022, and the first 18+ party of the semester! Boston's most outrageous queer dance party returns on Saturday, February 12th (doors 10:30) for the legendary Dorian Electra's My Agenda 2022 Afterparty! Join us for drag, music, dancing, vendors, and more! Anti valentines theme, hyperpop all night!

Live stage spectacular starring:
DORIAN ELECTRA (DJ SET)
MAXI GLAMOUR (The Boulet Brothers Dragula)
SAINT (The Boulet Brothers Dragula)
VIOLENCIA! (The Boulet Brothers Dragula)
STATIC
BINX
MATH3CA
Queer vendor market curated by: TIAMARIE

February 13
Polaris (From the Adventures of Pete & Pete)
8pm
"The Band That Lives Inside Your TV" are back! Polaris, the house band from cult-classic Nickelodeon show The Adventures of Pete & Pete, are escaping from your childhood television set and busting out on a national tour for only the second time ever. Polaris are Mark Mulcahy (Muggy), David McCaffrey (Jersey), and Scott Boutier (Harris). The three were longtime bandmates in underground favorite Miracle Legion, who've also reunited in recent years. Post-Polaris, Mulcahy went on to start an eclectic solo career, becoming one of the most celebrated and revered songwriters making records today. McCaffrey and Boutier played bass and drums together in several acts including Frank Black and the Catholics.

Carpenter Center for the Visual Arts
February 4 – April 10
CANDICE LIN: SEEPING, ROTTING, RESTING, WEEPING
Level 3, Sert Gallery
Free and open to the public
Per Harvard University guidance related to escalating COVID-19 case levels, there will be no opening reception for this exhibition. Please consult the Carpenter Center's website for future programs related to the exhibition, as well as our full list of Spring 2022 Public Programming.

The Carpenter Center for the Visual Arts is pleased to present the solo exhibition Seeping, Rotting, Resting, Weeping by Los Angeles–based artist Candice Lin (b. 1979). Lin creates multisensory environments that combine ceramics, textiles, drawing, video animation, and other art forms. She often investigates the legacies of colonialism by tracing the trade routes and material histories of a range of colonial goods, layering her work with cross-cultural imagery from this research.

Join us for a virtual conversation with artist Candice Lin and art historians Diane Ahn and Carrie Lambert-Beatty
February 22, 2022
7:00-8:30 pm (EST)
Join us on Zoom REGISTER

Candice Lin will be joined by Diane Ahn, Ph.D. student in History, Theory, and Criticism of Art at the Massachusetts Institute of Technology (MIT) and Carrie Lambert-Beatty, Professor of History of Art and Architecture and of Art, Film, and Visual Studies at Harvard University to discuss Lin's recent exhibition projects. This conversation will be moderated by Dan Byers, John R. and Barbara Robinson Family Director at the Carpenter Center for the Visual Arts.