February 3rd, 2023
Valentine's Day in Harvard Square
Romantic dinners, intoxicating cocktails, decadent desserts, one of a kind gifts and so much more!
There's love in Harvard Square! Our businesses are offering you sweet and heartfelt gifts and experiences for all of your favorite people. This year's Valentine's events feature fabulous food and drinks from Harvard Square's restaurants, romantic and fun deals from our retailers and a variety of intimate, cozy and entertaining things to do from our cultural icons.
Whatever your heart desires, you'll find it on our historic streets!
Alden & Harlow
February 14th, 5pm – 11pm
Elements of Americana cultivate into a warm, cozy dining experience at Alden & Harlow, perfect for a romantic dinner. Guests can enjoy Alden & Harlow's five-course wine pairing dinner menu or order a la carte from the dinner menu with Valentine's Day specials including Lobster & Black Truffle Raviolo potato crema, smoked egg yolk, Spice Crusted Pork Coppa miso roasted squash, apple butter, chicory salad, Dark Chocolate Lava Cake, strawberry, rose and a Sweet Box, as well as the cocktail bearing the honest truth, 'We Met on Hinge' Haku vodka, pomegranate & fennel shrub, citric acid, Nonino L'Aperitivo, honey.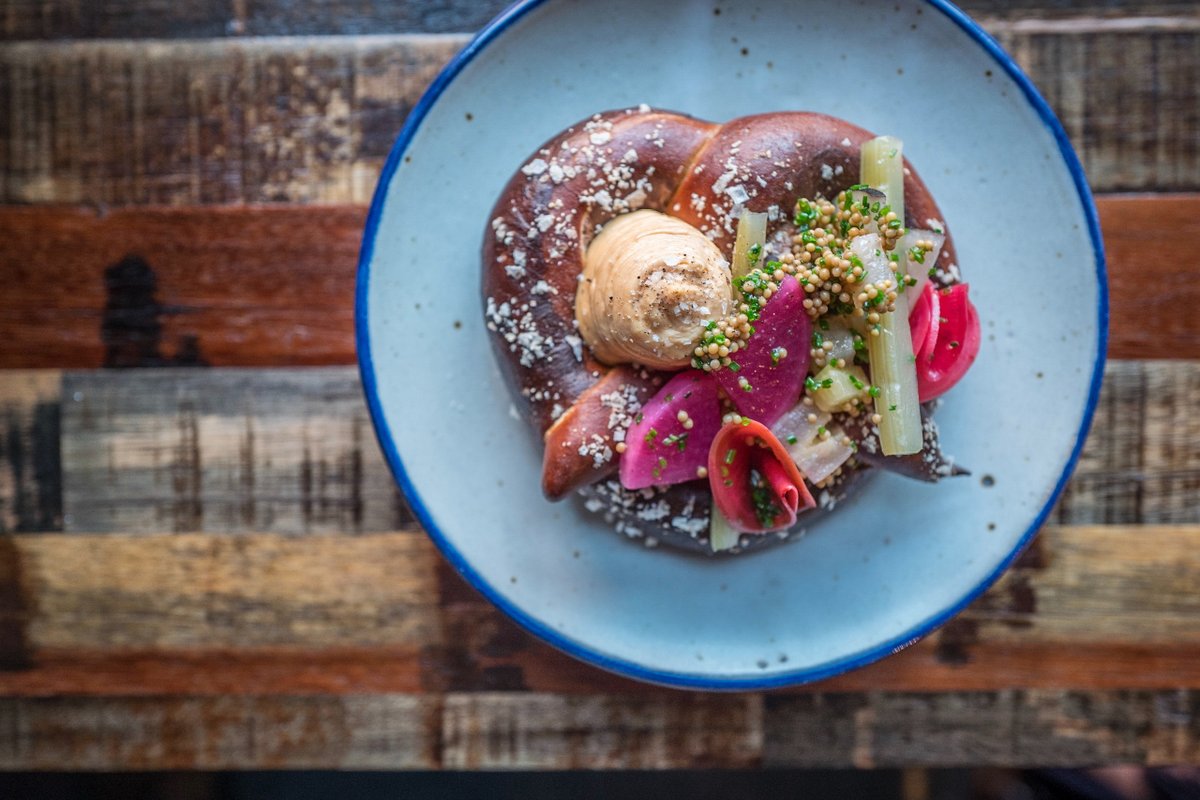 The Longfellow Bar at Alden & Harlow
ANTI-VALENTINE'S DAY SOIREE
February 14th, 5pm – 12am
Not feeling the love this year? We feel that. Avoid cupid and imbibe at Longfellow Bar specials include the 'Take Me Home Tonight' cocktail made with Vida mezcal, grapefruit cordial, lime juice, salted smoked celery agave and topped with grapefruit soda, as well as Smoked Lamb Lollipops with dill pickle salsa verde and sourdough aioli.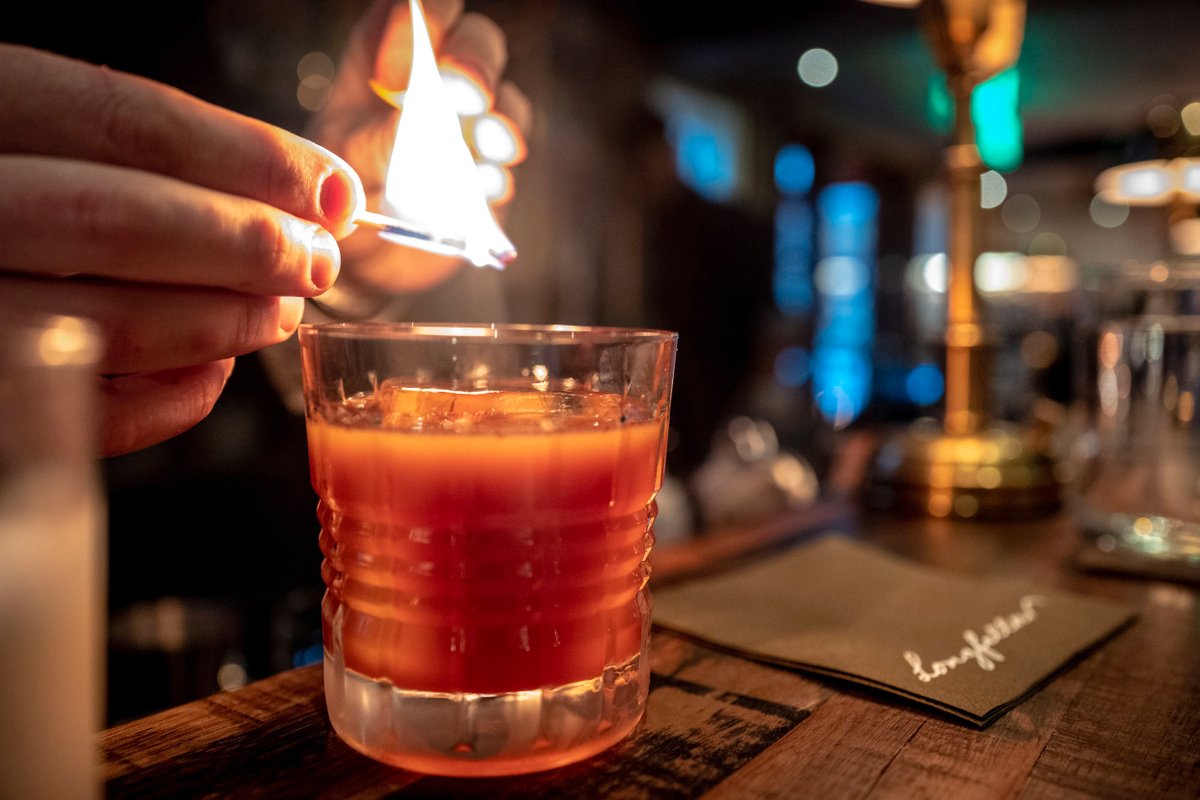 Alden & Harlow, 40 Brattle Street, (617) 864-2100
Bar Enza
Valentine's Day menu in addition to regular menu.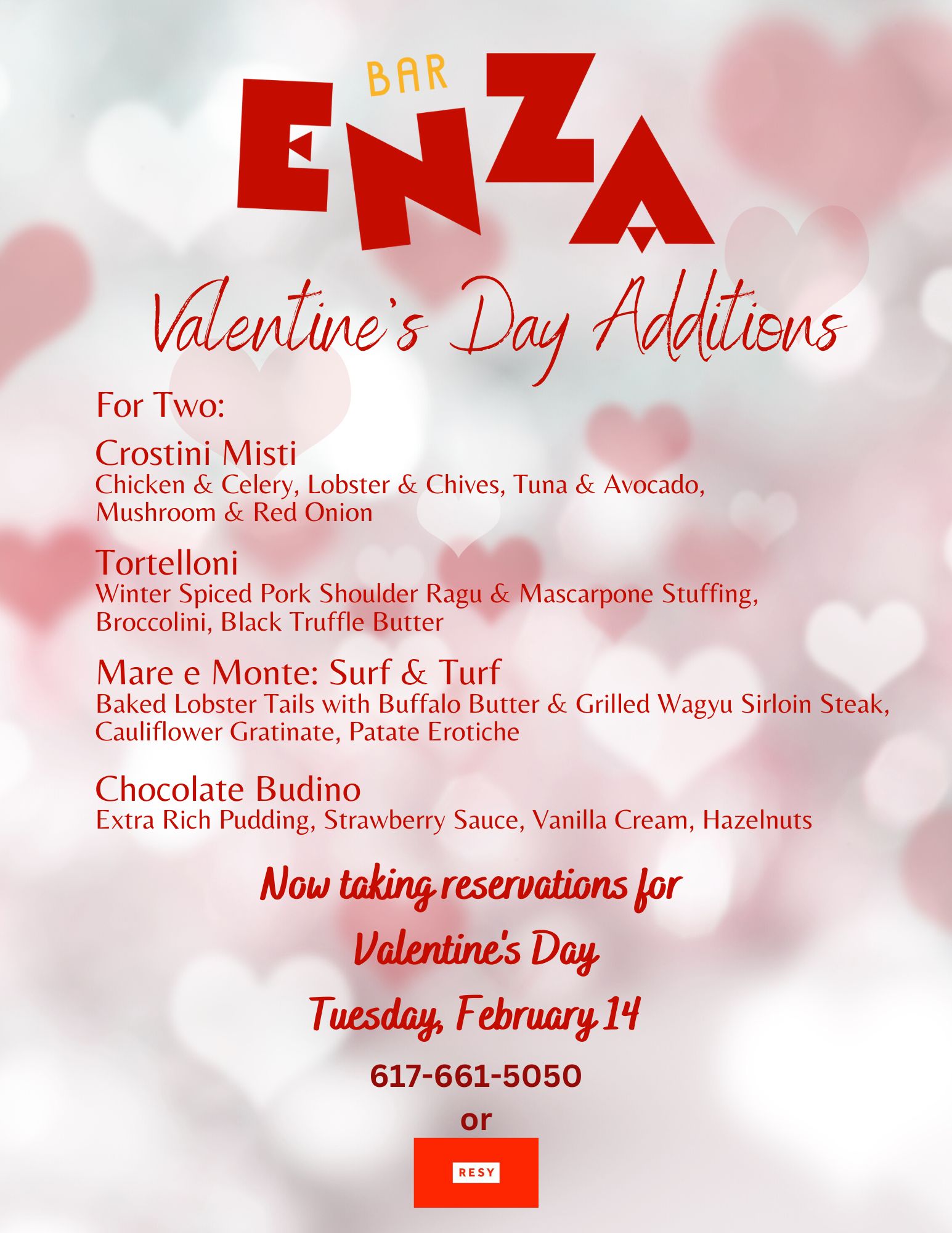 Bar Enza, 1 Bennett Street, (617) 661-5050
Barre & Soul
*FREE* In Studio Valentine's Day Barre & SoulMATE Class!
Join us for a free 55 minute class to a self-love inspired playlist! Sign up on MindBody or on the Barre & Soul HSQ website .
Barre & Soul, 36 JFK Street, (617) 658-7098
Blackbird Doughnuts
We offer a wide selection of pre-order options on our website for Valentine's Day including Valentine's themed mini doughnuts, cookies, and doughnuts! On Valentine's Day we will be selling doughnuts with Naughty or Nice bakery-themed messages, red velvet doughnuts, and heart shaped Boston cream and raspberry jam doughnuts!
"Chocolate Boxes" with mini doughnuts available in store on 2/14
Pre-orders can be placed through our website.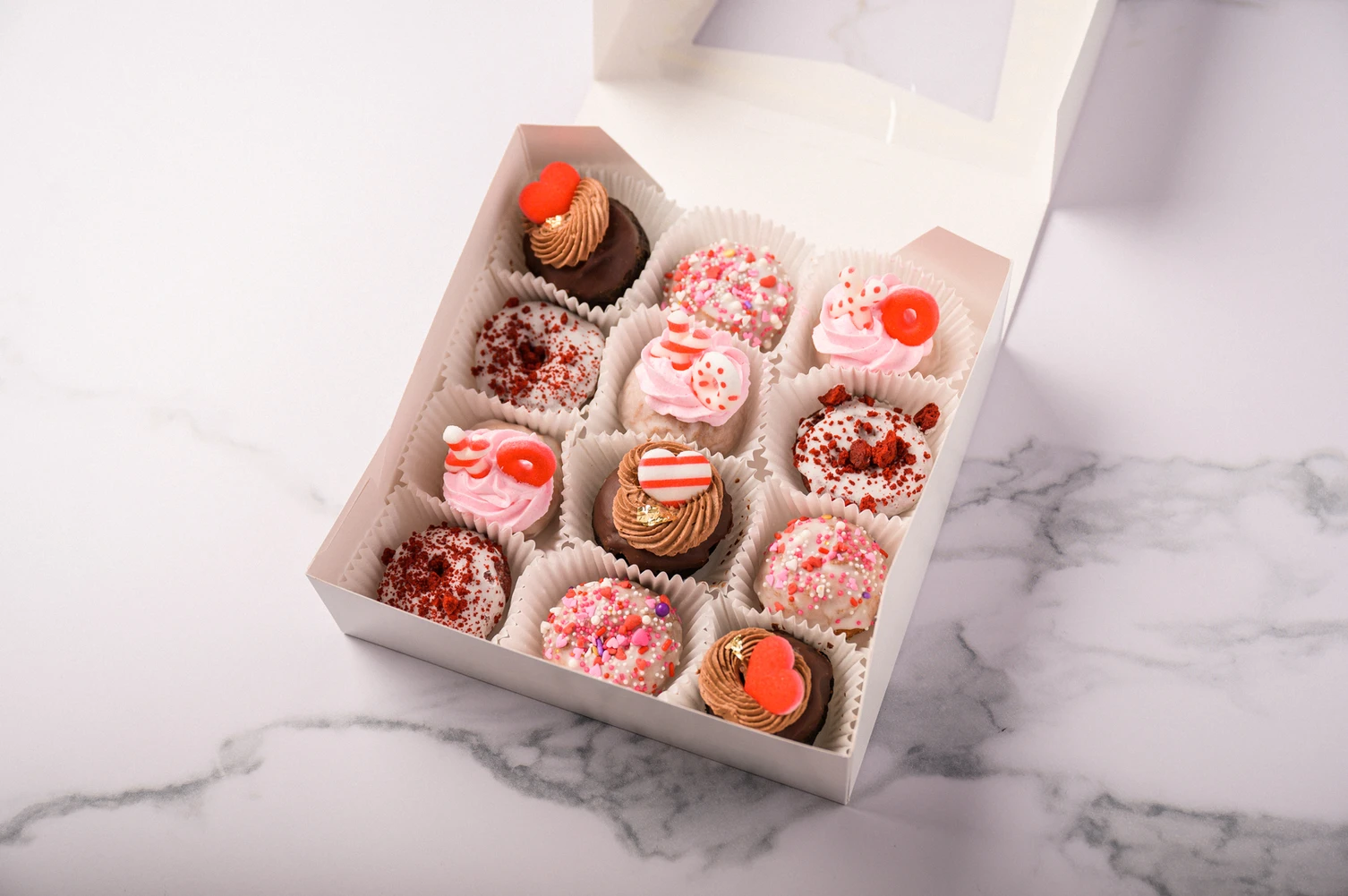 Blackbird Doughnuts, 1350 Massachusetts Avenue, (617) 482-9000
Bob Slate
Send love this season with a beautiful, heartfelt Valentine's Day card from Bob Slate Stationer! For a special gift, give the Cross Hearts on Fire pen complete with diamond accent, or the Pelikan Souveran 40th Anniversary Limited Edition.
Bob Slate Stationer, 30 Brattle Street, (617) 547-1230
Bonde Fine Wine
Bonde Fine Wine Shop, 54 Church Street, (617) 945-2360
Cambridge Artists Cooperative
Shop our Valentine's Day Sale! Enjoy 15% off select pieces.
In a rush? Shop on-line, pick up in-store. Discount valid until February 14, 2023
Shop us In-Store:
We are open Wednesday – Sunday 12:00pm – 6:00pm

For your Valentine Shopping needs, we will be open on Monday, February 13 & Tuesday, February 14 – 12pm-6pm

Shop us online: www.cambridgeartistscoop.com
Window & online items can be purchased without entering our store by calling 617.868.4434 or email us at: cacart.web@gmail.com
We'll arrange for contact-less payment & curb-side pick-up.
Please Note: We can not guarantee shipping arrival times during the holiday rush so best to order right away!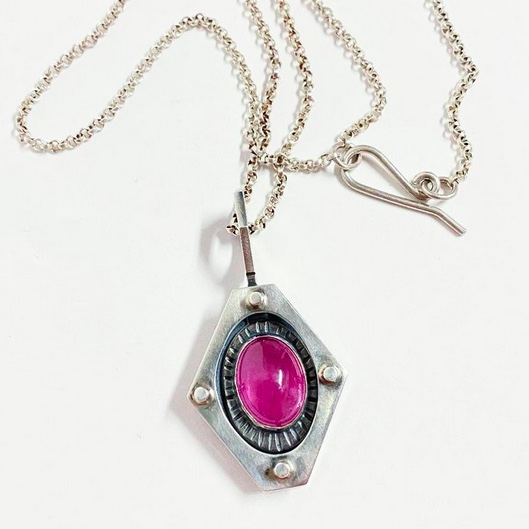 Cambridge Artists Cooperative, 59A Church Street, (617) 868-4434
Cambridge Center for Adult Education
Celebrate Valentine's Day with your loved ones at CCAE! Classes make the perfect date night, Valentine's Day gift, or Galentine's outing! See the Winter 2023 classes we selected below.
Italian Wine and Cheese Pairing *In-Person* *NEW* Wednesday | Feb. 8 | 6 – 7:30 pm
Cooking with Rosé *Online* Sunday | Feb. 12 | 11 am – 1 pm
Valentine's Day Sparkling Wine and Cheese Pairing *In-Person* Monday | Feb. 13 | 6 – 8 pm
Parent and Child: Chocolate Art *In-Person* Sunday | Feb. 19 | 1-4 pm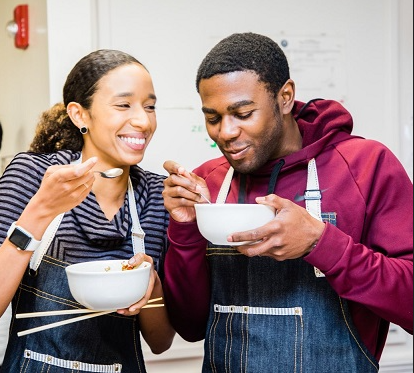 Cambridge Center for Adult Education, 42 Brattle Street, (617) 547-6789
Commonwealth Wine School
Sparkling Sake? Yes!
Sunday, February 12th, 5pm-6:30pm EST $85.00
People are often surprised to discover that sparkling sake exists — and we're so happy it does! With bubbles from natural fermentation or added carbonation, it's an amazing alternative to sparkling wine and Champagne.
Sparkling sakes have a range of sweetness, alcohol & complex flavors. Come and sip some beautiful sake bubbles!
Instructor: Marina Giordano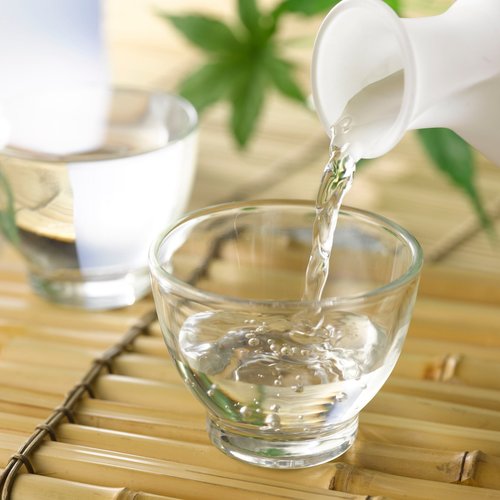 Commonwealth Wine School, 35 Dunster Street, (617) 575-2451
DoubleTree Suites by Hilton Boston-Cambridge
Boathouse 400 and Scullers Jazz Club
Scullers Jazz Club: 7pm & 9pm Valentine's Day shows, February 14th
Make your Valentine's Day a night to remember with a performance by Shawn Monteiro. Ms. Monteiro has delighted audiences from the USA to Europe with her highly popular jazz repertoire laced with blues-oriented improvisations and the American Songbook. The true quality of Shawn's voice is best experienced in the ultimate setting of the club dates where her warm charisma can be personally felt by those fortunate enough to spend an evening with her.
A special pre-fixe dinner menu will also be available before the show in Boathouse 400 (see attached menus). There is a pre-fixe option for guest to choose their own entrées as well as a pre-fixe dinner option ideal for couples to share.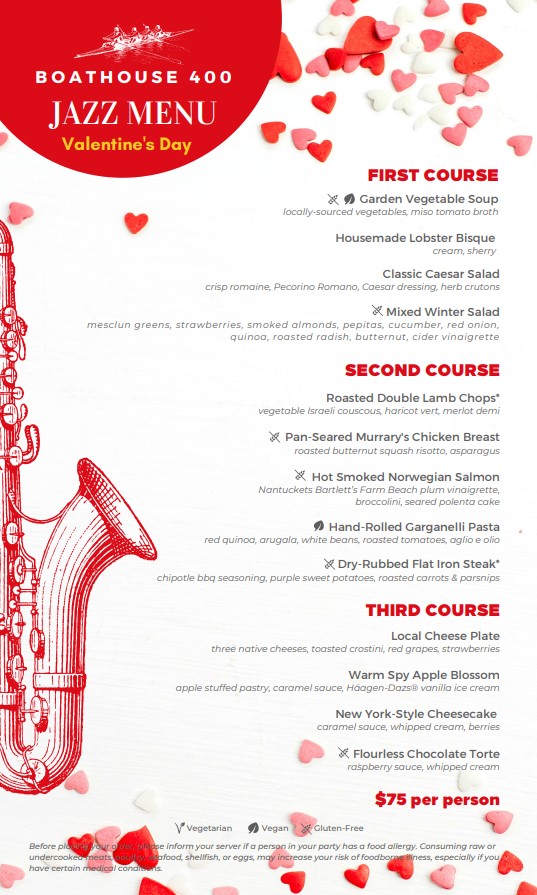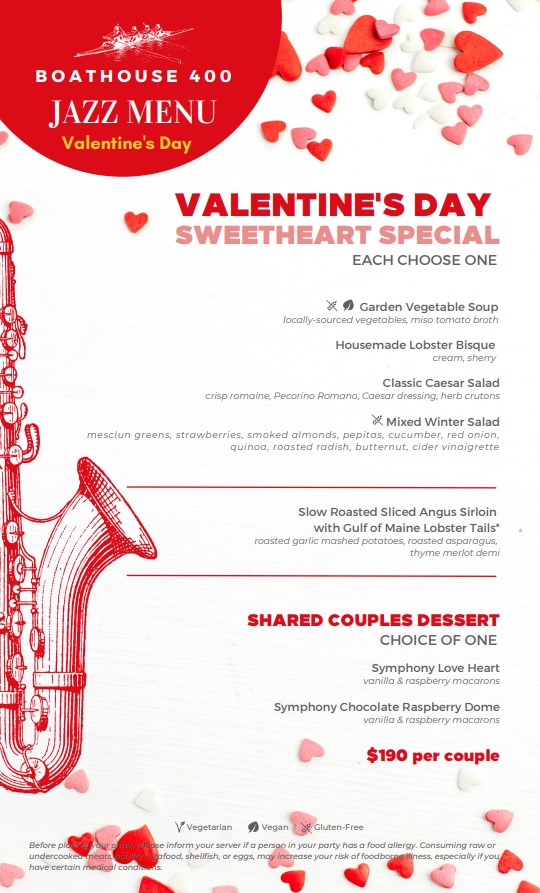 Chill Over the Charles Anti-Valentine's Day Menu
February 14th (open 5:30pm -10pm)
Calling all singles! The Anti-Valentine's Day menu is back at Chill Over the Charles for another season.
Grab your single friends and leave the Hallmark folly behind with a special one-night only pre-fixe menu to treat yourself, including a Double Chops New Zealand Lamb Rack and Jumbo Shirmp surf and turf special paired with Baked Mac & Cheese that's sure to fill the hole left in any broken heart. Enhance your night with a selection of fun Un-Romantic cocktails – from Love on the Rocks to Bleeding Hearts – or try some of our favorite local Jack's Abby Craft Lager brews, including their Framinghammer Baltic Porters series.
Available 5:30pm to 10:00pm (weather permitting), guests can visit OpenTable to reserve a heated igloo for two hours for a group of up to 8 people. Guests can also set their own anti-Valentine's Day playlist during their time in the igloo to help set the mood.
Boathouse 400, Scullers Jazz at DoubleTree Suites by Hilton Boston-Cambridge, 400 Soldiers Field Road, (617) 783-0090
El Jefe's Taqueria
"Sweet Nachos" $5.5
Chipped are rolled on cinnamon sugar and topped with chocolate sauce and whipped cream.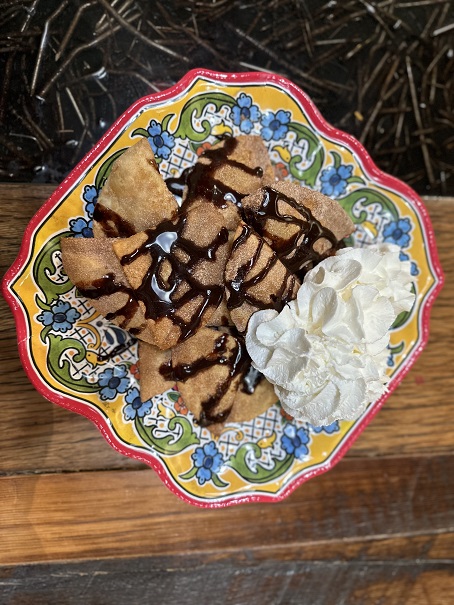 El Jefe's Taqueria, 14 Brattle Street, (617) 945-1986
Forty Winks
Valentine's Day Party, Thursday, Feb. 9th from 4pm – 8pm.
Serving champagne and Flour's Naughty and Nice cookies and offering 20% off our entire collection ALL day both in-store and online.
Forty Winks Lingerie, 56 JFK Street, (617) 492-9100
Grafton Street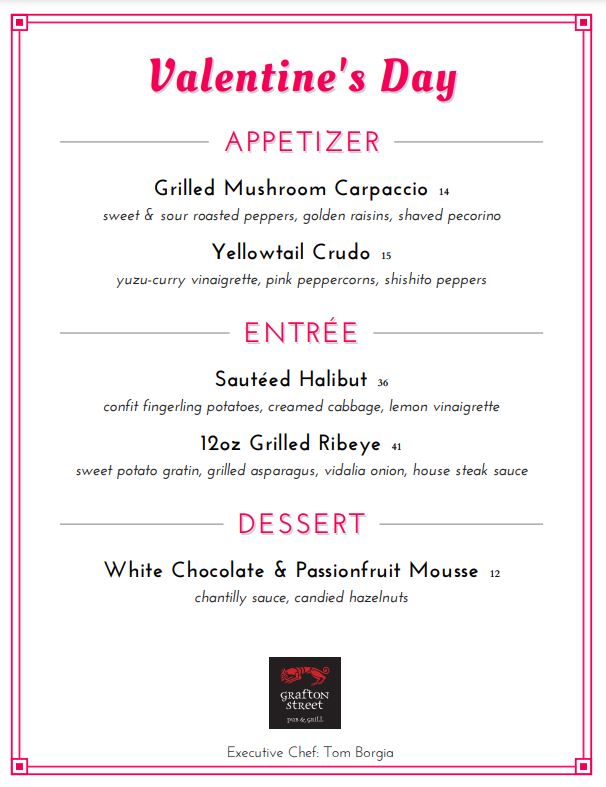 Grafton Street, 59 JFK Street, (617) 497-0400
Harvard Art Museums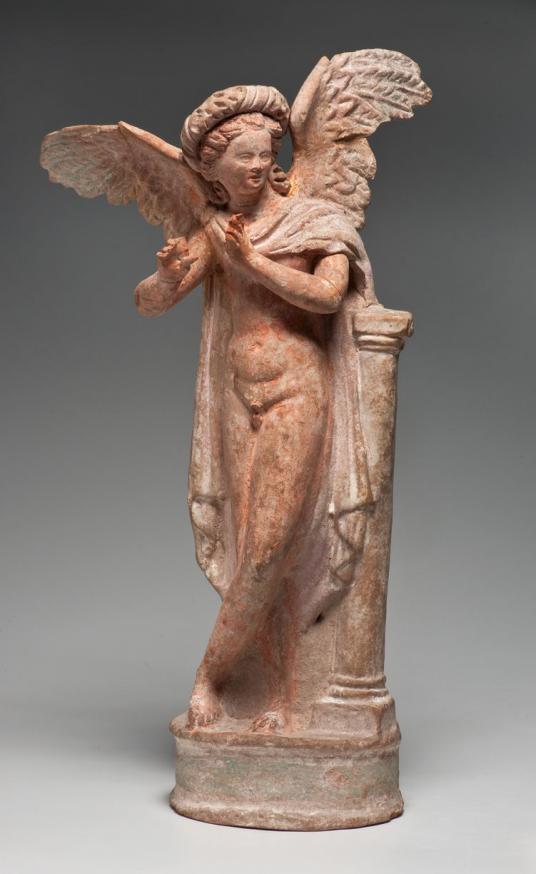 An exhibition on view: A World Within Reach: Greek and Roman Art from the Loeb Collection Glimpse into ancient Greek and Roman worlds—and see your own with fresh eyes!
An accompanying gallery talk
Gallery Talk—A World Within Reach: Greek and Roman Art from the Loeb Collection
Tuesday, February 14. 2023. 12:30 – 1:00pm
Matthew Rogan and Amy Brauer will explore what can be revealed by looking closely at small-scale ancient Greek and Roman art.
See visit page for ticket information.
Wednesday, February 15, 2023, 12:00pm – 1:00pm
Join two graduate students for an opportunity to combine art looking and writing in an interactive online session.
Jenny's Cafe will have some Valentine's Day themed treats for visitors to purchase and enjoy while they are here at Harvard Art Museums!
Harvard Art Museums, 32 Quincy Street, (617) 495-9500
Henrietta's Table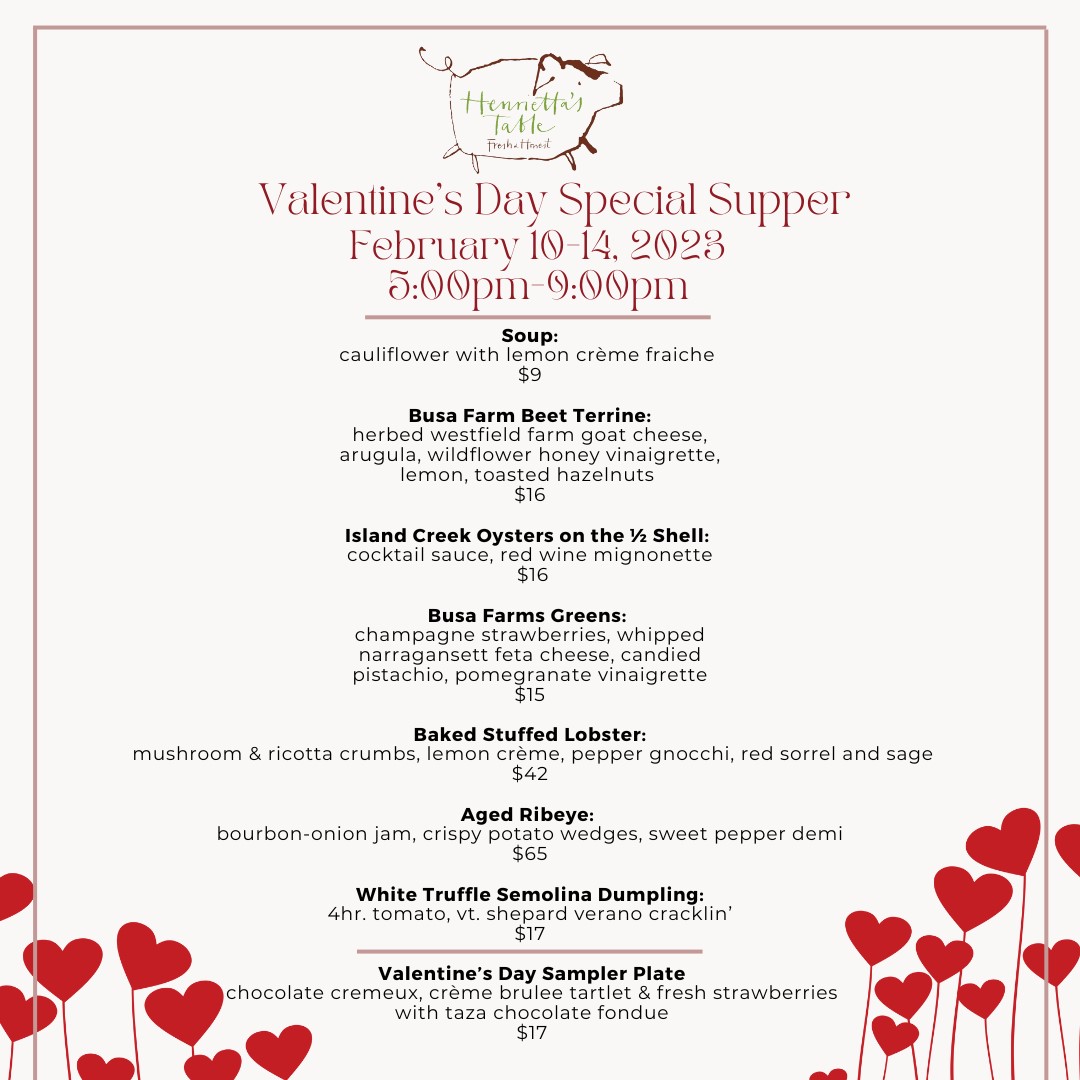 Henrietta's Table, 1 Bennett Street, (617) 661-5005
The Hourly Oyster House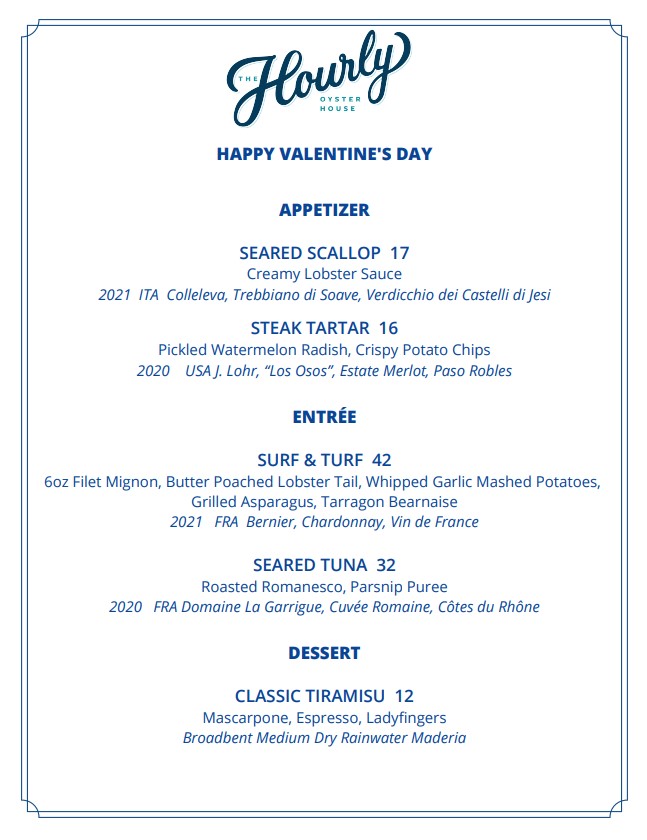 The Hourly Oyster House, 15 Dunster Street. (617) 765-2342
Le Macaron French Pastries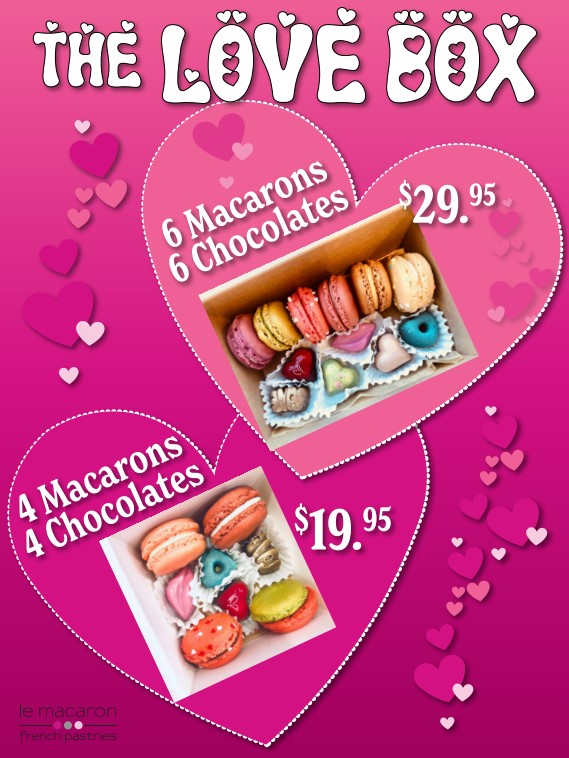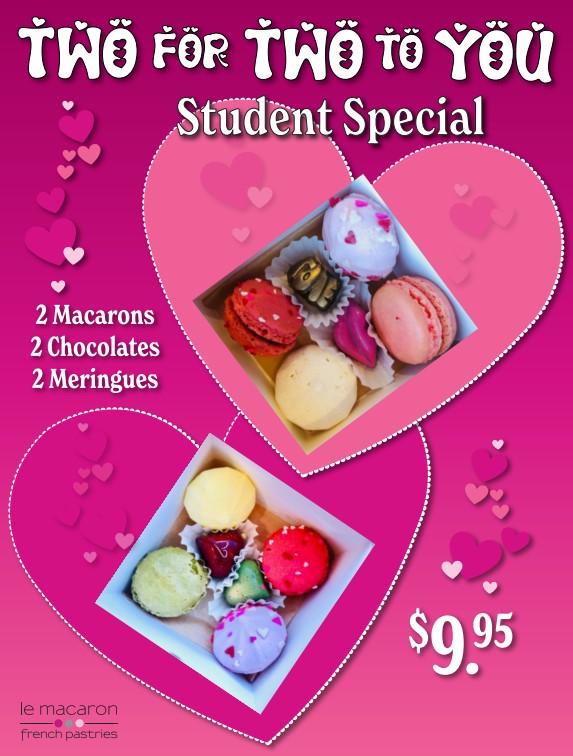 Le Macaron French Pastries, 1374 Massachusetts Avenue, (617) 714-4615
Life Alive
Vegan Chocolate Truffles are back until 2/19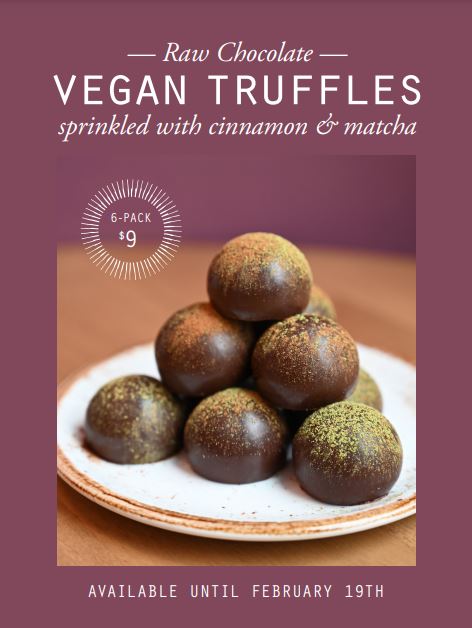 Dinner and Yoga for 2 deal with Down Under Yoga and Life Alive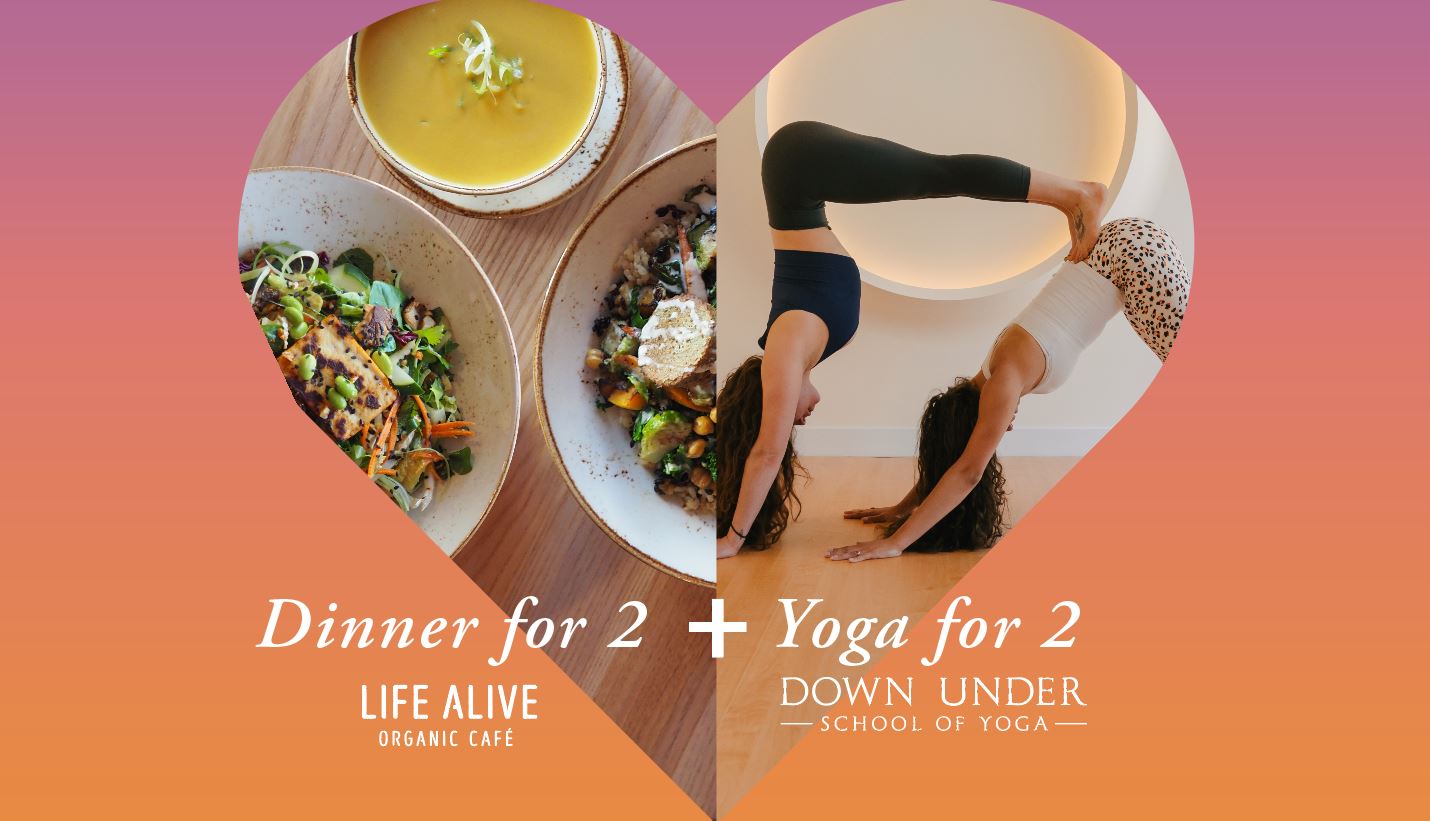 Life Alive, 22 JFK Street, (857) 320-2896
Moleskine
Personalize notebooks for $5.00
Give the gift of creativity!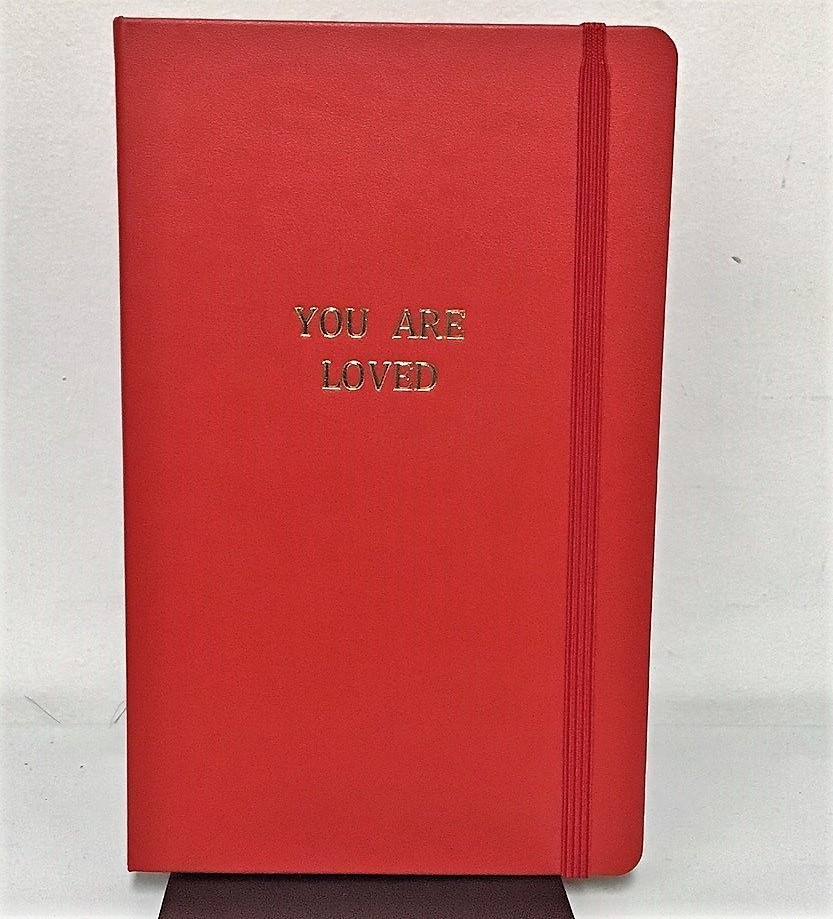 Moleskine, 35A Brattle Street, (617) 714-4332
Noir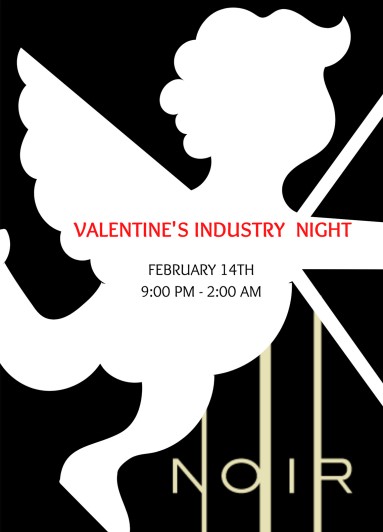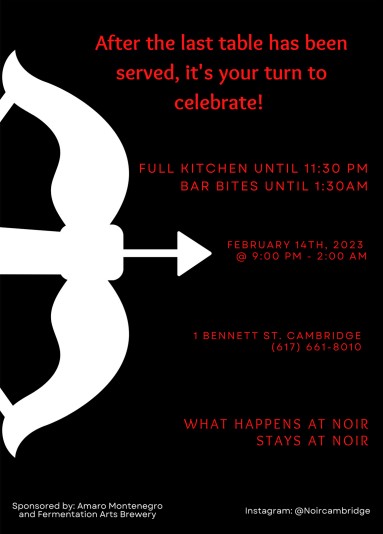 Nubar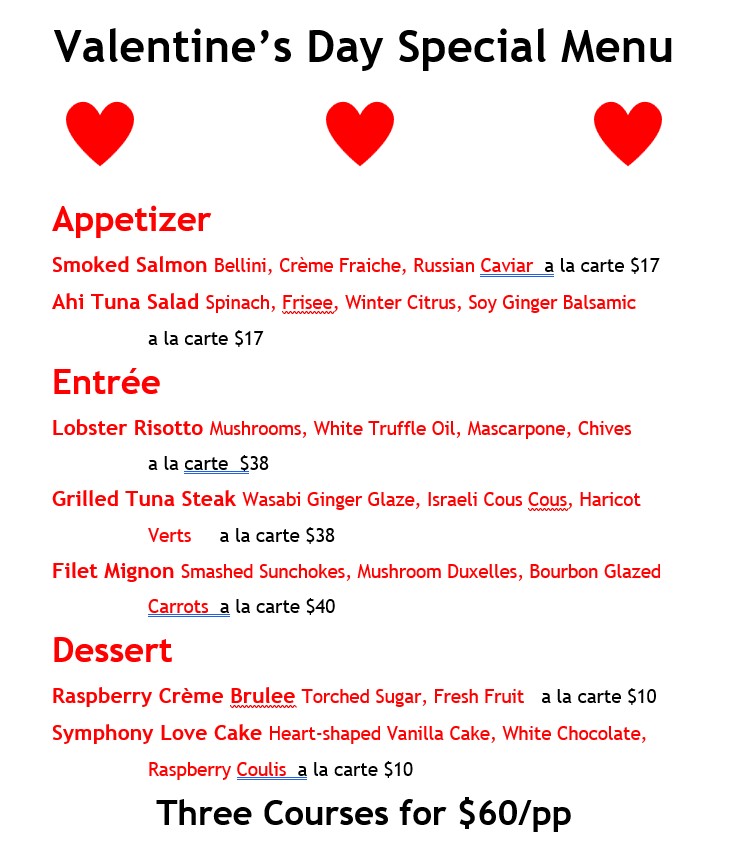 Off the Beaten Path Food Tours
Harvard Square Chocolate Tour, Valentine's Day at 3pm. Please book online.
Off the Beaten Path Food Tours
Origins
Valentine's Day BOGO promo during Feb 12-14: Buy a Full Sized Ginger Souffle and receive another for FREE!
Origins, 8 Brattle Street, (617) 868-8090
The Smoke Shop BBQ
Valentine's Day Whiskey Dinners
One of the most well-known distilleries in the business (and maker of Pappy), Buffalo Trace is loved by beginners and enthusiasts alike. Not to mention, they are America's oldest continuously operating distillery for over 200 years. Buffalo Trace's whiskey expert Aaron Johnson will lead us on a tasting of 3 bourbon selections: Blanton's Single Barrel Bourbon – named after a member of the first families in bourbon history, Eagle Rare Bourbon, and their flagship Buffalo Trace Bourbon.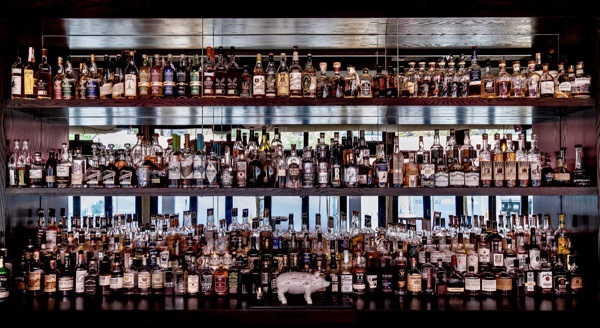 The Smoke Shop BBQ, 8 Holyoke Street, (617) 547-7427
Russell House Tavern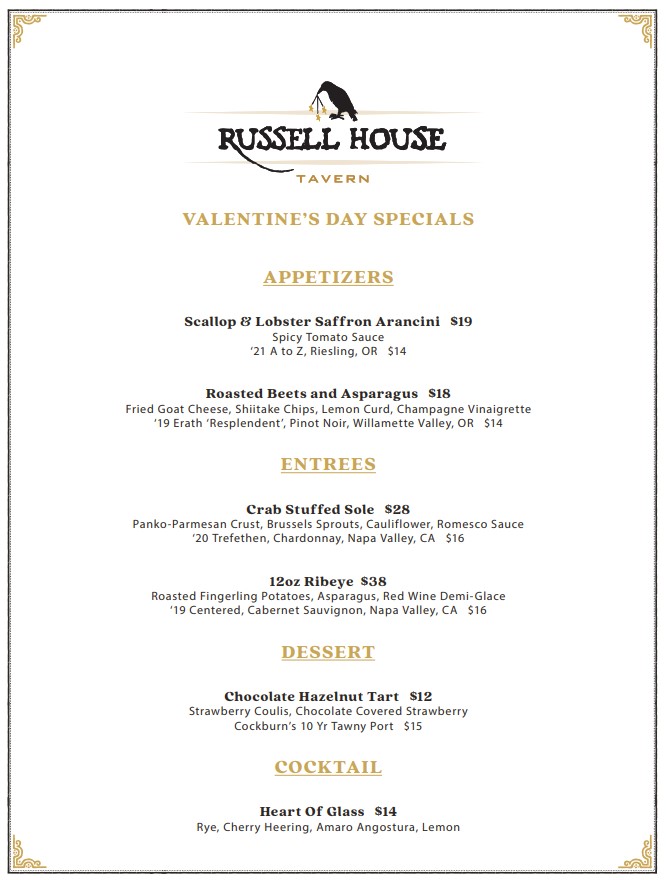 Russell House Tavern, 14 JFK Street, (617) 500-3055
WAYPOINT
Valentine's Day Dinner
February 14th 5pm – 12am
This Valentine's Day Waypoint is cooking, shaking and stirring specials for your special someone including WOOD GRILLED A5 WAGYU, celery root crema, smoked pecorino butter, pickled walnuts, SAFFRON AND VINEGAR ROASTED MUSSELS, grilled bread, dried tomato butter, fine herbs, STRAWBERRY TRUFFLE BAR, chocolate cremeux, strawberry gelée, I LOVE YOU IN FRENCH, gin, sparkling wine, lillet blanc, lemon, rose water, peychauds and FLY ME TO THE MOON, blanco tequila, creme de violette, egg white, lime, basil. Reservations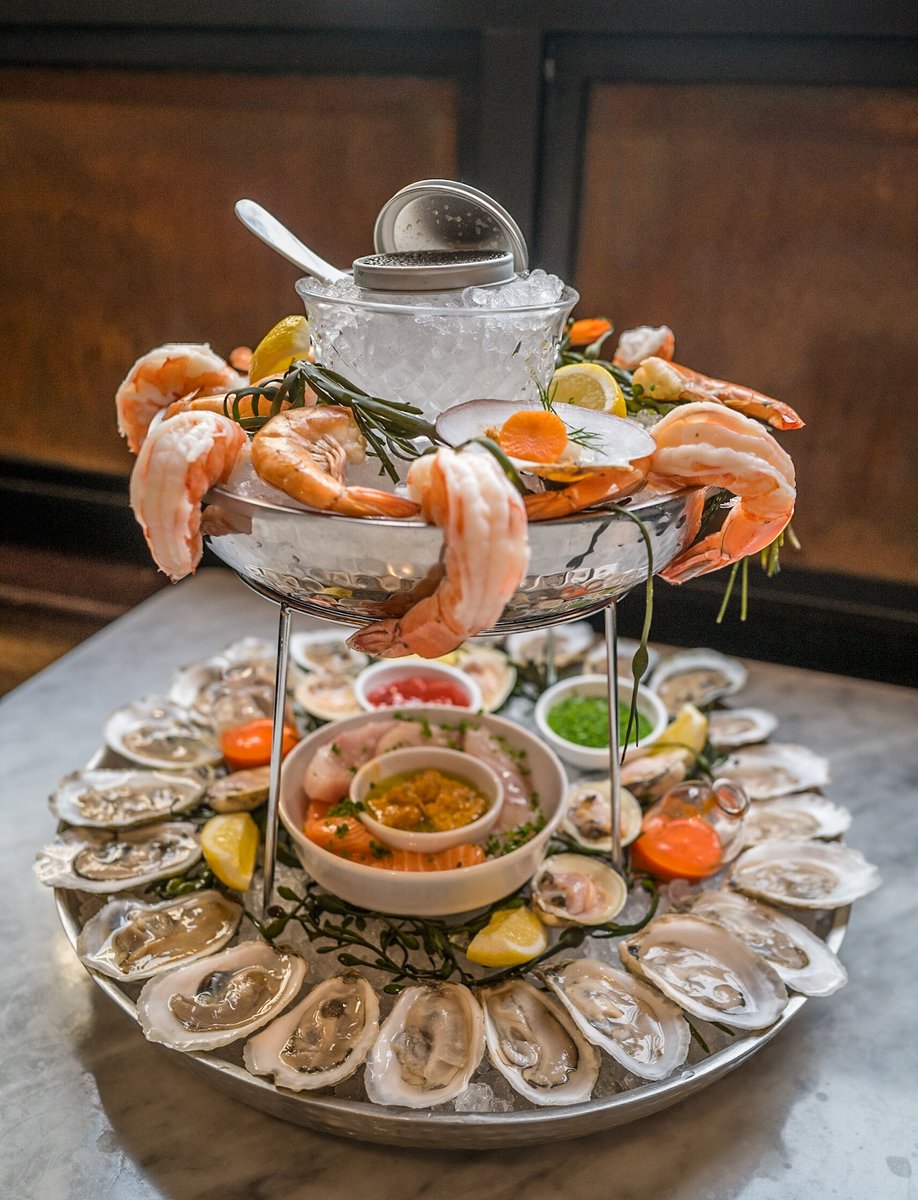 Waypoint, 1030 Massachusetts Avenue, (617) 864-2300