March 17th – 19th
Blackbird Doughnuts
Blackbird has a St. Patrick's Day catering special available on pre-orders and will have Irish Soda Bread doughnuts available every weekend!
The special is called the "St. Patrick's Day Mini Sampler" and includes 3 of each flavor of mini doughnuts: vanilla sprinkle | irish cream cupcake | mint oreo | pot o'gold cupcake. Available for pre-order only.
Blackbird Doughnuts, 1350 Massachusetts Avenue, (617) 482-9000
Cambridge Artists Cooperative Gallery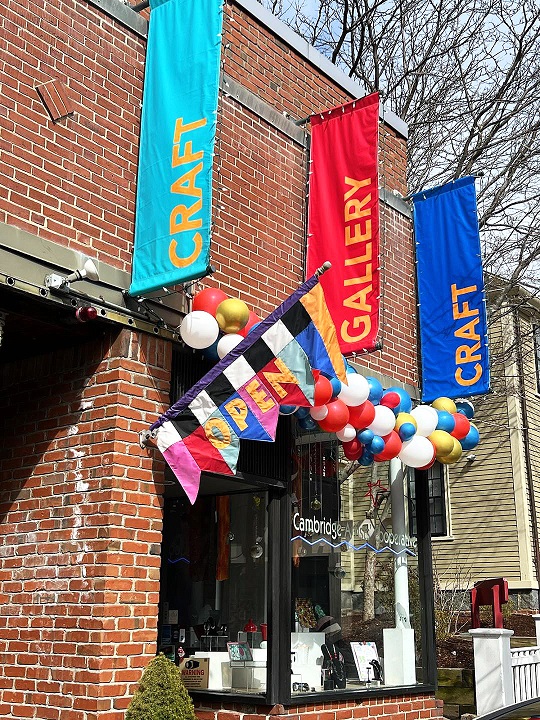 Happy Saint Patrick's Day!
Enjoy 10% off anything GREEN in the store! Sale runs from Tuesday March14 – Tuesday March 28
Cambridge Artists Cooperative, 59A Church Street, (617) 868-4434
Commonwealth Wine School
Friday, March 17th 6:30-8pm
Irish Beers and their American Cousins
$85
In this class with Certified Beer Server Kim Simone we'll sample three classic Irish beers and compare them to similar styles from the US. Along the way we'll talk about brewing tradition and history, the role immigration has played in America's beer culture, and the ingredients that go into this favorite beverage.
Commonwealth Wine School, 35 Dunster Street, (617) 575-2451
DoubleTree Suites
St. Patrick's Day special available at Fusion Lounge and Chill Over the Charles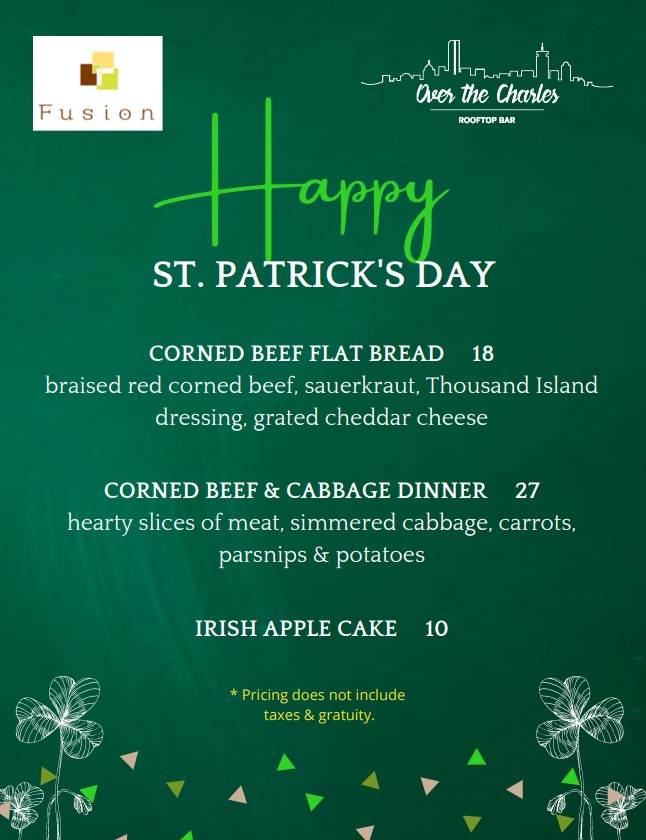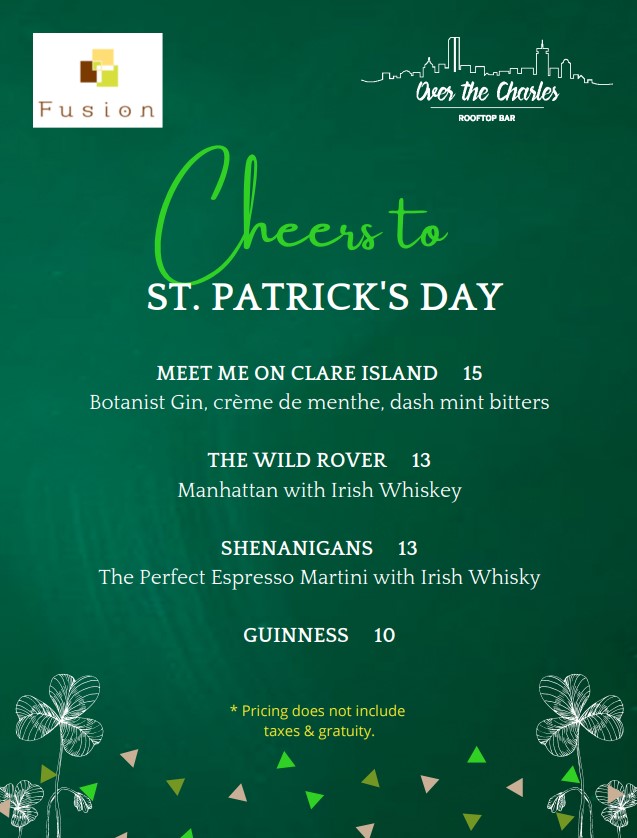 DoubleTree Suites, 400 Soldiers Field Road, (617) 783-0090
Grafton Street Pub & Grill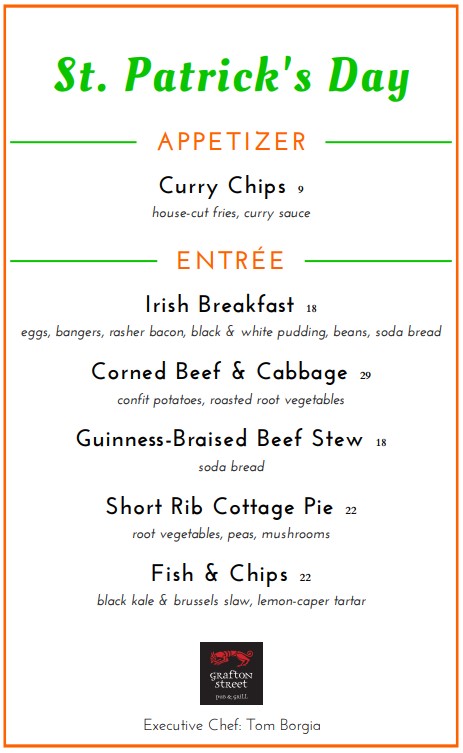 Grafton Street Pub & Grill, 59 JFK Street, (617) 714-5954
Harvard
Brian O'Donovan's A St. Patrick's Day Celtic Sojourn
Saturday, March 18, 2023 3:00pm & 7:30pm
Sanders Theatre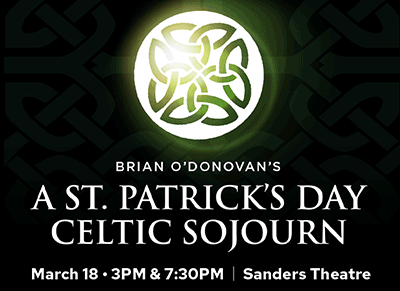 Since 2004, Brian O'Donovan's A St. Patrick's Day Celtic Sojourn concerts have introduced a wide range of new and familiar musicians alike to audiences eager to celebrate the holiday in true Irish style. In the tradition of the popular 89.7 GBH radio program A Celtic Sojourn and its holiday counterpart A Christmas Celtic Sojourn, the show will celebrate Celtic culture and traditions through music and dance. Tickets can be purchased at the Harvard Box Office.
Harvard Box Office, 1350 Massachusetts Avenue, (617) 496-2222
The Harvard Art Museums
On Sunday, March 19th , from 10:00am to 12:00pm, is the Materials Lab Workshop: The Art of Peruvian Potato-Plaster Retablos, Session I (English). In this first part of a two-part workshop, learn about Peruvian retablos, and create your own Carnival mask sculpture to fit in a retablo box with fourth-generation Quechua retablos artist Zuly Palomino Jimenez. This is a two-part workshop, taking place on Sunday, March 19 and Sunday, March 26. On both dates, there will be a session offered in English and a session in Spanish.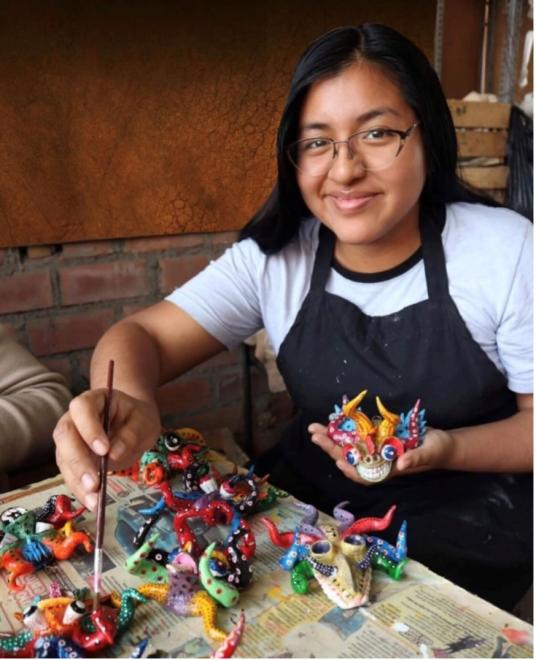 Harvard Art Museums, 32 Quincy Street, (617) 495-9400
The Hourly Oyster House
St. Patrick's themed milkshakes all month!
Shamrockin' shake: adult milkshake with vanilla soft serve, white rum, green creme de menthe
Molly Malone: adult milkshake with chocolate soft serve, irish whiskey, irish cream, topped with lucky charms
Girl Scout Cookie Shake: mint chocolate milkshake with crumbled girl scout cookies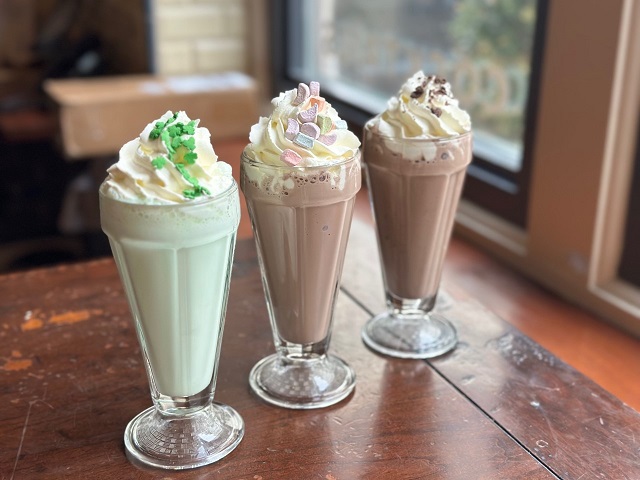 The Hourly Oyster House, 15 Dunster Street, (617) 765-2342
Living Harmony
St. Patrick's Day
If you wish for some St. Patrick level miracles for yourself, give a call today for some lucky and mischievous organizing in your home or office. You instantly receive 15% off your first organizing package if you contact us on 17 or 18 March and say "luck."
"Erika is a rockin' pro, so much more than 'just an organizer,' and a wealth of knowledge. She's fun and comprehensive too. Follow-up sessions are a must. Hold tight: major miracles are comin' when you work with Erika."
~ Susan C. Guild, Author/Presenter
~ Winchester, MA
Living Harmony, 24 Harvery Street, (617) 945-0704
Off the Beaten Path Food Tours
Celebrate St. Paddy's Day with friends and family on Off The Beaten Path Food Tour's Harvard Square Chocolate Tour or "Stories of Harvard Square" Food Tour. Dress in green, and enjoy a variety of delicious eats in the Square, from cookies to the area's best pizza to bao. Tours run weekly, and receive 10% off using code HARVARDSQUARE. Guests must purchase tickets in advance as they tend to sell out weekly. To learn more, visit: offthebeatenpathfoodtours.com
Off the Beaten Path Food Tours
Origins
March 12th through March 21st
Skin Care Giveaway: Spend $65 and receive FREE 5-piece kit ($87 Value) with 30ml Checks & Balances™, Drink Up™ Intensive & GinZing™ Gel, 15ml Plantscription™ Serum, and 5ml GinZing™ Eye.
STEP UP: Spend $95 and choose a Full-Size High-Potency Night-A-Mins™ Cream or A Perfect World™ SPF40.
Origins, 8 Brattle Street, (617) 868-8090