Odds Bodkins: The Odyssey at Grendel's Den
February 9, 2020 @ 5:00 pm

-

8:30 pm

| $20 – $50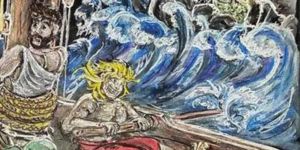 The Odyssey : Belly of the Beast Meet Odysseus of Ithaca inside the Trojan Horse, about to bring down Troy after ten years of siege. He longs for his wife and son. Little does he know he's about to embark on the epic adventure that bears his name. There is death on the beach at Ismaros followed by drugged Lotus Eaters on a strange island, but nothing prepares him for the horrors inside the Cave of the Cyclops. Trapped with his men who are being devoured two by two, Odysseus must use his legendary wits to escape the beast Polyphemus without killing him.
Experience Odds Bodkin's renowned epic telling of Homer's The Odyssey as the master storyteller accompanies himself on thunderous 12-string guitar while enacting vivid characters. A feast for the Mind's Eye. Odds includes an introduction to the tale on Celtic harp.
Please Support Our Website Sponsors.
Thank you!