AC Hotel Boston-Cambridge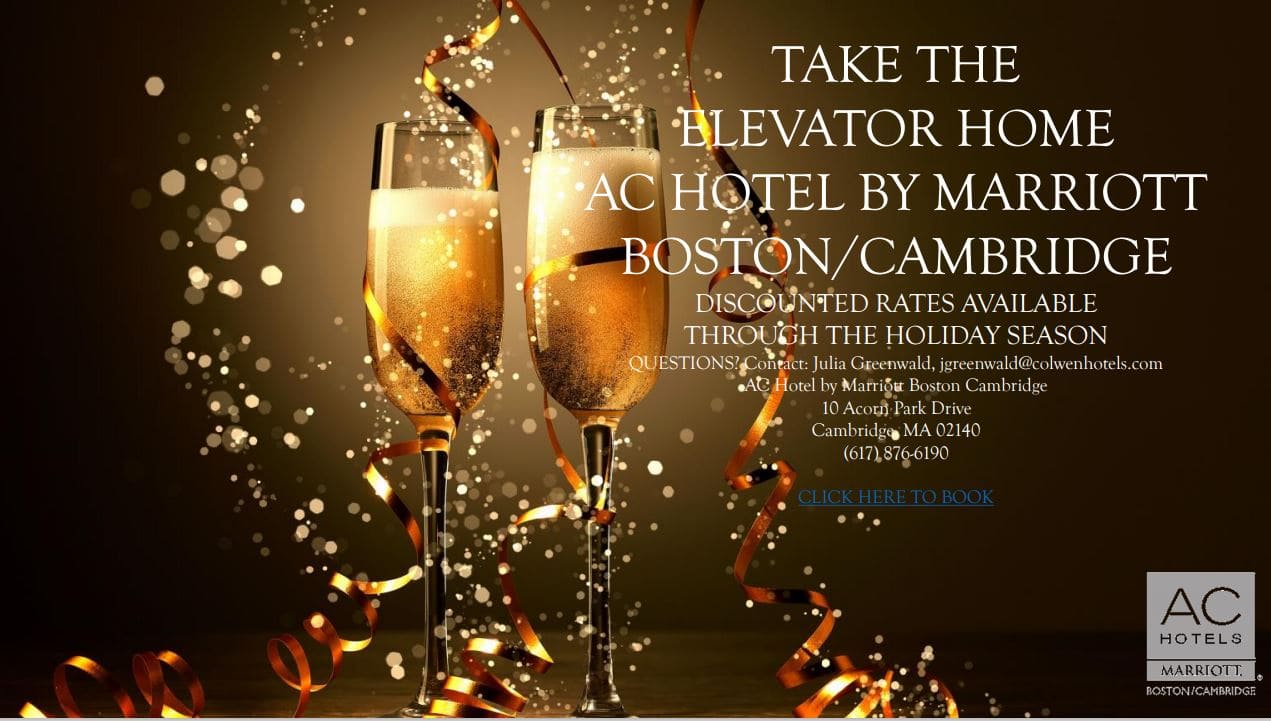 Ac Hotel by Marriott Boston-Cambridge, 10 Acorn Park Drive, harvardsquare.com/venue/ac-hotel-by-marriott-boston-cambridge/, 617-876-6190
The Longfellow Bar at Alden & Harlow
Each kit includes:
· 1 Bottle of NV Champalou, Chenin Blanc, Vouvray, Loire, France
· 2 House Cocktails (6 drinks)
o The Slow Rush (Rye, Vanilla, Honey & Lemon)
o Boatman's Cure (Rum, Lime, Cinnamon & Clove)
· 24 Assorted Appetizers (6 of each)
o Hickory Smoked Wing Flats – dill pickled celery, blue cheese dressing
Thai Sausage Pigs in Blanket – nam prik honey, lime salt Rellenong Hipon – sai tua thai sausage, shiso, smoked honey nam prik Crab Rangoon "Nachos" – jalapeños, cream cheese, scallion
· Alden & Harlow Chips & Three-Onion Dip
· Celebration Props
o Noise Makers
o Hats
o Six Plastic Champagne Flutes
· Recovery Essentials
o Four Roasted Apple, Cheddar & Bacon Scones
o Bloody Mary Kit
o Assorted Hangover Remedies

COST: $250
HOW TO ORDER
The Longfellow Bar
Click Here or call 617.864.2100 – Pick up on December 31
Alden & Harlow, 40 Brattle Street, harvardsquare.com/venue/alden-harlow/, 617-864-2100
Cambridge Center for Adult Education
Winter term classes start the week of January 11 at ccae.org! Offering over 300 classes, including over 80 new classes, starting January through March all online via Zoom
Virtual Catalog
Cambridge Center for Adult Education, 42 Brattle Street, harvardsquare.com/venue/cambridge-center-for-adult-education/, 617-547-6789
Living Harmony
Have you been imagining yourself more organized in 2021? Would you like to reclaim your spaces and life for what matters most? Then give Living Harmony, the Cambridge organizing company, a call today. I'll listen to your needs and see if I can help.

You instantly get 20% off your first organizing package by reaching out before by 7 January. Just say the keyword "fresh."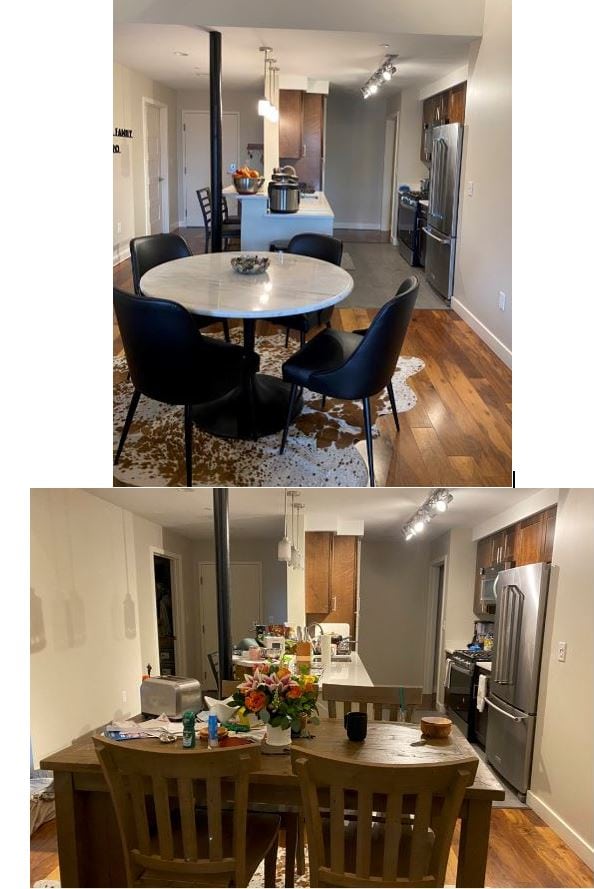 Living Harmony, 24 Harvey Street, harvardsquare.com/venue/living-harmony-llc/, 617-945-0704
NOIR
Bid 2020 adieu in style with two glasses of Ayala Champagne Brut Majeur, and a dozen oysters for $36. Ayala has been producing its delicate and pleasurable style of Champagne since 1860, and the fine wines are now under the care of Caroline Latrive, one of the only two women cellar masters in Champagne. All night 12/31/2020 from 4-9:30.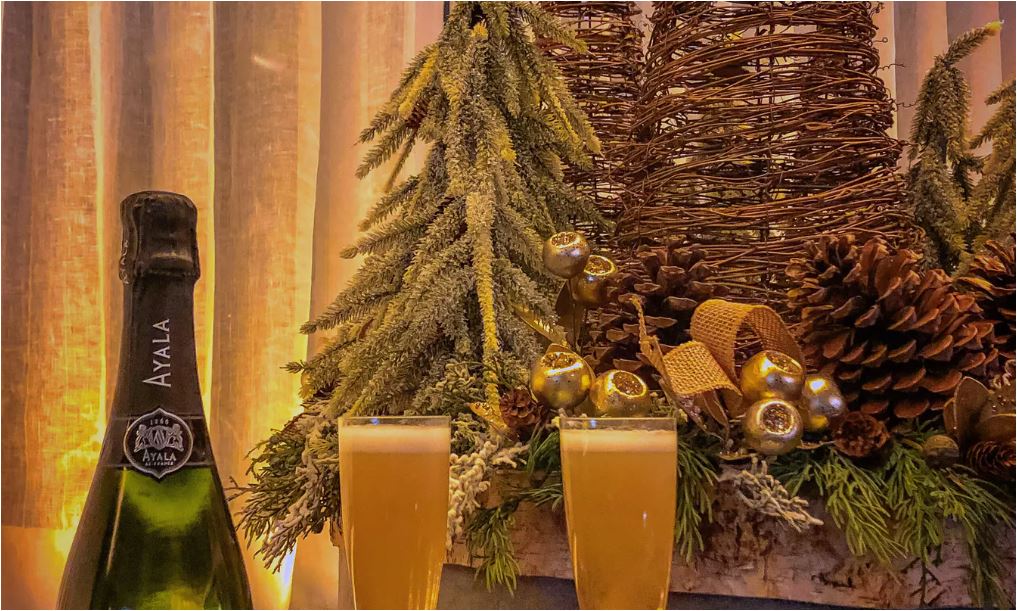 Keep the party going! Take Noir with you and experience our cocktails at home as you watch the ball drop and say Au Revoir to 2020!
NOIR, 1 Bennett Street, harvardsquare.com/venue/noir/, 617-661-8010
Waypoint

Each kit includes:
· Bottle of Bubbly; 2019 Champalou, Chenin Blanc, Vouvray, Loire, France
· 2 House Cocktails (6 drinks)
o The Slow Rush (Rye, Vanilla, Honey & Lemon)
o Boatman's Cure (Rum, Lime, Cinnamon & Clove)
· Nibbles and Bites
o 30g Royal Belgian Caviar
o Potato Chips
o A Dozen Oysters with Fixings
· Celebration Props
o Noise Makers
o Hats
o Six Plastic Champagne Flutes
· "The Next Morning Kit"
o Four Roasted Apple, Cheddar & Bacon Scones
o Mimosa Kit (fresh OJ and a Champagne split)
o Recovery Supplies
COST: $250
HOW TO ORDER
Waypoint
Click Here or call 617.864.2300 – Pick up on December 31
Waypoint, 1030 Massachusetts Avenue, harvardsquare.com/venue/waypoint/, 617-864-2300