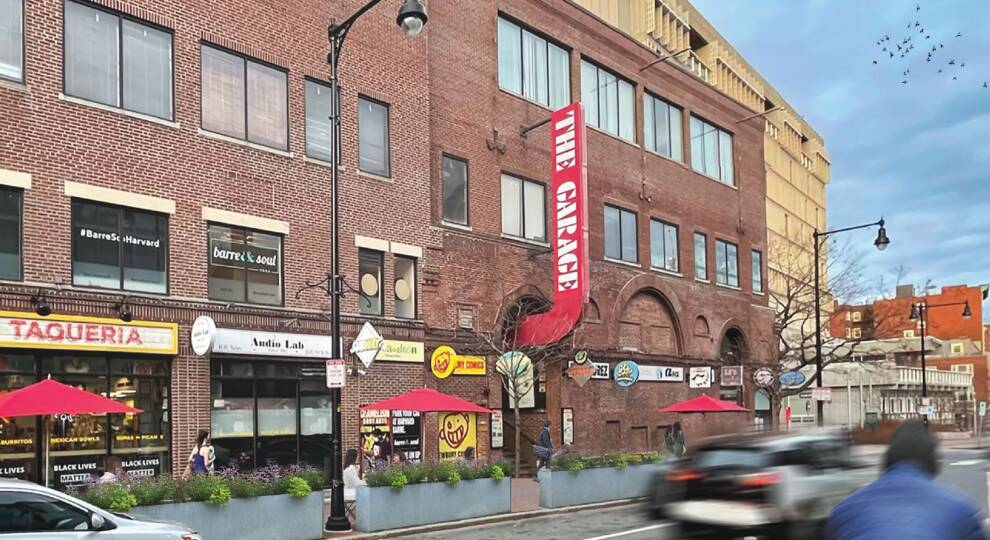 By Gal Tziperman Lotan Paris AlstonJeremy SiegelJune 8, 2022Morning Edition
SHARE
After 50 years as a retail and cultural hub in the middle of Harvard Square, The Garage will soon be redeveloped.
"We love the building," said John DiGiovanni, president of Trinity Property Management. "It was and is a very cool place. But what I would say is cooler than The Garage is Harvard Square."
DiGiovanni said the old building — which dates back to 1860, when it was a horse stable — is not accessible for patrons with disabilities. He also hopes the redesign will reinvigorate the property to bring in new customers, and that "40 or 50 years from now people will be talking about how cool [the new] place was."
Related Stories
Construction plans filed with the city show developers plan to begin renovations in 2023, rebuilding the interior while preserving the masonry facades on Mt. Auburn and Dunster streets. Trinity Property Management is working on getting restaurants, retail businesses and office tenants into the new building, though leases have not yet been signed.
But some current tenants and frequent visitors to The Garage are concerned about what this project means for the future of the neighborhood. Comedian, podcast host and Harvard Square frequenter Ken Reid joined GBH's Morning Edition this week to reflect on his memories of the shopping center.LISTEN 8:26Ken Reid on Morning Edition | June 7, 2022
Reid grew up in Melrose and would ride the Orange Line to spend time at The Garage, where he recalls digging through crates at record stores looking for gold, getting artisan coffee in the pre-Starbucks world, and renting films like "Eraserhead" from Videosmith.
"Almost nothing of the Harvard Square I grew up with exists. Frankly, almost nothing of the Boston I grew up with exists," he said. "That's not necessarily for the worse … but it is losing character."
Reid said The Garage stood out for its unique businesses that customers couldn't find elsewhere, especially before the Internet. Now he expects some current Garage tenants will shift to online businesses, while he hopes others will find new physical spaces.
One current tenant, Chameleon Tattoo & Body Piercing, is already raising money for relocation expenses.
"We're working with the owner of the building to hopefully relocate us somewhere in the Harvard Square area," said Rueben Kayden, a senior tattoo artist who will take over the storied shop after the move as the current owner retires. "That's the ultimate goal. But that comes with a lofty price."
Kayden, who has been tattooing at Chameleon for 17 years, said he's been leaning on the shop's community. Moving costs may end up clocking in around $80,000-$100,000, he said, not including rent. But Trinity Property Management is working with the business, and clients are offering help in whatever ways they can. Some are donating money, others with carpentry or plumbing skills have offered their time.
"It's about keeping the culture of tattooing alive in Harvard Square," Kayden said. "Small businesses are closing constantly, and I feel that there isn't much flavor left in Harvard. We're one of the last artistic endeavors available in the area. And it became my personal mission to make sure it stays alive and stays true."