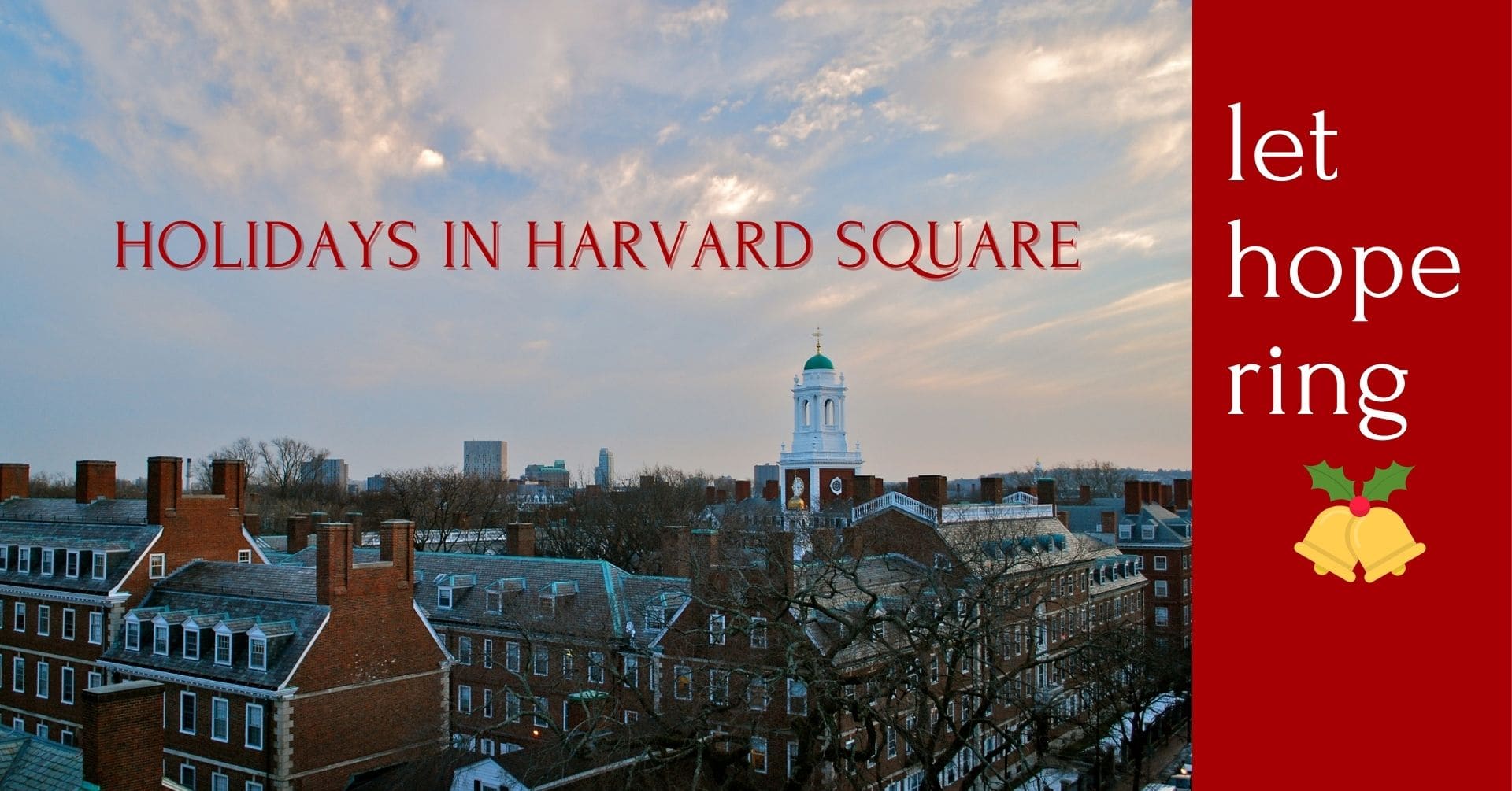 December 11th


Let Hope Ring Holiday Gathering Family Event


11:00am – 2:30pm

Let Hope Ring kicks off on December 11 at the Longfellow House and Lincoln Institute. From 11 a.m. – 2:30 p.m., ring in the holiday season with carolers, crafting and more outdoor fun. Other family-friendly activities include a "Christmas Bells"-inspired play for children.

For more information, please click here.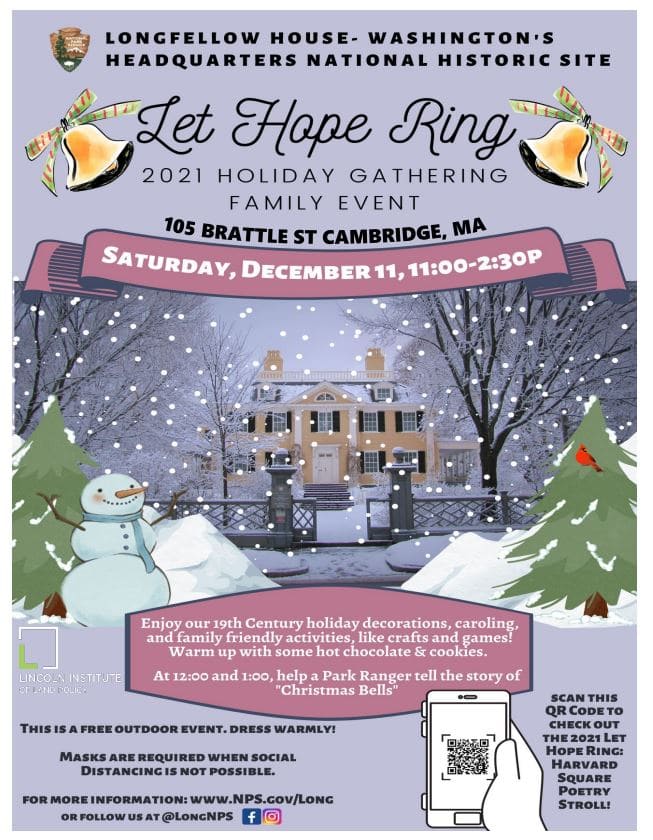 December 11th


Giving Tree Celebration


3:00pm – 4:00pm on Brattle Plaza

The Harvard Square Business Association (HSBA) members and friends are generously donating hats, gloves, socks, mittens, t-shirts, and scarves. These items will be placed in water-tight zipper bags along with candy canes, chocolates and treats and will be hung on the Holiday Giving Tree. Please bring your own items similarly packaged, or come and help us place ours. People are encouraged to take what they need.

To kick off the installation of the Giving Tree, The Boys of the St. Paul's Choir School will perform joyous hymns and songs. These young boys have performed with the Boston Symphony Orchestra, Leonard Bernstein on the legendary stage of Carnegie Hall, in St. Peter's Square at the Vatican for Pope Francis, and countless Boston Red Sox and Celtics games. Consisting of singers who are both artistically and technically highly developed, it may be surprising to discover that the boys range from grades 3 through 8. Complimentary hot chocolate and yummy cookies for those attending and for passersby will be served by HSBA staff.
The Lincoln Institute of Land Policy is collecting online donations in support of The Giving Tree. All proceeds will be used to purchase items, including clothing and gift cards for food from local establishments which have been impacted by COVID-19 closures. To make a donation, please visit the donation page or contact Shirlynn Jones at sjones@lincolninst.edu.

For additional information, please click here.

For a heartwarming glimpse at the boys of Saint Paul's Choir (2014), please view it below.
December 11th – January 2nd


Holiday Poetry Stroll



The Holiday Poetry Stroll returns December 11th through January 2nd as an opportunity to share hope and light through verse. Designed to be safe and self-guided, this approximately one-hour walking tour around Harvard Square highlights some of Cambridge's renowned poets and will be curated on the theme of hope by Mass Poetry. The tour will also feature window art on storefronts in Harvard Square and poetry ornament keepsakes decorating trees in Brattle Plaza. (in front of Brattle Florist, 31 Brattle Street)

Hard Work
By Kathleen Aguero
Featured at Longfellow House-Washington's Headquarters NHS, 105 Brattle Street (front)
Hope springs eternal, but
Click here to continue reading Hard Work, and for inspiration to write your own "proverb" poem.

Christmas Bells
By Henry Wadsworth Longfellow (1864)
Featured at Longfellow House-Washington's Headquarters NHS, 105 Brattle Street (grounds)
I heard the bells on Christmas day
Click here to continue reading Christmas Bells, and to learn more about the poem's historical Civil War context.

Raw Englightenment
By Sor Juana Inés de la Cruz, translated by Talia Franks
Featured at the Lincoln Institute of Land Policy, 113 Brattle Street
Filled with a hostile vitality, she assesses the determination of a lifestyle that lasts until death.
Click here to continue reading Raw Enlightenment, and to learn more about the 17th century poet and 21st century translator.

I Examined the Moment
By Meia Geddes
Featured at 108 Brattle Street (private residence)
I examined the moment for fractures, for signs that the moment would not hold.
Click here to continue reading I Examined the Moment, and to examine your own.

Refugee
By Richard Hoffman
Featured at 88 Foster Street (private residence)
A man carries his door
Click here to continue reading Refugee, and to learn more about its contemporary context.

Litany
By Robbie Gamble
Featured at 16 Shaler Ln. (private residence)
Remain in the light, though it may waver.
Click here to continue reading Litany, and to learn more about anaphora.

Grocery Gavotte
By Kali Lightfoot
Featured at 154 Mount Auburn Street (private residence)
Our carts roll aisle-by-aisle
Click here to continue reading Grocery Gavotte, and to consider the historic moment we've all lived through.

Equinox
By Tamiko Beyer
Featured at 16 Ash Street (private residence)
Dear child of the near future
Click here to continue reading Equinox, and to channel your ancestors or a future self.

From a Sproutglass
By Dr. Maru Colbert
Fatured at Cambridge Center for Adult Education, 42 Brattle Street
One wilted flower of wine
Click here to continue reading From a Sproutglass, and to reflect on the connection between stories and the natural world.

Haloed
By Marjorie Thomsen
Featured at Deguglielmo Plaza (27 Brattle Street)
Galileo would be stunned: Jupiter's 79
Click here to continue reading Haloed, and to try a "Negative Inversion Experiment."

And I Say Yes to the Way the Grass
By Wendy Drexler
Featured at Harvard Coop (1400 Massachusetts Avenue)
needs the soil and the soil needs the grass
Click here to continue reading And I Say Yes to the Way the Grass, and to reflect on interconnection.

The Sky's Reflection
By Amy Manion
Featured at C'est Bon Market (1436 Massachusetts Avenue
When will I let myself outside?
Click here to continue reading The Sky's Reflection, and to learn more about the sijo form.

Cindy Comes to Hear Me Read
By Jill McDonough
Featured at Source Restaurants (27 Church Street)
Cindy: not her real name. I met her
Click here to continue reading Cindy Comes to Hear Me Read, and to reflect on the ways you are free.

Benediction
By Martha Collins
Featured at Felix Shoe Repair (1304 Massachusetts Avenue)
Not a story, they said, not even a line.
Click here to continue reading Benediction, and to consider the way poetry moves forward.

Love in the Time of Corona
By Charles Coe
Featured at Zinneken's (1154 Massachusetts Avenue)
In ancient Greece, men shook hands
Click here to continue reading Love in the Time of Corona, and to reflect on a moment of grace during this pandemic.

The Dandelion Speaks of Survival
By Quintin Collins
Featured at Cambridge Public Library (449 Broadway)
When they see me rise, a nebula of coronas, sun-
Click here to continue reading The Dandelion Speaks of Survival, and to consider the personal, the political, and plants.

Bad News, Again
By Cameron Awkward-Rich
Featured at First Church in Cambridge (11 Garden Street)
There are so many reasons
Click here to continue reading Bad News, Again, and to learn more about its writing as a poetic experiment.

Only
By Danielle Legros Georges
Featured location coming soon!
Nature hides

December 11th – 23rd


Sacred Spaces and Good Works



In 2020, the HSBA produced a series of 13 videos highlighting our faith-based community and the historically significant buildings that house them. We will be re-releasing these videos, one per day for 13 days. These videos feature narration by Kevin Tyler, a then-unhoused gentleman, and music composed and performed by Cal DiGiovanni, a 14-year-old Harvard Square street performer.

December 11th             1632 The First Parish in Cambridge, UU 
December 12th             1633 First Church in Cambridge, Congregational
December 13th             1744 Memorial Church of Harvard University
December 14th             1759 Christ Church