Sundays from June 4th to October 29th, 2023
Church Street
11am – 5pm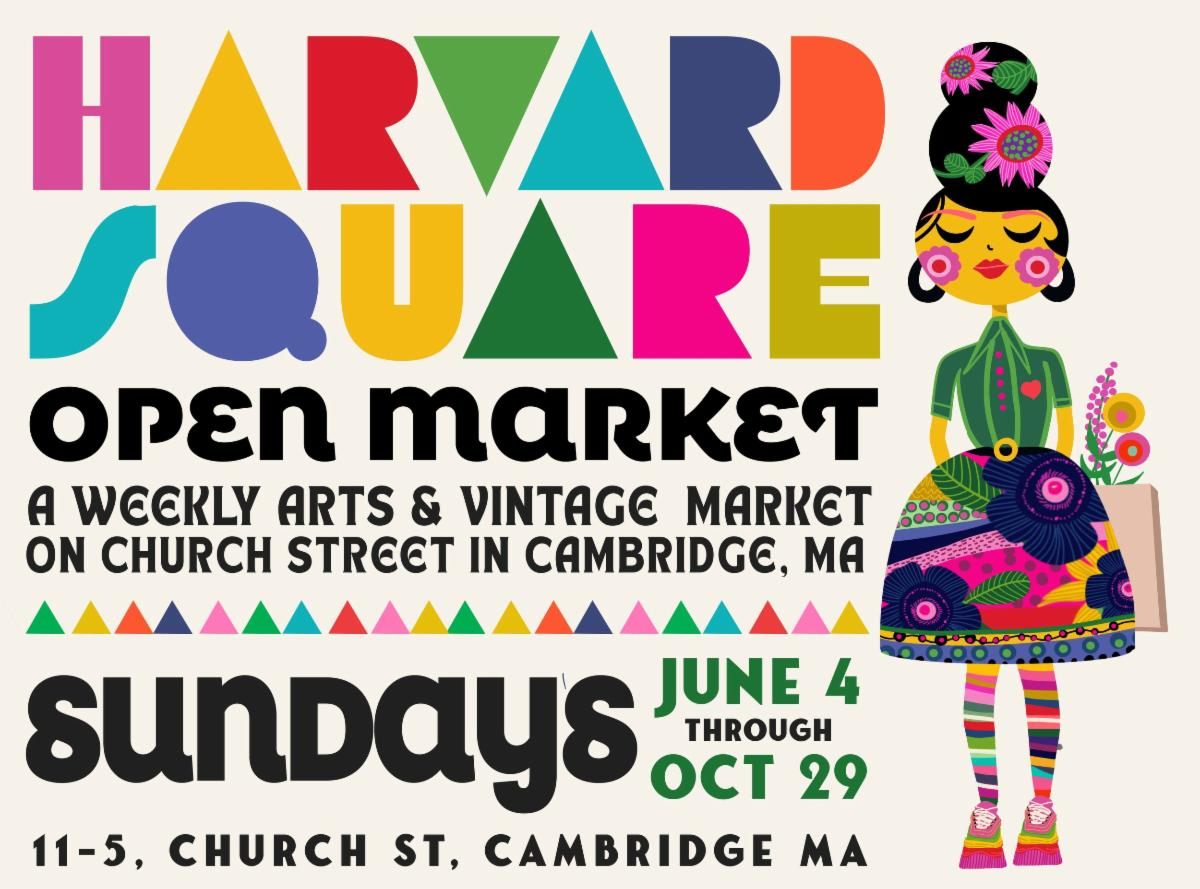 The Harvard Square Business Association is delighted to announce that the Harvard Square Open Market is back for its second season! On Sundays from June 4th until October 29th over 45 local artisans, makers, and vintage dealers will converge on Church Street. This is a hidden gem waiting to be discovered! From unique art pieces to handcrafted treasures, there's something for everyone. Grab your friends, bring your shopping bags, and join us at the Harvard Square Open Market for a day of fun and supporting our talented local community.
Shoppers to the Square and the market will also find eclectic and robust dining, shopping and entertainment options on Church Street including, MOTTO, Bonde Fine Wine Shop, Swiss Watchmaker, Wholesome Fresh, Fjallraven, the Sinclair, Dunkin Donuts, Cambridge Artists Cooperative Gallery, Lizzy's Ice Cream, SOURCE Restaurants, Gong Cha, Taiyaki NYC x The Dough Club and the Christian Science Reading Room.
Denise Jillson, executive director of the Harvard Square Business Association, commented "We are pleased to welcome back New England Open Markets, who have been producing thriving open markets for the past 20 years. Harvard Square has a long and successful track record of hosting public events on our historic streets and this is the perfect addition to our engaging and exciting Calendar of Events."
Christopher Masci, director of New England Open Markets said, "New England Open Markets serves over 1200 small businesses yearly, providing them with a venue for their talents and wares, and for the public, a unique shopping experience. Buyers meet the makers, the growers, the chefs, anda learn a bit about the goods they are purchasing, where they originated, and how they were created. The vendors themselves, from all over New England and beyond, enjoy a supportive community of like-minded craftspeople, artisans and designers. The authenticity that can be found in the handmade and the independent give a refreshing choice to those in search of the individual. The mission of New England Open Market is to support that movement."
For your shopping convenience, the Church Street Parking Lot is open for business.
Getting There
The Harvard Square Open Market is located all along Church Street, between Brattle Street and Harvard Square.
On the T
The market is T accessible and only a 2 minute walk from the Harvard Red Line Station. Take the Red Line to the Harvard Square T stop. After exiting the station, head southwest on Mass Ave towards John F. Kennedy street for about 150 before turning right onto Palmer Street. Continue straight on Palmer Street for about 350 feet until you're at the market!
By Car
If you're driving into Harvard Square, there is street parking available all throughout the square. For a full list of parking options, please visit: Get Here Archives – Harvard Square