Actors' Shakespeare Project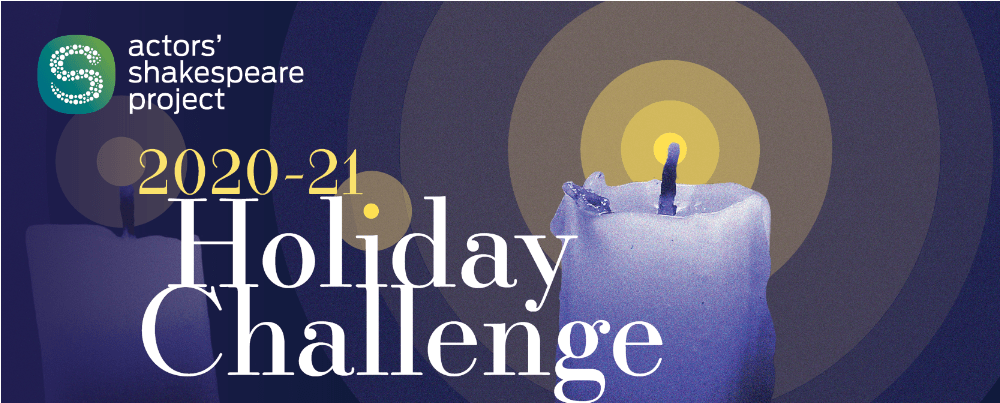 Actors' Shakespeare Project, harvardsquare.com/venue/actors-shakespeare-project/, 617-241-2200
American Repertory Theater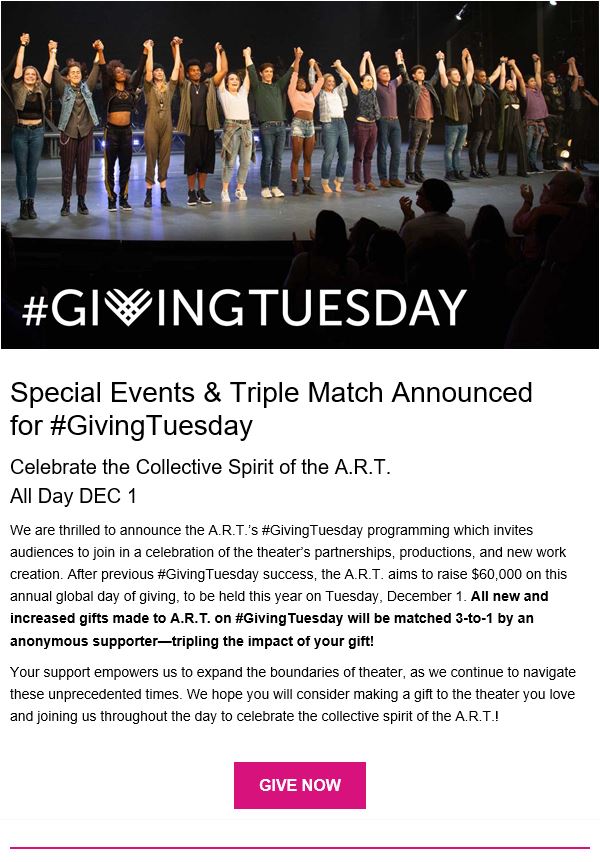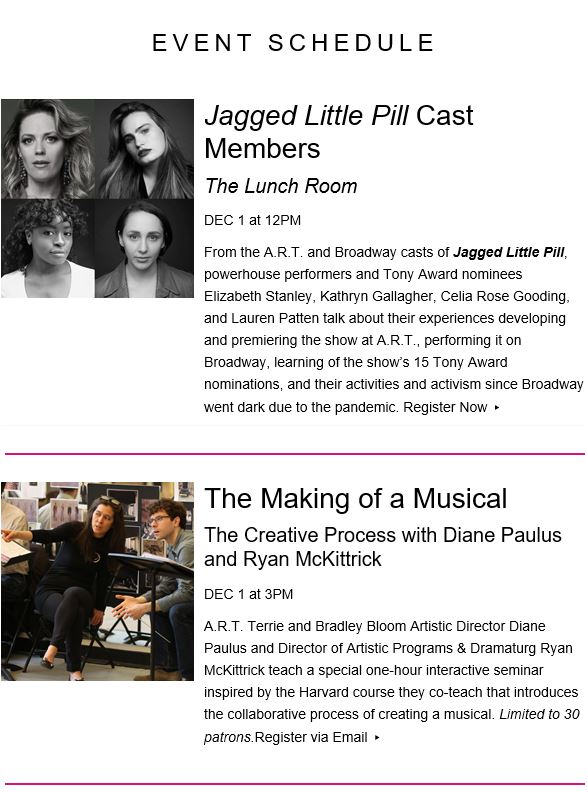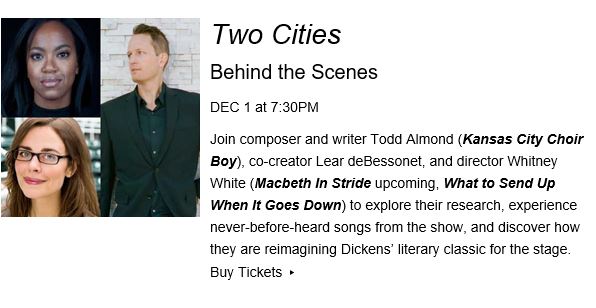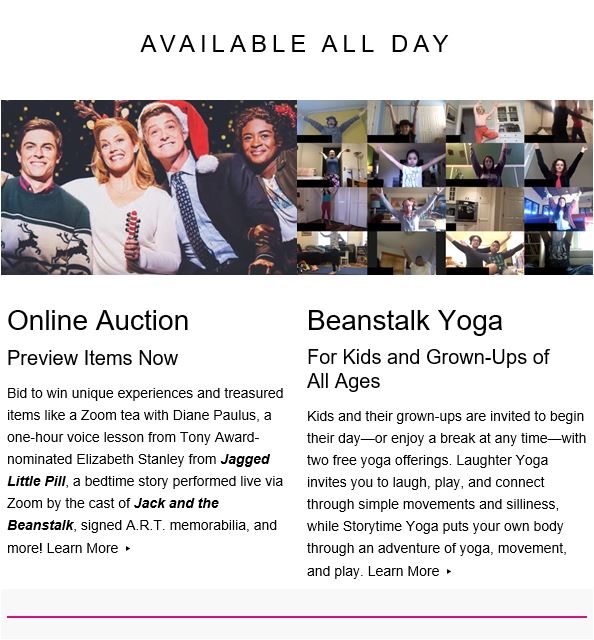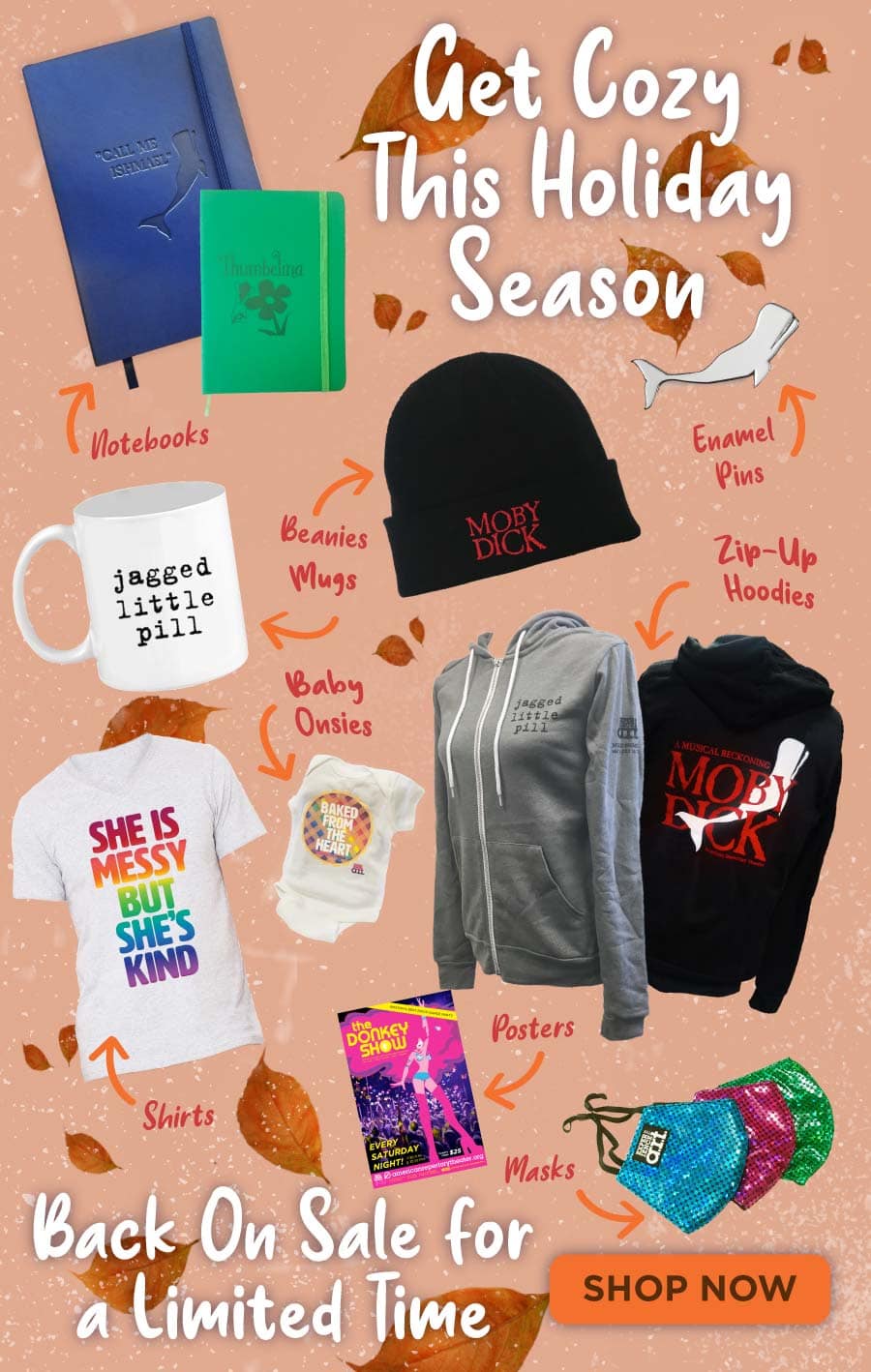 American Repertory Theater, 64 Brattle Street, harvardsquare.com/venue/american-repertory-theater/, 617-547-8300
Blue Heron
A Blue Heron Christmas Special
Saturday, December 19, 2020 at 7:30 PM
Featuring highlights from our English and French Christmas programs, new Spanish repertoire, members of Dark Horse Consort, and a new work by Kevin Allen, Puer nobis nascitur, commissioned by Blue Heron and dedicated to Dorrie Parini and Paul LaFerriere for their generous support.
Live pre-concert talk at 6:30 PM by Scott Metcalfe with composer Kevin Allen.
Tickets: $50 / $35 / $10
Click here for more information about virtual concerts. All concert dates, programs and personnel are subject to change without notice.|
Blue Heron, harvardsquare.com/venue/blue-heron/, 617-960-7956
Brattle Theatre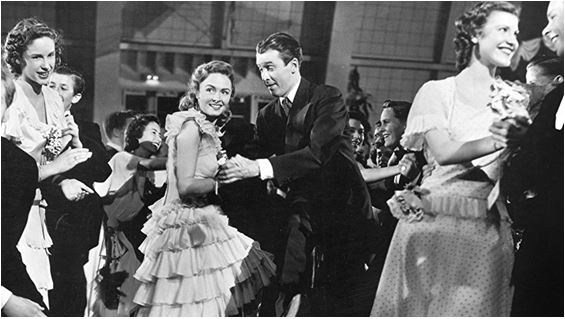 Every December since 1991, The Brattle has screened It's a Wonderful Life to a packed house. Every year an average of 1,000 people gather in our beloved cinema to watch this film, some for the first time, some for the 50th. 

Of course, that isn't possible this year. 

But just because we can't be together in person doesn't mean we can't mark the occasion, which is why we've decided to create a virtual event instead.

We want to encourage all of you, our community, to stream the film, which is available on Amazon Prime, and ask that in lieu of a ticket purchase, you make a donation to The Brattle's COVID Emergency Fund. Your support will ensure that we are able to continue this tradition for decades to come.

Every person who donates $25 or more will receive a recorded intro by Ned and myself (just like we do at The Brattle before the screenings each year) and a special It's a Wonderful Life virtual bingo card that you can fill out as you watch. 

Our hope is to get 225 donors — or the equivalent of one sold out screening at The Brattle — by Sunday, December 20. 

Help us pack the house (virtually) this weekend! 

We also want to hear your stories about seeing It's a Wonderful Life at The Brattle over the years. Submit your story here and we may share it on social media. Help us make this virtual event come to life!

Please show your support for this beloved Brattle tradition by making a donation. We can't wait until we can welcome you all back safely to experience this film in person. 
Brattle Theatre, 40 Brattle Street, harvardsquare.com/venue/brattle-theatre/, 617-876-6837
Join us in celebrating 76 years of the CAA on December 2nd! Every Holiday Small Works Sale purchase directly supports CAA operations, as well as the presenting artists. Your support this year is more crucial than ever! About | Celebrate an annual Cambridge Art Association tradition! Our Holiday Small Works Sale is your chance to purchase one-of-a-kind works by emerging and established artists for just $100! From oil paintings to monotypes, photography to sculpture, and everything in between, this year's sale features 280+ artworks, all created by CAA members and friends. Due to COVID-19 restrictions, the sale will be hosted online, on our Shopify page. In tandem with the sale, we will also host a celebration, on ZOOM, on December 2, beginning at 6:30pm.
How does the sale work? Our sales page, linked here, will go live at 6pm EST, on Wednesday, December 2, 2020. All sales will be processed through Shopify – no phone calls, please. Artwork cannot be reserved in advance, so mark your calendars – all sales will be first come first served! Click here to register for the Virtual Celebration.
As part of our Holiday Celebration, we are a special holiday cocktail class! Claudiane Philippe, aka Nail the Cocktail, will lead you in the preparation of 2-3 cocktails, including 1 specially crafted for this event. A BEST OF BOSTON 2020 winner, @nailthecocktail boasts an audience of more than 36,000 cocktail enthusiasts. This portion of the Holiday Celebration is 21+. Click here to learn more & register for this event.
Cambridge Artists' Cooperative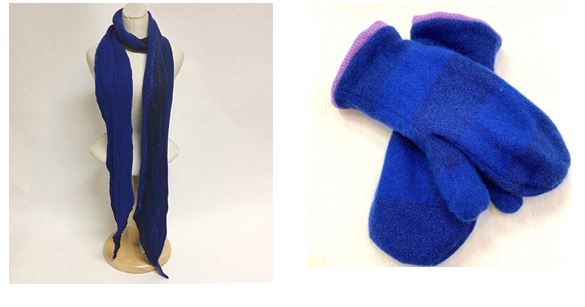 Offering The Private Shopping Experience!
We now have a scheduling service for reserved and private shopping appointments. Reserved appointments take place during our regular store hours which are currently Friday, Saturday and Sunday 12-6.

Private Shopping takes place when the store is not open to the general public. Schedule your shopping trip!
Shop us online: We update our site weekly, please check in often: www.cambridgeartistscoop.com
Shop our window display: See something in the window, email or call us & we can process your order over the phone & either ship it or offer curbside pick-up: 617.868.4434
Cambridge Artists Cooperative, 59A Church Street, harvardsquare.com/venue/cambridge-artists-cooperative-gallery/, 617-868-4434
Cambridge Center for Adult Education
Gift Certificates for the Holidays!
With the holidays just around the corner, now is the perfect time to purchase a CCAE gift certificate for family and friends! You can now gift to your out-of-town loved ones and invite them to join in any of our online classes this winter! Purchase at https://ccae.org/gift-certificates
Christmas Songs for Ukulele | 4 Thursdays | Nov. 12 | 5:15 – 6:15 pm | $110 | Register
Build your repertoire of Christmas songs by adding a few new ones every year. Many traditional ones require only three chords.
German Conversation about the Holiday Season | 4 Thursdays | Nov. 12 | 4 – 5:30 pm | $115 | Register
Am Jahresende feiern die Deutschen viele Feste: St. Nikolaus, Weihnachten, Sylvester. In diesem Kurs wollen wir gemeinsam diese Feste erforschen: Wie feiern die Deutschen? Was genau feiern sie? Gibt es regionale Unterschiede? Wir lesen unterschiedliche Texte (Gedichte, Lieder, Kurzgeschichten etc.) und sprechen über Bräuche und Events in dieser Jahreszeit.
Creative Holidays: Make Your Own Wreath | Monday | Dec. 7 | 7 – 8:30 pm | $40 | Register
Join us and create a wreath that will stylishly greet everyone who enters your door this holiday season! Learn how to hand construct a wreath on a wire frame with assortments of Winter's best evergreens and foliages. There will be a variety of rustic, traditional and glamorous accents available for you to select from to decorate your wreath so it will be a truly personalized design reflecting your unique style. A material fee of $35 is payable in cash or check (no credit cards). Class held at the Cass School of Floral Design, 531 Mt. Auburn St, Watertown.
Holiday Cupcakes Decorating | Wednesday | Dec. 9 | 6 – 8 pm | $70 | Register
Learn several hand-piping techniques to add a variety of eye-catching Holiday themed designs to your cupcakes such as poinsettias, snowmen, Santa and more. Using assorted decorating tips, we'll adorn your sweet treats with vibrant, colorful icing and sugar sprinkles.
Biscotti and Italian Cookies | Thursday | Dec. 10 | 6 – 9 pm | $65 | Register
In this interactive online class, you will learn how to make Diane's famous biscotti and Italian cookies. Each cookie will highlight different techniques and style. These cookies will be a great addition to your holiday party or as a snack. We'll make double baked biscotti, angelini cookies (lemon anise glazed cookies), sesame cookies, and Zaleti (Venetian Christmas cookies).
Italian Christmas Dinner | Friday | Dec. 18 | 6 – 8:30 pm | $65 | Register
There is no Christmas dinner like an Italian Christmas dinner! In this fun interactive online class, we'll make a full festive meal selected from various regions around Italy. You'll learn how to make Tuscan Marsala and mushrooms bruschetta, Roman artichoke fritters with garlic aioli, Lasagna with béchamel, meat sauce from Parma, and Sicilian Baccalà Arranto (baked cod with pine nuts and raisins). We'll finish the dinner with mascarpone and rum soaked cherries. Buone Feste!
Friends and Family Series: Chocolate Art for Holidays | Saturday, December 19 from 6-8pm. | $70 | Register
Join Linda, a professional chocolate and sugar artist, who will guide you to make chocolate ornaments, ribbons, leaves, flowers and even boxes without needing any special molds. We'll use basic household items with store-brand chocolates to make decorative chocolate art.
Holiday Cocktails: Mixing and Tasting | Saturday | Dec. 19 | 3 – 5 pm | $60 | Register
Let's brighten up your holiday party with some fun and delicious cocktails. We'll learn different mixing techniques to mix holiday cocktails. The class will incorporate exotic ingredients that will make your drinks fun, tasty, and unique.
Friends and Family Series: Christmas Pastries | Sunday | Dec. 20 | 1 – 4 pm | $95 | Register
Join us for this fun, festive online interactive class where you'll learn how to make some classic and refined Christmas pastries. We'll bake and craft an elegant iconic Christmas dessert, a bûche de noël. You'll learn about tricks and tips on how to make different components including meringue mushrooms, marzipan holly leaves, cranberry candies, and more edible decorations to make bûche de noël beautiful and delicious.
Cambridge Center for Adult Education, 42 Brattle Street, harvardsquare.com/venue/cambridge-center-for-adult-education/, 617-547-6789
Furnished Quarters

10% off furnished apartments
Receive a 10% savings on already discounted short-term furnished apartments, conveniently located in Cambridge and Boston.
Apartments include:
Fully equipped kitchen
Utilities and fast, complimentary WiFi
Workstations
Professionally cleaned and disinfected
Washer/dryer
24/7 guest service
No cancellation fees
Use discount here.
Furnished Quarters, harvardsquare.com/venue/furnished-quarters/, 617-236-4908
Fjallraven
Black Friday Sale
11/27 – 11/30.
20% off storewide with select items 30% off *excludes kanken.
With a purchase, customers will be entered to win a National Parks Pass (20 winners will be selected from the Harvard Square store).
Fjallraven, 63 Church Street, harvardsquare.com/venue/fjallraven/, 617-715-9977
Grendel's Den

Grendel's Den, 89 Winthrop Street, harvardsquare.com/venue/grendels-den-restaurant-bar/, 617-491-1160
Grolier Poetry Book Shop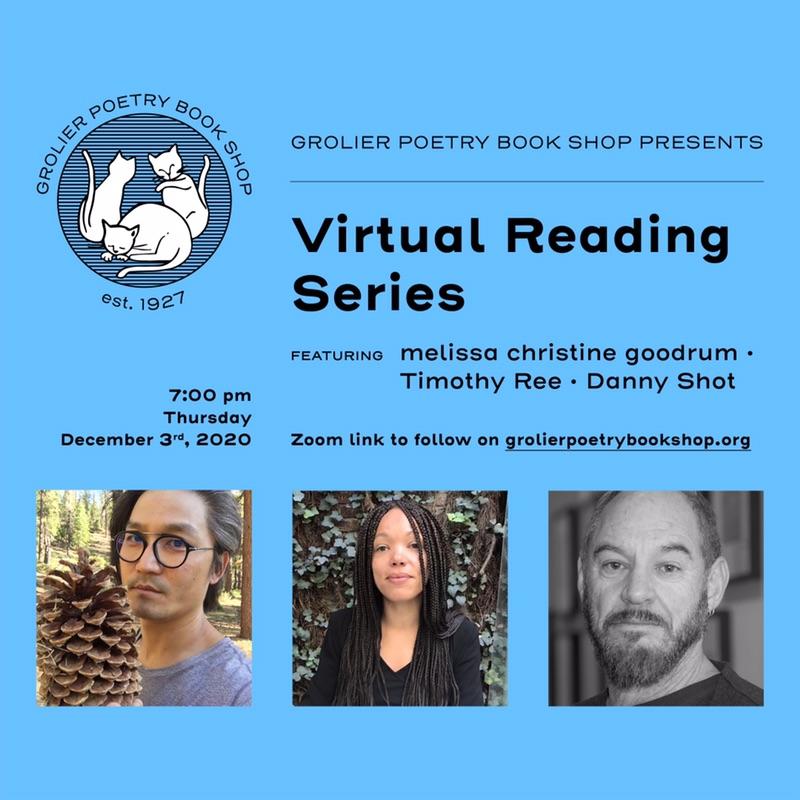 Register Here
Zoom Link

Grolier Poetry Book Shop, 6 Plympton Street, harvardsquare.com/venue/grolier-poetry-bookshop/, (617) 547-4648
Harvard Museum of Natural History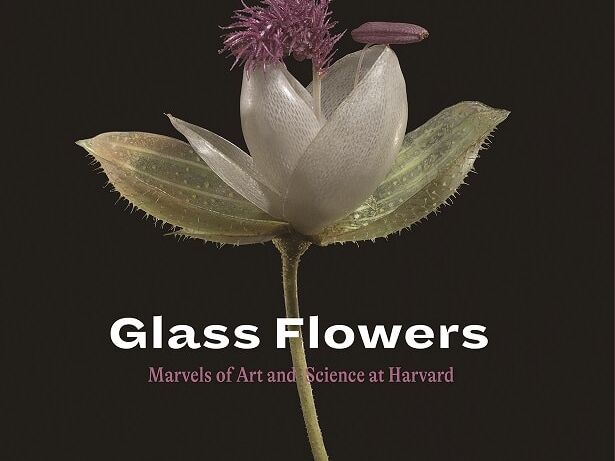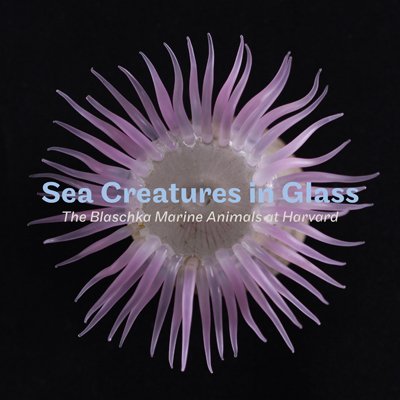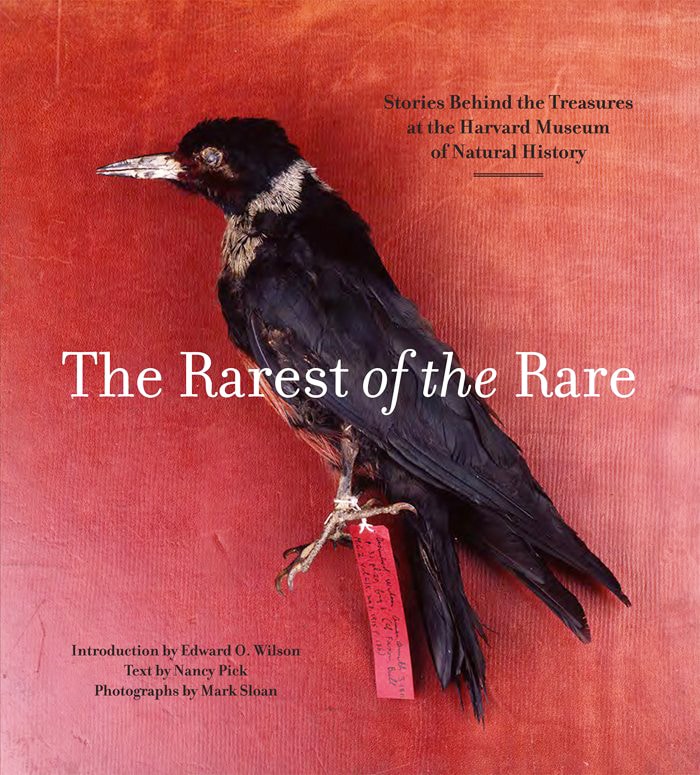 This holiday season re-experience the fascinating collections of the Harvard Museum of Natural History at home with books from the new Harvard Museums of Science & Culture Virtual book shop: https://bit.ly/HMSCVirtualBookShop. From orchids to bananas, Leopold and Rudolf Blaschka created a stunning array of glass models of plants for Harvard University in the late 19th and early 20th centuries. Give the perfect gift to the Glass Flowers fan in your life with the new book: Glass Flowers: Marvels of Art and Science at Harvard. Admire the delicate beauty of the Blaschkas' glass jellyfish, anemones, and more in Sea Creatures in Glass: The Blaschka Marine Animals at Harvard. Find out more about Nabokov's butterflies and George Washington's pheasants with Rarest of the Rare: The Stories Behind the Treasures at the Harvard Museum of Natural History. All $24.95, plus tax and shipping. Purchase directly from the Harvard Museums of Science & Culture.
Harvard Museum of Natural History, 26 Oxford Street, harvardsquare.com/venue/harvard-museum-of-natural-history/, 617-495-3045
The Harvard Shop
70% off Sale
Large sale at the Harvard Shop located at 52 JFK Street, including discounts of up to 70% off. The sale Begins November 16th through December 31st.
If you prefer to shop online, the promotion will run November 23rd – 29th
Exciting Online Advent Calendar Campaign: Each day in December 1st – December 25th (Christmas Day) one premium item will be on sale.
The Harvard Shop, 57 JFK Street, harvardsquare.com/venue/the-harvard-shop/, 617-945-2150
Harvard Square Holiday Fair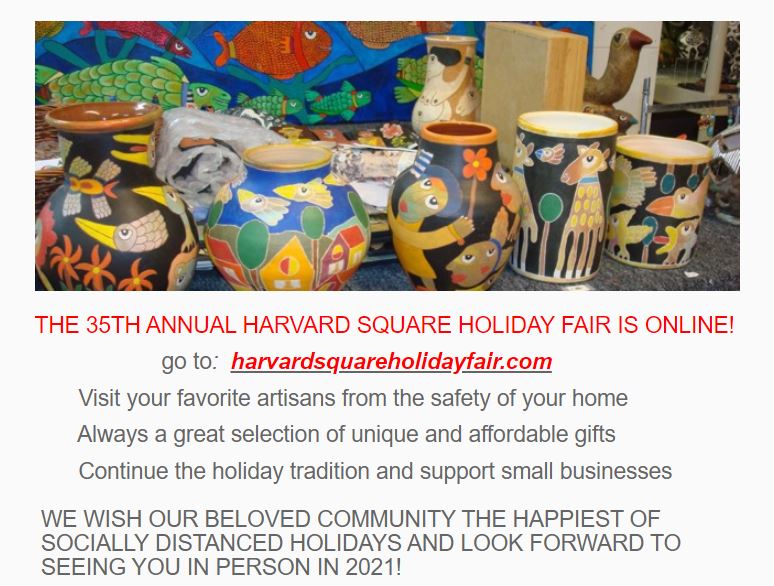 Harvard Square Holiday Fair, harvardsquare.com/venue/harvard-square-holiday-fair/
Harvard University Employees Credit Union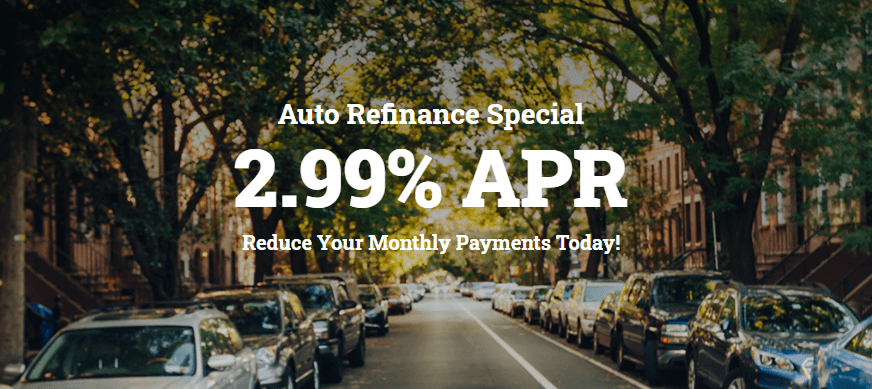 Refinance and Save
Harvard University Employees Credit Union is offering a limited-time rate of 2.99% APR* for 60 months on all Auto Refinances.
*Annual Percentage Rate (APR) Annual Percentage Rate. Current rates are subject to change at any time. Subject to Credit Approval. Auto Loan Example $20,000.00 at 2.99% for 60 months. Monthly payment: $359 Total Finance charge: $1,540 Total repayment: $21,540. Find new and used car values online at Kelly Blue Book or at NADA Guides. Minimum Auto Loan Amount is $5,000. HUECU typically does not refinance our own auto loans but is permitting this for this promotion. 2. Qualifying members may select to defer their first payment for 60 days from the loan funding date. Interest will accrue during deferral period and this offer is subject to credit union approval. 3. Certain restrictions may apply for this program, please see full details at huecu.org.
We may not be able to offer financing on vehicles financed outside of Massachusetts. Please contact us at (617) 495-4460 for more information on your vehicle's state requirements. All vehicle loans approved are subject to perfecting a security lien interest prior to loan closing on the pledged collateral. All owners of vehicle will need to sign on the loan.
Harvard University Employees Credit Union, 104 Mount Auburn Street, harvardsquare.com/venue/harvard-university-employees-credit-union/, 617-495-4460
Living Harmony
Black/Plaid Friday
Are you hankering to give yourself or someone else you love a hunk of ease and clarity this time of year? Then let's get organized. 20% off your first organizing package if you contact us on the Day after Thanksgiving and include the keyword "grateful".
Small Business Saturday
If you are a small business owner and want to get better organized to increase your productivity, peace, and profit, take advantage of this special offer. 20% off your first organizing package if you contact us on Small Business Saturday and include the keyword "big".
December Holidays
Do you know someone who wants to go from frazzled doom to a dazzling room or from shrinking productivity to inspired activity in their home or office? Well, now is your chance to help them out and give them the gift of their own personal organizing sessions during this season of light. Contact us before 1 January and include the keyword "light" for 20% off the first organizing package.
New Year's
We all are ready for a new year. Are you also ready for a new you? This pandemic has shifted us, whether we have been going gracefully or kicking and screaming. Some of us have realized that we need to create more space in our lives by shredding some stuff to be our best. If that is you and you are ready to declutter and organize, let's do it together. 20% off the first organizing package if you contact us by 31 January and mention the keyword "opportunity".
Living Harmony, 24 Harvey Street, harvardsquare.com/venue/living-harmony-llc/. 617-945-0704
Longy School of Music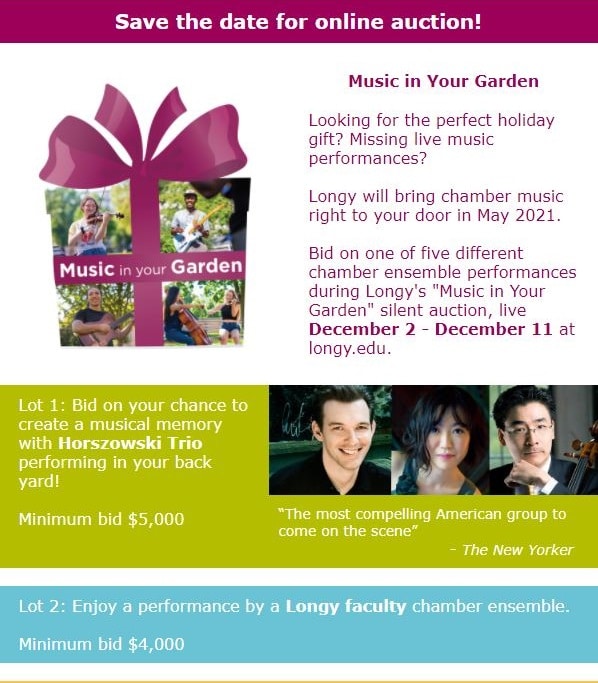 Longy School of Music, 27 Garden Street, harvardsquare.com/venue/longy-school-of-music-of-bard-college/, 617-876-0956
Milk Bar
December: Milk Bar's Holiday offerings available for in store pickup (starting TODAY!) and online at milkbarstore.com for delivery. Perfect for socially distance gifting and celebrating.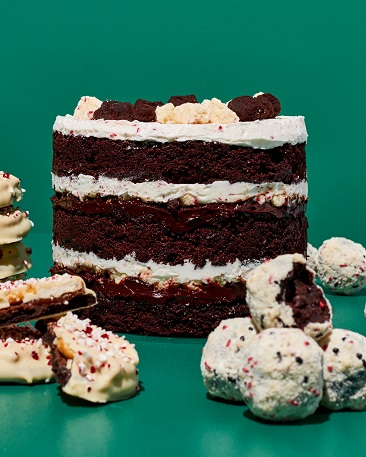 Peppermint Bark Cake: Fudgey, chocolatey layer cake, chocolate fudge, peppermint frosting and chocolate crumbs
(BRAND NEW!) Peppermint Bark Cake Truffles: Chocolate chip cake and crushed candy cane bits, rolled in red and chocolate sprinkles and minty sand. A perfectly wintry one-bite wonder.
Peppermint Pretzel Snaps: a crisp dark chocolate wafer, pretzel, peppermint & caramel, all dipped in silky white chocolate peppermint bark. Comes in a tin of 6!
The Peppermint Classic Bundle (in stores only): Enough to spread some winter cheer to the family. Includes:
1 x 6" Peppermint Bark Cake
1 x Dozen Peppermint Truffle dozen box
$75
Peppermint Snack Pack (in stores only): Spending the holidays alone doesn't mean you can't have great treats too! Our Peppermint Snack Pack is perfect for all of your at home solo celebrations! Includes:
1 Peppermint Bark Cake Slice
3 pack Peppermint Bark CakeTruffles
1 Assorted Cookies Tin (6 ct)
$33
Milk Bar, 3 Brattle Street, harvardsquare.com/venue/milk-bar/, 857-321-8430
Origins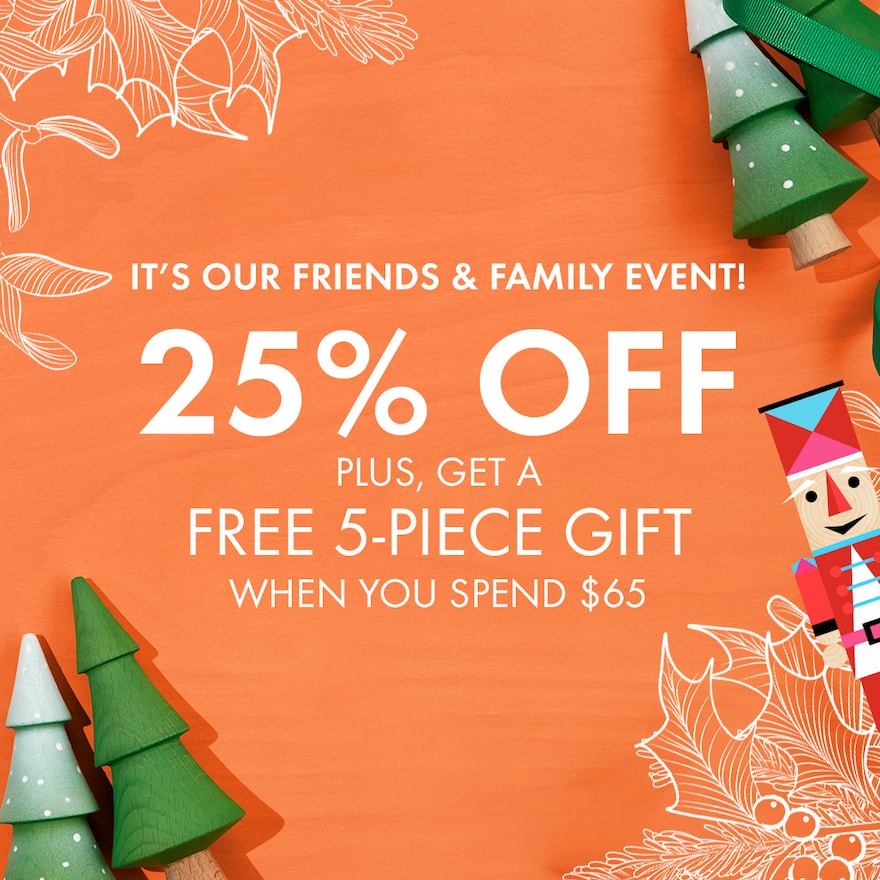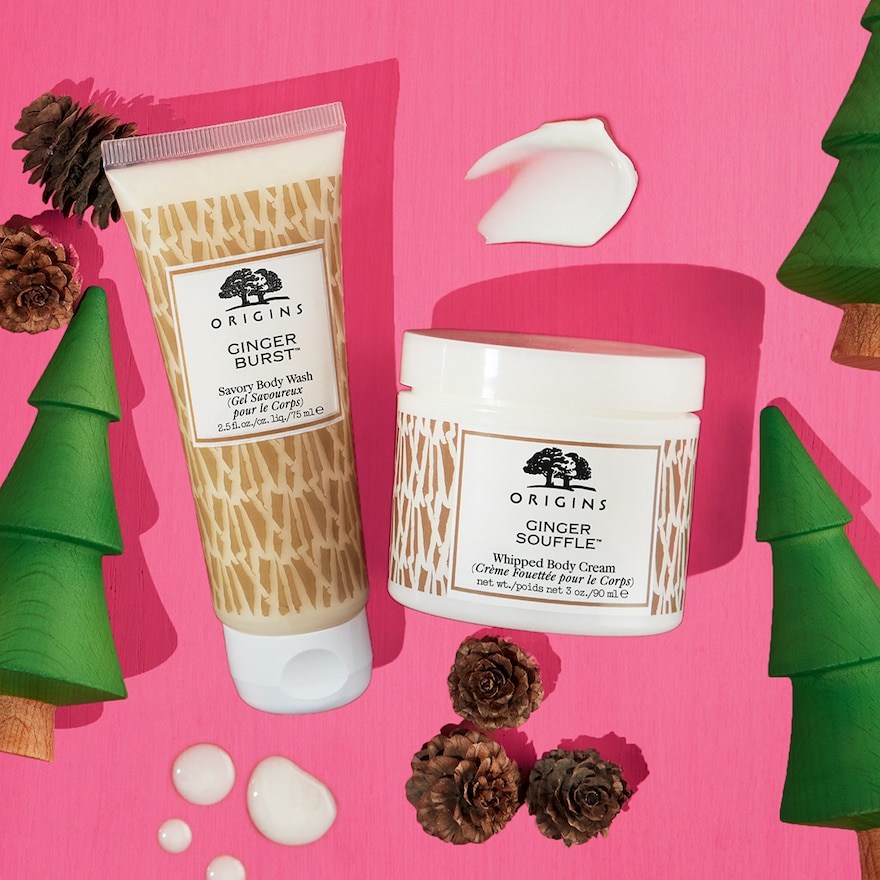 Origins, 8 Brattle Street, harvardsquare.com/venue/origins/, (617) 868-8090
OTTO
Buy One, Get One OTTO Gift Cards
OTTO will be offering our annual holiday BOGO gift cards beginning November 23rd and ending January 7th.
Buy $100 | Get $20
Buy $50 | Get $10
Buy $25 | Get $5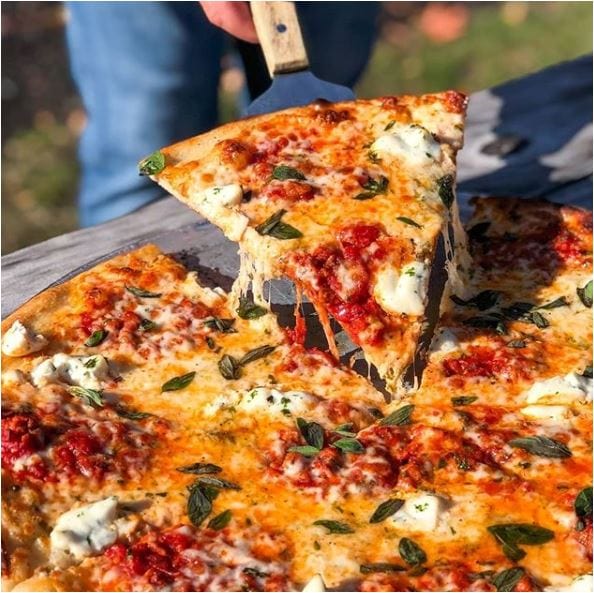 Enjoy OTTO's seasonal monthly specials. The November special will be Bolognese Sauce with Ricotta and Fresh Oregano – along with gluten-free and vegan options.
OTTO, 1432 Massachusetts Avenue, harvardsquare.com/venue/otto/, 617-873-0888
Passim
Lori McKenna Band to Stream Live from Club Passim Friday, December 18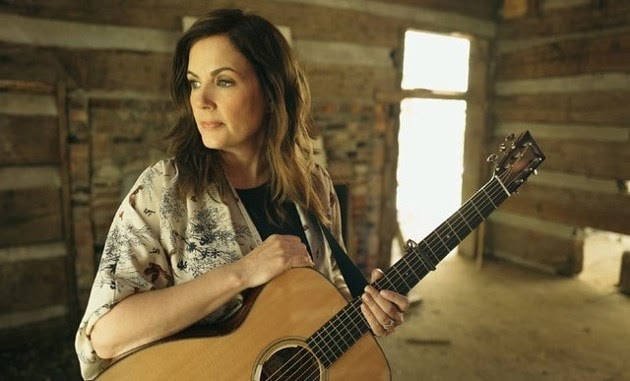 Grammy Award-winning singer, songwriter Lori McKenna will perform a special full-band live stream concert on Friday, December 18 at 7:00PM ET from Club Passim in Cambridge, Massachusetts. McKenna got her start at Passim and considers it a second home. The performance will benefit Club Passim and will be available on the Passim Facebook and YouTube pages, as well as www.passim.org/stream.
Over the summer, McKenna debuted her album The Balladeer at Club Passim. It's her most personal album to date featuring songs that reflect firsthand on her relationships with her children, husband and family. Following this theme, McKenna wrote the majority of the album alone except for three tracks written with HillaryLindsey and Liz Rose—a group collectively known as the Love Junkies. The first single off the album, "When You're My Age," debuted to critical acclaim. Entertainment Weekly declared, "another in her growing repertoire of tear-jerking life advice ballads," while Rolling Stone praised it as, "intensely moving."
In addition to her career as a solo artist, McKenna continues to enjoy tremendous success as one of the music industry's most in-demand songwriters. In 2017, she became the first woman ever to win the Country Music Association's Song of the Year award two years in a row and also won back-to-back Grammys for Best Country Song for "Girl Crush" performed by Little Big Town and "Humble and Kind" performed by Tim McGraw. Moreover, she became the first female to ever win Songwriter of the Year at the Academy of Country Music Awards that same year. In addition to writing songs for a multitude of award-winning artists including Miranda Lambert, Carrie Underwood, Little Big Town, Tim McGraw, Faith Hill, Hunter Hayes and Reba McEntire, McKenna also co-wrote "Always Remember Us This Way," which was featured in the Academy Award-winning 2018 film, A Star Is Born. McKenna recently co-wrote the song "Crowded Table" with The Highwomen members Brandi Carlile and Natalie Hemby, which has been nominated for Best Country Song at the 2020 Grammy Awards.
Performing as part of McKenna's band are Mark Erelli, Paul Kochanski, and John Sands.
Lori McKenna's performance on December 18, 2020, 7:00PM will be live streamed from Club Passim and available on the Passim Facebook and YouTube pages, as well as www.passim.org/stream. The show is free to watch, although there is a suggested donation of $50. All proceeds raised will benefit Club Passim.
Passim, 47 Palmer Street, harvardsquare.com/venue/passim/, 617-492-7679
Ray-Ban
Visit your local Ray-Ban store from November 22 through November 30 for exclusive access to the best products and Black Friday offers. See a staff associate for details.
Ray-Ban, 19 Brattle Street, harvardsquare.com/venue/ray-ban/, 617-876-0109
Rebekah Brooks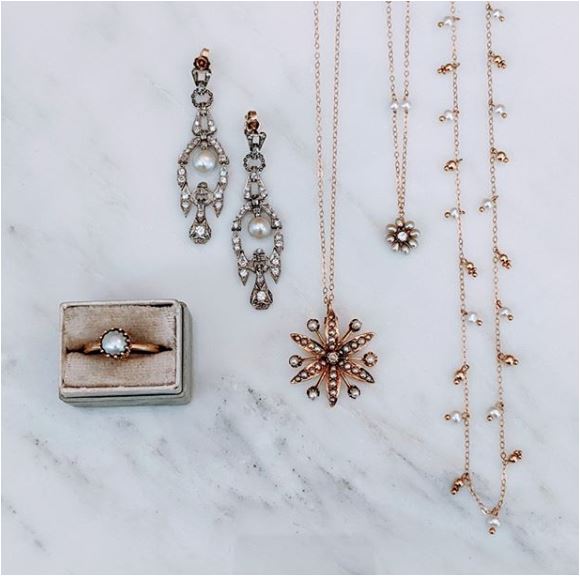 November 19 – 22
Early Bird Sale: 20% storewide (excl. engagement rings)
November 27 – 29
40% off select items, free earrings with $250 purchase
November 30
Cyber Monday – 30% off online
December 4 – 10
Engagement Ring Sale
Rebekah Brooks, 17 Brattle Street, harvardsquare.com/venue/rebekah-brooks-jewelry/, 617-864-1639
Revels
Celebrate the season at our 50th Anniversary (virtual) Christmas Revels with guest artists galore plus a special performance by Yo-Yo Ma! For more information and to order tickets, click here.
Revels, harvardsquare.com/venue/revels/, 617-972-8300
Saint Paul's Choir School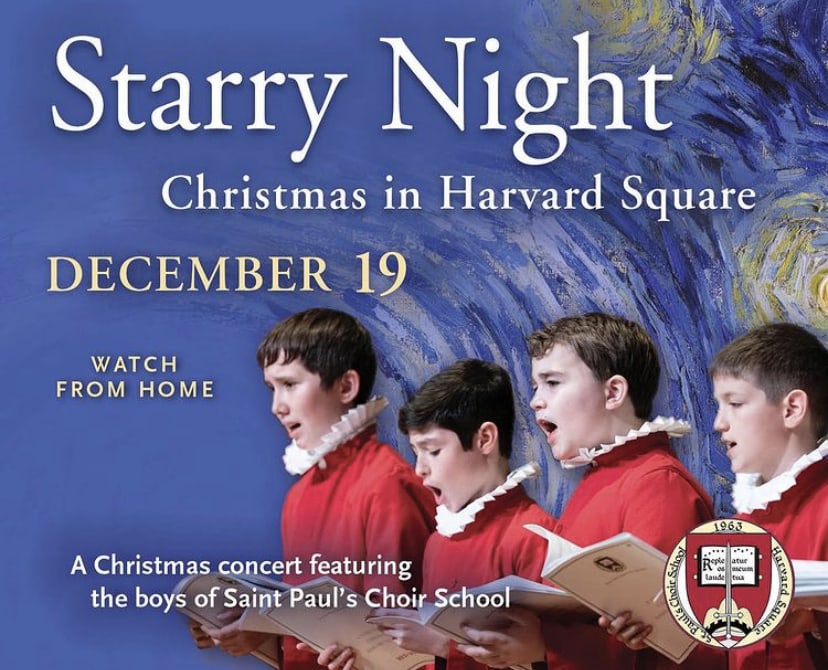 The Choir of Men and Boys at Saint Paul's invite you to enjoy Starry Night: Christmas in Harvard Square. Inspired by Van Gogh's Starry Night, the choir provides a striking counterpoint to our current worries. In a time of distancing and anxiety, the boys of Saint Paul's Choir School offer a musical experience of ineffable beauty and hope.

Starry Night: Christmas in Harvard Square debuts online on December 19, 2020 at 7:00 p.m. The Christmas concert is pre-recorded and distributed digitally at christmasinharvardsquare.com for goodwill contributions.

Saint Paul's Choir School, 29 Mount Auburn Street, harvardsquare.com/venue/choir-of-saint-pauls-church-harvard-square/, (617) 868-8658
Signet Education
During the holiday season, Signet is offering new clients a set of free SAT & ACT diagnostic tests with consultation for students looking to get started on their college admissions journeys. This offer valued at $200 includes two free diagnostic tests with thorough score reports that break down the types of questions students need help on the most and a free consultation to help you decide which test your student should focus on. With the biggest tests of 2021 coming up fast in March and April, now's your chance to get the ball rolling on your student's study schedule and college education!
Valid Through December 31st, 2020.
Signet Education, 1132 Massachusetts Avenue, harvardsquare.com/venue/signet-education/, 617-714-5262
Shake Shack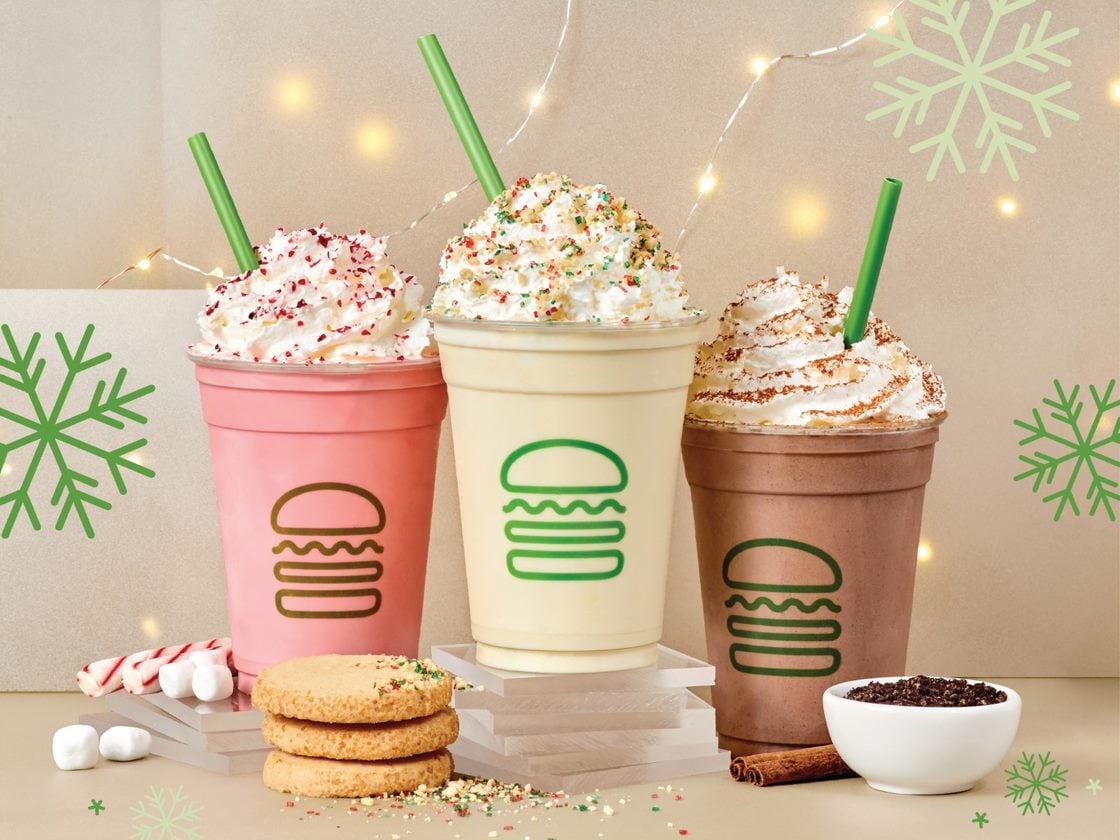 The holidays might look different this year, but get in the spirit this season with our indulgent Holiday Shake Trio and Winter Citrusade! We're bringing back a Shack fan favorite, Christmas Cookie, as well as two new flavors: Chocolate Spice and Candy Cane Marshmallow. As always, our shakes are hand-spun with real sugar and no high fructose corn syrup.
Christmas Cookie: Sugar cookie frozen custard, topped with wipped cream, crumbled shortbread and holiday sprinkles
Chocolate Spice: Holiday-spiced chocolate frozen custard blended with crumbled chocolate cookies, topped with whipped cream and cinnamon
Candy Cane Marshmallow: Peppermint and marshmallow blended with vanilla frozen custard, topped with whipped cream and crumbled candy cane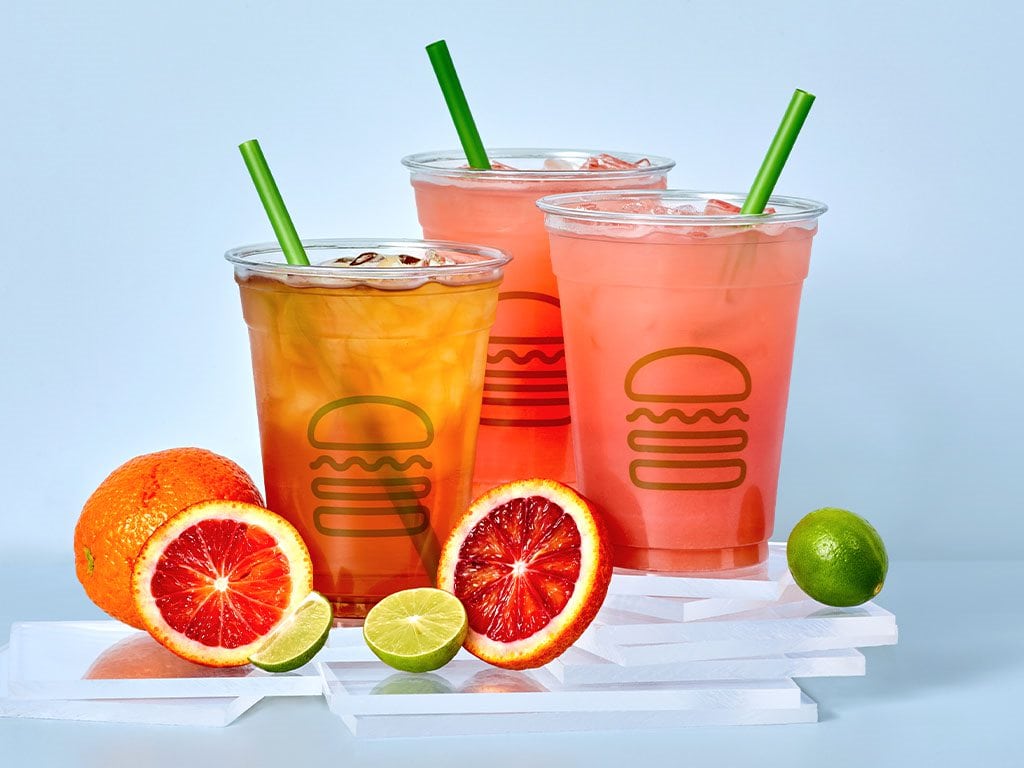 Our new Winter Citrusade is made with a balanced blend of real key lime and blood orange mixed with our signature Shack-made lemonade. The perfect pairing with your Shack favorites, this seasonal sipper is also available as a Winter Citrusade Fifty/Fifty made with half Winter Citrusade and half organic Harney & Sons iced tea. As always, our lemonades are made with real sugar and juice and no high fructose corn syrup.

Winter Citrusade: Real Key lime + blood orange mixed with Shack-made lemonade
Winter Citrusade Fifty/Fifty: Half Winter Citrusade, half organic Harney & Sons iced tea
Shake Shack, 92 Winthrop Street, harvardsquare.com/venue/shake-shack/, 617-758-8495
SOURCE Restaurant
For the holiday season, SOURCE is featuring a Farm Prix Fixe. For $49 per person you receive the following:

SOURCE Chopped Salad
creamy oregano, crispy chickpeas, aged cheddar
Braised Short Rib
slow cooked for 48 hours with brown butter
Brussels Sprouts
miso chili, caramel glazed
Warm Apple Ginger Crumble
homemade fluff topping
SOURCE Restaurant, 27 Church Street, harvardsquare.com/venue/source-restaurant/, 857-856-6800
Tasty Burger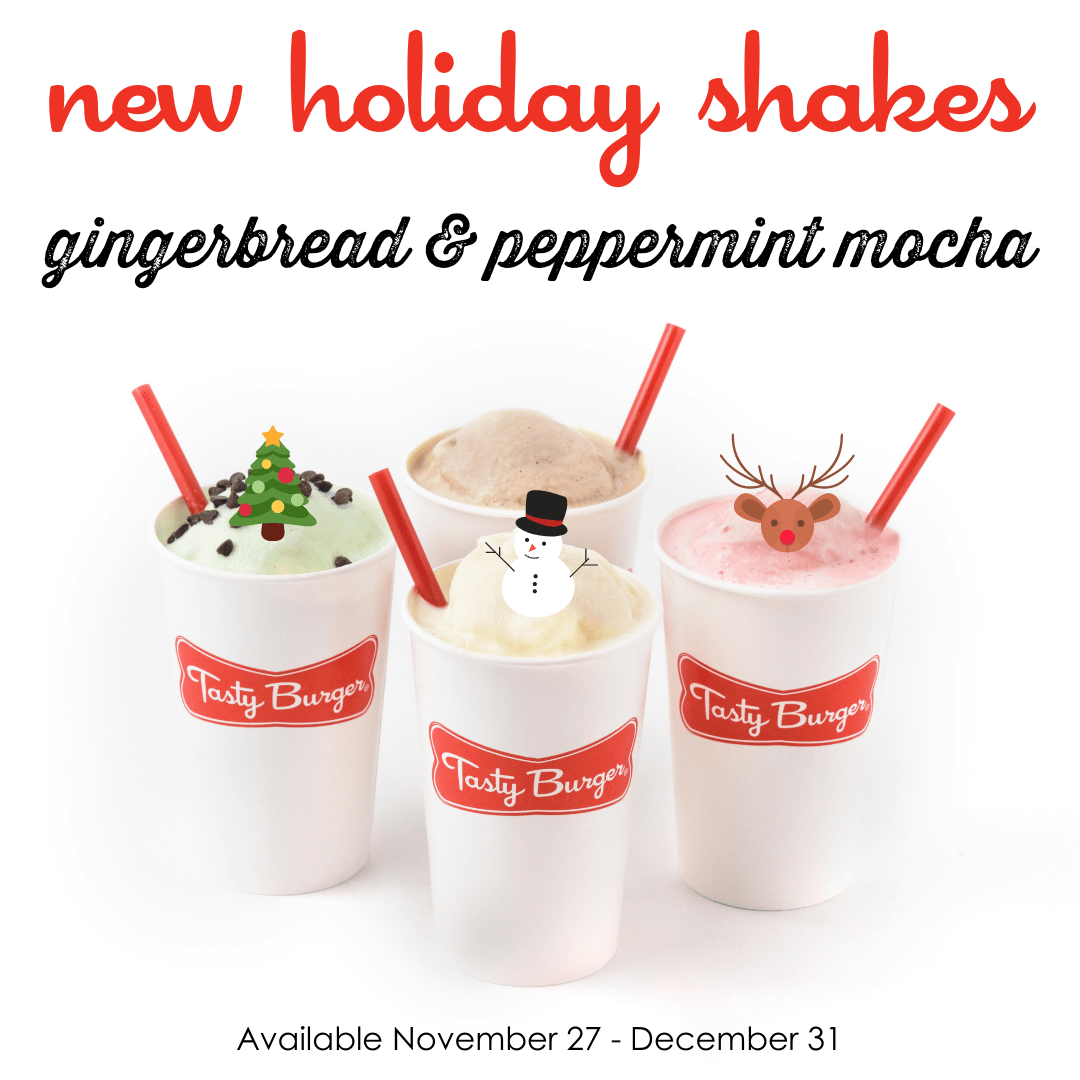 The new holiday shake flavors will be:
Veggie Grill
GIFT CARDS
Earn $10 for every $40 gift card purchase from 11/9/20 through 12/31/20. Terms and conditions outlined on flyer, here.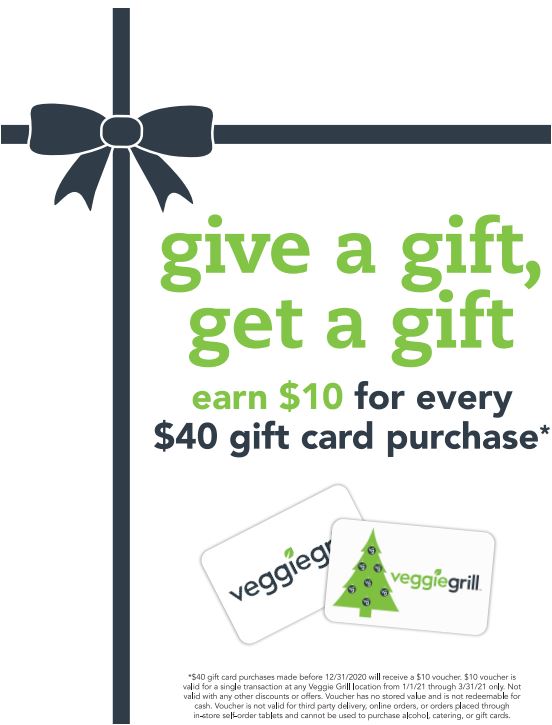 HOLIDAYS
Limited time DIY Tamale Kit for the Holidays available for pickup between 12/11/20 and 12/28/20. More info and photos will come soon, but the first day to order will be 12/8!
Veggie Grill, 57 JFK Street, harvardsquare.com/venue/veggie-grill/, 617-430-4004
Zinnia Jewelry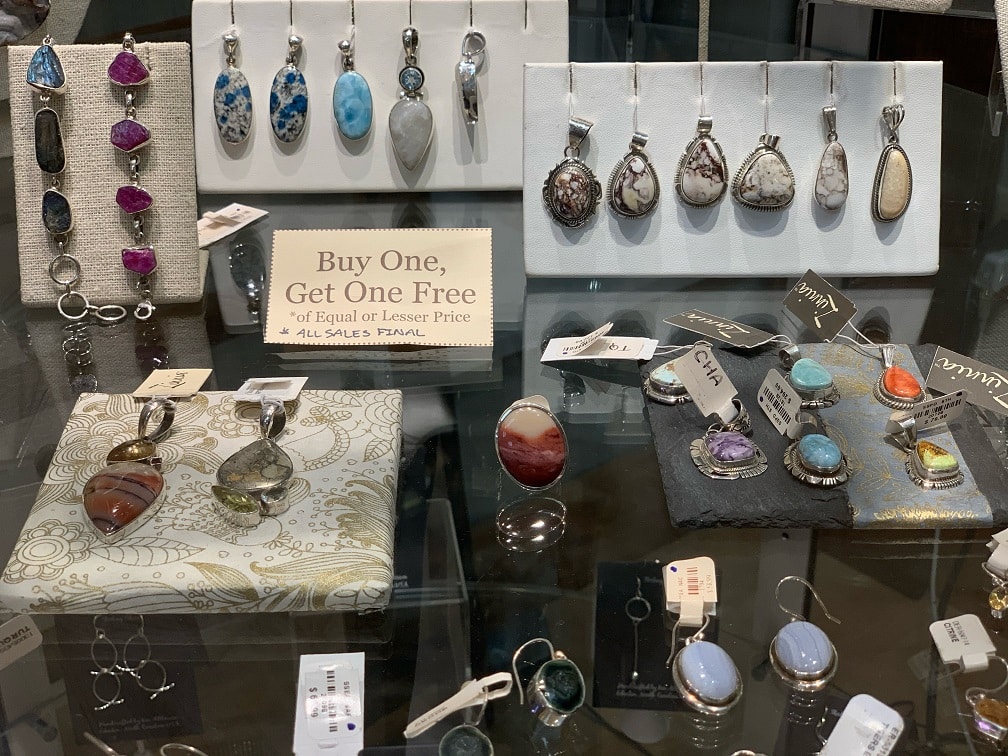 Select sale tables stocked with necklaces, bracelets, earrings, and hair goods…prices as low as $2 with savings up to 75% off. Also, select sale glass towers filled with gorgeous sterling, semi-precious and designer jewelry *Buy One, Get One Free* (of equal or lesser price).
Zinnia Jewelry, 1300 Massachusetts Avenue, harvardsquare.com/venue/zinnia-jewelry/, 617-354-1800
CHECK BACK SOON, MORE SPECIALS AND EVENTS ARE BEING ADDED REGULARLY!