WSET Level 1 Certificate in Spirits ONLINE [Oct 3 – Oct 24] – START
October 3 @ 3:00 pm

-

4:00 pm

| $395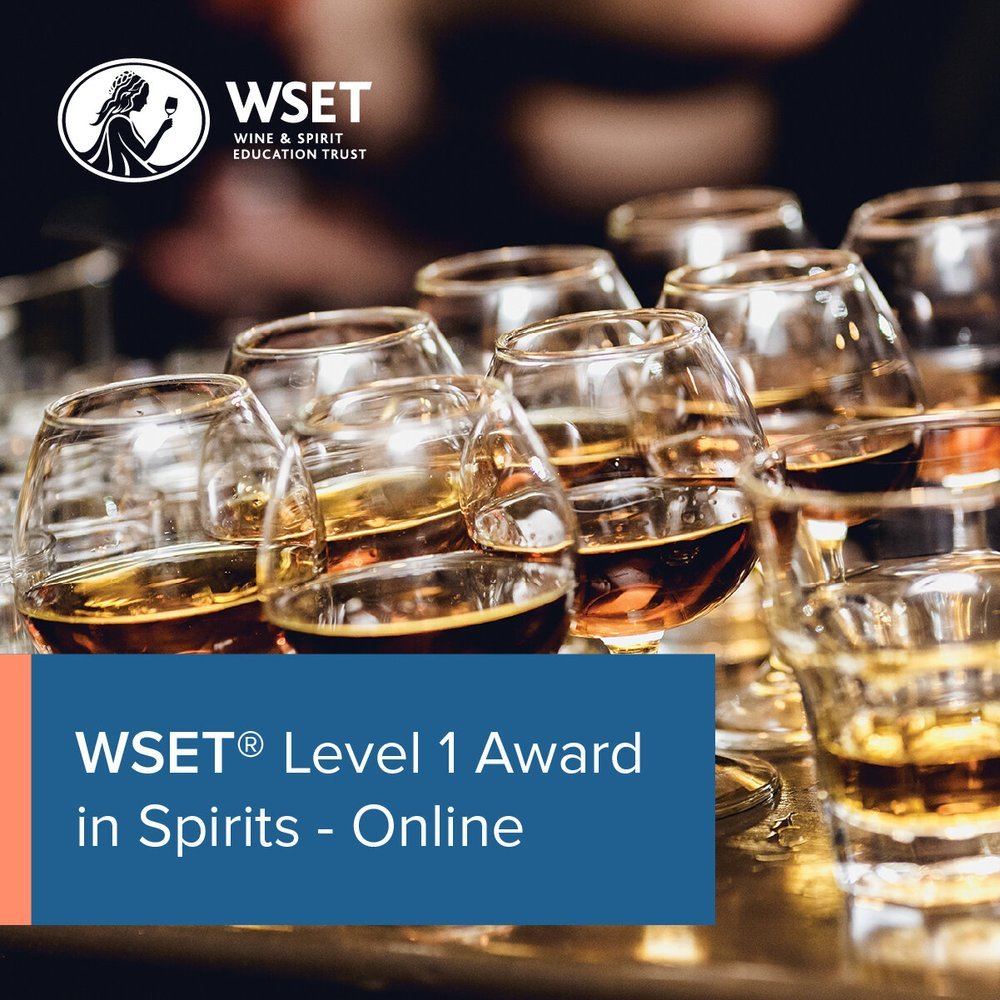 Course runs October 3 – October 24, 2023
Live Tasting Webinar: Tuesday 10/10 from 3-4pm ET.
Can't make the live session? The Live Tasting Webinar can also be accessed in recorded form at any time 24/7 during the 4-week session.
Exam will be online Sunday, October 29, 2023 at noon ET or can be arranged in person at a later date.
The WSET Level 1 course offers a true beginner's overview of spirits, and is geared to anyone with an interest in spirits for personal enjoyment or launching a professional career. It's a particularly good starting point for people just beginning to work in restaurants, hospitality, or retail. Level 1 is a fun way to get up to speed on the various types of spirits and how they differ in style.
The Level 1 course provides a systematized way of learning about and tasting spirits, focusing on knowledge that is practical, hands-on, and designed to build a foundation for future exploration. The course will introduce you to the basics of spirits, broad different styles, simple storage and service rules, and easy techniques for recognizing and crafting a number of cocktails.
At the end of the course, you'll complete a short, multiple-choice exam, and upon passing, will receive a Level 1 WSET certificate.
This course comes with a proprietary WSET Spirits workbook.
For the complete specification for this course click here.
Why Study WSET Level 1 With Commonwealth Wine School?
All students have 12 month access to our Online Learning Platform where you can access lectures (live and recorded), activities, and practice quizzes 24/7.

Students have access to a "Course Community" where they can discuss content with the instructor and other students.

Our dedicated WSET course instructors will be available to answer questions and comments, as well as provide feedback on assignments for the duration of the course.

Commonwealth Wine School students also receive access to industry discounts that will help you in your study of wine.
How does the Online Course work?
The course material should take about six hours in total to complete, plus revision time.

Regular access and participation in the course online activities is essential for this mode of study.

While participation in the live tasting webinar is encouraged, it is NOT required, as the webinar will be recorded and posted to the Online Learning Platform.

You can contact the educator any time for the duration of the scheduled course, should you have any questions.

Each module includes a series of independent activities to help you understand the differences between grape varieties and types and styles of wine.

At the end of the course, you'll complete a short, multiple-choice exam (see schedule above), and upon passing, will receive a Level 1 WSET certificate.
Schedule:
This online course features 1 live tasting webinar and can also be accessed at any time 24/7 during the 4 week session. Students can watch videos (including lectures and the recording of the webinars, practice tasting, and quiz yourself on your own schedule.
Spirit Tasting:
Students will receive a list of Spirits that can be assessed throughout the course. Students will practice tasting live with their instructor and can post their tasting notes in the Online Classroom for review by the educator.
Price includes proprietary online learning platform access, a WSET Level 1 Ebook, examination (one attempt), tuition, and postage.
Cost: $395
Please Support Our Website Sponsors.
Thank you!