Virtual Event: Mattilda Bernstein Sycamore The Freezer Door in conversation with Kaitlyn Greenidge
January 11, 2021 @ 7:00 pm
"When you turn the music off, and suddenly you feel an unbearable sadness, that means turn the music back on, right? When you still feel the sadness, even with the music, that means there's something wrong with this music. Sometimes I feel like sex without context isn't sex at all. And sometimes I feel like sex without context is what sex should always be." —The Freezer Door
The Freezer Door records the ebb and flow of desire in daily life. Crossing through loneliness in search of communal pleasure in Seattle, Mattilda Bernstein Sycamore exposes the failure and persistence of queer dreams, the hypocritical allure of gay male sexual culture, and the stranglehold of the suburban imagination over city life.
Ferocious and tender, The Freezer Door offers a complex meditation on the trauma and possibility of searching for connection in a world that relentlessly enforces bland norms of gender, sexual, and social conformity while claiming to celebrate diversity.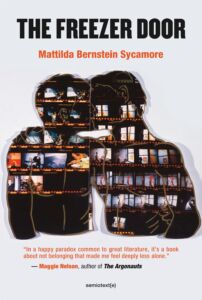 Please Support Our Website Sponsors.
Thank you!