Virtual Event: Adrienne Raphel Thinking Inside the Box: Adventures with Crosswords and the Puzzling People Who Can't Live Without Them in conversation with Evan James
April 1, 2021 @ 7:00 pm
| Free – $5
Almost as soon as it appeared, the crossword puzzle became indispensable to our lives. Invented practically by accident in 1913, when a newspaper editor at the New York World was casting around for something to fill empty column space, it became a roaring commercial success almost overnight. Ever since then, the humble puzzle has been an essential ingredient of any newspaper worth its salt. But why, exactly, are the crossword's satisfactions so sweet?
Blending first-person reporting from the world of crosswords with a delightful telling of its rich literary history, Adrienne Raphel dives into the secrets of this classic pastime. Thinking Inside the Box is an ingenious love letter not just to the abiding power of the crossword but to the infinite joys and playful possibilities of language itself.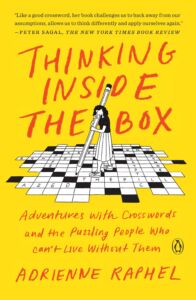 Please Support Our Website Sponsors.
Thank you!