THE HARE on the CHAIR Children's Event & Reading
April 24 @ 12:30 pm

-

2:00 pm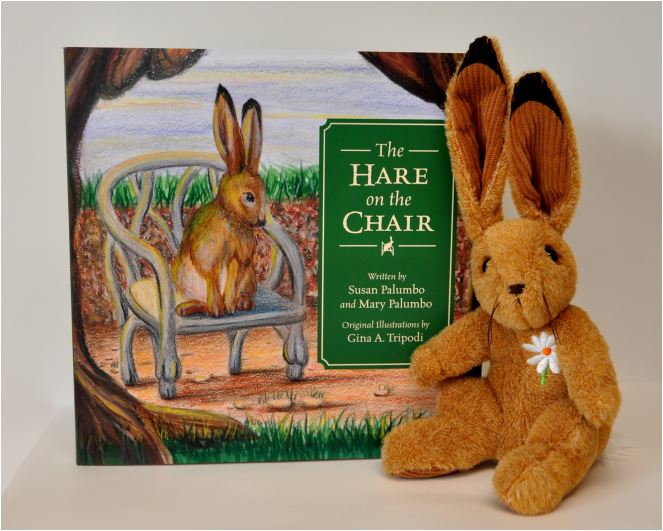 Due to unforeseen circumstance, this event has been postponed.  We hope to welcome families to this event in June.  More information coming soon!  We apologize for any inconvenience this may have caused.
THE HARE on the CHAIR Children's Event & Reading
Sunday, April 24, 2021
12:30pm – 2:00pm
Palmer Street, Harvard Square  
The Harvard Coop, in partnership with the Harvard Square Business Association, is proud to present an afternoon of fun and curiosity in Harvard Square on Sunday, April 24th from 12:30pm – 2:00pm on pedestrian friendly Palmer Street.  Author and award-winning elementary educator emerita, Mary Palumbo, will read from her children's book, THE HARE on the CHAIR.  Geared to 3 to 8-year-olds, this is a timeless story that encourages children to learn from mistakes, reassures them that missteps are part of growth, and that learning is a continuous cycle built on relationships, wisdom, courage and yes, even fun.   
Come meet Mary, her cousin Annie, and join a Storytime reading of this encouraging adventure, and have your own copy of THE HARE on the CHAIR signed. The first 10 people to buy the book will receive a FREE Plush Hare ($18.95 value)! 
In addition, there will be a coloring table, take home surprises, tot-friendly treats to eat and music to enjoy! 
12:30pm – Storytime Reading 
1:00pm to 2:00pm– meet the author, learn about her inspiration, and enjoy craft activities 
"THE HARE on the CHAIR penetrates to the heart of children's fears about steps toward autonomy and independence. In a sweet and loving tale of how to overcome initial worries, a supportive outer voice, in the form of a hedgehog, helps the hare find his courage and strength. The story promotes perseverance and the rewards of involvement with the world of new friendships. The book offers children a wonderful tale to find one's strengths to seek the rewards offered in new adventures." – Raymond A. Levy, PsyD, Author; Founder of The Fatherhood Project, Dept. of Psychiatry at Massachusetts General Hospital; and Professor of Psychiatry at Harvard Medical School 
Inspired by family, adventures around the world and many in their own backyard, Mary and Susan brought  
THE HARE on the CHAIR to life – the unexpected made it a challenge to complete.  
Discover the story of it all at the Harvard Coop. 
Registration to this free event is encouraged, but not required.  Please visit: 
 https://www.eventbrite.com/e/the-hare-on-the-chair-a-special-coop-kids-storytime-event-tickets-320910781787 
About the authors: 
Mary Palumbo is a quiet rebel, an outside-the-box thinker, and a detailed organizer. She is an award-winning, forty-year elementary educator, emerita with a master's degree from Providence College. Her years in the classroom led her to create the concept and title for The Hare on the Chair — her years of sharing a childhood-bedroom bond led her straight to her sister Susan for another of their lifelong adventures. "As a friend to many" in her own meadow, Mary sought out those friends who willingly provided their talents to help realize the sisters' vision.  A loving mother, a lifetime friend to many, a worldwide traveler, a giver, a seer, she  is always present and fully engaged. Mary is married to George Yerger with whom she now shares her new adventures, and her greatest pride and enjoyment are her two sons, Nicholas and Mark.  
Susan Palumbo was born an avid reader, a natural wordsmith and a deep thinker with a sensitive soul. She lived a life filled with curiosity and a drive for new adventures – always wondering, "What's out there?" Her life's adventure took her from class valedictorian in North Providence, RI to Harvard University and Simmons College as an honors graduate. Her instinctive pursuit of knowledge formed the foundation for many of her adventures. A wonderful sister, an adventurous aunt,  
the best kind of friend, a poet, a creative powerhouse, a doer, she traveled the world, but never lost her roots. She approached life and those around her with innate humility, great humor, and a twinkling brown eye always towards her next adventure. 
https://thehareonthechair.com/ 
Please Support Our Website Sponsors.
Thank you!