The Art of Letting Go to Let In: Strategies for Growth
September 1, 2020 @ 7:30 pm

-

9:00 pm
Join us, Erika Salloux and Regina Carey, for an evening of strategies, inspiration, and connection for WOMEN.
This pandemic has shifted us, whether we have been going gracefully or kicking and screaming. Many of us have realized that we need to shred some stuff, dismantle some ideas, and confront some facts about ourselves. Let's do it together!
some of what you'll take away:
the secret to trusting your choices
one powerful question to ask yourself when decluttering
an easy method to prevent being sucked down the rabbit hole
three techniques for using the body when the mind refuses to cooperate
the proven action step to move you in the direction you desire to go quickly
BONUSES:
the surprising science behind the strategies
breakout sessions to make new connections
one lucky person winning a FREE session with Erika and Regina
an EXCLUSIVE offer just for attendees
You can be on camera or incognito. If your video is OFF, you can still participate.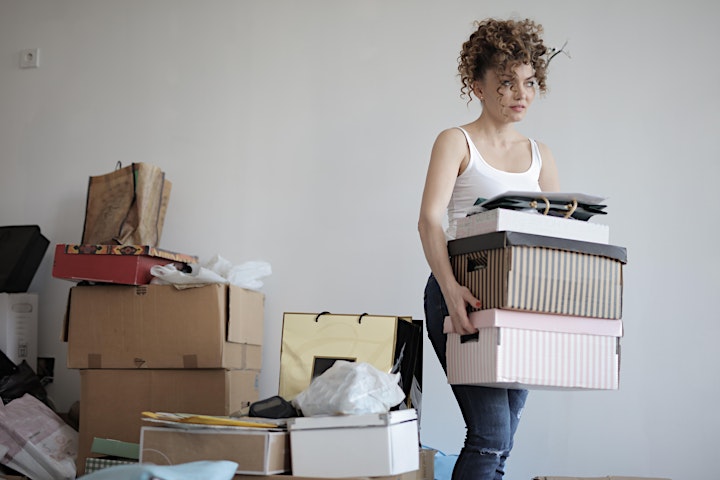 what clients say about working with Regina:
"Thanks to Regina, I learned how to forgive myself, set healthy boundaries, and release unhealthy patterns!" ~ Tracy H.
"Regina Rules! She's an incredibly awesome coach who gave me the tools I needed to manage effectively!" ~ Laura A.
what participants have to say about taking part in Erika's programs:
"After Erika's class, I am very excited about getting started and feel more prepared to let things go." ~ Janet Puckett
"Erika's presentation was crisp and clear. We all had the opportunity to make a start on planning steps to complete a personal organizing project by the end of the week. I couldn't help but think that fairly frequent exposure to Erika's no-nonsense manner toward all sorts of clutter would probably, quite expeditiously, clear the cobwebs of disorganization from most people's minds!" ~ Judy Stitt, TekEDIT Editor, Cambridge
Erika Salloux of Living Harmony, LLC is a Certified Professional Organizer who gets people organized for success.
Regina Carey, M.Ed. is the Founder of Carey On, LLC. Regina works with women, empowering them to LEAP!
Please Support Our Website Sponsors.
Thank you!