Meg Toohey at Passim
January 10, 2020 @ 8:00 pm
| $ 15 – $ 18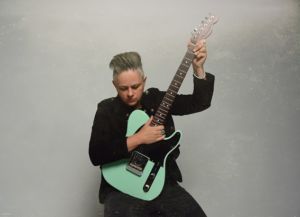 Four years ago, Meg Toohey was asked to be the on-stage guitarist for the Tony-nominated Broadway show Waitress. It brought the Massachusetts-born musician/songwriter/producer back East from a life in Los Angeles, and while she didn't know it when she said yes, it also changed her life.
At the time, Toohey saw it as an opportunity to work with her friend Sara Barielles, help orchestrate several of Waitress's songs, and experience the life of being a Broadway musician. Four years later, she realizes it was an opportunity to reclaim her own life.
This October, Toohey will release Butch, her first album of original songs in 15 years. Meg Toohey is center stage now, but the honesty of her lyrics embraces every person she's been over her 20+ year career.
It's her most personal work in years — if ever — and she's incredibly proud and excited to put this music into the world. The record is eight songs with powerful sonic soundscapes, expansive guitar sounds, and piercingly truthful lyrics.
"These songs are so honest and truthful. I feel connected to my music in a way that I haven't felt before," said Meg.
Please Support Our Website Sponsors.
Thank you!