Mabel at The Sinclair
August 12, 2019 @ 8:00 pm
| $18 – $20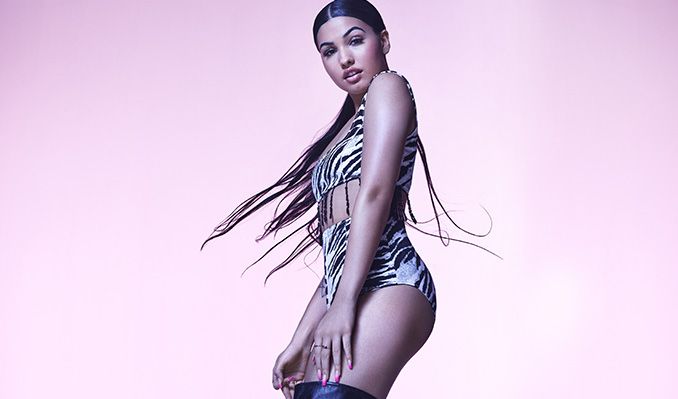 An effortless storyteller with a pure and unfiltered singing talent and songwriting ability, Mabel McVey has an instinctive gift of melody far beyond her twenty two years. Indeed Mabel has made quite the impression since bursting on to the scene in September 2015 with her release'Know Me Better'.Quietly released onto Mabel's personal SoundCloud, the single didn't remain a secret for long, putting the wheels in motion for Mabel to become a fresh and exciting name amongst a brand new generation of r'n'b chanteuses.
In the three or so years since then, Mabel's growth (musically, emotionally, visually) has been extraordinary. Her formative material led to the surprise breakthrough of 'Finders Keepers' in 2017, which went platinum, spent 5 weeks in the top 10, and saw Mabel nominated for her first BRIT Award (Critics' Choice). She has gone from playing nervous, intimate shows to touring with Harry Styles, selling out her own dates around the world (including London's Brixton Academy) and has clocked up increasingly-surreal experiences en route(which includes playing Wembley Stadium in a Burberry catsuit and rainbow flag). Over two million single sales in the UK and over half a billion streams followed. Repaying all her early promise in the process, Mabel has emerged as one of the UK's most positive, candid lyrical voices, with songs that frequently explore everything from identity (sexual, racial, personal), the challenges of modern relationships, and working out who you are and what you want.
Born into a musical dynasty, it is safe to say that music quite literally runs in the blood of Mabel. The daughter of producer Cameron McVey, best known for his seminal work with Massive Attack, Portishead, Sugababes and All Saints, Cameron remains one of British music's most cherish guardians. Mabel's mother is Neneh Cherry, the cross-generational music and style superstar who went onto defy then-musical genres. It is this seamless ability to converge musical cultures that been passed down to Mabel, and she now takes in her own dazzling direction.
Born in the mountains of Malaga, Spain, Mabel's childhood was spent zig-zagging the globe with her sisters, with time spent in Notting Hill and Stockholm, Sweden where she studied at the prestigious Rytmus Musikergymnasiet music school (which counts Robyn and Tove Lo as some of its alumni).A self-confessed loner, Mabel found solace in her music. "I didn't have many friends growing up. I wasn't into other kids that much. I used to hate when adults would leave me alone. I would already know that we didn't have the same chemistry, I almost feel like I didn't have the innocence of being a child in that sense," she explains.It is there Mabel found the confidence to indulge and explore her songwriting abilities, drawing on these unique life experiences to create tracks which lay bare the woman behind the music.
Much of this was brought together on Mabel's debut, long-form mixtape, 'Ivy To Roses'.
Here was a cohesive, expertly-crafted collection of songs that explore control in modern relationships (the power-play of 'ComeOver', the feminine independence of 'Low Key') and those moments when you lose it (the raw vulnerability of 'Roses', or the dancehall-inspired frustration of 'Begging').The beautiful, piano-led 'Ivy' pays tribute to those family and friends who you take into the next chapter of your life, as well as the actual ivy which Mabel found growing in her bedroom and continued to flourish (no matter how many times it's cut back).
Mabel has since added to this body of work with a series of hit singles which show a stark increase in confidence. 'FineLine', for instance, soundtracks those crossroad moments in a budding romance whilst urging women to take the wheel. "It's about getting lost in something without losing yourself completely, and how that's exciting but also dangerous." 'One Shot', meanwhile, is "about playing hard to get and knowing what you want."And in 2019, Mabel's ambitions appear boundless: 'Don't Call Me Up' was co-written by Mabel alongside Steve Mac (whose arsenal of hits include Ed Sheeran's 'Shape Of You' and Years & Years' 'If You're Over Me') plus Kamille Purcell (Little Mix, Mist, Clean Bandit), turning the breakup ballad on its head in empowering, pounding fashion.
From 'Know Me Better' to, in turn, truly getting to know herself, Mabel has grown into one of British pop's most refreshing and positive young role models. She has spoken and sometimes-sung candidly on battling anxiety (an issue which forced Mabel to drop out of school at a young age) on top of growing up mixed-raced, culturally dislocated, and the effort to grow comfortable in yourself. Mabel's music has become a soundtrack –for herself, but particularly for her impassioned young female fanbase –on how to turn those vulnerabilities into your advantages. And it's this honesty and openness that has allowed Mabel the freedom to do what she does: moving effortlessly between the worlds of music, fashion, dance and art, and as at home collaborating with Stormzy or Tate Modern as she is teaming up with campaigns forNike, Tommy Hilfiger or Topshop. Having collaborated on tracks with peers such as Not3s, Kojo Funds, Jax Jones, Raye and Stefflon Don, Mabel now appears at the centre of what is rapidly emerging as a new golden age in British pop.
For Mabel, ultimately everything goes back to those early roots: a child of the golden-age of 00s r'n'b, who harnesses the energy of her idols Beyonce circa Destiny's Child, as well the vocal stylings of musical legends like Stevie Wonder and Minnie Ripperton. The beauty of her compositions and her natural affinity for imaginative narratives makes Mabel the perfect candidate to be the UK's next, great pop export. "I hate the expression 'finding yourself' but I do feel like that's what I've been doing. I can't please everyone but I can create something that makes me happy, and that's the most important thing. This is just the beginning."
Please Support Our Website Sponsors.
Thank you!