Harvard Square Poetry Stroll
December 10, 2022 @ 12:00 pm

-

January 1, 2023 @ 5:00 pm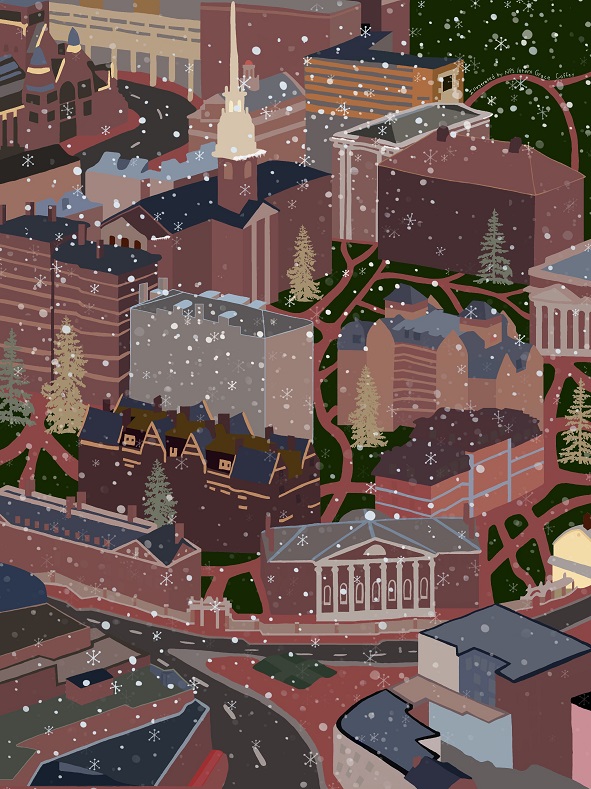 Riding upon the Goat, with snow-white hair,
I come, the last of all. This crown of mine
Is of the holly; in my hand I bear
The thyrsus, tipped with fragrant cones of pine.
I celebrate the birth of the Divine,
And the return of the Saturnian reign;–
My songs are carols sung at every shrine.
Proclaiming "Peace on earth, good will to men."

DECEMBER from The Poet's Calendar by Henry Longfellow

Winter, you are
Beautifully not bitter
But beaming with ice
You, and I are one

From Cataclysm of Snowfall by Justice JI Brooks
2022 Harvard Square Holiday Poetry Stroll
December 10, 2022-January 1, 2023
Longfellow House-Washington's Headquarters National Historic Site is excited to announce the third annual Harvard Square Holiday Poetry Stroll in partnership with Mass Poetry and the Harvard Square Business Association. Short works by local poets will be on view at outdoor locations around the Square. Many of this year's poems were selected in conjunction with Mass Poetry's The Hard Work of Hope series, which featured "poems from our community that offer moments of reprieve and inspiration in these difficult and confusing times."
We invite you to enjoy the self-guided outdoor Holiday Poetry Stroll with your friends or loved ones. There is no designated start or end point for this experience. Check out the map below for this year's poems and locations, and the opportunity to create your own poetry.
Poems will be on view starting Saturday, December 10. Complete map and listing of poems coming soon!
Please Support Our Website Sponsors.
Thank you!