Harvard Book Store Virtual Event: Victoria de Grazia
August 17, 2020 @ 7:00 pm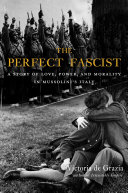 Details
Date:

August 17, 2020

Time:

7:00 pm

Event Category:

Website:
Venue
1256 Massachusetts Ave




Cambridge

,

MA

02138

United States

+ Google Map

Phone:

617-661-1515

Website:
presenting The Perfect Fascist: A Story of Love, Power, and Morality in Mussolini's Italy
in conversation with RUTH BEN-GHIAT
Harvard Book Store's virtual event series welcomes historian VICTORIA DE GRAZIA—Moore Collegiate Professor of History at Columbia University and author of How Fascism Ruled Women—for a discussion of her latest book, The Perfect Fascist: A Story of Love, Power, and Morality in Mussolini's Italy. She will be joined in conversation by RUTH BEN-GHIAT, professor of History and Italian Studies at New York University and author of the forthcoming Strongmen: From Mussolini to the Present, available for pre-order here.
Contribute to Support Harvard Book Store
While payment is not required, we are suggesting a $3 contribution to support this author series, our staff, and the future of Harvard Book Store—a locally owned, independently run Cambridge institution. In addition, by purchasing a copy of The Perfect Fascist on harvard.com, you support indie bookselling and the writing community during this difficult time.
About The Perfect Fascist
When Attilio Teruzzi, Mussolini's handsome political enforcer, married a rising young American opera star, his good fortune seemed settled. The wedding was a carefully stage-managed affair, capped with a blessing by Mussolini himself. Yet only three years later, after being promoted to commander of the Black Shirts, Teruzzi renounced his wife. In fascist Italy, a Catholic country with no divorce law, he could only dissolve the marriage by filing for an annulment through the medieval procedures of the Church Court. The proceedings took an ominous turn when Mussolini joined Hitler: Lilliana Teruzzi was Jewish, and fascist Italy would soon introduce its first race laws.
The Perfect Fascist pivots from the intimate story of a tempestuous seduction and inconvenient marriage—brilliantly reconstructed through family letters and court records—to a riveting account of Mussolini's rise and fall. It invites us to see in the vain, loyal, lecherous, and impetuous Attilio Teruzzi, a decorated military officer, an exemplar of fascism's New Man. Why did he abruptly discard the woman he had so eagerly courted? And why, when the time came to find another partner, did he choose another Jewish woman as his would-be wife? In Victoria de Grazia's engrossing account, we see him vacillating between the will of his Duce and the dictates of his heart.
De Grazia's landmark history captures the seductive appeal of fascism and shows us how, in his moral pieties and intimate betrayals, his violence and opportunism, Teruzzi is a forefather of the illiberal politicians of today.
Praise for The Perfect Fascist
"With lyrical precision, Victoria de Grazia's The Perfect Fascist reveals how ideology corrupts the truth, how untrammeled ambition destroys the soul, and how the vanity of white male supremacy distorts emotion, making even love a matter of state. Mussolini's concept of a virile, nationalist, all-conquering New Man continues to hold a terrifying grip over political and personal thought today, just as it did for Attilio Teruzzi nearly a century ago. De Grazia sheds welcome light on the mystery of why some women, who practically always lose out, also sign up." —Sonia Purnell, author of A Woman of No Importance
"This is a perfect book! Original, thoughtful, and timely, The Perfect Fascist beautifully exposes the homogeneity of fascist aspirations and reveals the personal conflicts and paradoxes these aspirations bring with them, including for fascists themselves. Its two entwined narratives—one political and public, the other personal and private—perfectly complement one another and help us understand why the personal is political for those who insist on reshaping people and society." —Azar Nafisi, author of Reading Lolita in Tehran
"As Fellini did in film, The Perfect Fascist takes us into the dark and complicated heart of Italian fascism. With the expertise of the distinguished historian that she is and the sensibility and writing skills of a novelist, Victoria de Grazia tells of the Italian war hero turned fervent supporter of Mussolini and his glamorous Jewish opera star wife from New York whom he adored and then renounced. It is an extraordinary story that illuminates the ways in which the all-consuming nature of fascism distorted Italian society and destroyed the lives of individuals. I could not put it down." —Margaret MacMillan, author of Paris 1919
Please Support Our Website Sponsors.
Thank you!