Harvard Book Store Virtual Event: Annik LaFarge
August 14, 2020 @ 7:00 pm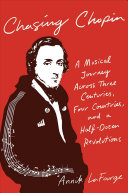 Details
Date:

August 14, 2020

Time:

7:00 pm

Event Category:

Website:
Venue
1256 Massachusetts Ave




Cambridge

,

MA

02138

United States

+ Google Map

Phone:

617-661-1515

Website:
presenting Chasing Chopin: A Musical Journey Across Three Centuries, Four Countries, and a Half-Dozen Revolutions
in conversation with MARISA SILVER
Harvard Book Store's virtual event series and the Frederick Historical Piano Collection welcome acclaimed writer, photographer, and lecturer ANNIK LAFARGE—author of On the High Line: Exploring America's Most Original Urban Park—for a discussion of her latest book, Chasing Chopin: A Musical Journey Across Three Centuries, Four Countries, and a Half-Dozen Revolutions. She will be joined in conversation by celebrated novelist MARISA SILVER. During the conversation, Annik will share a short video featuring internationally acclaimed pianist Eric Clark performing at the First International Chopin Competition on Period Instrument in Warsaw.
Contribute to Support Harvard Book Store
While payment is not required, we are suggesting a $3 contribution to support this author series, our staff, and the future of Harvard Book Store—a locally owned, independently run Cambridge institution. In addition, by purchasing a copy of Chasing Chopin on harvard.com, you support indie bookselling and the writing community during this difficult time.
About Chasing Chopin
The Frédéric Chopin Annik LaFarge presents here is not the melancholy, sickly, romantic figure so often portrayed. The artist she discovered is, instead, a purely independent spirit: an innovator who created a new musical language, an autodidact who became a spiritually generous, trailblazing teacher, a stalwart patriot during a time of revolution and exile.
In Chasing Chopin she follows in his footsteps during the three years, 1837–1840, when he composed his iconic "Funeral March"—dum dum da dum—using its composition story to illuminate the key themes of his life: a deep attachment to his Polish homeland; his complex relationship with writer George Sand; their harrowing but consequential sojourn on Majorca; the rapidly developing technology of the piano, which enabled his unique tone and voice; social and political revolution in 1830s Paris; friendship with other artists, from the famous Eugène Delacroix to the lesser known, yet notorious in his time, Marquis de Custine. Each of these threads—musical, political, social, personal—is woven through the "Funeral March" in Chopin's Opus 35 sonata, a melody so famous it's known around the world even to people who know nothing about classical music. But it is not, as LaFarge discovered, the piece of music we think we know.
As part of her research into Chopin's world, then and now, LaFarge visited piano makers, monuments, churches, and archives; she talked to scholars, jazz musicians, video game makers, software developers, music teachers, theater directors, and of course dozens of pianists.
The result is extraordinary: an engrossing, page-turning work of musical discovery and an artful portrayal of a man whose work and life continue to inspire artists and cultural innovators in astonishing ways.
Praise for Chasing Chopin
"A luminous book, rich with reporting and reflection and marvelously animated by LaFarge's passion for the subject. Whether you love Chopin doesn't matter: This is an irresistible journey into history and the nature of genius." —Susan Orlean, New York Times bestselling author of The Library Book
"Annik LaFarge brilliantly traces the footsteps of Chopin's life in a way that is thoroughly engrossing for the layman and professional musician alike.  My only regret is that there is not an Annik LaFarge book on the life of every important composer in the classical canon. Her virtuosic linguistic talent is put to good use in this fascinating book." —Scott Yoo, host of Now Hear Thison PBS
"Annik LaFarge's wonderful Chasing Chopin, like the music that inspired it, is a tour-de-force and journey of the soul. Attempting to unpack the awe she experienced hearing Chopin's Funeral March Sonata at a concert years ago, LaFarge does much more than recount the story of the music and its composer. She tells us why they matter, now, deeply and in all sorts of ways, to her and us. Traveling with a backpack from New York to Paris to Majorca, interrogating musicians, scholars, software developers, piano makers—going where the music and inspiration take her—she produces a diary of discovery that's a joy to read." —Michael Kimmelman, author of The Accidental Masterpiece: On the Art of Life and Vice Versa
Please Support Our Website Sponsors.
Thank you!