Harvard Book Store Virtual Event: Thomas Levenson
September 15, 2020 @ 7:00 pm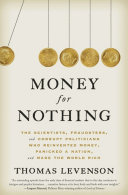 Details
Date:

September 15, 2020

Time:

7:00 pm

Event Category:

Website:
Venue
1256 Massachusetts Ave




Cambridge

,

MA

02138

United States

+ Google Map

Phone:

617-661-1515

Website:
presenting Money for Nothing: The Scientists, Fraudsters, and Corrupt Politicians Who Reinvented Money, Panicked a Nation, and Made the World Rich
Harvard Book Store's virtual event series welcomes THOMAS LEVENSON—professor of science writing at MIT and author of The Hunt for Vulcan: How Albert Einstein Destroyed a Planet and Deciphered the Universe—for a discussion of his latest book, Money for Nothing: The Scientists, Fraudsters, and Corrupt Politicians Who Reinvented Money, Panicked a Nation, and Made the World Rich.
Contribute to Support Harvard Book Store
While payment is not required, we are suggesting a $3 contribution to support this author series, our staff, and the future of Harvard Book Store—a locally owned, independently run Cambridge institution. In addition, by purchasing a copy of Money for Nothing on harvard.com, you support indie bookselling and the writing community during this difficult time.
About Money for Nothing
Money for Nothing chronicles the moment when the needs of war, discoveries of natural philosophy, and ambitions of investors collided. It's about how the Scientific Revolution intertwined with finance to set England—and the world—off in an entirely new direction.
At the dawn of the eighteenth century, England was running out of money due to a prolonged war with France. Parliament tried raising additional funds by selling debt to its citizens, taking in money now with the promise of interest later. It was the first permanent national debt, but still they needed more. They turned to the stock market—a relatively new invention itself—where Isaac Newton's new mathematics of change over time, which he applied to the motions of the planets and the natural world, were fast being applied to the world of money. What kind of future returns could a person expect on an investment today? The Scientific Revolution could help. In the hub of London's stock market—Exchange Alley—the South Sea Company hatched a scheme to turn pieces of the national debt into shares of company stock, and over the spring of 1720 the plan worked brilliantly. Stock prices doubled, doubled again, and then doubled once more, getting everyone in London from tradespeople to the Prince of Wales involved in money mania that consumed the people, press, and pocketbooks of the empire.
Unlike science, though, with its tightly controlled experiments, the financial revolution was subject to trial and error on a grand scale, with dramatic, sometimes devastating, consequences for people's lives. With England at war and in need of funds and "stock-jobbers" looking for any opportunity to get in on the action, this new world of finance had the potential to save the nation—but only if it didn't bankrupt it first.
Praise for Money for Nothing
"Does a stock market crash and a plague sound somehow familiar? Thomas Levenson's new book is proof—very cleverly told—of how enlightening history can be. There is no excuse not to learn from the past." —Andrea Wulf, author of The Invention of Nature
"Superb, fascinating, and totally timely, Money for Nothing is a gripping history of the South Sea Bubble by a scholar who makes complicated and subtle matters not just accessible but fun—the story of a world crisis with a flashy cast of grifters, scientists, politicians, and charlatans that Levenson makes utterly relevant to the 2008 financial crisis and 2020 pandemic. . . . Essential reading." —Simon Sebag Montefiore, author of Jerusalem and The Romanovs
"Levenson is a brilliant synthesizer with a grand view of history. Here is the birth of modern finance amid catastrophe and fraud—a gripping story of scientists and swindlers, all too pertinent to our modern world." —James Gleick, author of Time Travel: A History
Please Support Our Website Sponsors.
Thank you!