Harvard Book Store Virtual Event: Alex Ross
September 16, 2020 @ 7:00 pm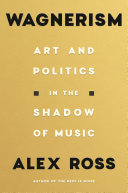 Details
Date:

September 16, 2020

Time:

7:00 pm

Event Category:

Website:
Venue
1256 Massachusetts Ave




Cambridge

,

MA

02138

United States

+ Google Map

Phone:

617-661-1515

Website:
presenting Wagnerism: Art and Politics in the Shadow of Music
in conversation with JAMES WOOD
Harvard Book Store's virtual event series welcomes ALEX ROSS—celebrated music critic for The New Yorker and author of The Rest Is Noise: Listening to the Twentieth Century—for a discussion of his latest book, Wagnerism: Art and Politics in the Shadow of Music. He will be joined in conversation by renowned literary critic and author JAMES WOOD.
Contribute to Support Harvard Book Store
While payment is not required, we are suggesting a $3 contribution to support this author series, our staff, and the future of Harvard Book Store—a locally owned, independently run Cambridge institution. In addition, by purchasing a copy of Wagnerism on harvard.com, you support indie bookselling and the writing community during this difficult time.
About Wagnerism
For better or worse, Wagner is the most widely influential figure in the history of music. Around 1900, the phenomenon known as Wagnerism saturated European and American culture. Such colossal creations as The Ring of the Nibelung, Tristan und Isolde, and Parsifal were models of formal daring, mythmaking, erotic freedom, and mystical speculation. A mighty procession of artists, including Virginia Woolf, Thomas Mann, Paul Cézanne, Isadora Duncan, and Luis Buñuel, felt his impact. Anarchists, occultists, feminists, and gay-rights pioneers saw him as a kindred spirit. Then Adolf Hitler incorporated Wagner into the soundtrack of Nazi Germany, and the composer came to be defined by his ferocious antisemitism. For many, his name is now almost synonymous with artistic evil.
In Wagnerism, Alex Ross restores the magnificent confusion of what it means to be a Wagnerian. A pandemonium of geniuses, madmen, charlatans, and prophets do battle over Wagner's many-sided legacy. As readers of his brilliant articles for The New Yorker have come to expect, Ross ranges thrillingly across artistic disciplines, from the architecture of Louis Sullivan to the novels of Philip K. Dick, from the Zionist writings of Theodor Herzl to the civil-rights essays of W.E.B. Du Bois, from O Pioneers! to Apocalypse Now.
In many ways, Wagnerism tells a tragic tale. An artist who might have rivaled Shakespeare in universal reach is undone by an ideology of hate. Still, his shadow lingers over twenty-first century culture, his mythic motifs coursing through superhero films and fantasy fiction. Neither apologia nor condemnation, Wagnerism is a work of passionate discovery, urging us toward a more honest idea of how art acts in the world.
Praise for Wagnerism
"Wagnerism is monumental not only in scale but in accomplishment. Wagner casts a vast shadow over modern culture and it takes an incandescent critical intelligence to illuminate this legacy in its full complexity, distorted by neither hagiography nor demonology . . . Afro-Wagnerians jostle with Nazis, Gilded Age feminists share the stage with Zionists, gay Wagnerians consort with modernist litterateurs. The result is a singular achievement of scholarship, sensibility, and storytelling." —Kwame Anthony Appiah, author of The Lies That Bind
"In this epic, extraordinary book, Alex Ross contends with the 'infernal logic' of Wagner's legacy, through the centuries and across poetry, literature, art, philosophy, architecture, politics, war, film. Wagnerism is a hugely exhilarating read, and a virtuoso feat of scholarship and supple writing: Ross is such a companionable guide, connecting ideas so casually and unspooling stories so fluidly that you can almost lose sight of the ferocious erudition that undergirds every page. I can't think of a better or more profound work about the long, complicated shadow of cultural influence." ―Patrick Radden Keefe, author of Say Nothing
"Until now, what I didn't know about Wagner and his influence on culture could have filled a book. Fortunately, Alex Ross's brilliant evocation of the composer's world more than elucidates Wagner's various mysteries—it gives voice to why and how he came to be such a significant political and aesthetic influence on the world stage. Masterfully written and researched, Wagnerism is itself a masterpiece—a breathtaking achievement." ―Hilton Als, author of White Girls
Please Support Our Website Sponsors.
Thank you!