Harvard Book Store Virtual Event: Molly Howes
July 22, 2020 @ 7:00 pm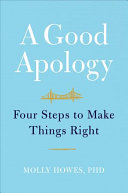 Details
Date:

July 22, 2020

Time:

7:00 pm

Event Category:

Website:
Venue
1256 Massachusetts Ave




Cambridge

,

MA

02138

United States

+ Google Map

Phone:

617-661-1515

Website:
presenting A Good Apology: Four Steps to Make Things Right
in conversation with MEREDITH GOLDSTEIN
Harvard Book Store's virtual event series and GrubStreet welcome clinical psychologist and award-winning writer MOLLY HOWES for a discussion of her book A Good Apology: Four Steps to Make Things Right. She will be joined in conversation by MEREDITH GOLDSTEIN, author of the beloved Boston Globe advice column Love Letters.
Contribute to Support Harvard Book Store
While payment is not required, we are suggesting a $3 contribution to support this author series, our staff, and the future of Harvard Book Store—a locally owned, independently run Cambridge institution. In addition, by purchasing a copy of A Good Apology on harvard.com, you support indie bookselling and the writing community during this difficult time.
About A Good Apology
We've all done something wrong or made a mistake or insulted someone—even if by accident. We've all been hurt and wanted the other person to help us heal. It may be surprising, but the breaches themselves aren't the real problem; our inability to fix them is what causes us trouble.
In A Good Apology, Dr. Molly Howes uses her experiences with patients in her practice, research findings, and news stories to illustrate the power and importance of a thorough apology. She teaches how we can all learn to craft an effective apology with four straightforward steps.
An apology is a small-scale event between people, but it's enormously powerful. This comprehensive book gives readers the tools to fix their relationships, make amends, and move forward. With it, you'll fully understand the meaning and importance of this universal and timeless endeavor: a good apology.
Praise for A Good Apology
"A Good Apology beautifully outlines how our relationships can dramatically improve by an authentic way to repair. Mistakes and ruptures happen, and Howes shows us how the practice of the apology is the first imperative step toward repair. By following her 4 steps to make things right, the practice of how and when we apologize can be honed to create transformative and positive change." —Eve Rodsky, New York Times bestselling author of Fair Play: A Game-Changing Solution for When You Have Too Much to Do (and More Life to Live)
"This is the definitive book on how to make an apology that actually matters, that heals both parties, and that leads to growth, joy, and peace of mind. Accessible, authoritative, and filled with convincing real-life scenarios from this consummate clinician's own work, A Good Apology teems with warmth, wisdom, tenderness, and an infectious zest for making things right." —Edward Hallowell, MD, nationally bestselling co-author of Driven to Distraction
"I hope the whole world reads this book! Dr. Howes explores the power of a genuine apology in intimate relationships, politics, medicine and more, and she provides an elegant road-map for negotiating this tricky terrain. The ability to apologize is an often overlooked, but centrally important, aspect of happy relationships. Seamlessly written and saturated with wisdom, this book shows what it takes to free the heart—ours and others." —Christopher Germer, PhD, author of The Mindful Path to Self-Compassion
Please Support Our Website Sponsors.
Thank you!