Harvard Book Store Virtual Event: Julian E. Zelizer
July 21, 2020 @ 7:00 pm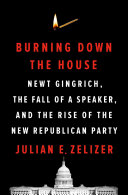 Details
Date:

July 21, 2020

Time:

7:00 pm

Event Category:

Website:
Venue
1256 Massachusetts Ave




Cambridge

,

MA

02138

United States

+ Google Map

Phone:

617-661-1515

Website:
presenting Burning Down the House: Newt Gingrich, the Fall of a Speaker, and the Rise of the New Republican Party
in conversation with RICK PERLSTEIN
Harvard Book Store's virtual event series welcomes JULIAN E. ZELIZER—CNN Political Analyst and Professor of History and Public Affairs at Princeton University—for a discussion of his latest book, Burning Down the House: Newt Gingrich, the Fall of a Speaker, and the Rise of the New Republican Party. He will be joined in conversation by RICK PERLSTEIN, author of the New York Times bestselling books The Invisible Bridge: The Fall of Nixon and the Rise of Reagan and Nixonland: The Rise of a President and the Fracturing of America.
Contribute to Support Harvard Book Store
While payment is not required, we are suggesting a $3 contribution to support this author series, our staff, and the future of Harvard Book Store—a locally owned, independently run Cambridge institution. In addition, by purchasing a copy of Burning Down the House on harvard.com, you support indie bookselling and the writing community during this difficult time.
About Burning Down the House
When Donald Trump was elected president in 2016, President Obama observed that Trump "is not an outlier; he is a culmination, a logical conclusion of the rhetoric and tactics of the Republican Party." In Burning Down the House, historian Julian Zelizer pinpoints the moment when our country was set on a path toward an era of bitterly partisan and ruthless politics, an era that was ignited by Newt Gingrich and his allies. In 1989, Gingrich brought down Democratic Speaker of the House Jim Wright and catapulted himself into the national spotlight. Perhaps more than any other politician, Gingrich introduced the rhetoric and tactics that have shaped Congress and the Republican Party for the last three decades. Elected to Congress in 1978, Gingrich quickly became one of the most powerful figures in America not through innovative ideas or charisma, but through a calculated campaign of attacks against political opponents, casting himself as a savior in a fight of good versus evil. Taking office in the post-Watergate era, he weaponized the good government reforms newly introduced to fight corruption, wielding the rules in ways that shocked the legislators who had created them. His crusade against Democrats culminated in the plot to destroy the political career of Speaker Wright.
While some of Gingrich's fellow Republicans were disturbed by the viciousness of his attacks, party leaders enjoyed his successes so much that they did little collectively to stand in his way. Democrats, for their part, were alarmed, but did not want to sink to his level and took no effective actions to stop him. It didn't seem to matter that Gingrich's moral conservatism was hypocritical or that his methods were brazen, his accusations of corruption permanently tarnished his opponents. This brand of warfare worked, not as a strategy for governance but as a path to power, and what Gingrich planted, his fellow Republicans reaped. He led them to their first majority in Congress in decades, and his legacy extends far beyond his tenure in office. From the Contract with America to the rise of the Tea Party and the Trump presidential campaign, his fingerprints can be seen throughout some of the most divisive episodes in contemporary American politics. Burning Down the House presents the alarming narrative of how Gingrich and his allies created a new normal in Washington.
Praise for Burning Down the House
"Newt Gingrich tied American politics to a rock and threw it down a well. That rock is still falling. Julian Zelizer's new book takes readers to the edge of that well, not to listen for the splash, but to grab the rope, and pull." —Jill Lepore, author of These Truths: A History of the United States
"With intensity and detail, Julian Zelizer recreates a drama that resounds in modern history. Most are well-acquainted with Newt Gingrich and his combative style, but here is the moment he transformed Congress and all of American politics." —Steve Kornacki, author of The Red and the Blue
"In this essential history of Newt Gingrich, Zelizer shows that Donald Trump isn't so much an innovator as an imitator.  Zelizer argues that Gingrich wrote the modern Republican Party's destructive playbook, and the Democrats and the media have yet to figure out an effective response." —Jane Mayer, author of Dark Money and Chief Washington Correspondent, The New Yorker
Please Support Our Website Sponsors.
Thank you!