Harvard Book Store Virtual Event: Michael J. Sandel
September 15, 2020 @ 5:00 pm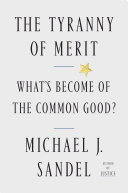 Details
Date:

September 15, 2020

Time:

5:00 pm

Event Category:

Website:
Venue
1256 Massachusetts Ave




Cambridge

,

MA

02138

United States

+ Google Map

Phone:

617-661-1515

Website:
presenting The Tyranny of Merit: What's Become of the Common Good?
Harvard Book Store's virtual event series welcomes world-renowned philosopher MICHAEL J. SANDEL—author of the internationally bestselling What Money Can't Buy: The Moral Limits of Markets and Justice: What's the Right Thing to Do?—for a discussion of his latest book, The Tyranny of Merit: What's Become of the Common Good?.
Ticketing
In lieu of our traditional ticketing at this time, we ask that you pay what you can to support our virtual event series and this indie bookstore. We recommend a $5 contribution, or you can support Harvard Book Store by purchasing a copy of The Tyranny of Merit on harvard.com.
We are so excited to be able to continue bringing authors and their books to our community, particularly during such challenging times, and your patronage and enthusiasm are what make that possible.
About The Tyranny of Merit
These are dangerous times for democracy. We live in an age of winners and losers, where the odds are stacked in favor of the already fortunate. Stalled social mobility and entrenched inequality give the lie to the American credo that "you can make it if you try." The consequence is a brew of anger and frustration that has fueled populist protest and extreme polarization, and led to deep distrust of both government and our fellow citizens—leaving us morally unprepared to face the profound challenges of our time.
World-renowned philosopher Michael J. Sandel argues that to overcome the crises that are upending our world, we must rethink the attitudes toward success and failure that have accompanied globalization and rising inequality. Sandel shows the hubris a meritocracy generates among the winners and the harsh judgement it imposes on those left behind, and traces the dire consequences across a wide swath of American life. He offers an alternative way of thinking about success—more attentive to the role of luck in human affairs, more conducive to an ethic of humility and solidarity, and more affirming of the dignity of work. The Tyranny of Merit points us toward a hopeful vision of a new politics of the common good.
Praise for The Tyranny of Merit
"This is a remarkable book about justice. In his unique and powerful moral voice, Michael Sandel digs at the roots of our divisions, dissects the causes of inequality, and dismantles the lazy orthodoxy of those on the left and the right. Accessible and profound, The Tyranny of Meritis a revelatory assessment of pervasive unfairness in our society, driven in part by a naïve and myopic reliance on the notion of merit. In a time of easy rhetoric and thoughtless tribalism, this provocative book is a must-read for anyone who still cares about the common good. You will catch yourself wondering, again and again, "Why have I never thought of it that way?" No good faith reader will come away from this book unchanged." —Preet Bharara, former U.S. Attorney for the Southern District of New York and Author of Doing Justice: A Prosecutor's Thoughts on Crime, Punishment, and the Rule of Law
"Astute, insightful, and empathetic, Sandel exposes the cruelty at the heart of some of our most beloved myths about success. A must-read for anyone struggling to understand populist resentment, and why, for many Americans, the American Dream has come to feel more like a taunt than a promise. A crucial book for this moment." —Tara Westover, author of Educated
"The Tyranny of Merit deftly exposes the flaws and fallacies of meritocratic philosophy. In lucid, illuminating prose, Sandel makes a compelling case for uprooting inequality and building a fairer society shaped by true principles of justice. A seminal work." —Darren Walker, President, Ford Foundation
Please Support Our Website Sponsors.
Thank you!