A Blue Heron Christmas Special
December 19, 2020 @ 7:30 pm
| $10 – $50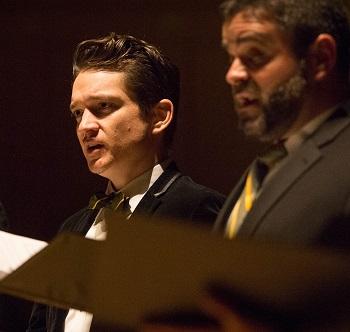 Featuring highlights from our English and French Christmas programs, new Spanish repertoire, members of Dark Horse Consort, and a new work by Kevin Allen, Puer nobis nascitur, commissioned by Blue Heron and dedicated to Dorrie Parini and Paul LaFerriere for their generous support.
Saturday, December 19, 2020 at 7:30 PM
Buy tickets here.
Live pre-concert talk at 6:30 PM by Scott Metcalfe with composer Kevin Allen.
Tickets: $50 / $35 / $10
Click here for more information about virtual concerts.
All concert dates, programs and personnel are subject to change without notice.
A Blue Heron Christmas Special
The Morning Star
Veni, veni, Emanuel
The Virgin & the Angel
Angelus ad virginem
Gabriel fram Heven-King
Hayl Mary, ful of grace
Ave Maria I say to that blessyd mayde
John Dunstaple: Quam pulcra es
Leonel Power: Gloria
Ther is no rose of swych vertu
Christmas Day
Cristóbal de Morales: Puer natus est nobis
Childe: Yblessid be that lord in mageste
New Year's Day
Edmundus: Thys yol the beste red that y kan
Nicolas Grenon: La plus belle et doulce figure
Alexander Agricola: Ales regrets
Baude Cordier: Ce jour de l'an que mant doist estrenier
Guillaume Malbecque: Dieu vous doinst bon jour et demy
A Child is Born to Us
Kevin Allen: Puer nobis nascitur
Nowel syng we bothe al and som
Nova nova
BLUE HERON
cantus
Jennifer Ashe, Pamela Dellal, Sophie Michaux, Martin Near, Margot Rood, Sonja DuToit Tengblad, Daniela Tosic
tenor & contratenor
Michael Barrett, Owen McIntosh, Jason McStoots, Aaron Sheehan, Mark Sprinkle
bassus
Paul Guttry, David McFerrin
Laura Jeppesen, fiddle & rebec
Charles Weaver, lute
Scott Metcalfe, fiddle & harp, director
Members of DARK HORSE CONSORT
Erik Schmalz, sackbut
Mack Ramsey, sackbut
ABOUT THE COMPOSER
Kevin Allen is highly regarded as a composer of opera, chamber, and orchestral music. He has also developed a unique reputation as a composer of church music for the Roman Rite. Mr. Allen's sacred and secular works have been performed in churches and concert halls throughout the United States and Europe. Based in Chicago, he is the founding director of the Collins Consort, American Composer's Project, and Schola Immaculata. Mr. Allen is also the choirmaster of the Monastery of the Holy Cross in Chicago and serves as Director of Music for Saint John Cantius in Chicago.
Photo: Karen Callaway/Catholic New World
Please Support Our Website Sponsors.
Thank you!