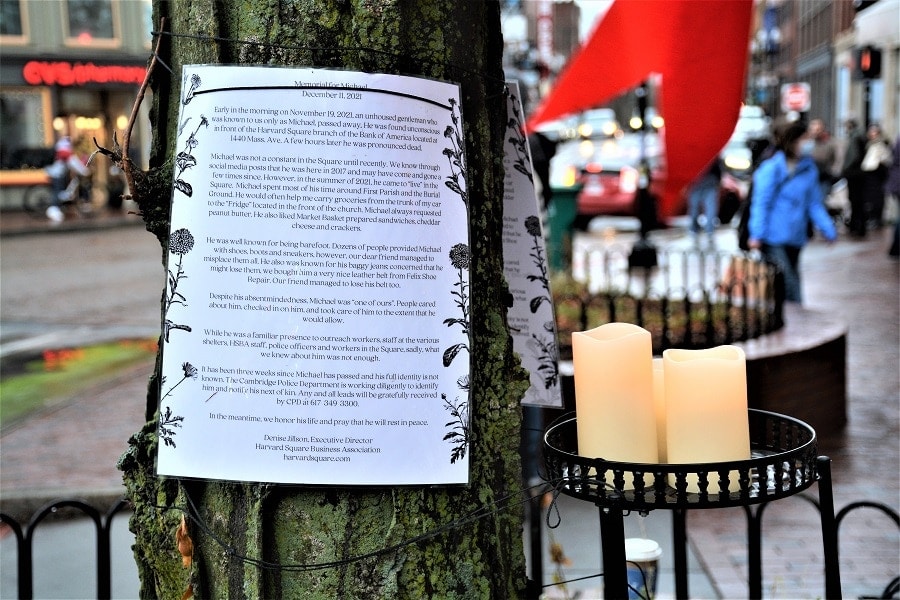 In the early morning hours of November 19th, 2021, an unhoused gentleman, known to us only as Michael, was found unresponsive in front of Bank of America in Harvard Square. Sadly, despite valiant efforts by Bank of America staff, emergency personnel and the Cambridge Police, he was pronounced dead a few hours later from natural causes at Mt. Auburn Hospital. 

The Harvard Square Business Association invites the public to attend a memorial service for Michael at First Parish Church on Thursday, June 30th at 11:00 a.m. First Parish is located at 1446 Massachusetts Avenue in Harvard Square. 

While much of Michael's background continues to be a mystery, he was in Harvard Square as early as 2017 and by 2021, he was a constant presence and could be found by the First Parish Church and the Burial Ground. He often assisted volunteers and HSBA staff members as they stocked the Harvard Square's "Fridge in the Square", a community fridge and pantry serving unhoused and food insecure individuals and families. People cared about Michael, checked on and took care of him to the extent that he would allow. While he was known to outreach workers, staff at local shelters, HSBA staff, police officers and workers in the Square – sadly, this was not enough.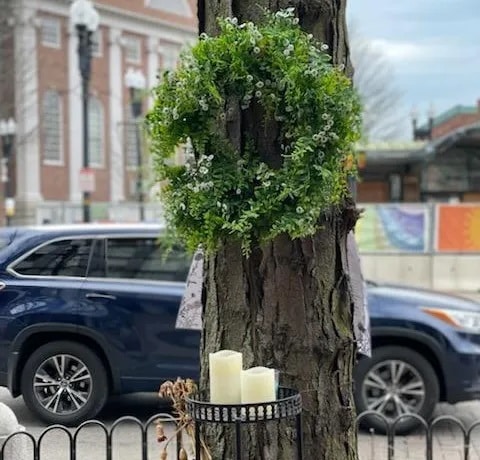 The HSBA appreciates the diligence of the Cambridge Police Department and the Office of the Chief Medical Examiner for the Commonwealth of Massachusetts, both of which tried valiantly to determine Michael's identity and locate his next of kin. While their efforts have not produced a positive identification, his remains have now been released to the Harvard Square community he called home.

Keefe Funeral Home has graciously donated their full services. Following Thursday's memorial service, Michael will be interred in a burial plot at the Cambridge Cemetery located at 76 Coolidge Avenue, provided by Paine Senior Services.

In December, the HSBA created a memorial for Michael in the Square and hosted a service in his honor that featured music performed by The Boys of St. Paul's Choir School.

The Harvard Square Business Association extends sincerest thanks and gratitude to the people and organizations who made this outcome possible:
Liz Aquilo, Paine Senior Services
Lt. Bongiorno, Sgt. Lowe and Officer Poirier, Cambridge Police Department
Kody Christiansen, Harvard University
Rev. Adam Dyer, First Parish Church
Colleen Foss, Office of the Chief Medical Examiner for the Commonwealth of Massachusetts
Father Sam Fuller, Capuchin Mobile Ministries
Tim Keefe, Keefe Funeral Home
Councillor Marc McGovern, City of Cambridge

Denise Jillson, executive director of the HSBA, spearheaded the effort to provide a proper burial. Jillson said, "Michael's details are still unknown, however, we are thankful to lay him to rest with the same quiet dignity in which he led his life. While he died alone, barefoot, and penniless and his only personal effects were the clothes he was wearing and a yellow wrist band from the Capuchin Mobile Ministry, the Cambridge community is making sure that his life is remembered."

Donations in Michael's memory may be made to Paine Senior Services, First Parish Church,
Harvard Square Homeless Shelter or the Capuchin Mobile Ministries.