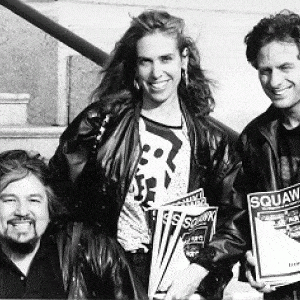 Squawk is one of the off-beatest, most eclectic, schizolithically elevating and open open mikes in the country. Located in the heart of Harvard Square, Cambridge, MA, it embraces all who come through its swinging wooden doors every Thursday night from 9 pm to something in the neighborhood of midnight: beat poets of the 21st century, music, dance, performance art and spoken word in all possible varieties from all corners of the earth. Squawk shaman Lee Kidd and his merry band of Squawksters — Jessa Piaia, Richard Cambridge and Mick Cusimano — frothed up the Squawk almost 20 years ago, and they host the event together every week.
So come one, come all. Freedom calls. Duty be squeemered. Desire is the password, the love of liberty a must. The complimentary coffee is hot, the complimentary tea freshly brewed, the complimentary cookies sweet, and the incomparable entertainment — for a $3 suggested donation at the door for audience and performers alike — unchainably entertaining.
WHEN
Every Thursday night. Doors open at 9 and stay open 'til everyone is well satisfied.
THE DRILL
No sign up; just show up, and the rest will take care of itself. Like magic. Most nights are 2-song or 2-poem nights for each performer. There's a $3 suggested donation at the door for performers and audience members alike. The featured performer(s) take the stage at around 10 o'clock for a half-hour (20 minutes apiece if it's a co-feature-type situation), and then we return to whomever for whatever for however long. It's a fete and a feast of bright eyes, gilded throats, sharp minds, and strong bodies.
Jubie up, foofs, no matter what. In the land of Squawk, as it is said, nothing is safe.