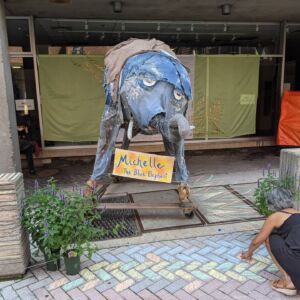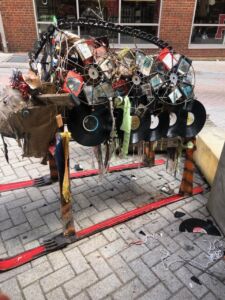 Bob Smith
Originally from Medford, schooled in Somerville, lived in New Mexico most of the 1980's, now residing along the Alewife Brook in Arlington.
I am 71,  mainly work locally as a self-employed Handyman. I also make original art in mixed mediums from post cards and t-shirts to large sculptures made out of trash.
I call most of my art "Minimum Wage Art". I chose that name on a whim back in 1978. Having never studied art or the business of being successful as an artist and finding much of the art world pretentious, the idea of calling my works in the arts, "Minimum Wage Art" was a way to express ironic and humorous disapproval.
Some of my work is social and/or political. My most popular design is a t-shirt with a slightly tilted red map of North America with the words "INDIAN TERRITORY" in white on a black shirt. That design makes it easy to tell the history of North America in one second.
In the 1990's friend and collaborator Nick Wyneken and I began making  large creature sculptures out of "Piano Daves Cooperative Gallery" near Inman Sq.  We call them "Skraelings", a Nordic term that means "not of our tribe". After Art Beat in 2007 Nick and I began putting Skraelings along a bike path near Davis Sq. That spot has evolved into a Free Range Sculpture Garden that anyone can add to.
A few "Skraelings of my making with inspirational assistance from Kyoko Ono are Public Art on the Eliot Sq. Island and out front of the Coop building on Palmer St.
I like to think my artistic expressions fight boredom and apathy in all dimensions of time and space.
Thank you,
Smitty