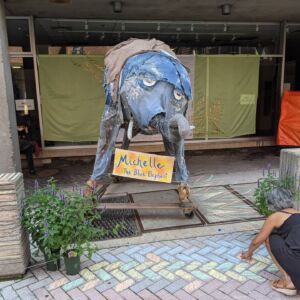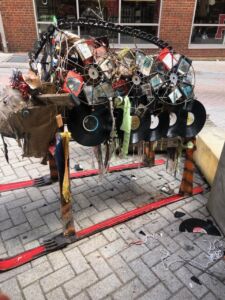 Bob Smith
Originally from Medford, schooled in Somerville, lived in New Mexico most of the 1980's, now residing along the Alewife Brook in Arlington.
I am 71,  mainly work locally as a self-employed Handyman. I also make original art in mixed mediums from post cards and t-shirts to large sculptures made out of trash.
I call most of my art "Minimum Wage Art". I chose that name on a whim back in 1978. Having never studied art or the business of being successful as an artist and finding much of the art world pretentious, the idea of calling my works in the arts, "Minimum Wage Art" was a way to express ironic and humorous disapproval.
Some of my work is social and/or political. My most popular design is a t-shirt with a slightly tilted red map of North America with the words "INDIAN TERRITORY" in white on a black shirt. That design makes it easy to tell the history of North America in one second.
In the 1990's friend and collaborator Nick Wyneken and I began making  large creature sculptures out of "Piano Daves Cooperative Gallery" near Inman Sq.  We call them "Skraelings", a Nordic term that means "not of our tribe". After Art Beat in 2007 Nick and I began putting Skraelings along a bike path near Davis Sq. That spot has evolved into a Free Range Sculpture Garden that anyone can add to.
A few "Skraelings of my making with inspirational assistance from Kyoko Ono are Public Art on the Eliot Sq. Island and out front of the Coop building on Palmer St.
I like to think my artistic expressions fight boredom and apathy in all dimensions of time and space.
Thank you,
Smitty
———–
The Harvard Square Business Association is pleased to announce a pop-up art gallery featuring the work of Cambridge artist Michael Ahern.  This exhibition can be viewed February 10th – 12th and February 17th – 19th from 2pm – 6pm at 34 JFK Street.
Cambridge artist, Michael Ahern (1940-2022) was known for his monochrome ink wash portraits of poets.  From the 1990s until his recent passing, Ahern would attend poetry slams at the former Bookseller's Café in North Cambridge and the Cantab Lounge in Central Square and create unique, improvisational ink brushstroke paintings.  These works that channeled the dynamic creative energy of the open mic poetry scene that thrives to this day will be on display during the gallery run.  Cambridge poets are encouraged to stop by and see if their visage were immortalized in Ahern's paintings.  On February 25th and 26th, all of the displayed pieces will be given gratis to poets depicted or to those who desire to possess one of these unique pieces.
The fact is that this collection of poets would have been lost, but for Rob Gregory, owner of Redbones, Davis Sq. Somerville allowing the bar area to become a gallery of Michael's art for family and friends to celebrate his life.
On the walls of Redbones and stacked all along the bar, Michael's children had spread hundreds of pen and ink portraits. They were of people in cafes, delicate forms of the human body, and the Cambridge Poets.  Someone noticed a portrait of poet Richard Cambridge in the middle of so many others. He went to Michael's daughter Eve and told her. She said, "Take it and give it to him." I was stunned. What a wonderful concept? Keeping Michael's art alive by giving it to his friends and the subjects of the work.
I also noticed a large collage of poets. Eve asked, "Smitty, do you want to look in the basement studio next door and see how many drawings there are?"  We went next door and I was stunned by the sight. Eve told me to look and " take anything you want." I began searching and I kept seeing what looked like poets in the act of reciting. I had to stop, went back to tell Eve that what I was finding might be important. I asked if I could bring Richard Cambridge into the basement to see if he recognized any of the subjects. She gave me the key and said we had limited time before the house changed hands.
Richard was so surprised to receive his own portrait. He remembered Michael sitting, drawing poets and also reciting at some of the poet gatherings.
We must give thanks to Michael for his love of the arts, Rob Gregory of Redbones, Michael's surviving children, Eve, Kelsey, and Tristan for their generosity and wisdom to allow us to have these beautiful renditions to give freely to the people who will appreciate and deserve them most.
We also are so grateful that the Harvard Sq. Business Association recognized the value of such a collection of work and with the help of Kyoko Ono knowing to call Executive Director Denise Jillson and ask about a recently ended show in the storefront next the the Garage in Harvard Square.  John DiGiovanni and Trinity Property Management agreed to allow the use of his perfect street level location to invite the poets, their families, friends, and the public to not only see Michael's rare documentation, but at the closing of this exhibit come back and take Michael's works home with them.
I knew Michael since the 1970's. Through the years I did handyman work at some of his properties and we shared our views on art and life. Anyone who knew Michael would say that at first meeting he could be tenacious and challenging but if you survived that you would come to know a rich personality with a great iconic sense of humor and a true appreciation of the arts, not withstanding Michael's oft stated view, "I hate artists!" This was usually followed by shared laughter.
Michael inherited properties in Cambridge, Wellsley and in Cheeryfield and Bucksport, Maine. He was property rich but struggled like a working class person with the costs of upkeep on so many building that provided housing for many people.
He was born in Cambridge in 1940, graduated Cambridge Rindge and Latin High School. He loved the Cambridge and Somerville communities.  Michael Alexander Ahern left us June of last year. He also left us the Poets of Cambridge.
Bob Smith
"Minimum Wage Art"
January 25, 2023
——-
Dear Friends and Colleagues:
Link to the latest post on ART OUTDOORS: 
Changing Art Joins Constant Sculpture in Brattle Square: Ann Norton's "Gateway to Knowledge" Stands with Beings Created by Minimum Wage Art  
Tracking the relocations of "Skraelings" created by Minimum Wage Art (Bob Smith)  led me to learn about Ann Norton's long-standing twenty-foot-tall brick monument in Brattle Square. Links and quotes offer background and perspective.
https://artoutdoorsdl.com/2023/03/06/changing-art-joins-constant-sculpture-in-brattle-square-ann-nortons-gateway-to-knowledge-stands-with-beings-created-by-minimum-wage-art/
Your questions, corrections, connections, and concerns are always welcome. Please share any way you wish. 
THANKS AND CHEERS!
Looking forward,
Deb Lee