Harvard Museum of the Ancient Near East
Free to Massachusetts residents every Sunday morning (year-round) from 9:00 am to 12:00 pm and on Wednesdays from 3:00 pm to 5:00 pm (September through May). Proof of residency required. This offer is not available to commercial groups.
The Harvard Museum of the Ancient Near East explores the rich history of the region's cultures. Exhibitions include a full-scale replica of an ancient Iron Age home, life-sized casts of famous Mesopotamian monuments, authentic mummy coffins, and tablets containing the earliest forms of writing. Like the artifacts it displays, the museum itself has a rich and nuanced history.
Make your reservation here: https://hmsc.harvard.edu/visit.
HMSC Connects!
https://hmsc.harvard.edu/hmsc-connects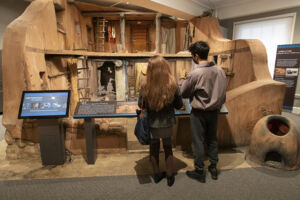 Photo credit: Tony Rinaldo
Closure Days
Wednesday, November 22, 2023
Thursday, November 23, 2023
Friday, December 22, 2023
Sunday, December 24, 2023
Monday, December 25, 2023
Tuesday, December 26, 2023
Monday, January 1, 2024