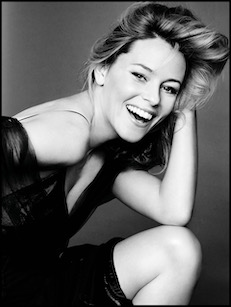 The Hasty Pudding Theatricals, the oldest theatrical organization in the United States, announces ELIZABETH BANKS as the recipient of its 2020 Woman of the Year Award. The Pudding is thrilled to present this honor to such a celebrated actress in both film and television, who is also known for breaking ground in Hollywood as a female director and producer.
The Woman of the Year Award is the Hasty Pudding Theatricals' oldest honor, bestowed annually on performers who have made lasting and impressive contributions to the world of entertainment. Established in 1951, the Woman of the Year Award has been given to many notable and talented entertainers including Meryl Streep, Julia Roberts, Scarlett Johansson, Anne Hathaway, Kerry Washington, and most recently Bryce Dallas Howard, the 69th Woman of the Year.
The Woman of the Year festivities, presented by RELATED and Equinox/SoulCycle, will begin at 3:00pm on January 31st, 2020, when Ms. Banks will lead a parade through the streets of Cambridge. Following the parade, the Hasty Pudding Theatricals will host a celebratory roast for Ms. Banks at 4:00pm, after which she will be presented with her Pudding Pot at Farkas Hall, the Hasty Pudding's historic home in Harvard Square since 1888. A press conference will follow the presentation at 4:30pm. Afterwards, the Hasty Pudding Theatricals will preview HPT 172: Mean Ghouls, our second-ever cast featuring both men and women.
"We're very excited to honor Elizabeth Banks as our 70th Woman of the Year because of her wonderful acting career and impact in Hollywood as a female director, producer, and writer," said co-producer Samantha Meade. "Elizabeth is a role model to all of the young women in the Theatricals, especially in a year with a female writer, female producers, and a majority female cast – we all cannot wait to celebrate and meet her!" added fellow co-producer Natalie Needle.
Elizabeth Banks is a three-time Emmy nominated actress, producer, writer, and director. With stand-out performances in projects including The Hunger Games franchise, Love & Mercy, and The LEGO Movie, she is also a three-time Emmy nominee for her recurring roles in 30 Rock and Modern Family.
This month season two of her critically acclaimed series Shrill, starring SNL's Aidy Bryant, will premiere on Hulu. Last fall she produced, wrote, directed and appeared in Charlie's Angels. Banks produced both projects through her company Brownstone Productions, which she co-owns with husband Max Handelman. The company is best known for the Box Office hit Pitch Perfect franchise. Banks made her feature directorial debut with Pitch Perfect 2, which was the highest opening weekend for a musical comedy in history, the biggest opener for a first-time feature film director, and the second-largest opening for a female director. With a first-look film deal at Universal and an exclusive television deal at Warner Bros. Television, Brownstone has film, television and digital collaborations with Universal, Sony Pictures, CW, ABC, Lionsgate, FOX, NBC, HBO Max, Netflix, and Hulu. The current film slate includes Queen for a Day at Paramount Players; White Girl Problems at Lionsgate; and Uncanny Valley, Science Fair, Red Queen, Paper Bag Princess, and The Grace Year at Universal. Brownstone's upcoming Television slate includes Mavenhood at NBC; Bedrock at Warner Bros. Animation; Love Me at ABC; The Twelve at FOX; Over My Dead Body at WarnerMedia Streaming; and Borrowed Time at CBS.
Bank's additional film credits include W which garnered her critical-acclaim for her role as 'First Lady Laura Bush;' her breakthrough role as 'Marcela Howard' in the Academy Award winning film Seabiscuit; Steven Spielberg's Catch Me If You Can; Power Rangers, Magic Mike XXL, Zack and Miri Make a Porno, The 40-Year-Old Virgin, and Spider-Man amongst others. Additional television credits include Scrubs, Netflix's Wet, Hot American Summer: First Day of Camp, and 10 Years Later.
Originally from Massachusetts, Banks graduated magna cum laude from the University of Pennsylvania and received her Graduate Degree at the American Conservatory Theater. She is heavily involved with the Center for Reproductive Rights, Planned Parenthood, and Turnaround Arts, among others.
PRESS CREDENTIALING is open for the Woman of the Year event. An online application form can be found at www.hastypudding.org/media-room and complete forms may be submitted to press@hastypudding.org.
TO PURCHASE TICKETS to the Hasty Pudding Theatricals' 172nd production, Mean Ghouls, contact the HPT Box Office at 617-495-5205, email tickets@hastypudding.org, or order online at www.hastypudding.org/buy-tickets. The show will be performed at Harvard University's historic Farkas Hall at 12 Holyoke Street from February 7th-March 8th. The company then travels to New York to perform at The Kaye Playhouse at Hunter College on March 13th and 14th, followed by performances on March 18th- 20th at Hamilton City Hall in Bermuda.
ABOUT THE HASTY PUDDING INSTITUTE OF 1770
The Hasty Pudding Institute of 1770's philanthropic mission is to provide educational and developmental support in all aspects of the performing arts for the underprivileged, to encourage satire and comedy, and to cultivate young talent around the world. The Institute comprises the Hasty Pudding Club (the oldest social club in the United States), the Hasty Pudding Theatricals (the third oldest theater group in the world after the Comédie-Française and the Oberammergau Passion Play) and the Harvard Krokodiloes (the foremost collegiate a cappella group in the United States). Over the last two centuries, it has grown into a premiere performing arts organization, a patron of the arts and comedy, and an advocate for satire and discourse as tools for change worldwide.
THE HISTORY OF THE PUDDING
In 1795, twenty-one Harvard students crowded into a dorm room to celebrate the establishment of a new on-campus society. Members pledged to maintain the club's secrecy and "to cultivate the social affections and cherish the feelings of friendship and patriotism." Most importantly, they mandated that "the members in alphabetical order shall provide a pot of hasty pudding for every meeting." With this ritual, the Hasty Pudding Club found its namesake, and the theatrical organization of today found its simpler roots.
The turn of the century saw the introduction of a new tradition into club meetings. In response to increased rowdiness and anarchy, a mock criminal court was improvised to try club members for "insolence" and "contempt of the club." These trials were a great success, and the club constitution was amended to incorporate these dramatizations into every club meeting. Through the years, these productions became more elaborate, with the addition of costumes and eventually scripts.
In 1844, Harvard senior Lemuel Hayward broke with tradition and secretly arranged the production of a comedic opera, "Bombastes Furioso," instead of the expected mock trial. Thus, the first Hasty Pudding Show was born, starting a tradition that has continued for 172 productions, interrupted for only four years by the two World Wars.
The modern Pudding Show has evolved into a spectacle beyond anything ever envisioned by the founders of the original secret society. Every year, HPT produces an original, entirely student-written and composed, pun-filled musical extravaganza. Undergraduates are now provided guidance by theatrical veterans, and sets and costumes rival those of many professional productions. The show runs for four weeks in Cambridge before an annual tour in New York City and Bermuda. Some of America's most prominent personalities got their start in the Pudding, including Teddy Roosevelt, FDR, JFK, Jack Lemmon, Alan Jay Lerner, David Javerbaum, and Rashida Jones.
With the introduction of the Woman of the Year celebration in 1951, and the Man of the Year in 1967, the Pudding has gained an international audience— but remains at its heart an organization driven by the enthusiasm and exuberance of its undergraduate members.
The Pudding Show remains in its essence a no-holds-barred burlesque, now with Harvard students of all genders welcome as cast members on stage.
www.facebook.com/thehastypudding
www.instagram.com/thehastypudding
www.twitter.com/thehastypudding