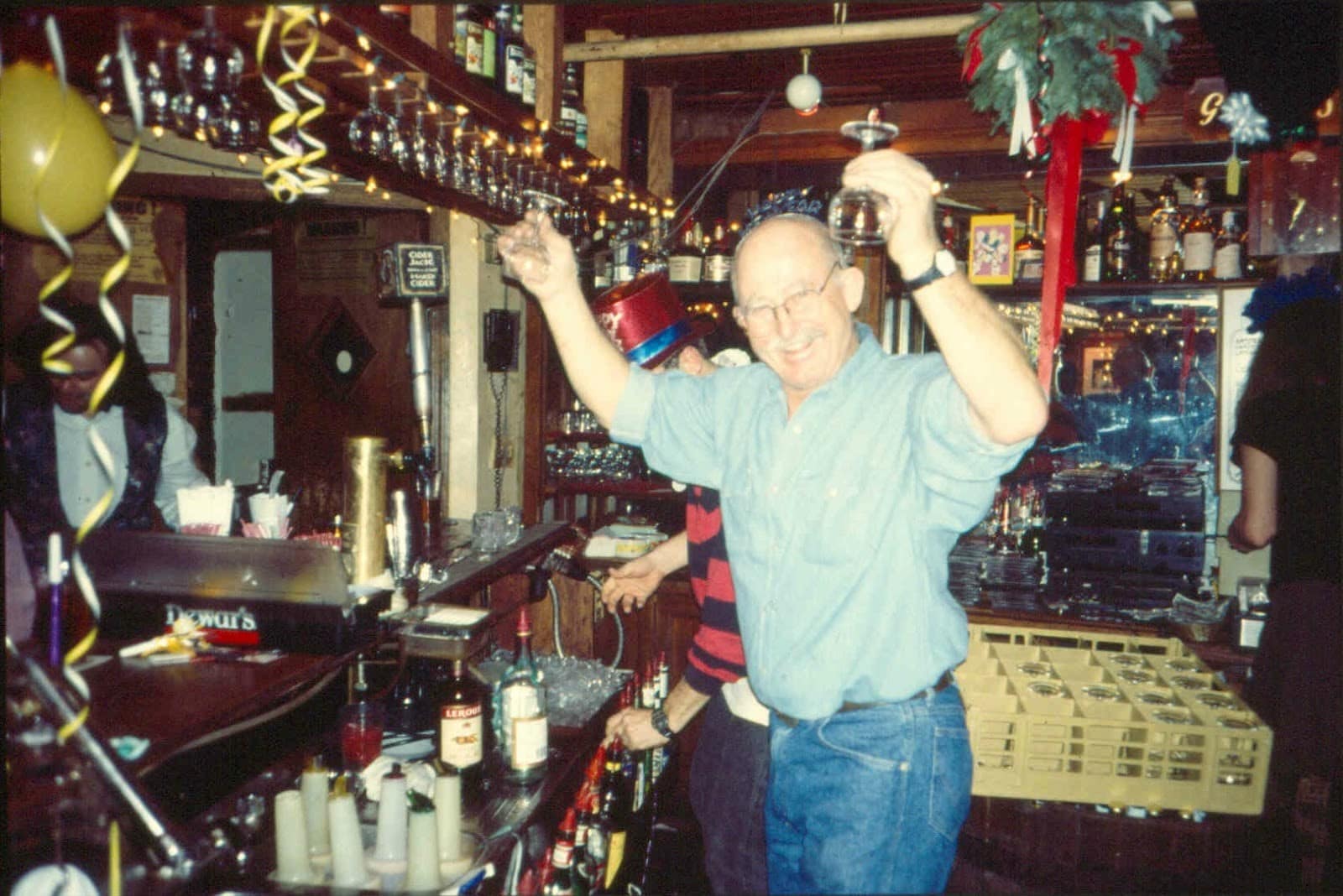 Dear friends and colleagues,
With great sadness, I wish to share the news of my father, Herbert Kuelzer's passing.
Herbie (as he was widely known) was a long-time businessman in Harvard Square. Remembered by many as a bon-viveur with a flamboyant style, Herbie was known for roller-skating everywhere he went. He would hand out flyers promoting Grendel's Den, which he started in 1971 with my mother, Sue Kuelzer, and then zip back to the restaurant to greet the customers and roller-skate them right to their table.
He lost his long-time partner, Marianne Koole, in 2017, and in his later years, was cared for by me as his health declined. In the end, he was at home with his family when he died at 2:30 pm on August 9th, 2021.
Herbie was born October 29th, 1939, and grew up in the Unterammergau municipality in the district of Garmisch-Partenkirchen, in Bavaria, Germany. His family migrated to the US in the early 1960s where he found work at the famous Casablanca restaurant in the Brattle Theater building. Soon after, he became a partner in multiple cafes, restaurants, and bars located on Mount Auburn Street, which eventually became the US Post Office.
He brought national attention to his final and most successful venture, Grendel's Den, by bringing a legal challenge against the State of Massachusetts all the way to the Supreme Court with the help of Harvard Law Professor Laurence Tribe. The challenge successfully changed laws in nine states, and it paved the way for Grendel's Den to finally obtain a license to sell alcoholic beverages in 1983.
Herbie loved to ski and became an accomplished deep powder skier, a hobby he continued into his advanced years. He spent summers in Liverpool, Nova Scotia, where he enjoyed walking with his dog Pedro and foraging for mushrooms, cranberries, and other forest fruits. He loved the dogs he had over his lifetime and could be spotted at Fresh Pond, Danehy Park, and Raymond Park, followed by his faithful miniature Schnauzer, who was rarely leashed but always by his side.
His natural ability to foster loyalty worked for him as a businessman as well. Grendel's Den owes much of its success and longevity to the faithfulness and tenure of our staff. Many of them were deeply connected to Herbie, and my sister Jenny and I are grateful to all of them for their memories and fondness of our dad.
He is survived by myself, his daughter, his grandson Caleb of Cambridge, Massachusetts, his daughter, Jennifer of Las Vegas, Nevada, his sister Brigitte of Lexington, Massachusetts, and his brother Peter of Unterammergau, Germany.
At this time, no funeral arrangements have been made and will be communicated at a later date.
Kari Kuelzer
Pronouns: She/Her
Grendel's Den Restaurant & Bar
89 Winthrop St.
Cambridge, MA 02138
www.grendelsden.com
Mobile: (617) 939-5412
kkuelzer@gmail.com