The tall front doors of 2 Arrow St. in Cambridge have been shuttered for almost three years. With little fanfare, David Altshuler unlocks the entrance and ushers me inside.
"Well, welcome to our space," he says.
The foyer has been stripped bare. A ladder leans against one wall, and some of the wiring is showing. Gone is the narrow hallway that once led to the nightclub in the building's belly. Now light filters through big windows.
In its most recent incarnation, this space was OBERON, the American Repertory Theater's beloved second stage on the edge of Harvard Square. For more than a decade, it played host to drag queens and burlesque dancers and, most famously, the Shakespeare-meets-Studio-54 extravaganza known as "The Donkey Show."
The A.R.T. announced in 2021 that it would not renew its lease at 2 Arrow St. as it prepared to move to a new campus in Allston. Many wondered what would happen to the theater. Would Harvard University, which owns the building, sell it off? Redevelop it? Rent it out to another theater company?
Now, Altshuler and his newly-formed nonprofit, Arrow Street Arts, have big plans for the space.
Altshuler leads us through the foyer into the theater itself, which has been gutted: no more catwalk, no more bar. The floor has been ripped up to reveal smooth concrete.
The plan, helmed by Charles Rose Architects, is to transform the warehouse-like room into a black box theater — a simple, flexible space that can be converted into various staging configurations.
Altshuler shows me a set of plans for the seating. The idea is to have seats that can be hidden away or pulled out from the wall, kind of like the bleachers in a high school gym.
"It'll be a telescopic seating system so you can actually have it be either, you know, 12 rows deep and 240 seats, or it might just be three or six rows deep," he says, excitedly. "The audience gets sized to what's appropriate to that show."
In addition to the black box, Altshuler is converting an empty storefront next door into a studio that will double as a small venue — 1,100 square feet with a capacity of approximately 100. A row of picture windows at the street level will allow passers-by to see inside.
Altshuler expects to invest $2.5 million, much of it his own, into the renovations. He describes it as kind of a "blank canvas" that producers can set up in every configuration imaginable.
"The space, as envisioned, is going to be this flexible multi-art space where, sure, it could be a nightclub one night, it could also be a dance recital, or it could be a straight play, or it could be a set of performing artists," he says.
Altshuler is an entrepreneur with a background in tech, finance and nonprofit leadership. (Not to be confused with the other Boston-based David Altshuler, a pharmaceutical executive.) But this project is driven in part by his wife, Sharman Altshuler, the founder of Moonbox Productions. The small theater company has an annual operating budget of approximately $600,000 and won numerous awards. But Altshuler says she struggled to find a consistent place to put on shows.
"For years, I've sort of fantasized about the idea of, 'Wouldn't it be great to have, you know, your own space.' And it was always like, 'forget it,'" Altshuler says. "Financially, it just doesn't make sense to have a physical plant as a small theater organization."
Then she heard that Oberon was closing. She recalls having a conversation about it with her husband.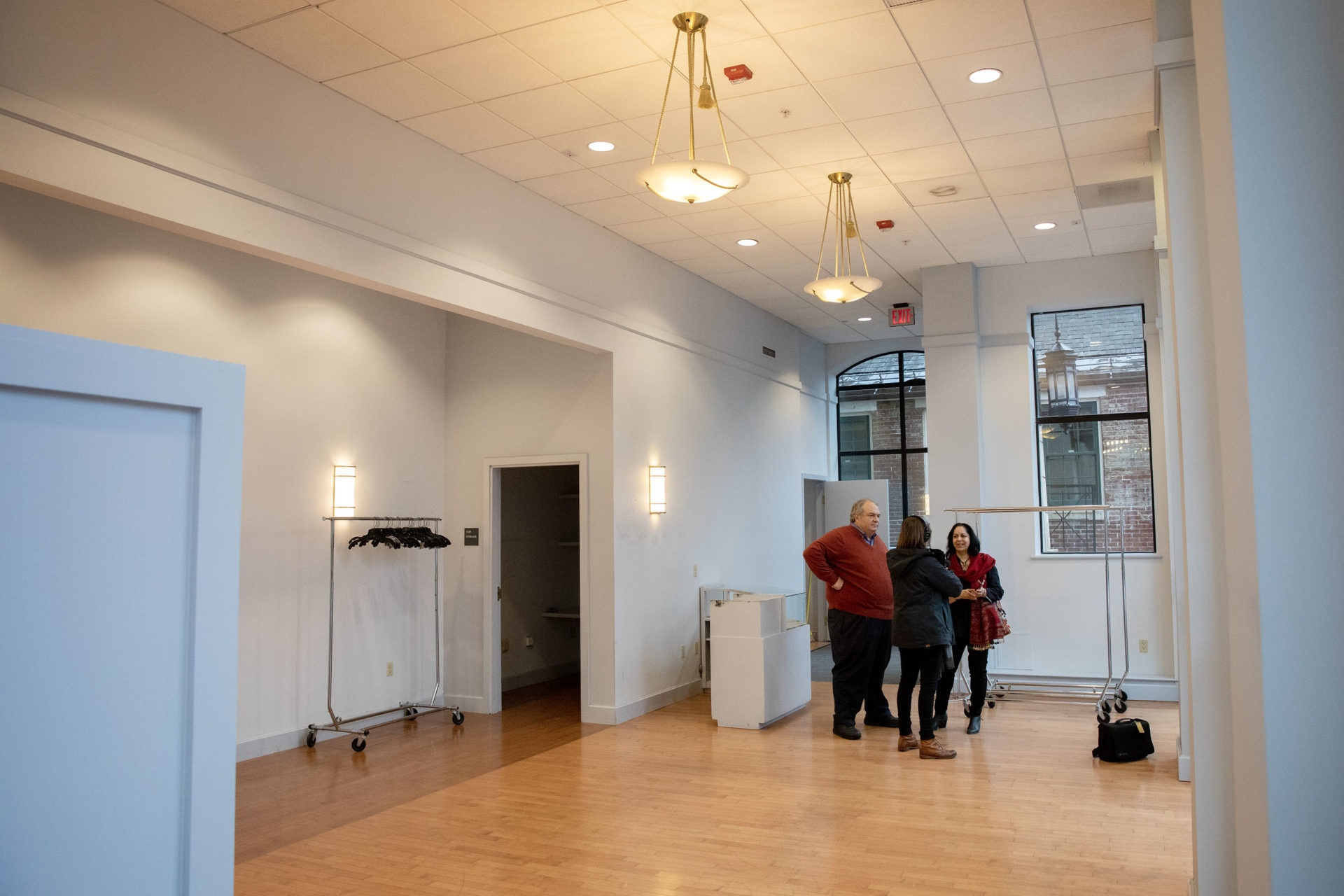 "And I said, 'It's such a great local theater, and wouldn't it be cool if they actually end up staying a theater, and maybe Moonbox could do something,'" she says.
Her husband took the lead on the competitive process of selling the idea to Harvard. He pitched a plan with Moonbox as a resident theater company, using the space about a third of the time. The Cambridge Community Foundation is also a partner on the project.
Harvard declined a request for an interview, but said in a statement, "Harvard ultimately chose Moonbox because we were confident they could be a long-term partner, because of their team's track record and financial, operational and creative capacity to succeed in such a project, and because of their goals for activation, community involvement and a diversity of projects."
The Cambridge Community Foundation is charged with helping Arrow Street Arts find other local presenters to use the space.
"The idea is that we will reach out deeply into the community," says Cambridge Community Foundation president Geeta Pradhan. "We will bring community groups in, have conversations with them as people, you know, make sure that they know about this opportunity."
Arrow Street Arts hopes to subsidize an affordable rental model with private events. The Cambridge Community Foundation will also administer a fund, bankrolled by Arrow Street Arts. The fund will offer grants to groups that want to use the space but can't afford to, "so that smaller groups, particularly BIPOC organizations and theater groups, can actually, we can subsidize the cost of their ability to be able to produce here," Pradhan says.
Arrow Street Arts will also help raise money for the foundation's Cultural Capital Fund, which supports creative work throughout the city.
The foundation got involved because it wanted to help address a huge problem for the arts in Cambridge: the loss of space. Pradhan points to studies from the city of Boston and the Mayor's Arts Task Force in Cambridge that showed a dire need for rehearsal space and mid-size performance venues in the Boston area.
"Improv Boston, they lost their space. Green Street Studios lost their space. EMF building redevelopment resulted in a loss of space for musicians," Pradhan says.
Arrow Street Arts will fill the void left by another big loss, the closure of Oberon — though Altshuler's black box is different from its nightclub-like predecessor. It's hard to predict if Oberon's burlesque and circus performers will want to use the new space.
But some local producers are excited by the new design.
"The difficulty with Oberon was wing space, dressing room space. It was not an easy facility, production-wise," says Sehnaz Dirik, the founder of Theater UnCorked, a small community theater. "The updating of the green room, the dressing rooms, all of that stuff for an actor is really important."
Accommodating performers is a big part of the theater's design. But Altshuler also wants to make the space super accessible. His plans include wider seats, more legroom and a perfectly smooth floor for wheelchair use. One of the most expensive renovations involves building all-gender restrooms with individual enclosed stalls.
"When an audience member or an artist comes here, do they feel welcome," Altshuler says of the design philosophy. "Do they feel like they belong in the space?"
There's a lot of work to do before that question can be answered. Altshuler has to hire a staff and finish the renovations. If all goes as planned, Arrow Street Arts will open fully at the end of the year.