Black Donkey Project
The Black Donkey Project presents the chance for you to order this unique—and practical—gift for Mother's Day:

A Harvard Square tote bag pack with:
One Box of 11 Chocolates from Burdick Chocolates
One Spring Love and appreciation flowers bouquet from Brattle Square florist
One Bottle of Champagne from Anne Amie Vineyard in Oregon
One Bottle of Sauvignon Blanc from Taft Street in California
One Bottle of Pinot Gris from the Central Coast in California
A value of $120.00 

A gift to help your community. With the support and logistics of the Harvard Square Business Association, we have created a special fund dedicated to supporting small businesses in Harvard Square. Part of the income from your purchase of these wines will be "poured" directly into this fund. And we (hopefully) will help the most vulnerable to reopen and continue to serve our community. We all agree that it is extremely important to preserve the small independent businesses in our Square.

Bertil promises you to deliver at your front door on Sunday Morning, May 10th. Please send an email to bertiljean@comcast.net to place your order. Please place your order by 6PM on Wednesday, May 6th.

Please note: Only Delivery in Cambridge will be able for this promotion to warranty you the freshness of the product.

Black Donkey Project, 37 Hawthorne Street, harvardsquare.com/venue/the-black-donkey-project/,
Bob Slate Stationer
Bob Slate Stationer's curated Mother's Day card collection is available for purchase two ways:

– Visit Cardullo's Gourmet Shoppe or Dickson Brothers Hardware who are hosting baskets of our selections — and support multiple businesses at once!
– Shop by numbers at our storefront, where cards are posted on boards in our windows with identifying numbers, which can be ordered at NewBobSlate@gmail.com for pickup or USPS shipping.

Any in-stock items — such as boxed stationery, journals and writing instruments — can also be ordered online for contact-free pickup or shipping!

Bob Slate Stationer, 30 Brattle Street, harvardsquare.com/venue/bob-slate-stationers/, (617) 547-1230
Cambridge Artists' Cooperative Gallery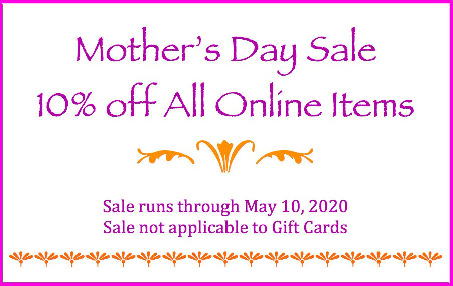 Cambridge Artists' Cooperative Gallery, 59A Church Street, harvardsquare.com/venue/cambridge-artists-cooperative-gallery/ (617) 868-4434
Cambridge Center for Adult Education
CCAE Gift Certificates are the perfect gift for Mother's Day! Support CCAE and share the gift of learning with a gift certificate. Visit ccae.org/gift-certificates and purchase one today – gift certificate details will be delivered via email.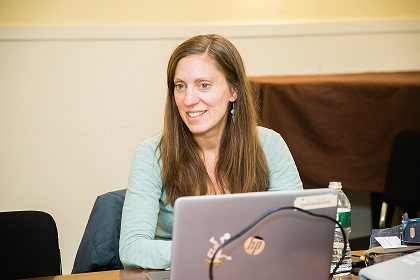 Cambridge Center for Adult Education is online this spring. Visit ccae.org/online-classes and register for May online classes today!

Cambridge Center for Adult Education, 42 Brattle Street, harvardsquare.com/venue/cambridge-center-for-adult-education/, (617) 547-6789
Dado Tea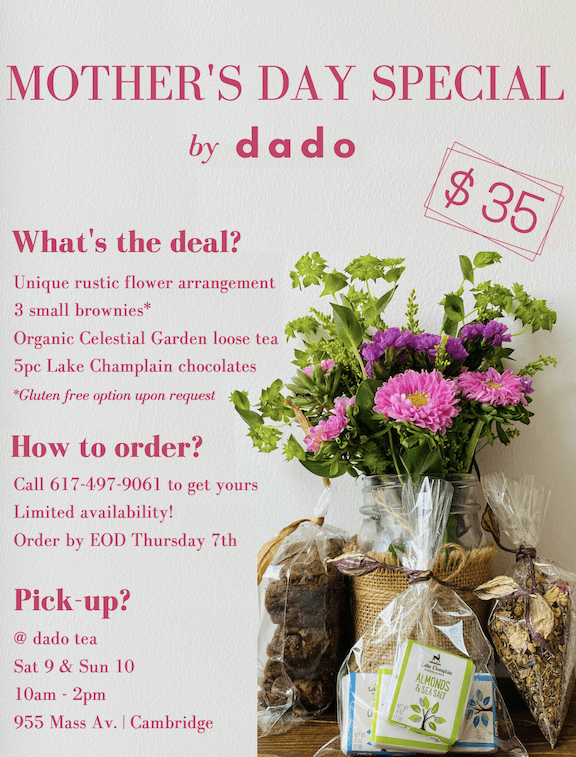 Dado Tea, 955 Massachusetts Avenue, harvardsquare.com/venue/dado-tea/, (617) 497-9061
Denise Patnod Acupuncture
25% off all "Treatment Packages" for Mothers Day – SAVE $75.00
5 One Hour Sessions (per package). Gift Certificates Available! Free 20 minute Telephone Consultations. Acupuncture, Guided Meditation and Glass Cupping.

Denise Patnod Acupuncture, 22 Hilliard Street, harvardsquare.com/venue/denise-patnod-acupuncture/, (617) 820-6864
Esmeralda
Esmeralda – Jewelry, Accessories & Gifts is offering 15% off in all jewelry as well as FREE SHIPPING in the whole site.
At EsmeraldaStore.com you find perfect curated gift boxes for Mother's Day, as well as jewelry, candles, fun mugs, bath & body products, purses, and even hand sanitizers and reusable masks! Esmeralda will wrap it as a present, include a hand written note (the message of your choice) and will ship the gift for free to your mom. If you have any questions, you can use the chat option in the site and Esmeralda can help you through the process. A complete stress free Mother's Day shopping experience from the comfort of your home!

Esmeralda, 54 Church Street, harvardsquare.com/venue/esmeralda-jewelry-accessories-gifts/, (781) 864-9396
Furnishing Hope
If you are looking for a meaningful Mother's Day gift, what better way to honor a mother than by helping a mother and her family as they struggle to rebuild their lives amidst this COVID-19 crisis?

Through Furnishing Hope's "Honor A Mother By Helping A Mother" campaign, you can make a huge difference in the life of a mother and her family by providing the essential home goods and furniture they need as they transition from a homeless or domestic violence shelter to their permanent housing.

For all gift donations received by Saturday May 9th at 11 pm, we'll send a personal Mother's Day message to your mother (or any other honoree you wish) to let her know about your thoughtful gift.

Gift opportunities include:
Bathroom & Toiletries Starter Set – $30
Bedding Starter Set – $40
Kitchen Starter Set – $50
Moving Van – $125
A Full Furnishing (bedroom, kitchen, and living room furniture — including in-home delivery and setup – an average of 11 pieces per move; and all three Starter Sets, including a Bedding Starter Set for each family member) – $1,500
or make a donation of any amount.
So many families who transition from homeless and domestic violence shelters into permanent housing have little in the way of furniture and home goods. Typically, over a third of such families are still sleeping on the floor, don't have a table to eat at, don't have lamps to read by, months or even over a year after moving into permanent housing. Such conditions, difficult during "normal" times, are infinitely harder during this time of "shelter at home," and are particularly hard on children who have already gone through extreme periods of instability and stress.

Furnishing Hope, together with a network of community partners, is working to give these families a better chance as they work to rebuild their lives. Currently, Furnishing Hope has a waiting list of families recently relocated from shelters to apartments who need furniture and home goods. While it is not possible for us to deliver furniture to families during this crisis, Furnishing Hope has developed an action plan to make it possible for us provide "contactless" delivery of Bedding, Kitchen, and Bath & Toiletries Starter Sets. This plan will allow us to get essential home goods into the hands of families who so desperately need them, right now. We'll resume furniture deliveries as soon as we are permitted.

Your gift will make it possible for Furnishing Hope to provide a mother and her family with the home goods that will make all the difference to families right now—sheets, blankets, and pillows to allow them to sleep comfortably; pots and pans to cook with, plates and utensils to eat with; lamps to read and play by; towels, shower curtains, and toiletries to maintain their comfort, health and dignity.

This Mother's Day, give the gift of Furnishing Hope.

Furnishing Hope of MA, Inc., 131 Mount Auburn Street, harvardsquare.com/venue/furnishing-hope-of-massachusetts-inc/, (857) 229-7528
Living Harmony
In these uncertain and unusual times, could your mother use a little order right now in her life? Show her some true love and appreciation by giving her the gift of working virtually with an organizer to pass on some freedom that comes with organizing a closet, office, kitchen, or something else that will help her feel in control.
15% off an organizing package if you contact us any time in May and say "Mama"

Living Harmony, LLC., 24 Harvey Street, harvardsquare.com/venue/living-harmony-llc, (617) 945-0704
Motto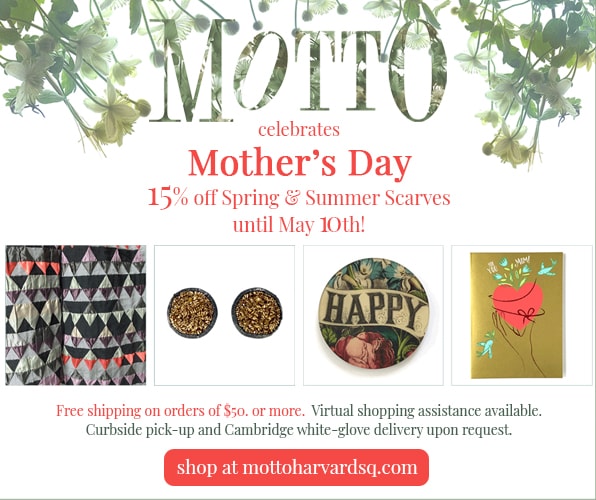 Motto, 26 Church Street, harvardsquare.com/venue/motto, (617) 491-2789
More information coming soon!