Greater Boston's Famously Inclusive and Largest Dance Event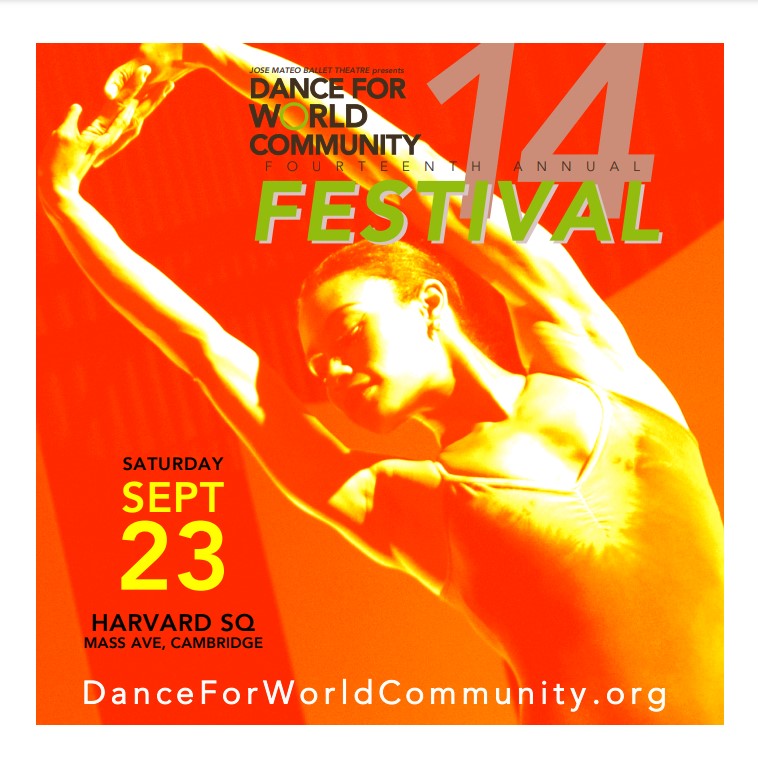 Saturday, Sept. 23, 2023
Harvard Square
From Neo-classical Ballet to Hip Hop, Folk Dance to Contemporary Dance, the FREE annual festival again expects over 20,000 people to enjoy a celebration of local dance and its power to raise public awareness about important social and environment issues.
The Festival at a Glance:
● Indoor/ Outdoor Dance Performances by more than 60 Groups and Exhibitions by Local Non-Profits on Advocacy Way, 12:00 – 6:00pm
● Indoor/Outdoor Introductory-Level Dance Classes in all forms, 12:00–6:00pm
● Festive Food, Crafts Vendors, and Interactive Dance Opportunities 12:00 – 6:00pm
● Outdoor Dance Party, Celebration with Live Music by Ten Tumbao, 6:00-8:00pm
In partnership with Cambridge Arts and Massachusetts Peace Action, José Mateo Ballet Theatre presents the 14th Annual Dance for World Community Festival, Saturday, September 23, 12:00-6:00 pm, FREE and open to the public, a celebration in Harvard Square, Cambridge showcasing dance as a powerful force to build community. With an expected attendance of over 20,000 people, the Festival offers something for everyone with free performances and classes in a broad array of dance forms, from Ballet to Contemporary, many representing diverse cultures from around the world. All festivities will take place at José Mateo Ballet Theatre's studios in Harvard Square, Cambridge, at 1151 Massachusetts Avenue, and along Massachusetts Avenue between Bow Street and Putnam Avenue. (Traffic is closed along this stretch of Mass. Ave.) For more information, call (617) 945-1944 or visit http://www.danceforworldcommunity.org.
"The power of dance has always served to unite communities for social celebrations, artistic performance or dance training. Today that power is now more widely recognized for its vast potential to also bring folks together to address the civic, social and environmental issues that have become so much more urgent in recent years. The DWC Festival, is also a great opportunity to discover the depth and richness of Greater Boston's very diverse dance community", says Founder/Artistic Director José Mateo.
The Festival offers FREE dance performances and introductory classes in a variety of dance forms plus the opportunity to connect with local activists committed to bettering our world. The annual event has grown over the years to include four outdoor stages with performances by over 60 local dance troupes in dance forms including African, Indian, Ballet, Folk, Hip Hop, Highlands Dance, Modern, Flamenco, Salsa, and many more. Performers include: José Mateo Ballet Theatre's YouthWorks, DanceVisions, Inc., Off Beat Tap Company, Laura Sánchez Flamenco Co, Benkadi Drum & Dance and Triveni Ensemble.
The Festival features Advocacy Way, providing the opportunity to connect with the important work by local organizations including Massachusetts Peace Action, Cambridge Peace Commission, Homeless Empowerment Project, and Cambridge Community Foundation. Festive food, raffles, and children's activities make it the perfect outing for the whole family. Then all are invited for a free Parking Lot Dance Party, a dance party celebration from 6:00-8:00pm with music by Ten Tumbao, a "soulful Afro-Latin-Caribbean band that mixes spicy rhythms with vocal harmonies, captivating melodies, and a touch of jazz".
The 14th Annual Dance for World Community Festival brings together representatives from local government, businesses, cultural agencies, environmental groups and other social service non-profits in celebration with the Greater Boston community at large.
Click below to see more about this year's Festival
http://www.danceforworldcommunity.org/
Supporting Partners to-date: Cambridge Arts Council, Harvard Square Business Association, New England Blacks in Philanthropy, Arts/Boston, Wooden Kiwi
About José Mateo Ballet Theatre
Founded in 1986, José Mateo Ballet Theatre is one of America's leading producers of new ballets, one of the area's most reputable ballet schools, and the originator of Dance for World Community (DWC), a project created in 2008 to expand the organization's mission that focuses on equity and diversity in dance performance, training and community programs. DWC builds local and global networks to expand the role of dance in our culture. Over the past 30 years, Cuban-born Artistic Director and Founder, José Mateo has developed his unique vision of using the power of dance to inspire and engage today's diverse audiences in creative, non-traditional ways. In 2018, Mateo received the state's highest award, the Commonwealth Award for Achievement from the Massachusetts Cultural Council.
Hailed by Boston Magazine as "Best of Boston 2020 Dance Performance", the Company regularly presented Mateo's highly acclaimed concerts at its own Sanctuary Theatre in its Harvard Square home at Old Cambridge Baptist Church and continues to present The Nutcracker at Boston's Emerson Majestic Theatre and Dorchester's Strand Theatre. The School offers an innovative model for a high-quality academy with a humanistic approach to ballet training that fosters diversity and inclusion at both its Cambridge campus and Dorchester satellite program.
Dance for World Community makes dance accessible to thousands of children, families, and new audiences, and produces the annual Dance for World Community Festival, an event that features performances by over 60 local dance groups, workshops, classes, and exhibits by advocacy groups that celebrates the role of dance to create social change. Learn more about José Mateo Ballet Theatre at www.ballettheatre.org.