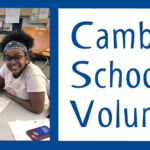 Website csv02138 Cambridge School Volunteers
supporting the students of the Cambridge Public Schools
Organization Overview
Cambridge School Volunteers is an independent, nonprofit organization founded in 1966 to foster the academic and personal success of Cambridge Public School students. CSV recruits, trains, and supports volunteers to work with students of all needs and levels, with a particular focus on underserved student populations. Our work aligns with the academic and social and emotional objectives of the Cambridge Public Schools, as well as their equity and anti-racist initiatives. Each year, CSV brings approximately 800 volunteers to work in Cambridge's 12 elementary, 5 upper, and one high school. These programs match more than 1,200 students for weekly one-to-one or small group work.
Responsibilities
● Support CSV's Director of Recruitment in recruiting an ample supply of volunteers who reflect the diversity of the students we serve to fill the specific needs of CSV programs.
● Ensure that all volunteers have completed all required paperwork and are up-to-date in CSV's volunteer management system.
● Work with the ED and others to coordinate CSV's annual volunteer recognition event, the Mack I. Davis II Awards and other volunteer appreciation initiatives.
● Participate in the orientation and training of new and returning volunteers.
● Attend staff meetings as well as operation and program team meetings as needed.
● Work with program staff to collect and assess volunteer feedback.
● Coordinate equity training and other volunteer workshops with program staff.
● Support the creation of content featuring volunteers for CSV's newsletter and social media platforms in coordination with CSV's Director of Communication and Program Coordinators.
● Contribute to the development and management of CSV's equitable language guide.
Qualifications
● Bachelor's degree or higher from an accredited college or university or equivalent professional experience.
● Experience managing or participating in diversity training programs.
● Demonstrated ability to work effectively with adults and youth from diverse cultural and socioeconomic backgrounds.
● Strong organizational and administrative skills.
● The ability to work independently and with teams to manage a variety of
responsibilities.
● Excellent digital and written communication skills.
● Experience with Google Workspace and Blackbaud's eTapestry or similar database management is preferred.
Structure and Compensation
The Manager of Volunteer Engagement reports to the Executive Director and works closely with members of CSV's Operations and Program Teams.
CSV's offices are based at Cambridge Rindge & Latin School, 459 Broadway. This job requires travel to locations within Cambridge and occasional evening obligations.
This position is hourly for 20 hours per week, during the 42-week Cambridge public school year. Pay is $21-$25/hr.
To apply, please email a cover letter and resume with the subject heading "Volunteer Engagement Manager" to Meg Ramsdell, Executive Director