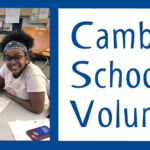 Website csv02138 Cambridge School Volunteers
supporting the students of the Cambridge Public Schools
Organization Overview
Cambridge School Volunteers is an independent, nonprofit organization founded in 1966 to foster the academic and personal success of Cambridge Public School students. CSV recruits, trains, and supports volunteers to work with students of all needs and levels, with a particular focus on underserved student populations. Our work aligns with the academic and social and emotional objectives of the Cambridge Public Schools, as well as their equity and anti-racist initiatives. Each year, CSV brings approximately 800 volunteers to work in Cambridge's 12 elementary schools, five upper schools, and one high school. These programs match more than 1,200 students for weekly one-to-one or small group work.
Responsibilities
● Carry out primary responsibility for the recruitment, training, placement, supervision, and evaluation of volunteers working in math roles in the elementary schools, including CSV's KeyPals program.
● Support CSV's NetPals program as part of the upper school NetPals team.
● Cultivate and maintain productive relationships with district math coaches, elementary teachers, administrators, and staff.
● Coordinate program operations.
● Design and deliver training for volunteers.
● Ensure volunteer application materials are timely and complete; and screen volunteers.
● Participate in staff meetings as well as elementary and NetPals team meetings.
● Evaluate and report on the elementary math and KeyPals programs at the end of the school year.
Qualifications
● Bachelor's degree or higher from an accredited college or university or equivalent professional experience.
● Demonstrated evidence of strong program administration skills.
● Demonstrated ability to work effectively with adults and children from diverse cultural and socio-economic backgrounds.
● Excellent digital and written communication skills.
● The ability to independently and creatively manage diverse responsibilities in a multi-faceted educational program.
● Teacher certification in math, science, or early childhood instruction is preferred.
● Elementary classroom teaching experience with demonstrated knowledge of current approaches preferred.
Structure and Compensation
The Intergenerational Math Program Manager reports to the CSV executive director and works as part of the elementary and upper school teams.
Travel to all 12 elementary schools in Cambridge is required, as well as occasional evening obligations. CSV's offices are based at Cambridge Rindge & Latin School, 459 Broadway. Remote work may be required at the discretion of CSV's executive director or the Cambridge Public School District for pandemic or other reasons.
The position is part-time, approximately 20 hours per week, September–June, during the 42 weeks of the Cambridge Public Schools academic calendar. The pay rate is $21-25/hour, commensurate with experience.
To apply, please email a cover letter and resume with the subject heading "Intergenerational Math Program Manager" to CSV Executive Director Meg Ramsdell.