Yesterday, June 13th, the Cambridge business community came together to support the 106 year old Boy Scouts of America, Spirit of Adventure Council.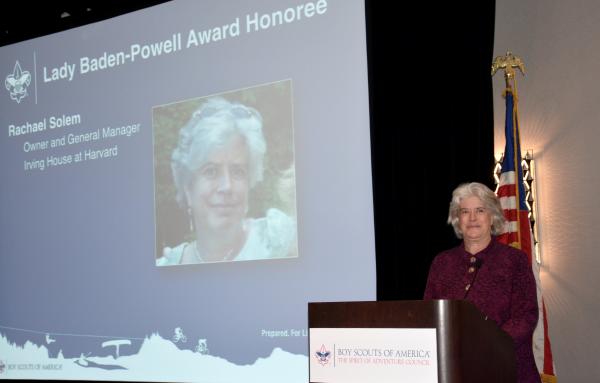 The 33rd Annual Good Scout luncheon took place at noon at the Royal Sonesta. Color guard included scouters from Cambridge and Quincy. Wayne Patenaude, President and CEO of Cambridge Savings Bank chaired the event. It was co-chaired by Susan Lapierre, Cambridge Savings Bank Senior Vice President, Community Relations and CRA Officer and Denise Jillson, Executive Director, Harvard Square Business Association. The Master of Ceremonies was City Manager Richard C. Rossi. Mayor E. Denise Simmons gave the keynote speech and warm greetings from the City.
The purpose of the luncheon, which was established in 1984, is to raise funds for Cambridge Scouting and to honor outstanding members of the Cambridge community.
Currently, three awards are given; the Robert W. Healy Good Scout Award, the Corporate Citizen Award and the Lady Baden Powell Good Scout Award.
Originally called the Cambridge Good Scout Award, it was renamed in 2013 to the Robert W. Healy Good Scout Award, in honor of retiring Cambridge City Manager, Bob Healy. It is presented to a Good Scout who carries the spirit of the Scout "Good Turn" into adult life. This is one of the unfailing marks of a real Scout – the spirit of helpfulness. A Good Scout is always interested in helping others. The Good Scout is certainly not self-centered, but feels privileged to bring the spirt of friendliness and helpfulness. The Robert W. Healy Good Scout Award is presented to someone who is unselfish in serving others…on an individual and community basis. The Good Scout seeks no return for service other than the satisfaction of aiding others in the community and in the nation.
This year, we were pleased to present outgoing City of Cambridge Police Commissioner Robert Haas with the Robert W. Healy Good Scout Award. Sadly, Commissioner Haas was out of town…the award was received on his behalf by his good friend and colleague, Fire Chief Gerald Reardon. )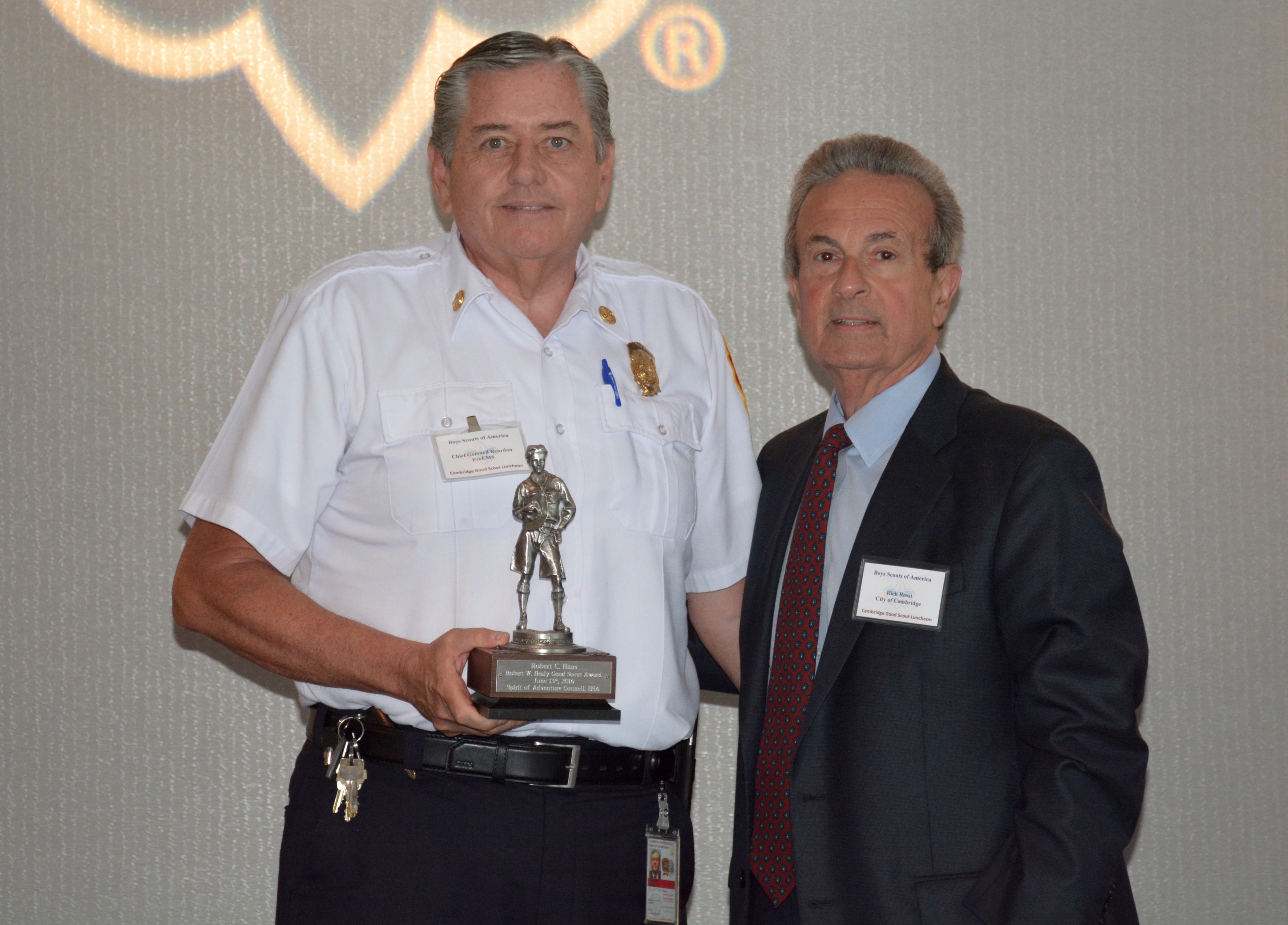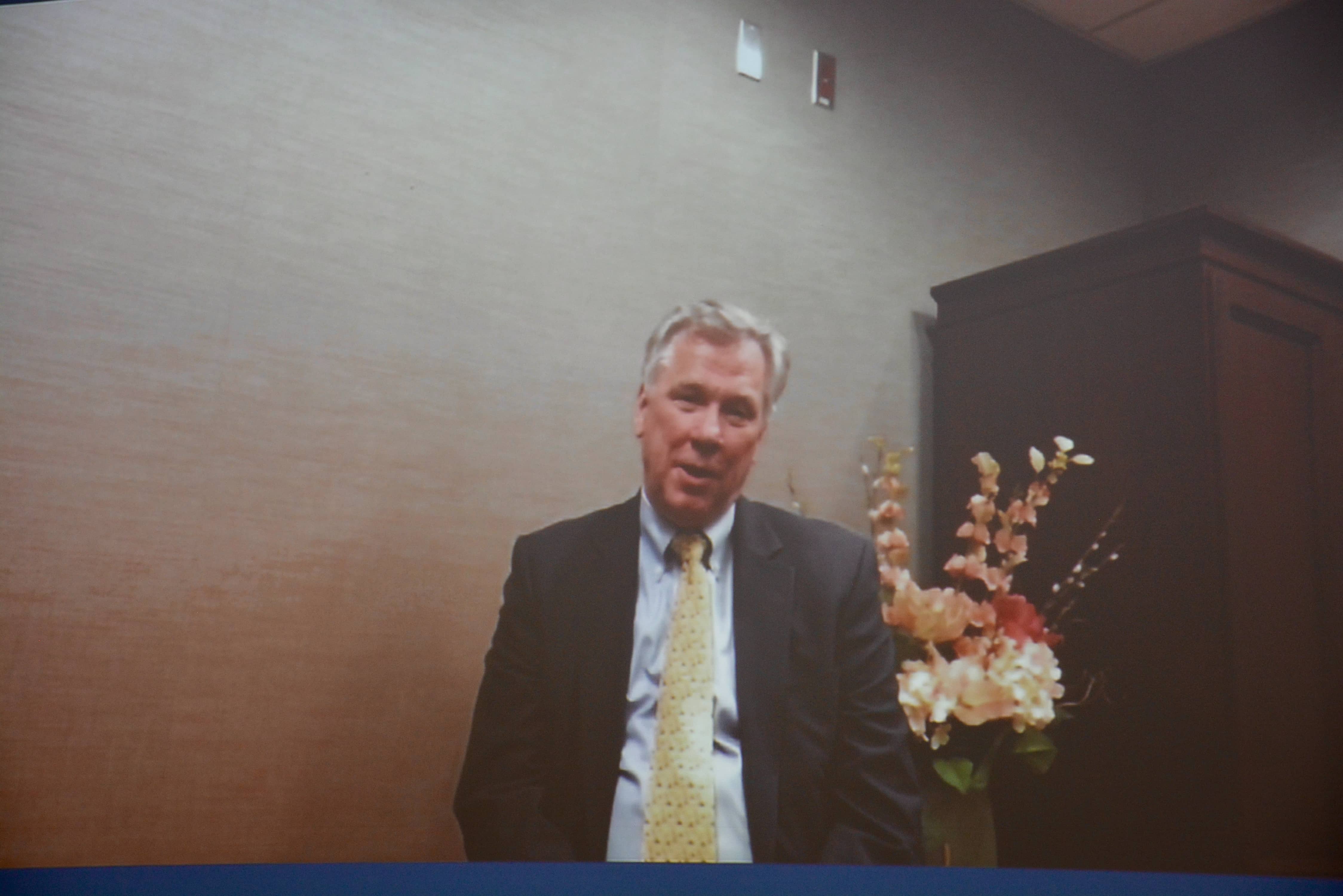 The Lady Baden Powell Good Scout Award – Believing strongly that girls and young women need positive role models and challenging developmental opportunities, Olave Baden-Powell in 1919 founded the World Association of Girl Guides and Girl Scouts, based on the Boy Scout model begun by her husband, Lord Baden Powell. Lady Baden Powell travelled the globe in pursuit of her mission, and by 1970, she had flown close to half a million miles recruiting for and promoting the organization. She received numerous awards from heads of state all over the world, finally retiring in 1970 at the age of 81. At the time of her death in 1977, the World Association of Scouting had 6.5 million members.
The Lady Baden Powell Good Scout award is presented to distinguished women who have had a significant impact on Boston area youth through service to others, community leadership, and personal example. Through their dedication, and commitment, they enrich the lives of our young people and strengthen our community. This award dates back to 2002.
This year, long-time HSBA member, Rachael Solem, Owner and General Manager of Irving House and Harding House was presented with the Lady Baden Powell Good Scout Award. We are so proud of all her accomplishments; prouder still to call her friend. We cannot conceive of a more worthy recipient. (Rachael's BIO and speech are printed at the end of this article…both are inspirational reads.)
In 2014, the luncheon leadership committee created the Corporate Citizen Award which honors a business that exemplifies the Scout Law's values through its business practices and dealings with the community. It 2014, it was presented to Steve Hickox, CEO of CDM Smith, in 2015 it was presented to Joe Cornier of Kleinfelder and this year, we were honored to present it to Tom Andrews, Executive Vice President, Alexandria Real Estate Equities. Jeff McComish, Assistant Vice President for Asset Services for Alexandria and a volunteer Scouter from Marblehead, received the award on behalf of Mr. Andrews.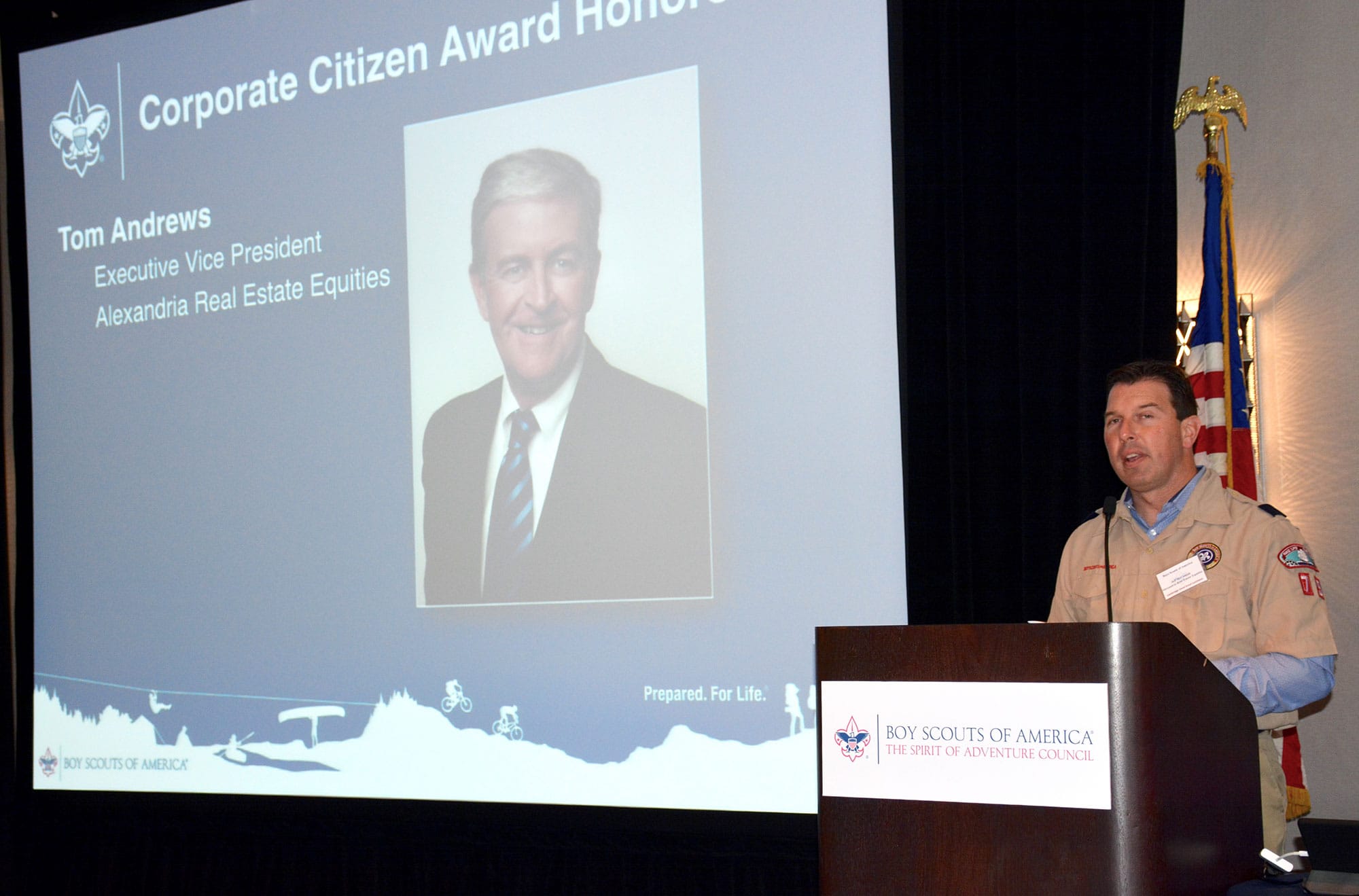 The event raised nearly 40K for local scouting programs.
Rachael's BIORachael Solem is a New Yorker by birth, Bostonian by choice. She joined a Brownie troop at her Episcopal school in second grade and continued with the Girl Scouts through her elementary school years. The troop leader was the school nurse, Sister Lavinia. She taught first aid, cooking, camping and hiking skills, sewing, and plenty of singing. These among other early lessons have shaped her thinking around work, gratitude and community.
After high school she left New York to wander, spending time in Arizona, Vermont, California, England and France. She began her college years studying linguistics and anthropology, but soon migrated to community building, eventually at UMass/Boston's College of Public & Community Service.
While this area of study was rich with activity and possibility in 1970s Boston, becoming a mother and further engaging with the community of families in Jamaica Plain kept her from completing her college studies. Instead, she developed co-operative childcare groups, a home school, and then worked in her kids' schools as a teacher of computer programming & gym and producing a literary magazine as well as serving on the School Site Council.
After giving up on the Boston public schools, Ms. Solem chose to cross the river, sending her kids to the Cambridge Friends School and eventually moving to Our Fair City so her daughter and son could attend Cambridge Rindge and Latin School.
A chance to buy a run-down hotel property near the high school in 1990 started Ms. Solem on the path to a true career. In spite of never having stayed in a hotel before, and never having been a credit card holder, she dove into the development of a well-located guesthouse, making physical and commercial improvements that continue to this day. All of her work prior to this project became useful in time, and continue to serve her in the role of owner and general manager of now three lodging properties in mid Cambridge: Irving House, Harding House and Turner House.
Now a grandmother to six children, one granddaughter attending Cambridge Rindge and Latin School, five grandsons four years old and younger, Ms. Solem is a dedicated parent, active in their lives, and working in various ways to improve the world they will inherit.
Ms. Solem sits on the fund raising committees of On The Rise' Prepare for Winter Dinner, Community Servings Life Savor and Pie in the Sky, CASPAR's Strengthening Our Community event, and some times others. In contributing to these efforts, she chooses organizations that serve the most vulnerable citizens of our community. In addition, her businesses support the cultural life of Cambridge with sponsorships of festivals and artists in various ways.
Of her twenty-six years in this work, Ms. Solem says "The hospitality business is truly a delightful one, always providing some challenge, always returning kindnesses extended with guests from all over the world. I got lucky, and I feel blessed."
Rachael's Speech
It is a surprising honor for me to be standing here, as I have had no connection with Scouting in Cambridge. I thank you for choosing me, now giving me something to work to deserve. When I was growing up in New York City, I was a Brownie, and a Girl Scout. The troop was run by the school nurse, Sister Lavinia, who taught us a wide variety of practical skills and many songs. On our camping trips to Bear Mountain State Park it amazed me that she could gather firewood and build a fire without messing her habit at all. Singing kept us Girls Scouts energized, united and joyful; it still does.
Lady Baden-Powell led an astoundingly full life. Her connections across the globe, made during some of our most turbulent and transformative years, gave her great happiness and supportive connection through out her life. As she began to recognize in herself the limitations that come with age, she composed a simple prayer: God grant me good work for the whole of my life, and life until my work is complete. When I read those words I had to reconsider my plans to retire… In recent years I have been blessed with the arrival of five grandsons. Now there is plenty of good work to do inside my family and in my community.
"It is easier," as Frederick Douglass wrote, "to build strong children than to repair broken men." When I am trying to urge my business colleagues to contribute to causes that help build strong children, I point out the efficiency of this kind of contribution. Not only it is easier, and far less costly, it is the right and joyful thing to do.