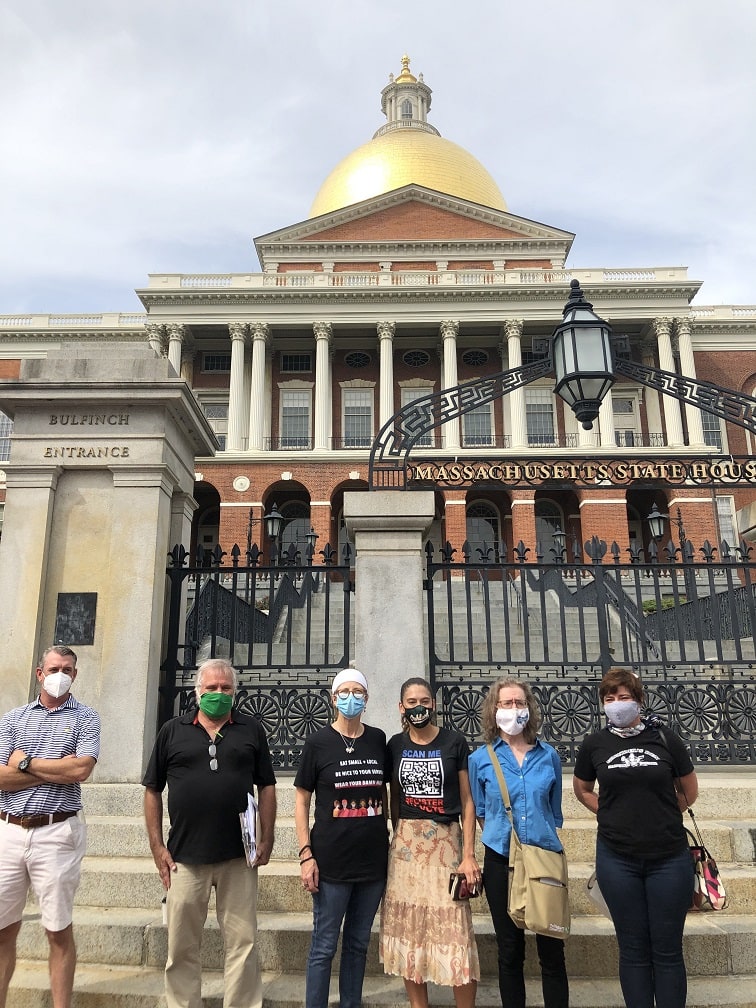 Harvard Square Business Association Member, John Schall, owner of El Jefe's Taqueria on Mount Auburn Street is holding a PRESS CONFERENCE on Wednesday, September 9th at 2:00 p.m. on the steps of the State House, 24 Beacon St. The purpose of this press conference is to publicly demand the passage of H4887, an economic development bill that will HELP SAVE THE RESTAURANT INDUSTRY.
Whether you own a restaurant, work at a restaurant or want to champion your favorite eatery, please join in solidarity! Please attend this press conference to support John and his tireless efforts in bringing this issue to the forefront. H4887 should be passed without further delay. 
Listen to John Schall's interview with Bloomberg News here.     
Please wear your face mask, bring hand sanitizer and as always we will be 6 feet apart. Kindly e-mail John at johnschall1903@gmail.com to let him know you will attend. Please forward this message to others you think might be interested. Information on this issue is as follows:
On June 2, the Massachusetts House of Representatives passed House Bill 4774, "An Act Addressing the Challenges Faced by the Food and Beverage Establishments Resulting from the COVID-19 Pandemic. This bill included language that would cap delivery fees that could be charged by 3rd party delivery companies at 15%. The bill was passed unanimously by the House 156 – 0. It was then sent to the Senate Ways and Means Committee where it was never acted on.
On July 28, the Mass House of Representatives incorporated the entirety of the delivery fee cap language of H 4774 into their omnibus economic development bill, H 4887 "An Act Enabling Partnerships for Growth". This bill was passed 156-3. Once again, the Senate version of this bill, S 2842, didn't include any language with respect to the delivery fee cap.

To resolve the many differences between these two comprehensive economic development bills, a Conference Committee was established that included from the House, Representatives Michlewitz, Ferrante and Wong and from the Senate, Senators Lesser, Rodrigues and O'Connor.

Five weeks have now passed and restaurants in Massachusetts are still waiting patiently. The passage of the delivery fee cap means nothing less than the survival of many restaurants in Massachusetts that have struggled to stay open and remain viable since the start of the COVID-19 pandemic in March. Because in-house dining was forbidden starting March 16, delivery sales skyrocketed, going from 5-15% of restaurant sales to 60-70%. The delivery company fees of 25-30% meant that restaurants that did remain open were paying delivery companies up to 20% of their total revenue. Even the most profitable restaurants can't incur an additional 20% expense and still survive. Even after the partial reopening of in-house dining of 25-50% of pre March 16 capacity, delivery sales continued to soar, still reaching 30-50% of many restaurants total sales.

There are 3 delivery companies, DoorDash, GrubHub, and UberEats that control 99% of the delivery market in Massachusetts. Restaurants have no say in negotiating the fees that they pay these 3 oligopoly delivery companies. The delivery companies set their fees and restaurants can accept them or not do delivery. There is no free market in Massachusetts for restaurant delivery services. That is why the Massachusetts Restaurant Association has endorsed the House delivery fee cap and why restaurants all over the Commonwealth are urging the Conference Committee to accept the House version of the delivery fee cap and save Massachusetts restaurants struggling to survive.

If you can not attend, please e-mail your support of passage H4887 to Conference Committee Members. Their contact information is as follows:
Senators:
eric.lesser@masenate.gov
michael.rodrigues@masenate.gov
patrick.oconnor@masenate.gov
Representatives:
ann-margaret.ferrante@mahouse.gov
donald.wong@mahouse.gov
aaron.m.michlewitz@mahouse.gov
Representative Aaron Michlewitz has been the most vocal about his support for the delivery fee cap.

Press Conference Outcome – Media Coverage:
Boston Globe
FOX 25
WHDH Channel 7