Benedetto
Offering Thanksgiving to-go options that include savory main dishes, desserts and gelato. Guests can order through 11/21 for pick up on 11/25.
Benedetto's heated covered outdoor patio will remain open until the weather makes that impossible.
Benedetto, 1 Bennett Street, harvardsquare.com/venue/benedetto/, 617-661-5050
Cambridge Center for Adult Education
Fall in Love with Pies | Sunday | Nov. 15 | 10 am – 1 pm | $60 | Register
In this online class, you'll learn how to make apple pie, bourbon pecan pie, and pumpkin pie. We'll learn how to make pie crust from scratch with different techniques. We'll talk about blind baking and double crust baking. You'll never buy store-bought pie crust again.
Thanksgiving Sides, Appetizers, and Desserts | Monday | Nov. 16 | 6 – 9 pm | $65 | Register
In this interactive online class, you'll learn how to make chestnuts and apricot stuffing, winter root mash, brussels sprouts with maple mustard sauce, and sweet and sour red cabbage. We'll finish with pumpkin gingerbread pudding.
Thanksgiving Turkey Theme Cake Decorating | Thursday | Nov. 19 | 6 – 9 pm | $85 | Register
Master the art of cake decorating in time for Thanksgiving. You'll get step-by-step instructions to make buttercream frosting as well as level, fill, and frost; learn techniques to create a whimsical Turkey on your cake, embellished with ruffles and stars; and get tips on how to hold the decorating bag to apply the right amount of pressure while piping.
Seasonal Brews: Beers for Thanksgiving with Curbside Pick Up | Saturday | Nov. 21 | 3 – 5 pm | Curbside Pick-Up | Nov. 19 | 3 – 6 | $80 | Register
Give the classic foods of Thanksgiving a bubbly snap with a variety of beers for each course. In this online interactive class, we'll talk and taste different styles of locally available beer, from berliner weisse and saison to IPA and stout, to demonstrate how well they support, enhance, and elevate the meal.
Cambridge Center for Adult Education, 42 Brattle Street, harvardsquare.com/venue/cambridge-center-for-adult-education/, 617-547-6789
Flour Bakery

Flour has everything you need for the most delicious holiday feast – just add the turkey!
Order now through 6pm on Sunday, November 22nd for pick-up on Tuesday, November 24th and Wednesday, November 25th.
Note that this year, in order to maintain social distancing, we are offering smaller pick-up time windows. Please adhere to your pick-up time in order to keep our team and guests safe.
Text your pick-up location to 617-749-4192 when you're on your way and we'll have everything ready for you when you arrive!
Flour Bakery, 114 Mount Auburn Street, harvardsquare.com/venue/flour-bakery-cafe/, 617-714-3205
Harvest
Harvest will be serving their traditional 3 course menu for $78 per person with optional wine pairings for $32. Plus, we will be offering raw bar supplements and sides. Reservations are available 11am-9pm. Book here or call us at 617-868-2255.
If you're interested in celebrating at home, Harvest will be offering a family-style takeout menu for $75 per person that will include everything you need for the perfect Thanksgiving meal! Choose to pick it up cold on Wednesday 11/25 or hot on Thanksgiving.
Whole pies to go are also available for $28 each. Choose from Apple Crisp, Pecan, or Pumpkin.
Call 617-868-2255 to place your order before Sunday, November 22nd. Curbside pickup on Wednesday (cold) or Thursday (hot). Happy Thanksgiving
Harvest, 44 Brattle Street, harvardsquare.com/venue/harvest/, 617-868-2255
Henrietta's Table
THANKSGIVING 2020 SUPPER
Roasted Heirloom Pumpkin Bisque
Fall Greens, Narragansett Feta, Toasted Pumpkin Seeds, Pomegranate and Cranberry Port Vinaigrette
Roasted Cage-Free Turkey
Traditional Gravy, House-Made Cranberry Sauce
Served with Mashed Potatoes, Roasted Root Vegetables, Butternut Squash and Beets or Grain Bowl with Fall Vegetables, Squashes and Maple Vinaigrette*
Dessert Trio-Sampler Plate
Homemade Pumpkin Pie Slice with Fresh Whipped Cream
Warm Apple Crisp and Vanilla Ice Cream
Decadent Flourless Chocolate Ganache Cake
THANKSGIVING 2020 BREADS AND PIES AVAILABLE FOR TO GO ORDERS
Homemade Pies & Quick Breads
Made daily in Henrietta's Kitchen from scratch using Native, seasonal farm grown products & local stoneground flour.
1 lb. Pumpkin Bread loaf $8.95
1 lb. Banana Walnut Bread loaf $8.95
9" Sugar Pumpkin Pie $13.95
9" Fresh Apple Pie $13.95
9" Maple Pecan Pie $19.95
Henrietta's House-Made Sourdough 1 ½ lb $7.95
Ingredients: King Arthur Bread flour, One Mighty Mill farms local stoneground whole wheat flour, cracked wheat berry kernels, water, salt, sour Dough starter.
Prepared with a traditional sourdough method that requires minimal manipulation of the ingredients and a longer fermentation period to maintain natural texture and flavor of the local minimally processed ingredients. The Sourdough bread is baked in house daily and naturally leavened with a sour dough starter.
Henrietta's Anadama Bread 1 ½ lb $12.00
Ingredients: Water, butter, salt, molasses, cornmeal, bread flour, fresh yeast.
"According to popular legends a farmer or a local fisherman grew tired of eating the cornmeal and molasses porridge that his wife Anna incessantly prepared for him. Anna who got so fed up with her husband that she left him returning home to find her distraught husband threw random ingredients such as flour and yeast into her unfinished porridge and placed it in the oven muttering 'Anna, damn her!'." This Bread makes a great soup dipping sandwich bread or simply eaten alone.
Henrietta's Cranberry Pecan Bread 2 ½ lb $27.00
Ingredients: Bread flour, One Mighty Mill farms local stoneground whole wheat flour, water, yeast, cranberries (dried), pecan pieces, sugar, salt. Pan spray (may contains soy).
Baked from scratch, this bread has a dark crusty exterior & a soft cranberry & pecan studded interior. It is great eaten as it is with a little butter or jam but also makes a great sandwich.
Order here.
Henrietta's Table, 1 Bennett Street, harvardsquare.com/venue/henriettas-table/, 617-661-5005
Irving House
Spend Thanksgiving at Irving House and we will buy you a pie to bring to your celebratory feast!
As always at Irving House, we support our local community which includes Community Servings. In past years, their long-standing fundraiser, Pie in the Sky, has recruited bakers from all over Greater Boston to donate pies to this event. This year, the model has changed. Community Servings itself will bake pies, apple and pecan, for those who want pies for their own feasts. But the emphasis this year is on giving pies to Community Servings' clients. A virtual pie…Pie in the Sky uses each pie purchase to help feed critically ill neighbors and their families. Sleep easy knowing that your purchase helped to make someone else's holiday complete. Enter the code PIES into "RATE OPTIONS" when booking.
Irving House, 24 Irving Street, harvardsquare.com/venue/irving-house-at-harvard/, 617-547-4600
J.P. Licks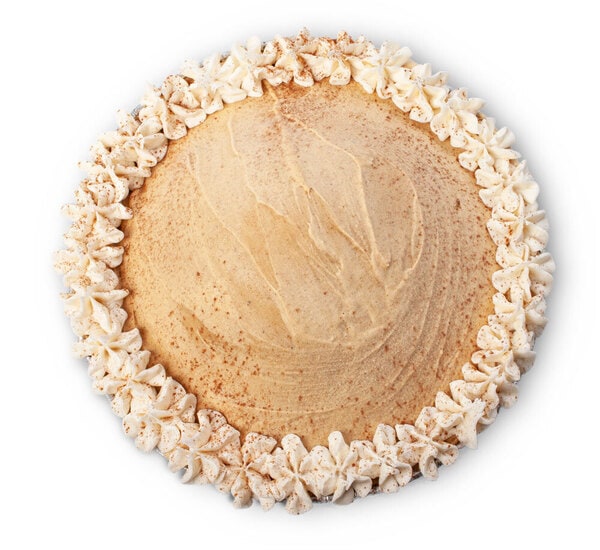 'Tis the season! Pumpkin custard pie is now available for the Thanksgiving holiday season (and all month long, because who wants to wait???). Graham cracker crust filled with a layer of caramel, pumpkin custard ice cream (contains eggs!), and topped with a sprinkle of cinnamon. Order here for in store pick up (only available to order online).
J.P. Licks, 1312 Massachusetts Avenue, harvardsquare.com/venue/j-p-licks/, 617-492-1001
Living Harmony
Thanksgiving
Give yourself something to be truly thankful for this November – an organized home or office. 20% off your first organizing package for all of the month of November when you say the keyword "grateful" when you contact us.
Living Harmony, 24 Harvey Street, harvardsquare.com/venue/living-harmony-llc/. 617-945-0704
Milk Bar
When it gets chilly outside and cozy inside, it's pumpkin time. This seasonal stunner is back by popular demand in all its glory: layers of cinnamon spice cake with rich pumpkin frosting, gooey dulche de leche drizzle, crunchy milk crumbs, and salty toasted pepitas. 6" cake serves 8-12; 10″ cake serves 20-30.
Milk Bar, 3 Brattle Street, harvardsquare.com/venue/milk-bar/, 857-321-8430
Nubar
THANKSGIVING DAY DINNER
There will be 4 seatings: 11:30am, 1:30, 3:30, and 5:30.
Very limited socially-distanced seating available. Call for Reservations: 617.234.1365
See options for ordering Thanksgiving dinner to-go at the bottom of the page.
$50 FOR ADULTS, $30 FOR KIDS, KIDS UNDER 5 FREE
INCLUDES SODA, JUICE, COFFEE, TEA
SOUP OR A SALAD CHOOSE ONE
Mixed Greens, Delicata Squash, Cranberries, Toasted Pepitas, Cider Vinaigrette
Butternut Squash Bisque
CHOICE OF ONE PROTEIN
Roast Turkey w/ Cranberry Sauce
Pan Gravy
Honey Glazed Ham
Stone Ground Mustard
Roasted Atlantic Salmon
SIDES – SERVED FAMILY STYLE
Traditional Herbed Stuffing
Whipped Potatoes
Candied Yams
Medley of Green Beans, Wax Beans, Carrots, Red Peppers, Broccoli
DESSERTS- CHOOSE ONE
Apple Pie
Pumpkin Pie
Chocolate Decadence Cake
ORDER THANKSGIVING TO GO
$50/PP – MINIMUM 2 GUESTS –
GUESTS NEED TO CALL TO PLACE ORDER NO LATER THAN NOV. 20TH, AND PAY IN ADVANCE
INCLUDES:
Soup for 2
Salad for 2
Rolls
10 oz. of either Turkey, Ham, or Combo per person
One pint of each of the 4 sides
Gravy, stoneground mustard, cranberry sauce
One slice of pie/cake each
Guests must pick up their order between 10am-noon on Thanksgiving day
Nubar, 16 Garden Street, harvardsquare.com/venue/nubar/, 617-234-1365
OTTO
Buy One, Get One OTTO Gift Cards
OTTO will be offering our annual holiday BOGO gift cards beginning November 23rd and ending January 7th.
Buy $100 | Get $20
Buy $50 | Get $10
Buy $25 | Get $5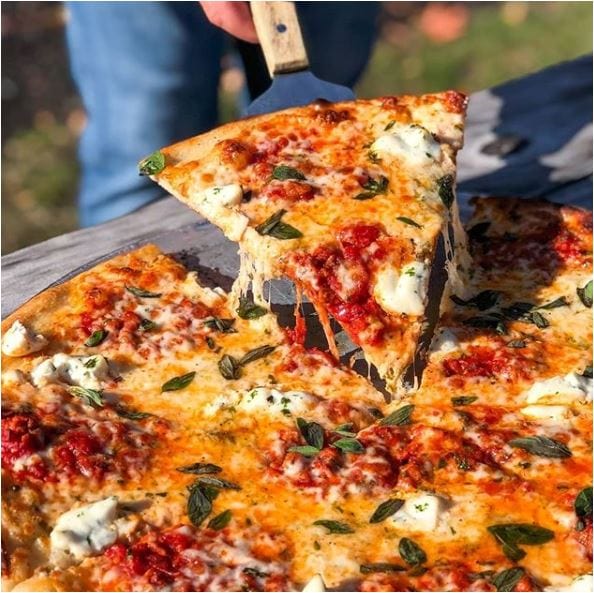 Enjoy OTTO's seasonal monthly specials. The November special will be Bolognese Sauce with Ricotta and Fresh Oregano – along with gluten-free and vegan options.
OTTO, 1432 Massachusetts Avenue, harvardsquare.com/venue/otto/, 617-873-0888
Playa Bowls
Playa Bowls Fall Specials are back and available through November 30th! From our Harvest Acai Bowl to our Pumpkin Pie Smoothie, we have all the fall vibes you need.
Playa Bowls, 71 Mt. Auburn Street, harvardsquare.com/venue/playa-bowls/, 617-714-5321
the red house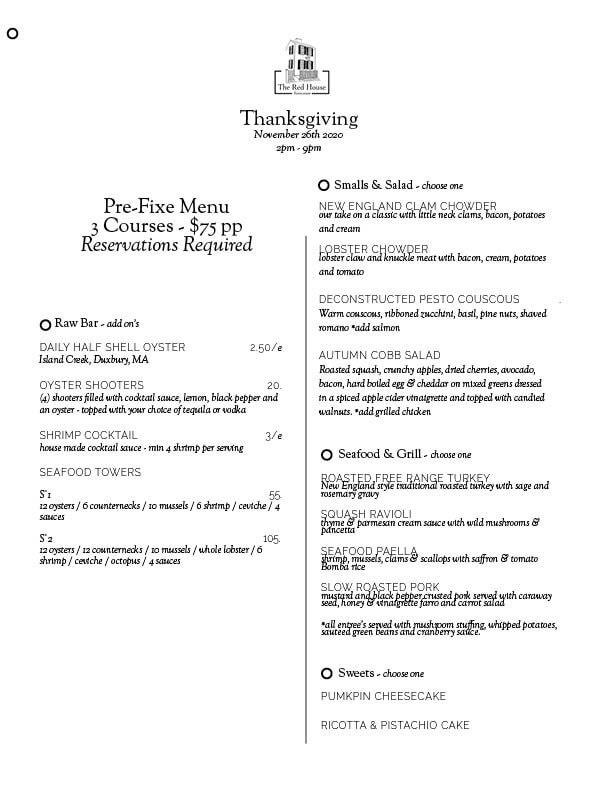 the red house, 98 Winthrop Street, harvardsquare.com/venue/the-red-house/, 617-576-0605
Russell House Tavern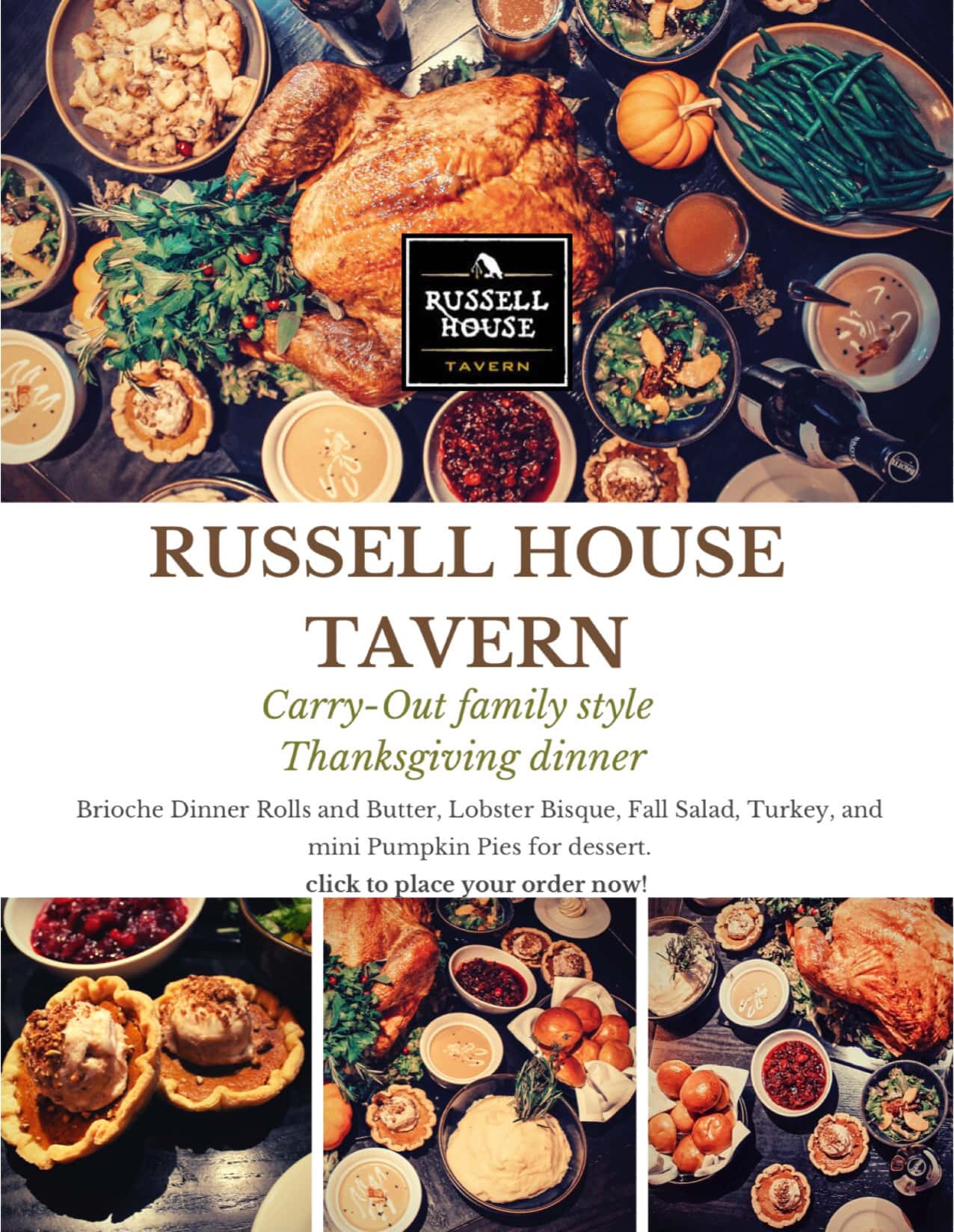 Russell House Tavern, 14 JFK Street, harvardsquare.com/venue/russell-house-tavern/, 617-500-3055
the Smoke Shop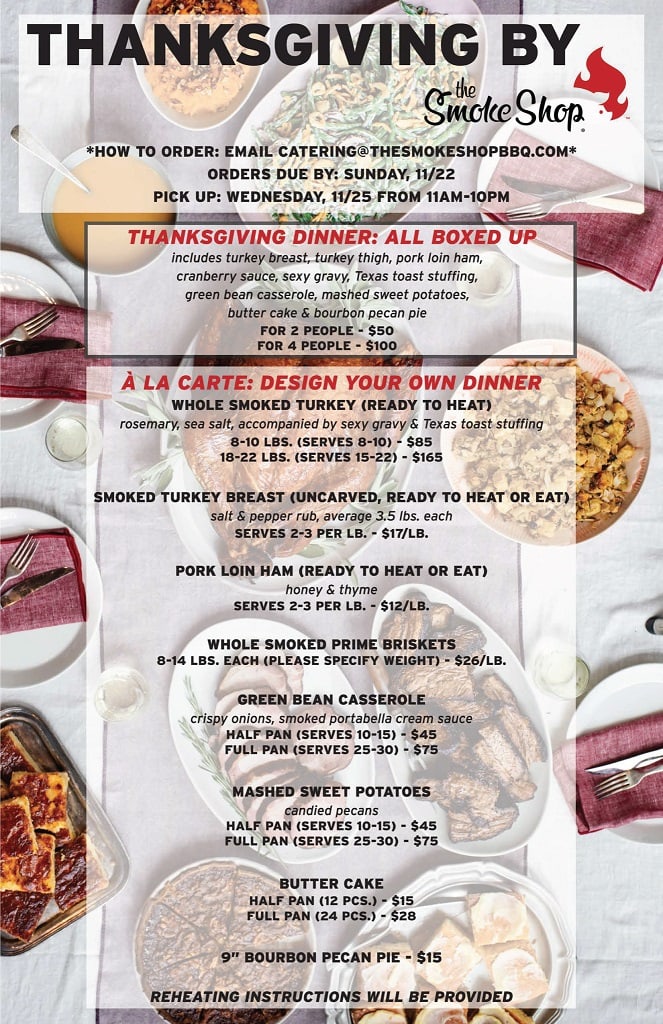 the Smoke Shop, 8 Holyoke Street, harvardsquare.com/venue/the-smoke-shop-bbq/, 617-547-4727
Summer Shack on the Patio at the Charles Hotel
For Thanksgiving, Summer Shack is doing their 15th Annual Thanksgiving Deal pick up ordering. For the past 15 years, we have been supplying our Thanksgiving dinners to happy and loyal guests. Guests can call in orders or order online directly through a form. To order and for more information please click here here.
NEW: Summer Shack is selling and shipping Lobster Pot Pies nationwide – a great as gifts for friends and family far away! Guests can order a pot pie to be delivered (or they can physically pick up the pie at our Alewife location 149 Alewife Brook Parkway, Cambridge MA). To order and for more information please click here.
Charles Hotel, 1 Bennett Street, harvardsquare.com/venue/the-charles-hotel/, 617-864-1200
Veggie Grill
THANKSGIVING
Accepting pre-orders for their Thanksgiving Pot Pie Feast – a full, plant-based holiday spread available for pre-order from Wednesday 10/21 through Wednesday 11/18 for pick-up the two days before Thanksgiving. Veggie Grill will donate $1 to Support + Feed for each feast purchased, up to $2500! The menu offering consists of: Thanksgiving Pot Pie Feast – Available for Preorder and Pickup on 11/24 or 11/25 for $69.95 (serves 4)
Individual turkey and mushroom pot pies (x4)

Individual pot pies also available to preorder a la carte for $11.50 each from 10/21 – 11/18
Individual pot pies will also be available as a limited time offer to order from the regular menu in-house or online from 11/9 – 12/24 for $11.50 each

Mashed Yukon Gold Potatoes & Gravy

Also available to preorder a la carte for $10 (for 4 servings) from 10/21 – 11/18

Glazed Rainbow Carrots

Also available to preorder a la carte for $15 (for 4 servings) from 10/21 – 11/18

Baby Spinach Salad with Cranberries, Candied Pecans, Balsamic Onions, and Feta Cheese

Also available to preorder a la carte for $12.50 (for 4 servings) from 10/21 – 11/18
ADD ON mini shareable pumpkin pies (ADD ON ONLY, NOT INCLUDED IN PACKAGE PRICE)
Available as an add-on for preorder a la carte for $6 ea/$19 for 4
Also available in-store and via online ordering beginning 11/9 for $6 ea/$19 for 4
Important dates:
10/21 – Thanksgiving Feast available to pre-order online at veggiegrill.com
11/9 through 12/24 – Individual Turkey & Mushroom Pot Pies & Shareable Mini Pumpkin Pies available as a Limited Time Offer for order via in-store & via Veggie Grill online ordering
11/18 – Last day to pre-order Thanksgiving Pot Pie Feast, cut-off time is 11:00pm
11/24 & 11/25 – Pickup for pre-ordered Thanksgiving Pot Pie Feast meals available.
Veggie Grill, 57 JFK Street, harvardsquare.com/venue/veggie-grill/, 617-430-4004