Harvard Square Giving Tree Celebration
December 3rd
3:30 pm
Brattle Plaza
This event has been cancelled due to inclement weather
The Harvard Square Business Association (HSBA) members and friends are generously donating hats, gloves, socks, mittens, t-shirts, and scarves. These items will be placed in water-tight zipper bags along with candy canes, chocolates and treats and will be hung on the Annual Holiday Giving Tree, located on Brattle Plaza in front of Bluestone Lane at 27 Brattle Street. Please bring your own items similarly packaged, or come and help us place ours. People are encouraged to take what they need.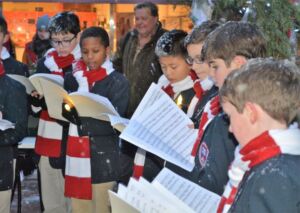 To kick off the installation of the Giving Tree on December 3rd at 3:30 pm, The Boys of the St. Paul's Choir School will perform joyous hymns and songs. These young boys have performed with the Boston Symphony Orchestra, Leonard Bernstein on the legendary stage of Carnegie Hall, in St. Peter's Square at the Vatican for Pope Francis, and countless Boston Red Sox and Celtics games. Consisting of singers who are both artistically and technically highly developed, it may be surprising to discover that the boys range from grades 3 through 8.
Complimentary treats for those attending and for passersby will be served by HSBA staff. In addition, Cambridge Ringe & Latin student, Justice Brooks will be reciting his poem, Cataclysm of Snowfall.
The Harvard Square Business Association is collecting donations in support of the Giving Tree. All proceeds will be used to purchase items, including clothing and gift cards for food.
To make a donation, please do so here or contact Bill Manley at wmanley@harvardsquare.com.
For a heartwarming glimpse at the boys of Saint Paul's Choir (2014), please see the link below.
"The Little Road to Bethlehem" from Christmas in Harvard Square – YouTube