"Work from Home Bold Boundaries = Better Relationships & Productivity – Q&A"
April 12, 2021 @ 7:00 pm

-

8:00 pm
Does this pandemic have you working at home with heaps more distractions? Join us for a FREE Q&A on bold boundaries. Bring your struggles.
About this Event
Come join the FREE Q&A session that is a follow-up to a live session Erika hosted recently. It was called "Bold Boundaries When Working from Home for Happy Relationships & Increased Productivity."
If you didn't participate in the live event, watch the video of it, and bring your questions.
It will be super interactive and fun.
* We'll brainstorm any boundary scripts you bring to the table.
* You'll get the opportunity to get coached on the show seat.
* We'll role play.
about the original session:
Does this pandemic have you working at home with the kids and spouse there too? Is your care-giving help insufficient or non-existent? Are you feeling like you can't get as much done as you were before all this began?
Join Erika for this dive into how to create physical and time boundaries that will give you more peace and productivity.
By seizing this opportunity to begin to right the many wrongs of work overreach and burnout, we can thrive, instead of merely surviving.
Her simple tricks can take you from scramble to transition and then from transition to transformation.
what was covered . . .
* two things you can start doing tomorrow to feel better when working at home with more distractions.* the three most crippling mistakes people make when working from home and how to stop them.
* her top four boundary tools to increase your gross income (if you run your own business) and serenity
* the Fabulous Five steps to setting a loving and powerful boundary.* the revealing of the surprising myths about boundaries
* three soft, affirmative, boundary scripts.
* the surprising science that supports all the strategies.
* an exercise in which you walk away with a new, empowering boundary you can begin tomorrow.
some of what the participants said interrupts their FLOW:
"media"
"too much time next to computer"
"things that are easier to do that are more in my natural skill set that I feel more confident in""hunger"
"checking on son and his tasks"
"other people's requests for help"
"beauty"
"not being able to set boundaries when the day ends and continuing to be on for work"
"noise"
"people"
"notifications on the phone"
If you can relate to any of that, register now, and walk away with some simple strategies to stop all those flow, productivity, and creativity disruptors.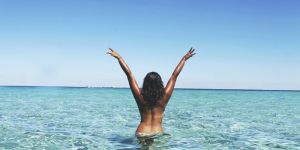 Please Support Our Website Sponsors.
Thank you!