Virtual Summer Poetry Festival: Poetry as a Voice for Activism
June 27, 2021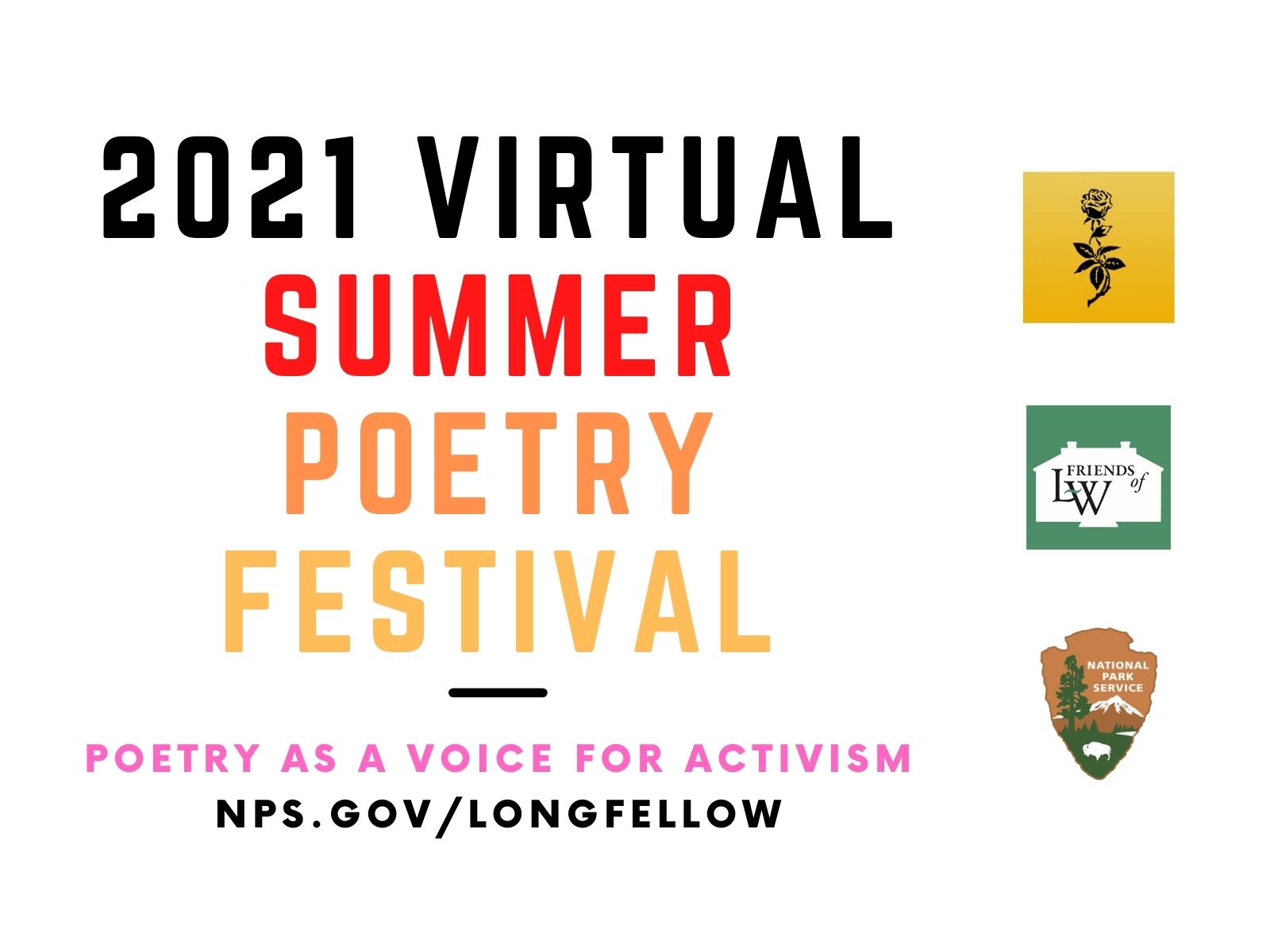 Details
Date:

June 27, 2021

Event Category:
Venue
105 Brattle Street




Cambridge

,

MA

02138

United States

+ Google Map

Phone:

617-876-4491

Website:
The National Park Service, New England Poetry Club, and Friends of Longfellow House-Washington's Headquarters are pleased to announce the 2021 Virtual Summer Poetry Festival: Poetry as a Voice for Activism. The festival begins Sunday, June 27 and will take place live on Zoom. In the 19th century, Henry Longfellow's home at 105 Brattle Street was a hub for literary, artistic, and intellectual gathering; today, this series continues that legacy by connecting poetry lovers across the country with remarkable contemporary poets who will read and discuss their work.  
This year's festival celebrates the powerful role of poets and poetry in social movements. Henry Longfellow, a committed abolitionist, occasionally lent his literary celebrity to causes he cared about. This summer's readers are more outspoken in their literary activism. "Toni Morrison writes of the violence that is oppressive language, and the limits it places on knowledge," says featured poet Danielle Legros Georges, former Poet Laureate of the City of Boston. "I often wrestle with such language; and find myself engaging in linguistic experiments, attempting to create new visions, or recuperate hidden or buried sources of knowledge. I am very much interested in social justice — and I am very much interested in the rigorous and serious and beautiful art poetry can be." 
The series begins on Sunday, June 27 with the 2021 student poetry awards. The annual awards celebrate young local poets, grades 3-12, as well as the undergraduate Victor Howes Prize winner. This year's submissions numbered over 300, with many students reflecting on the pressing issues of the past year, from political polarization to police brutality to the social repercussions of Covid-19. 
On July 11, current Boston Poet Laureate Porsha Olayiwola will be joined by first-ever Boston youth Poet Laureate Alondra Bobadilla for the first formal reading of this year's festival. "Creative expression can be a powerful tool for youth to examine feelings around issues, find their voice, and speak up about the changes they want to see for their future," writes Bobadilla. Olayiwola, a writer, performer, and artistic director at MassLEAP (a literary youth organization) examines historical and current issues in the Black, woman, and queer diasporas through her work.   
The series continues July 18 with Donika Kelly, author of the chapbook AVIARIUM (fivehundred places) and the full-length collections THE RENUNCIATIONS (Graywolf 2021) and BESTIARY (Graywolf). "Poetry can shine a light on the lived realities of harmful social and political dynamics, for example, but poetry alone can't change them," Kelly says in an interview with PEN America earlier this month. "What poetry does is reassure folks they aren't alone in that reality—that there is community, and through community effort, there can be change."  
Pulitzer Prize winner Tyehimba Jess' work finds a vivid sense of community in the history of Black performers, resistance, and music as literary tradition. He will read from his work on July 25. The author of two books of poetry, Leadbelly and Olio, Jess' work weaves together poetry and song, fact and fiction. 
On August 8, Danielle Legros Georges and Jean Dany Joachim will read from their work. Both socially engaged poets whose work spans multiple languages, Legros Georges and Joachim are advocates for the urgent value of poetry in the lives of their local communities. Joachim is the former City of Cambridge Poet Populist and the author of three collections, and founder of the Many Voices Project, inspiring conversations about race and equality. Legros Georges is a translator, academic, and author of several books of poetry, whose work explores the ability of the arts to expand perspectives and shift boundaries. 
The series concludes August 29 with the presentation of the Golden Rose Award to Rhina P. Espaillat. Espaillat has published twelve full-length books, four chapbooks and a monograph on translation. Espaillat is noted for her English translations of Saint John of the Cross, as well as her book of Spanish translations of Robert Frost, Algo hay que no es amigo de los muros/Something There Is that Doesn't Love a Wall, and her bilingual collection of Richard Wilbur translations, Oscura fruta/Dark Berries.  
Writing in Worcester Magazine, Belen Atienza notes Espaillat's "clear vision about the need to create bridges between different generations of readers, as well as groups from different socio-economic and cultural backgrounds." Her work, which comprises poetry, essays and short stories in both English and her native Spanish, and translations from and into both languages, appears in numerous journals, anthologies and websites.  
All events in this series are free and open to all, but require advance registration. Each reading will begin with the readers sharing their poetry, followed by a moderated Q&A with the online audience. Please visit https://www.nps.gov/long/planyourvisit/summer-festival.htm for details and registration. All events will take place at 3:00 PM. 
+++ 
The 2020 Virtual Summer Poetry Festival is generously supported by Friends of Longfellow House-Washington's Headquarters.  
New England Poetry Club is an association of poets founded in 1915 by Amy Lowell, Robert Frost, and Conrad Aiken to foster the art of poetic expression 
Longfellow House-Washington's Headquarters National Historic Site preserves the house that served as headquarters for General George Washington during the Siege of Boston and later home to Henry Wadsworth Longfellow, one of the world's foremost 19th century poets. 
Please Support Our Website Sponsors.
Thank you!