Virtual Event: Peter B. Kaufman The New Enlightenment and the Fight to Free Knowledge in conversation with Peter Suber
April 2, 2021 @ 12:00 pm
| Free – $5
Popes and their inquisitors, emperors and their hangmen, commissars and their secret police—throughout history, all have sought to stanch the free flow of information. Kaufman writes of times when the Bible could not be translated—you'd be burned for trying; when dictionaries and encyclopedias were forbidden; when literature and science and history books were trashed and pulped—sometimes along with their authors; and when efforts to develop public television and radio networks were quashed by private industry.
In the 21st century, the enemies of free thought have taken on new and different guises—giant corporate behemoths, sprawling national security agencies, gutted regulatory commissions. Bereft of any real moral compass or sense of social responsibility, their work to surveil and control us are no less nefarious than their 16th- and 18th- and 20th- century predecessors. They are all part of what Kaufman calls the Monsterverse.
The New Enlightenment and the Fight to Free Knowledge maps out the opportunities to mobilize for the fight ahead of us. With the Internet and other means of media production and distribution—video especially—at hand, knowledge institutions like universities, libraries, museums, and archives have a special responsibility now to counter misinformation, disinformation, and fake news—and especially efforts to control the free flow of information.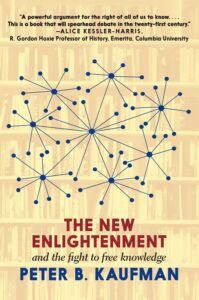 Please Support Our Website Sponsors.
Thank you!