Virtual Event – Music as Social Change: A Reckoning by Longy School of Music of Bard College
November 10, 2020 @ 7:00 pm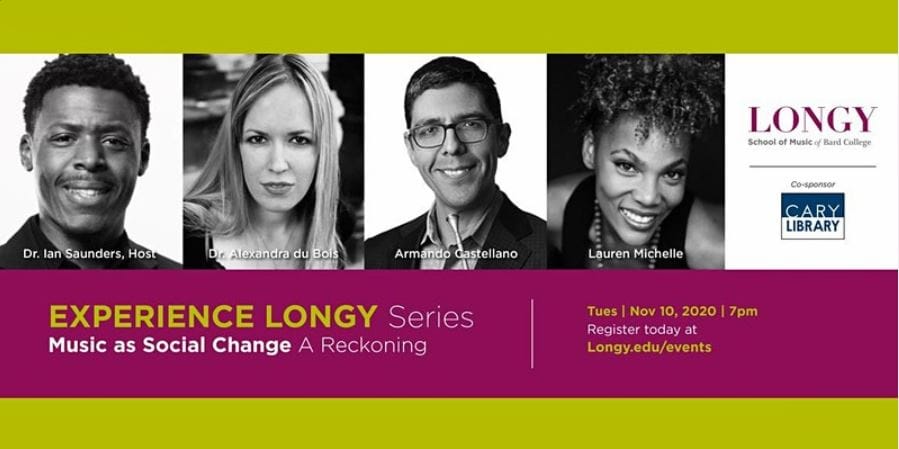 Check out the Experience Longy series for a deep dive into what Longy's innovative conservatory education is all about.
About this Event
EXPERIENCE LONGY series
"Music as Social Change: A Reckoning" November 10 at 7:00pm
This panel discussion, led by Longy Assistant Dean of Artistic and Social Change Dr. Ian Saunders, will explore the reckoning of racism and misogyny within classical music dominated by dead white males.
Our panelists include: Longy's Chair of Composition, Dr. Alexandra du Bois, founder and director of Quinteto Latino, Armando Castellano, and renowned opera singer, Lauren Michelle. They will share the intersection of their lived experience and classical music's reckoning and what must come next for conservatories to be change agents.
This is the first event in our new "Experience Longy" series.
Longy is grateful to our event co-sponsor: Cary Memorial Library, Lexington.
Please RSVP to receive instructions on how to join this virtual event. Click here [https://www.eventbrite.com/e/music-as-social-change-a-reckoning-tickets-123383977799] to register.
Please Support Our Website Sponsors.
Thank you!